Jeremy Lin: Why the New York Knicks Should Never Have Let Lin Go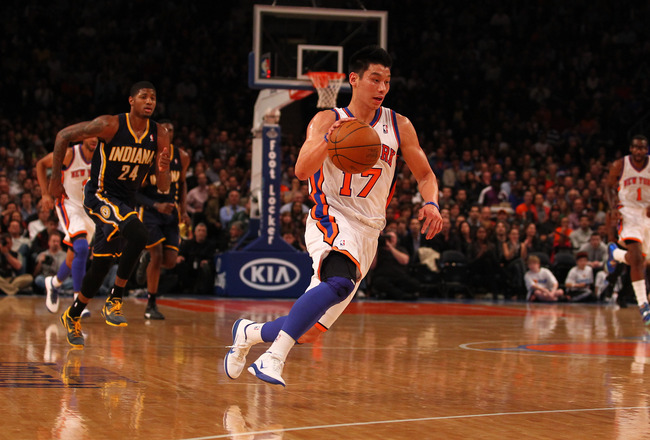 Al Bello/Getty Images
By now you probably know that Jeremy Lin is not a New York Knick, but a Houston Rocket (via ESPN).
He signed an offer sheet from Houston that was worth three years and $25.1 million. It was expected that the Knicks would match the offer, as Lin was a restricted free agent, but typical of the Knicks they do not do what is expected of them.
Lin will go to a young Houston team and be the star that gets people in the seats. Some people will argue that the contract was way to high for someone who had a good 20 game stretch during the season after being cut by two other teams. That is at least how the Knicks felt.
Yet what the Knicks left on the table is way more valuable, and the fact that they just let him leave is mind blowing. Here are a few of the reasons why the Knicks should have kept him.
His Stats Are Better Than Any Other Point Guard on the Team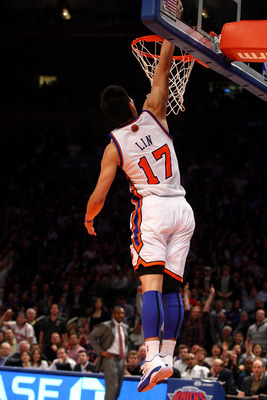 Chris Chambers/Getty Images
Yes, I know that he didn't play for very long, and that there has to be some reason that other teams cut him, but it is also hard to argue with the stats he put up once he got his chance.
Lin played in 35 games, and started in 25 of them. During that time, he averaged 14.6 points, 6.2 assists, 3.0 rebounds, and 1.6 steals per game.
Lin broke Shaquille O'Neal's record for the most points in his first five career starts with 131 points. Also, since the 1985 season, only 15 players have had at least 20 points and 7.0 assists in six straight games. These include people like Michael Jordan, Allen Iverson and LeBron James. Lin is also one of those 15, and he did it as a rookie.
His replacements on the Knicks' roster are Jason Kidd and Raymond Felton. Kidd is 39, and not getting any younger. He averaged 6.2 points, 5.5 assists, 4.1 rebounds, and 1.7 steals per game last season with the Dallas Mavericks. He also averaged 28.7 minutes of playing time per game, compared to Lin's 26.9 minutes. Kidd also had an interesting run-in with the law this past week, getting himself arrested for DWI.
Felton averaged 11.4 points, 6.5 assists, 2.5 rebounds, and 1.3 steals in 31.8 minutes per game last season. His numbers were down, and there were some complaints about his conditioning.
Lin's numbers, although taken from just a 35 game window, are better than both Kidd's and Felton's. You would also have to say he has more upside, being that he is younger and can still learn more about the game. To me, the stats are what is most important, and he is better than anything the Knicks have. By getting rid of him, they are getting worse, not better.
Keep these numbers in mind during the next few points, and it makes the Knicks' decision look even worse.
Lin's Appeal to the New York Fans, Particularly the Asian Community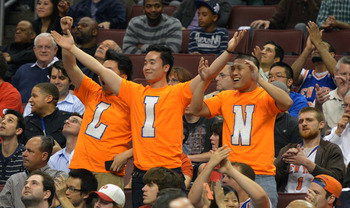 Drew Hallowell/Getty Images
Thanks in a large part to Jeremy Lin, the Knicks were able to sign a long term television contract during the season. It was when the Linsanity was at its highest. Lin was drawing in the biggest ratings the Knicks had had in a long time, and tickets to games were getting snatched up as quickly as possible.
The Knicks also made a ton of money on merchandise sales, particularly Lin merchandise. There is a large Asian-American community in New York, and they fell in love with Lin.
New York is the biggest media city in the United States. It was a perfect place for Lin to get a ton of publicity, and for the Knicks to make tons of money off of him.
It is also well known that outside of the United States, China is the biggest country for the NBA. They follow what is going on, and really support the league with how much they watch the games and the amount of merchandise they buy. Having an Asian-American as one of the stars of your team is going to bring in ridiculous amounts of money, and more than pay for his $25.1 million salary.
False Statements and Bad Publicity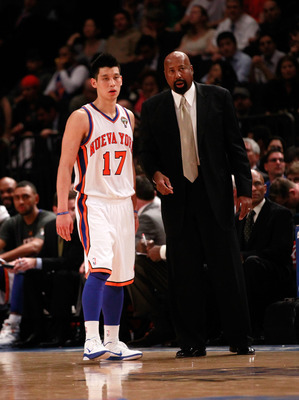 Chris Trotman/Getty Images
During this whole off-season, the Knicks have done nothing but make their team worse, and make themselves look bad.
The Knicks set out to make a big splash in free agency, trying to find a way to get players like Deron Williams and Dwight Howard to come to New York. That didn't work out, and instead they brought in a 39-year-old problem in Jason Kidd, and a 28-year-old Raymond Felton, who has reportedly had trouble staying in shape. That doesn't look good to your fan base and make them want to come to your games.
They could have resigned Lin, which would have kept people interested and the money flowing in, as well as statistically improve the team.
The Knicks said at the beginning of the Lin talks with Houston that they would match anything they offered up to $1 billion. Last time I checked, $25.1 million is less than that, but they couldn't bring themselves to pull the trigger. Going back on your word, especially after making such a bold statement doesn't win over your fans.
One of the issues the Knicks had with the Lin contract is that he is set to earn $15 million in the third year of the contract the Rockets offered him. That is a lot of money, and many said it would end up costing the Knicks $30 million that year if they matched it because of the NBA luxury tax.
However, if you look at the numbers, the Knicks will already be over the luxury tax, and so that argument really doesn't have a lot of merit. Besides that the publicity and money Lin brought in would have covered that. Now, they don't have him there to draw in viewers.
All in all, the Knicks really didn't help themselves this off-season, and in fact their team got worse. They will definitely regret not resigning Jeremy Lin.
Keep Reading

New York Knicks: Like this team?