Olympics Basketball Age Limit: Kobe Bryant Right to Criticize David Stern's Idea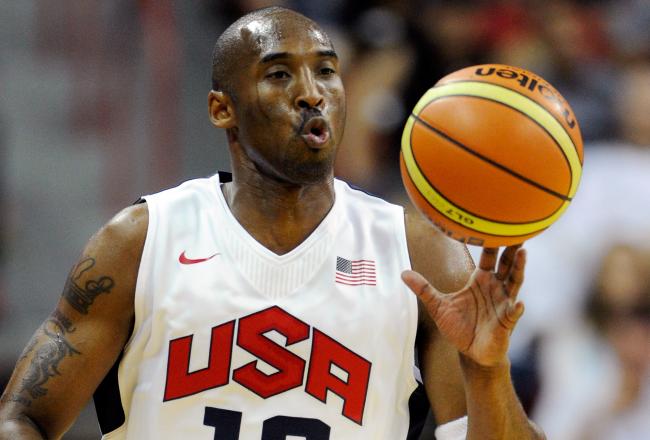 David Becker/Getty Images
David Stern wants basketball to adopt a soccer-style system for future Olympics, which would allow only three players over 23 years old for each country. In turn, the NBA hopes to instead utilize its most marketable players in a "World Cup of Basketball," much in the same way FIFA uses its world football stars in the traditional World Cup.
Kobe Bryant thinks that idea is dumb, and he couldn't be more right.
Bryant called the proposed system "stupid" and said his teammates feel the exact same way, according to Marc Stein of ESPN.com. The Los Angeles Lakers star reportedly believes the final decision should always remain with individual players.
One of the main reasons basketball has become such an important Olympic event is due to the star power, mostly on the Team USA roster. It all started with the original Dream Team in 1992 and has continued ever since.
If some of the biggest superstars in the world were forced to stay home and were replaced with players who don't have the same wide-ranging appeal, the sport would lose a lot of its luster.
It's not like soccer, which has several other marquee international events like the World Cup. The best NBA players usually only show up for the Olympics; otherwise, their attention is solely devoted to the Association. The summer games are an event many of them, including Bryant, look forward to every four years.
Taking that opportunity away wouldn't be fair to veterans like Bryant or future generations of stars, who were hoping to represent their country around the world throughout their career.
Look at the current Team USA roster. Under the new rules, it would still be a relatively strong team, but the coaching staff would have some ridiculously tough decisions to make.
Mike Krzyzewski would only get to choose three players from the group of Bryant, LeBron James, Carmelo Anthony, Chris Paul, Deron Williams, Tyson Chandler and Andre Iguodala.
At first glance, it might seem easy. Bryant, James and Anthony would get the call if they simply want to take the best available players. But then you are leaving two key point guards off the roster, which would be dangerous.
Even Chandler makes that decision more difficult, because he's basically on the roster to serve as a defensive stopper. Anthony Davis is capable of filling that role, but it would be a ton of pressure on a player with no NBA experience yet.
What do you think of Stern's Olympic plan?
Things would get even more challenging next time around, when the Oklahoma City Thunder trio of Kevin Durant, Russell Westbrook and James Harden all pass the age barrier. Kevin Love would no longer be an automatic entry, either.
Not only would the American roster be far less talented from top to bottom, but some amazing players will be left sitting on their couches while the team travels to Brazil.
If a player wants to wear the red, white and blue, he shouldn't get turned away because of an arbitrary age limit.
Players have an opportunity to win the NBA championship every year. They only get about four chances (at most) to win an Olympic gold medal, if they're lucky. The new rules would make it a one-time deal for most anyone who's not a truly elite, top-tier talent.
Kobe is right; that's pretty stupid.
This article is
What is the duplicate article?
Why is this article offensive?
Where is this article plagiarized from?
Why is this article poorly edited?