Ranking the 25 Players Redskins Fans Hate Most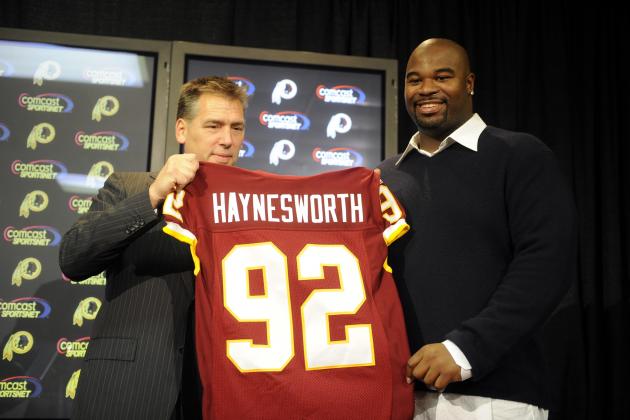 Mitchell Layton/Getty Images

So why are Redskins fans so cynical? Do we hate our rivals? Yes of course. Do we hate free agent, draft or trade failures? Absolutely. Do we hate terrible coaches? That's another yes.
Let me clarify: I will be going over 25 players (current or former) that Redskins fans hate. I'm only 25 years old, therefore, I can't go into particulars about foes from the 60's or 70's. So depending on your age, there will definitely be some discrepancies.
Anyways, I enjoyed writing this. As frustrating as it is talking about players that I have ill feelings towards, I find it humorous. I hope you do too.
Begin Slideshow

»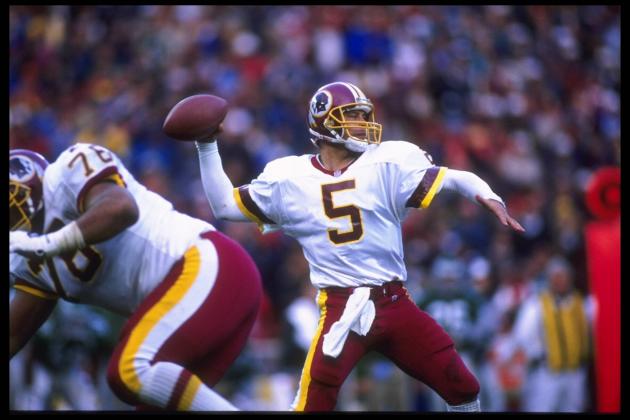 Doug Pensinger/Getty Images

Heath Shuler will go down as one of the biggest draft busts in NFL history. Good evaluation, Redskins. After being selected third overall in the 1994 NFL draft, Shuler held out of training camp until he signed a 7-year, $19.25 million dollar contract, which was astronomical 18 years ago.
Anyway, I don't think Shuler had a good game ever. He started 18 games and was eventually beat out by his seventh-round counterpart Gus Frerotte. Afterwards, Shuler was traded to the Saints where he made nothing of his career there either.
While it has been almost 20 years from that colossal misstep, I think Heath Shuler often goes unnoticed. After Joe Gibbs retired from their 1992 Super Bowl victory, the Redskins were down in the dumps. Shuler was supposed to turn the franchise around and obviously did not.
Even though it remains a sore subject for fans, at least he made a good name for himself as he has served as a Congressman for North Carolina.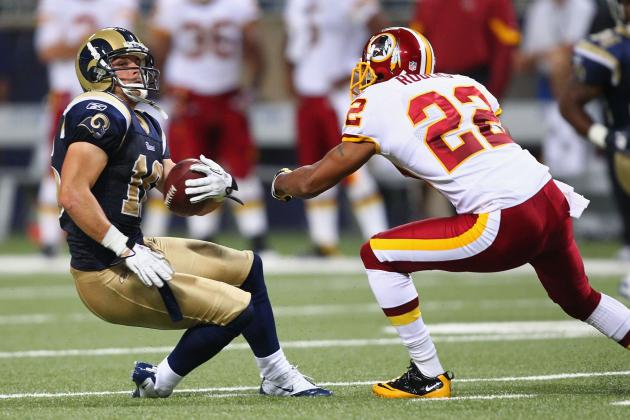 Dilip Vishwanat/Getty Images

I'm not going to lie, I had a personal vendetta against the now Pro Bowl (shocker) cornerback. Ask any Redskins fan about their thoughts on Carlos Rogers and they will promptly recall his dropped interceptions.
I think that's what was so frustrating about the former first-round pick. The talent was obviously there, but he always remained a step behind his potential while in a Redskins uniform.
Besides his dropped interceptions, Carlos was always candid with the media as he was often critical of his coaches and the organization as a whole.
I can't argue with him in that regard. The Redskins are dysfunctional, but you have to learn to keep your mouth shut as a player.
What's even more maddening is that I knew he would reach his success as soon as he left Washington and much to my surprise, Rogers had his best season in San Francisco.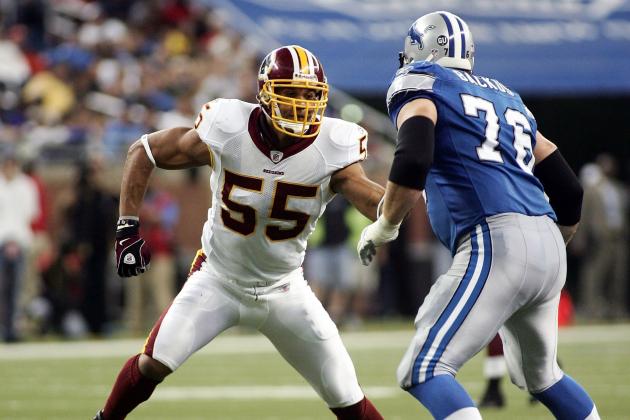 Domenic Centofanti/Getty Images

That was a good idea, Vinny Cerrato. In the 2008 offseason, the Redskins finally went quiet in free agency. I thought it was the beginning of a new age. Then Jason Taylor was acquired for a second- and sixth-round draft pick.
Well, he had his worst season as a professional in Washington as he totaled only 3.5 sacks. Less than a year later, Taylor refused to come in for offseason workouts and he was eventually released.
This was another devastating gamble put on by the Redskins front office and an obviously-disinterested Jason Taylor, who will be a first ballot Hall of Famer.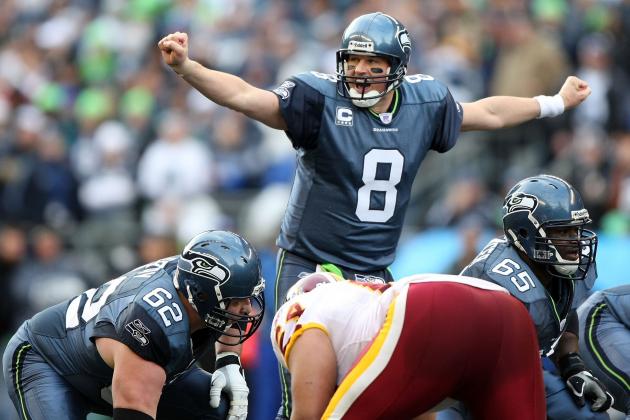 Jed Jacobsohn/Getty Images

I hate Hasselbeck because I think he's a cocky bastard that knocked my team out of the playoffs on both occasions—both games which could have been won if the Redskins ever received a generous amount of luck.
So besides Hasselbeck's victories against the Redskins, he may always be remembered for his pick six game-ending pass against Green Bay in the playoffs after he predicted a win.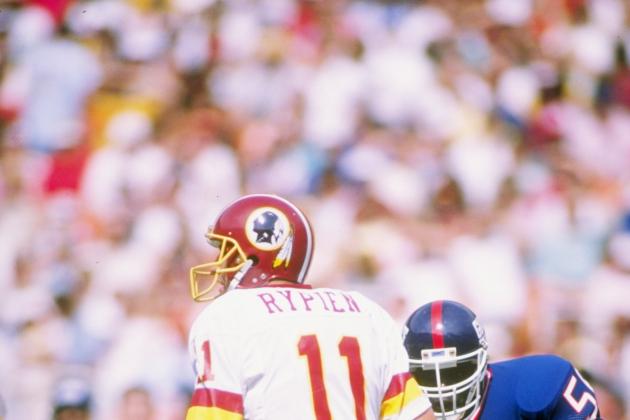 Allen Steele/Getty Images

I wasn't old enough to really develop a hatred for the guy, other than arguably the most gruesome injury ever with Taylor's hit on Joe Theismann.
Other than the fact that he has been a convicted criminal on more than one account, Taylor spent over a decade tormenting the Redskins.
Not to mention that the Skins have yet to have a marquee quarterback since the Theismann broken leg.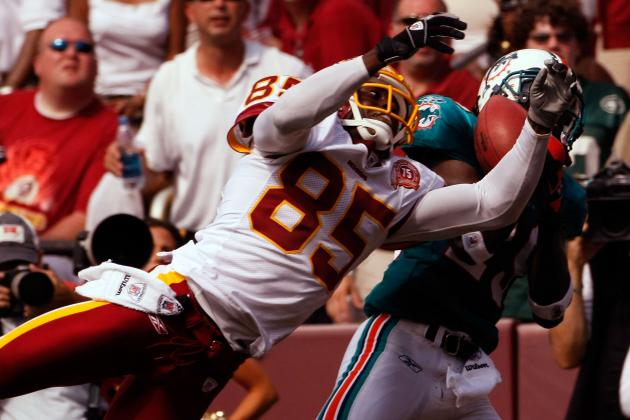 Win McNamee/Getty Images

I'm not sure what I hate most about Brandon Lloyd. Do I hate the fact that he had one of the worst statistical seasons ever by a starting wide receiver? What about his $30 million dollar contract? What about the fact that he didn't even see the field in his second year? Or that he became a legitimate receiver as soon as he left Washington?
Lloyd could not get on the same page with Joe Gibbs or any coach for that matter as soon as he put on a Redskins uniform. Lloyd became another statistic in the Dan Snyder failed acquisitions.
Greg Fiume/Getty Images

That's right. The highest-paid safety in NFL history at the time was riding the bench at the end of the season.
What's worse? The guy he replaced—Ryan Clark, who developed quite a rapport with Sean Taylor—began to flourish in Pittsburgh.
The Archuleta signing as a whole was dumbfounding. It was reported that he didn't fit into Gregg Williams' (the defensive coordinator at the time) defense. Then why was he signed in the first place?
Also, Archuleta had a reputation as a workout warrior who possessed the workman-like attitude that people thought would be an easy transition. He was so bad that it essentially ended his career.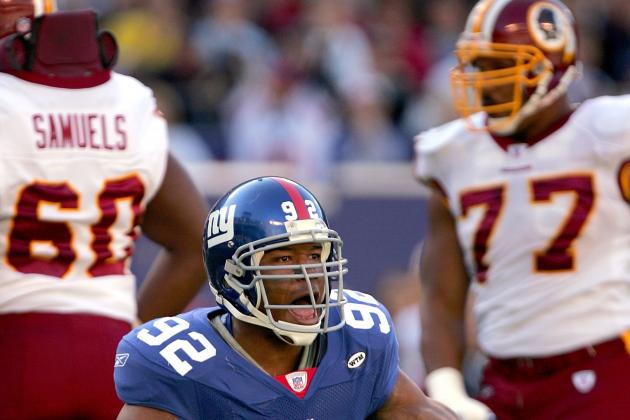 Ezra Shaw/Getty Images

I simply hated him because he's one of the best defensive ends in NFL history. He made a living off dominating offensive linemen, including the Redskins.
He was a loud mouth who was essentially the face of the Giants defense, a team that the Skins have been terrible against over the last decade.
I thought our lives would be easier when Strahan retired. Well it's gotten worse.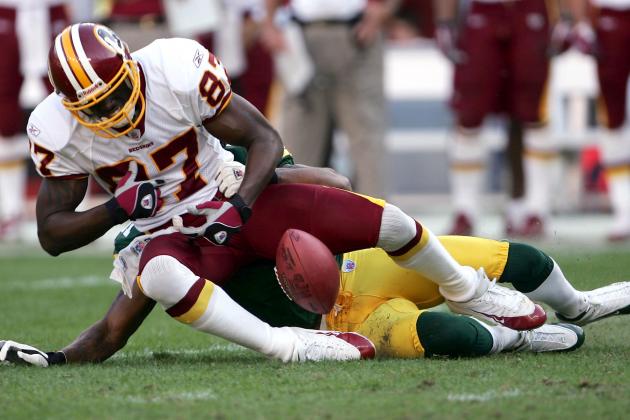 Doug Pensinger/Getty Images

I remember watching the 2001 NFL draft, as the Redskins were selecting 15th. I knew we needed a wide receiver and I knew Santana Moss was available and was going to be a stud. Yes I thought I was a better General Manager at 14 years old.
Of course we took Rod Gardner out of Clemson. At times, he showed his potential especially in his rookie season when he took over the number one receiver role over Michael Westbrook.
From then on, Gardner was a bust. He had the worst hands on the team, he wasn't a valuable teammate and I knew Joe Gibbs was going to get rid of him. (Gardner was traded for a sixth-round pick.)
After he left the Redskins, Gardner bounced around the league for a few years, but never did anything substantial. Chalk this one up as another missed draft pick.
I don't know what it was about Rod Gardner, but he always rubbed me the wrong way. Ironically, my choice Santana Moss has turned into one of the most productive Redskins receivers in their history.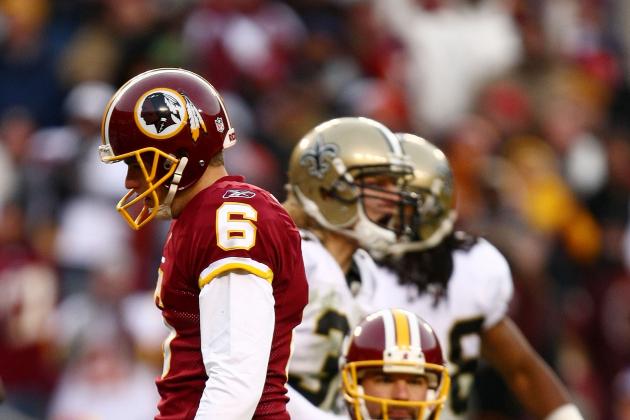 Chris McGrath/Getty Images

Well I guess I'm carrying on my tradition of complaining about kickers in a Redskins article. Fact is, I can't help it. I simply cannot understand why it is so hard to find a productive kicker. Oh wait, we did, then we cut him. That's David Akers for those that don't remember.
Let's see, Shaun Suisham, Graham Gano, John Hall, Scott Blanton, Jose Cortez, Eddie Murray: I know there's more, but I'm having trouble researching a pile of crap.
Other than an extra point, I am not comfortable with any field goal to be honest. I've been heartbroken too many times to feel any differently.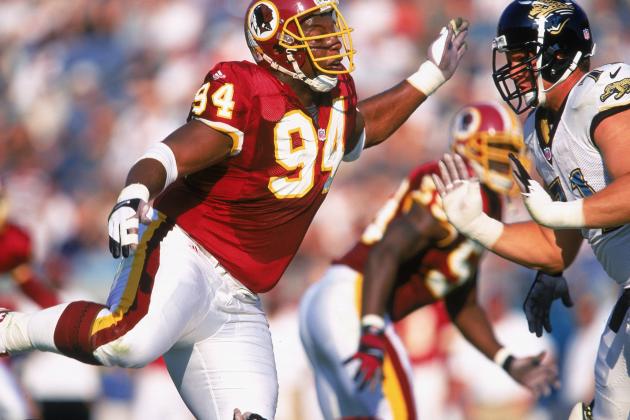 Andy Lyons/Getty Images

Six-year, $36 million dollar contract: not too bad by today's NFL standards (Ok maybe before last year's new CBA deal). Anyway, that was in 1998. Contracts like that didn't exist in the NFL. However, the Redskins made one of the biggest splashes in league history at that time.
Stubblefield was the reigning Defensive Player of the Year and he was paid accordingly. Once again, he was terrible. Unable to get it going in three seasons in the district, naturally Stubblefield was let go and went on to have a productive career afterwards.
Either way, Stubblefield was maybe the first of the many free-agent-or-trade busts to occur in Washington over the years. Another embarrassment and soon Redskins Park became a place where athletes only wanted a paycheck.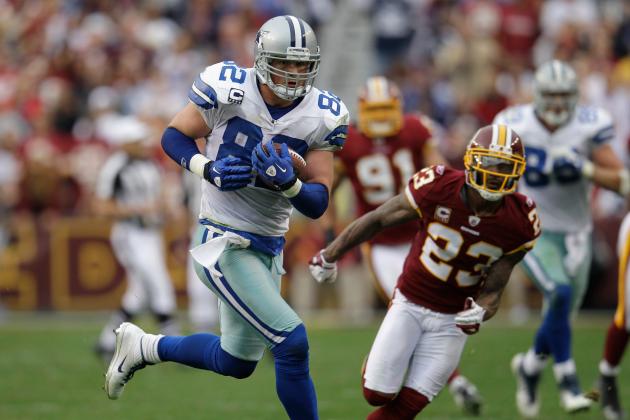 Rob Carr/Getty Images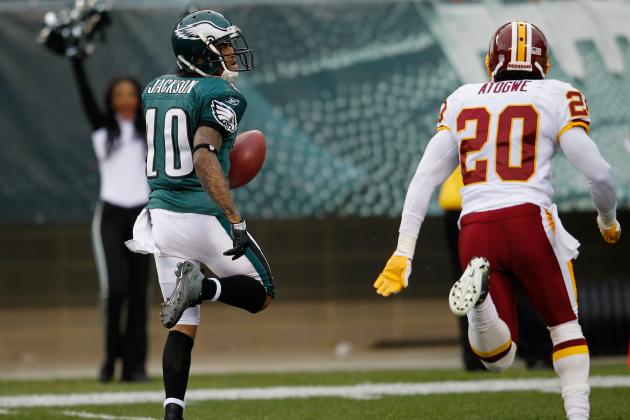 Rob Carr/Getty Images

Similar to Tiki Barber, if DeSean Jackson played the Redskins every week he would probably be one of the best receivers ever.
No matter how the defense game plans around the speedster, Jackson has always found a way to get past the Redskins. It could be on a punt return, a long reception, reverse, end around or some kind of gimmick. It hasn't stopped since he's entered in the league.
Not to mention Jackson has never shied away from trash-talking and is more than confident in his battles against the Redskins secondary.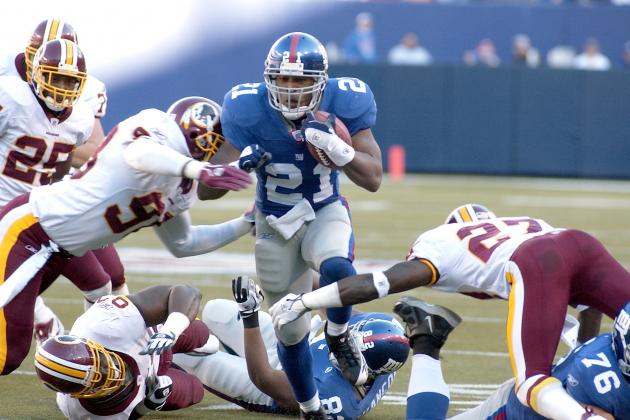 Tom Berg/Getty Images

If Tiki Barber played the Redskins every game of his career he would be the best running back of all time. It was unwatchable.
Other than his complete dominance against the Skins, Tiki was never the most likable character in the NFL. He often seemed pretentious and condescending to the point where his own teammates didn't like him.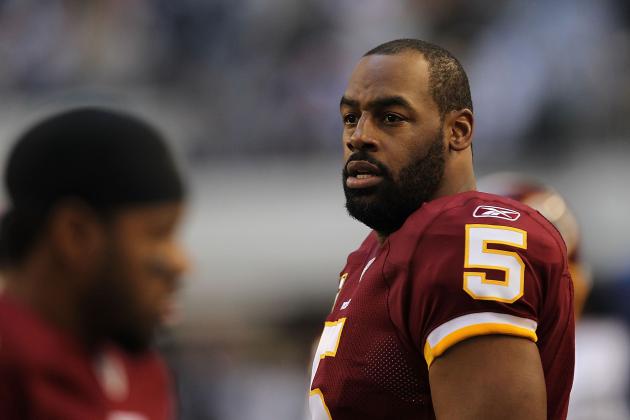 Ronald Martinez/Getty Images

So what will Donovan McNabb be remembered for? Will it be the years of torching Redskins defenses? Or him actually as a Redskin?
Let's start with him as an Eagle. McNabb would make the Redskins look silly at times especially in his earlier years when his legs were still a threat.
There's always been a large amount of controversy around the quarterback and that certainly stayed true while in Washington.
After signing that ridiculous contract extension, McNabb struggled mightily. He soon got benched for Rex Grossman and was traded in less than a year.
I will admit that I actually liked the trade when it first happened. I thought it was an upgrade over Jason Campbell and he was the veteran leader that was needed in the locker room.
He and Mike Shanahan obviously didn't connect. There was the "cardiovascular" issue or the wristband rumor in which Donovan struggled with the playbook. Either way, it was a complete disaster.
Should Donovan be blamed for it? Not entirely, I feel a large amount of it should be put on the Shanahan's.
Since then, McNabb has been very critical of the Redskins organization and our newest shining star Robert Griffin III. Needless to say, McNabb isn't the biggest Skins fan.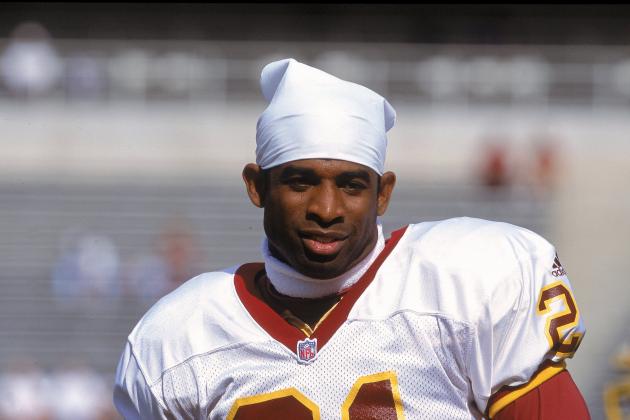 Jonathan Ferrey/Getty Images

Remember that year the Redskins were supposed to win the Super Bowl? If so, it was the year that Deion Sanders signed a 7-year, $56 million dollar contract to become a Washington Redskin.
Where do we start? How about years of dominating the Redskins as the Cowboys top cornerback? Or the obnoxious, but overly-effective punt returns. How about his touchdown dance, something we've seen at our expense.
So what should we hate him for mostly? Is it because he was a Cowboy for so long? Or that he embarrassingly signed a long-term contract with the Redskins and ended up only playing one season? Or in his short tenure in Washington his overall production was mediocre?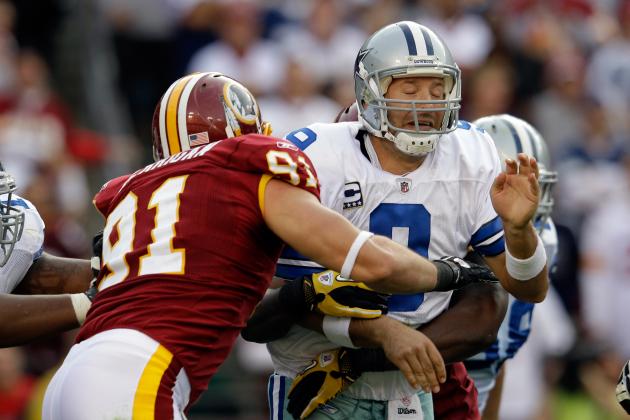 Rob Carr/Getty Images

Where to start with this guy. I loathe Tony Romo. I hate his demeanor, his arrogance, ESPN's obsession with a quarterback that hasn't won anything or his dating life.
Watching him throw careless interceptions is truly a joyous moment for me or the Cowboys losing in general.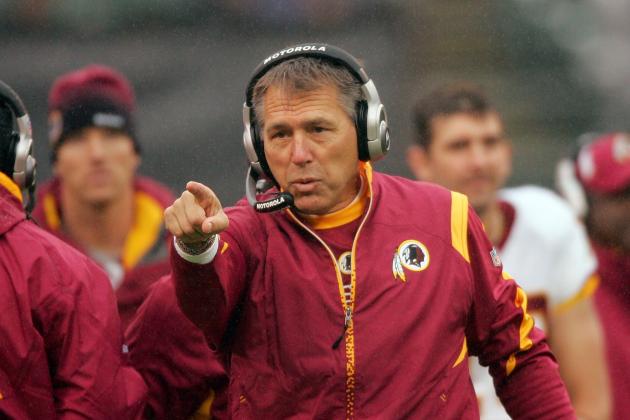 Ezra Shaw/Getty Images

Has a situation like Jim Zorn's ever happened before or after his hiring? Originally hired to be the team's offensive coordinator, Zorn was called back into Snyder's office to interview as the head coach.
After much ridiculous deliberation, Zorn was abruptly hired for the top job. Humor me for a second and try to imagine a conversation between Vinny Cerrato and Dan Snyder deciding what they should do. I think I would pay to see that.
As for Zorn, he could not have been more unqualified. Spurrier might have been atrocious, but Zorn might have lost the locker room worse than anybody else.
He sparred with his players and was essentially dead as a door nail at the beginning of his second season at the helm.
I think what I hated most about him was his play-calling. He had the most predictable offense I've ever seen. No that's not an exaggeration or me being dramatic. He literally had the most predictable plays ever. I would call them out before it happened. Draw plays, slant routes, zone read running options just to name a few.
Zorn is good at one thing and that's coaching quarterbacks, I don't feel he's qualified for anything else. He's not a leader or a game strategist. It was awful to watch.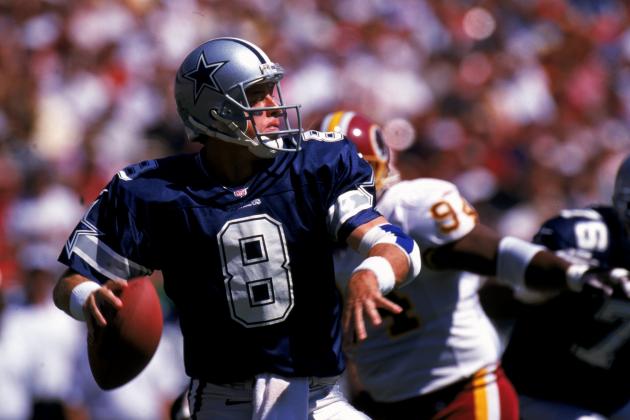 Doug Pensinger/Getty Images

Will I admit that Troy Aikman is a good announcer on Fox? Nope, do you know why? Easy answer, he's a Cowboy too. I hate all Cowboys if you haven't noticed.
Ever single college player that I've admired will immediately go on my "hate" list if he drafted by Dallas. That's the rule. I was raised hating the Cowboys and that will never change.
Troy Aikman was just another player that I hated and of course he spent year after year outperforming the Redskins.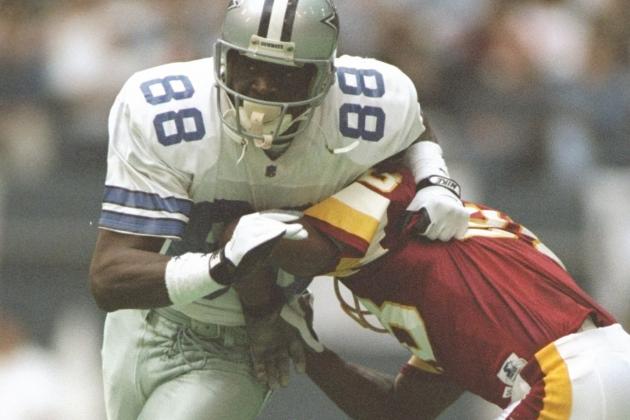 Joe Patronite/Getty Images

You know what bothered me the most about Michael Irvin? Well besides that he was a Cowboy. It was the media's obsession with Irvin's productivity. Certainly he was a very talented receiver, but was he really that good?
I would like to use former Redskin Art Monk as an example. Michael Irvin was a first-ballot Hall of Famer. By contrast, it took Monk over a decade to finally be selected into that elite fraternity.
Here's my problem: In regards to statistics, Monk has Irvin beat in receptions, touchdowns and total yardage. (I used NFL.com for stats) They both were multiple Super Bowl winners. Monk was a model teammate and citizen, where Irvin's record is obviously not clean.
Maybe that's what bothered me. I never understood the endless amount of credit Irvin received when a special player like Monk was never on the same page in that regard.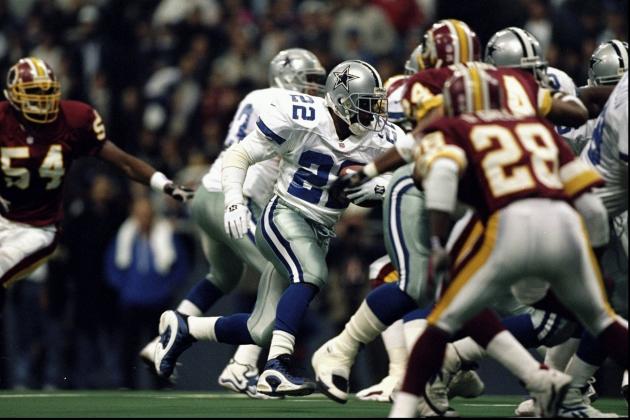 Stephen Dunn/Getty Images

Similar to many players on this list, I really only hated Emmitt because he was a Cowboy. I'd like to elaborate on him, but there's not a lot to add.
I hated that he would take his helmet off when he scored touchdowns, which lead to a now personal foul. Oh, and he was a terrible analyst.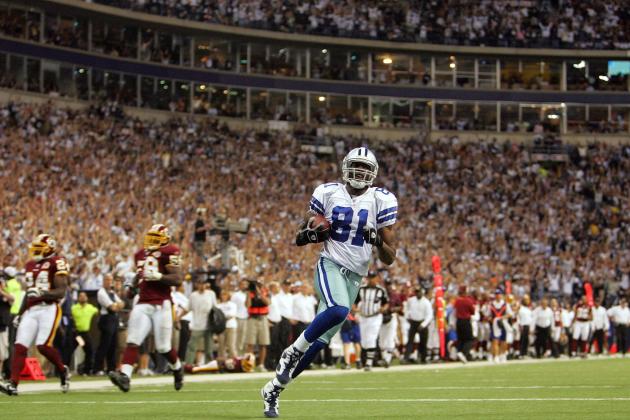 Ronald Martinez/Getty Images

I know I mention Sean Taylor a lot. It's hard not to. If Taylor had one nemesis, it was Owens. Ask any Redskins fan and they will gladly bring up how Terrell Owens was blatantly scared of Sean Taylor.
Not only was he was a Dallas Cowboy, but he was also an Eagle. One of the most hated players in NFL history was never given a break in Washington.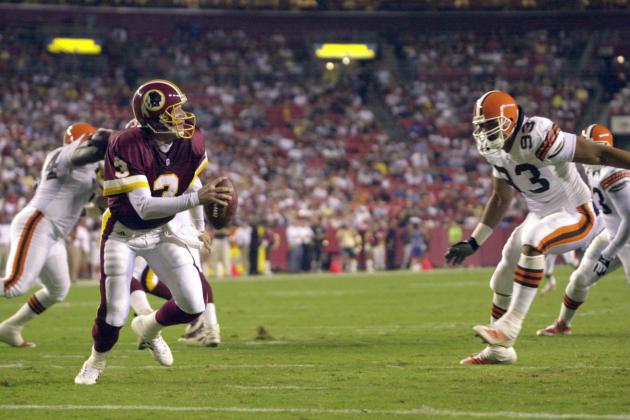 Doug Pensinger/Getty Images

In 1999, the Redskins were a Super Bowl contending team. Quarterback Brad Johnson had a spectacular season and the Redskins offense was one of the best in football.
The season following, Jeff George was signed to backup Johnson. The problem is that he signed a four-year, $14 million dollar contract. That was 12 years ago and a contract like that for a backup is almost unheard of.
Of course an almost immediate quarterback controversy ensued as George eventually replaced Brad Johnson as the team's starter.
The rest is history. Brad Johnson went on to win a Super Bowl in Tampa Bay and Jeff George was released after two games in the 2001 season, which essentially ended his career.
First of all, Jeff George never had a good reputation. He constantly clashed with coaches and teammates, which lead to one of the embarrassing releases ever.
Looking back on it, imagine the fate of the Redskins if George was never signed. Picture Brad Johnson being given full confidence in the organization. You mean to tell me that they would have done worse over the years with Brad Johnson behind center? No way.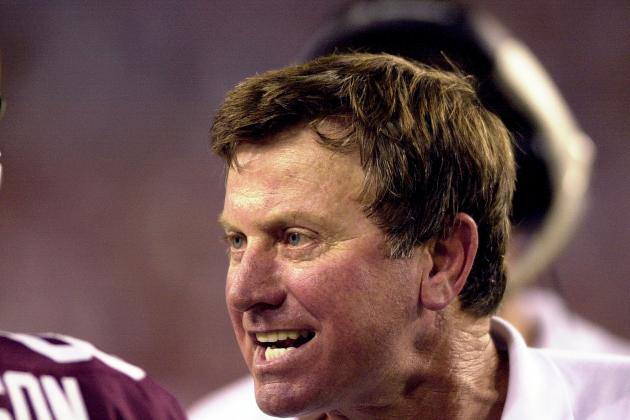 A. Messerschmidt/Getty Images

Yeah I just went there. Technically, Steve Spurrier was a former player and I could not think of a better opportunity to blast arguably the worst coach in Redskins history.
Man what a piece of s@#t. Sorry, but it's true. Five-year, $25 million dollar contract, which was the most lucrative signing for an NFL head coach at the time is beyond laughable.
I still don't understand how he's even a successful college coach. The man is a complete idiot. From his ridiculous quarterback evaluations, to his lack of involvement with the defense. Have you ever heard him answer questions? I feel I could a better response from a NASCAR driver.
We've had some bad coaches in Washington, but it might have been Spurrier that set the Redskins back the furthest. The culture in Redskins Park was in complete disarray, as there was virtually nobody to lead this team when it counted.
And for that, Spurrier will always be on my you-know-what list.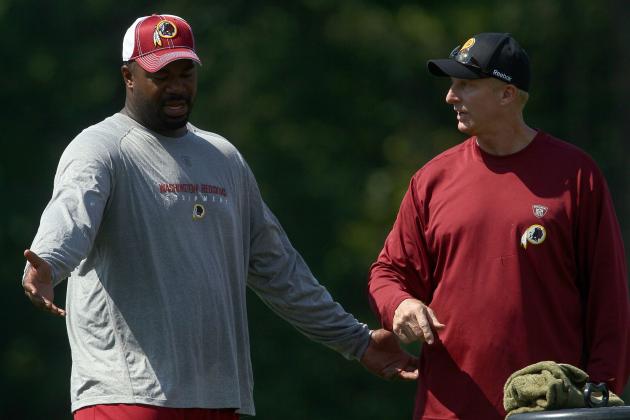 Win McNamee/Getty Images

Nope. He doesn't deserve a response. That's it.