Most Over-Hyped Players in College Hoops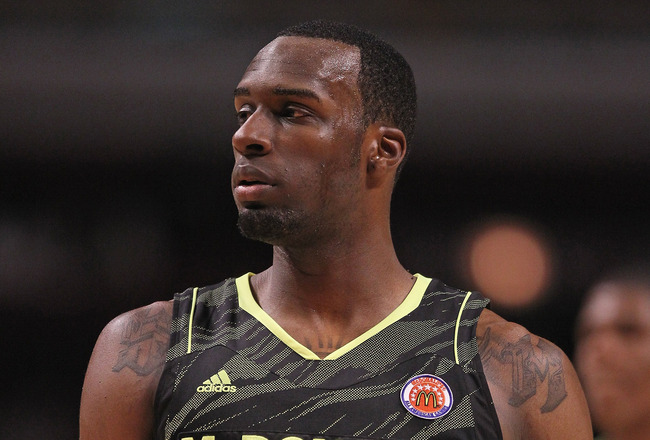 Shabazz Muhammad at Mc Donald's All-American Game
Jonathan Daniel/Getty Images
In the world of college basketball, hype plays an important factor in previewing and predicting the upcoming season. Teams aren't the only ones who face this hype. In actuality, players face more hype than complete teams do. However, some of those players don't merit the level of hype that surrounds them.
While these players may deserve some attention, the level of hype that they garner is far superior than what they actually bring to the table.
Inconsistent play, hot streaks, injuries and the mystery factor of "what if" all play important roles when considering a number of players who generate more attention than is merited. In other words, there are a number of players who fall into the category of "over-hyped".
Here are a few players that fall into this category.
Brady Heslip, Baylor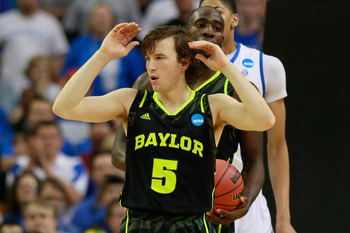 Kevin C. Cox/Getty Images
Brady Heslip emerged onto the national scene during the 2012 NCAA Tournament, knocking down three-point shot after three-point shot during Baylor's run into the Elite Eight.
In his first two games of the tournament against South Dakota State and Colorado, respectively, Heslip went for a combined 44 points on 14-22 shooting on three pointers. Against Colorado, Heslip nailed 9-12 threes, amounting to 27 points in the 80-63 win.
After these outstanding performances, Heslip was labeled the next great sharpshooter in college basketball. He was being billed was one of the greatest shooters in the country and would continue to show off his shooting brilliance.
So much for that. Heslip went the next two games—against Xavier and Kentucky, respectively—connecting on only two threes and scored 15 points combined in the two games.
Quite the drop off for someone who was suppose to be the "next big thing" in three-point shooting. What those games against against Xavier and Kentucky proved was that Heslip becomes completely obsolete when defenses figure for him in their defensive strategies and have high-quality defenders.
No disrespect to South Dakota State or Colorado whatsoever, but their defenses were not on the same level as Xavier and Kentucky. Honestly, before the SDSU-Baylor tournament game, I had never heard of Brady Heslip before. Now, after seeing him fall back down to earth, I know why.
Heslip had a nice little run in the tournament, but now some will expect him to perform on that sort of level more often. Don't expect that to happen, because it is highly unlikely to happen.
Trevor Mbakwe, Minnesota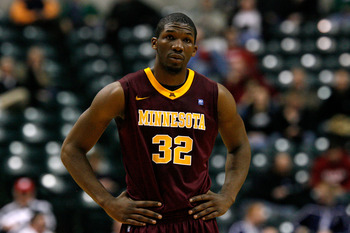 Chris Chambers/Getty Images
Forceful and aggressive, Trevor Mbakwe is one of the best forwards in the country when he's healthy.
Except, that is the key phrase: when he's healthy.
Mbakwe began his career at Marquette but found his way to Minnesota to be closer to home. During his freshman season in Marquette, Mbakwe suffered a season-ending knee injury, which is what led him to Minnesota.
Then, last season, Mbakwe went down with yet another knee injury. He has since been granted a sixth year of eligibility and will suit up for the Gophers again in 2012-13.
There is no knocking Mbakwe's abilities. He's a physical, dominating presence in the paint when he's on the court. No, the reason why he is among the over-hyped has nothing to do with his playing ability and has everything to do with his health.
Staying healthy is one of the biggest keys to any athlete's success. Mbakwe has yet to prove he can maintain a his body—his knees, especially—to warrant being talked as one of the best forwards in the country.
If his knees weren't such a big question, we would not be discussing whether or not Mbakwe is reliable or not.
It's hard to get behind a guy with so many health questions, but somehow Mbakwe has gained massive attention during his time under Tubby Smith. His skills are unquestionable, but his consistent injuries make him more lethal to himself than to his opponents.
DJ Cooper, Ohio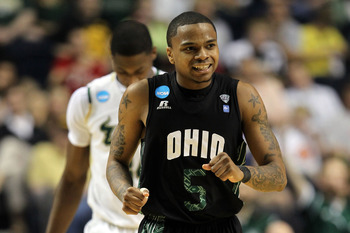 Jamie Squire/Getty Images
Ohio made a stellar run in the 2012 NCAA Tournament, taking out Michigan and South Florida before falling to North Carolina in the Sweet 16. This Bobcat run was sparked by the timely scoring of guard D.J. Cooper.
Cooper has been a favorite of the mid-major scene since his freshman year, scoring 13.5 points per game to go along with five rebounds and nearly six assists. He went on to score nearly 16 points per game his sophomore year but dropped back down to 14.7 last season.
One thing that really stands out with Cooper his is erratic and inconsistent shooting percentage. Cooper topped out last season at 34.8 percent on field goals. For a guard who has the speed and basketball IQ to get to the rim, that is a remarkably low percentage of shots converted.
While Cooper had a tremendous showing against Michigan's highly touted point guard Trey Burke—7-11 shooting with 21 points—his 3-20 shooting performance against North Carolina is rather telling.
Cooper is a victim of being a great player in the mid-major circuit. He deserves some of the attention he receives, but in reality, he's above average. A solid player in his own right, but expectations for him are awfully high. This is especially true when considering his shooting woes during his college career.
Shabazz Muhammad, UCLA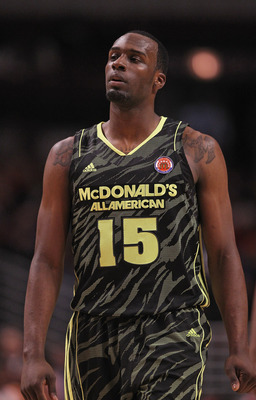 Jonathan Daniel/Getty Images
Having not even stepped foot on the court for the UCLA Bruins, Shabazz Muhammad is expected to restore the history and winning prestige to the falling program.
How much more hype could there be for an incoming freshman?
Yes, star freshmen usually have a lot pressure on them to perform at a high level, but nobody has come into a program with so much turmoil and dissension as much as Shabazz is coming into at UCLA.
The biggest problem with Muhammad being a freshman with that sort of pressure is just that: he's a freshman.
Don't get me wrong, I believe he will be a great talent and should do some good things for the Bruins. It's this idea that one recruiting class—including Kyle Anderson, as well as Muhammad—is suppose to redeem a school's track record in one season? By saying one season, that is being based upon the fact that Muhammad will likely jump to the NBA after the 2012-13 season.
Some college basketball writers are ranking Muhammad among the top players in the country. Before he's even played a single minute. The Big Lead's Jason McIntyre went so far as to rank Muhammad number two on his list of Top 50 Players in College Basketball. That's an awful lot of eggs being put into the Muhammad UCLA redemption basket.
Given time, I'm sure Muhammad could be a top talent in college basketball. Until that time, he will be known as the most over-hyped player in the country.
In Closing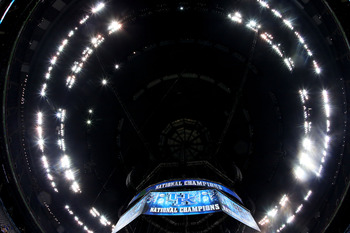 Ronald Martinez/Getty Images
These have been the top four most overly-hyped players in college basketball. Whether you agree or disagree, it's still a matter of opinion and discussion.
With that being said, feel free to weigh in with your views on the topic.
Who did I miss? Who should've been left off the list? Do you agree/disagree with the overly-hyped label for these four players?
Want to chat personally, find me on the Twitter @gieseflysouth.

Keep Reading