South Carolina Football: Predicting 2012 Stats for Gamecocks' Top Players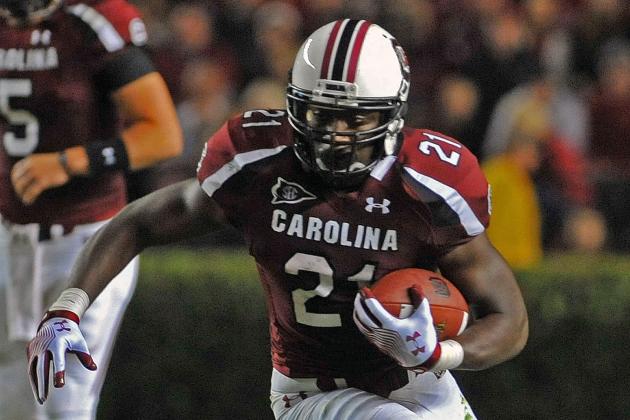 Al Messerschmidt/Getty Images

In order for the Gamecocks to compete for the SEC Championship, they'll need a strong performance from their leaders on offense.
The Gamecocks return several key players, such as quarterback Connor Shaw, running back Marcus Lattimore and wide receiver Ace Sanders. These players, along with several others, will need to play up to the level that South Carolina fans have become accustomed to.
Here's a quick look at some predictions for the statistical outputs of the Gamecocks' top players at each offensive position along with some guesses on other offensive players for the upcoming 2012 season.
Begin Slideshow

»
Mike Ehrmann/Getty Images

Connor Shaw had an incredibly strong finish to the 2011 football season for South Carolina.
He was able to move the ball efficiently and effectively on the ground and through the air for the Gamecocks as they racked up three big victories to close out the season.
If you look at last year's numbers as a starter for nine games and extrapolate them out to a full season, Shaw's numbers would look like this:
Passing Completions: 176
Passing Attempts: 269
Passing Yards: 2,091
Passing Touchdowns: 20
Interceptions Thrown: 9
Rushing Yards: 738
Rushing Touchdowns: 11
It obviously will depend on the development of the wide receivers for South Carolina, but those passing numbers seem in line with the type of numbers that Shaw could put up at a minimum for the Gamecocks. Shaw will likely throw for higher yards this upcoming season based on the talent around him.
The rushing yards seem to be about what Shaw should expect this season. There may be a few games were he rushes for 100 yards or more, and there may be a few games where his running abilities will not be needed.
If I had to guess, I'd look for Shaw to throw for around 2,300 yards with 22 touchdowns to nine interceptions. I also think he'll run for 675 yards and have nine rushing touchdowns.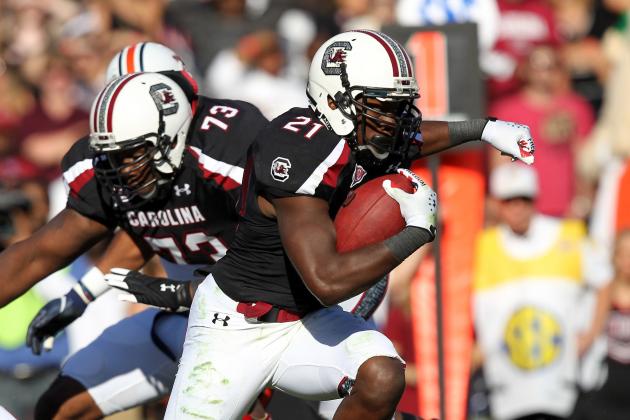 Streeter Lecka/Getty Images

It's no surprise that Marcus Lattimore is considered the premier running back in college football this upcoming season.
Yes, he will be returning from a serious injury, but the country has seen what Lattimore has done over the course of a season and a half and know that he'll be ready for this upcoming season.
Let's look at Lattimore's career numbers on a per game average:
Rushing Attempts: 20
Rushing Yards: 100.75
Rushing Touchdowns: 1.35
Receptions: 2.4
Receiving Yards: 29.7
Receiving Touchdowns: .15
Lattimore's career numbers show that he will likely surpass 100 yards every game played as well as add close to 30 receiving yards as well. He generally rushes for at least a touchdown per game.
So take those numbers over the course of a 13-game season (excluding a potential SEC Championship game for these purposes) and the junior running back will have 260 rushing attempts for 1,309 rushing yards with 18 rushing touchdowns.
He would also have 31 receptions for 386 yards with two receiving touchdowns.
These numbers are more in line with his freshman season as Lattimore rushed for almost 1,200 yards with 19 total touchdowns. He did miss two games that season, so it's likely that he can match these numbers or surpass them depending upon the performance of other South Carolina running backs.
Look for Lattimore to get in the 1,250 yard range for rushing yards with about 15-17 rushing touchdowns, plus a few more through the air. Lattimore's carries may be limited as he returns to full health and other capable running backs are there to share the load. His numbers may diminish by this somewhat, but expect a big season from the star running back for the Gamecocks.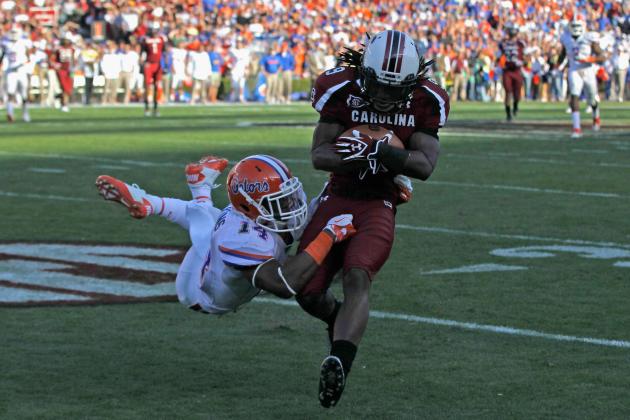 Streeter Lecka/Getty Images

Ace Sanders is a player that will have a target on his back as he looks to fill the void left by Alshon Jeffery heading to the NFL.
Sanders has shown glimpses of talent in his three seasons in Columbia but hasn't been the impact player that some might have expected. However, that all changes this season as Sanders takes on a new leadership role with the Gamecocks and looks primed for a big season.
Let's look a Ace's last two years for the Gamecocks:
2010 - 25 catches for 316 yards with two receiving touchdowns
2011 - 29 catches for 383 yards with two receiving touchdowns
His average for those two seasons come out to be 27 receptions for 350 yards with two touchdowns.
Ace's role on this team will require much better numbers as he will be a main focus of the passing attack for South Carolina. As a number one receiving threat, it's logical to think Ace could have numbers this season that will equal 2010 and 2011 combined.
Look for Ace Sanders to have around 50 catches for 650 yards and five receiving touchdowns. He may have less if younger players such as Shaq Roland, Shamier Jeffery and a few others progress and show they can add value to the Gamecocks' passing game.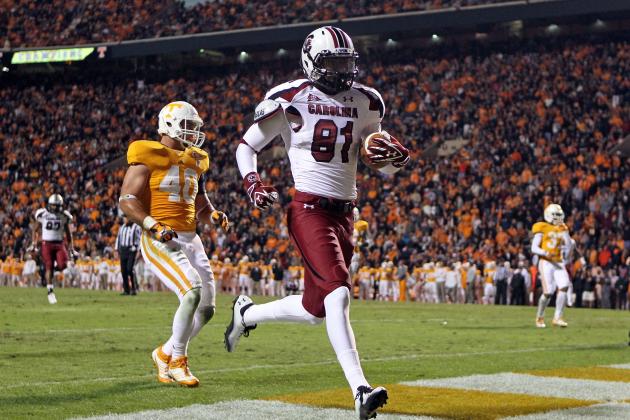 Andy Lyons/Getty Images

One of the surprises from the 2011 recruiting class turned out to be freshman tight end Rory Anderson.
His tall, but slender, frame looked like it would keep him on the redshirt list to start the season. However, Anderson played out of necessity and was a nice surprise for the Gamecocks over the course of the season.
Anderson's freshman totals looked like this:
2011 - 8 catches for 188 yards with three touchdowns
He had a high yards per catch average last season and scored touchdowns on nearly 38 percent of his receptions from last season. While it's unlikely he can continue that pace as he becomes a bigger part of the offense, he should increase his total production from a year ago.
If you take his averages from the six games he had a reception, and expand to a full season, his numbers could look like this:
Receptions: 17
Receiving Yards: 407
Receiving Touchdowns: 7
Now, the receiving yards seem like a realistic number for Anderson this season. The receptions may be a bit misleading though. It doesn't seem likely that Anderson will keep up his incredible yards per catch average, but he should see an increased number of receptions in 2012. The receiving touchdowns seem a bit high as well.
The Gamecocks also have several young talented tight ends who could work their way into the rotation, which could limit Anderson's production. The good thing about Anderson is his height and deceptive speed could allow him to line up in the slot as a wide receiver while another tight end is on the field.
Realistically, I would expect Anderson to finish with around 28 catches for 380 yards with four receiving touchdowns.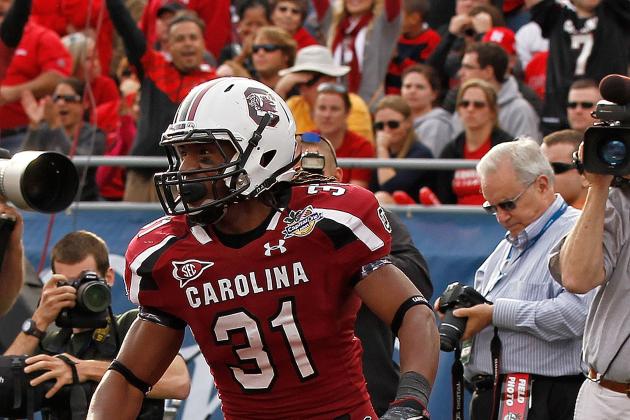 Mike Ehrmann/Getty Images

Here are a few quick guesses on some of the other Gamecock offensive players and the potential statistical years they could have in 2012:
RB Kenny Miles - 57 carries for 250 yards with two rushing touchdowns
RB Shon Carson - 35 carries for 185 yards with one rushing touchdown
RB Brandon Wilds - 17 carries for 148 yards with one rushing touchdown
RB Mike Davis - 15 carries for 125 yards with one rushing touchdown
WR Shaq Roland - 30 catches for 430 yards with three receiving touchdowns
WR Damiere Byrd - 20 catches for 300 yards with two receiving touchdowns, 135 rushing yards
WR Shamier Jeffery - 27 catches for 338 yards with three receiving touchdowns
WR K.J. Brent - 18 catches for 220 yards with one receiving touchdown
WR Bruce Ellington - 23 catches for 268 yards with two receiving touchdowns, 120 rushing yards
WR Kwinton Smith - 10 catches for 67 yards
TE Justice Cunningham - 15 catches for 160 yards with one receiving touchdown
TE Jerell Adams - 10 catches for 89 yards
TE Drew Owens - 8 catches for 75 yards
Now, these are all guesses on their statistics for 2012. Some of these players could redshirt, including Wilds, Mike Davis, Kwinton Smith, Jerell Adams and Shaq Roland.
Players like Miles, Ellington and Cunningham had their numbers based on statistics that they've shown in the past. Is it possible to go above and beyond these numbers? Absolutely.
It's just going to be an interesting season to see how the Gamecocks divide up the carries and receptions between all of these talented players. Some players may force the hand of the coaches based on performance in fall camp and others may fall behind.
At this point in the year, it's hard to project these types of numbers. At the very least, it's a start on what could be a fantastic year for several Gamecocks on offense.