NBA Free Agents 2012: Likely Landing Spots for Top Available Big Men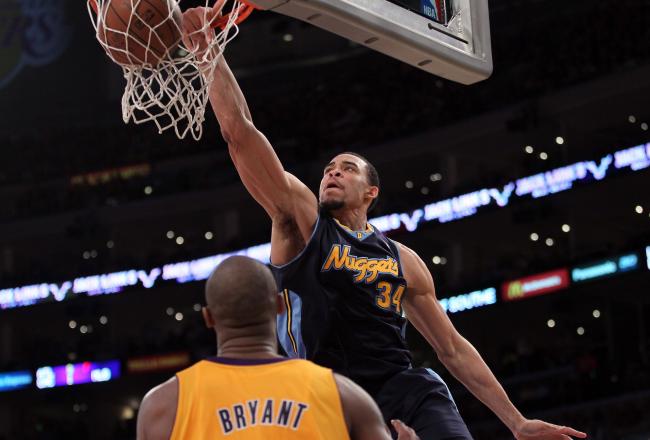 Jeff Gross/Getty Images
The NBA is now deep into the free-agency period, but a few big men remain available to the teams looking to bolster their frontcourts.
The top players on the market like Roy Hibbert and Brook Lopez are gone, and no signings will be front-page news at this point.
But a big man willing to do the dirty work down low can help a team win basketball games.
Here are the top remaining forwards and centers and predictions for where they will land.
JaVale McGee
McGee is a restricted free agent and continues to be in talks with the Denver Nuggets.
The team traded for him in the middle of last season and he averaged 10.3 points and 5.8 rebounds in 20 games in Denver.
The Nuggets have offered the center a five-year, $50 million contract, according to Benjamin Hochman of the Denver Post. But McGee and his agent are looking to the max deals that have been shelled out to Lopez and Hibbert and wondering why Denver isn't offering more money.
A deal has not been sealed between the two sides, and McGee remains an unrestricted free agent. If talks break down further, there may be another team willing to give him a max contract.
Prediction: McGee is too young and talented, and Denver will not let him leave. The two camps will find middle ground and McGee will be back in Denver.
Antawn Jamison
Jamison is a talented scorer with a complete offensive game. He put up 17.2 points per game with Cleveland last season and has averaged 19.5 points a night across his career.
However, his rebounding stats dipped and he tied his career low by grabbing just 6.3 boards per game. The 36-year-old was never an elite defender or rebounder, but he was a liability in those areas last season.
Still, players who can score the basketball like he can will always find their way onto a roster, and the Los Angeles Lakers are rumored to be showing significant interest.
Rick Bonnell of the Charlotte Observer has already reported that Jamison will head to Los Angeles, but no Lakers officials have confirmed the move.
Prediction: This one is easy. Even though Mitch Kupchak and the Lakers' brass are refusing to acknowledge the rumor, this move makes sense for the team. L.A. needs scoring off the bench and they will bring in Jamison for that.
Jermaine O'Neal
Would Antawn Jamison and Jermaine O'Neal be good signings for the Lakers
After McGee and Jamison, there's a noticeable drop-off in the quality of available players. At 33 years old, O'Neal is not much of a factor anymore, but he still provides teams with hustle and veteran savvy.
The former All-Star averaged just 5.0 points and 5.4 rebounds for the Boston Celtics this past season. With those kind of numbers, he will almost certainly have to settle for the veteran's minimum salary.
His lack of production was likely due to several health problems he experienced last season. O'Neal, as noted by Mark Medina of the Los Angeles Times, had the same platelet-enrichment procedure this offseason that has become popular among professional athletes.
This could help boost production, and a team may be getting a bargain. At least this is what the Lakers hope to be the case, as they hosted him for a workout, according to Yahoo Sports' Marc J. Spears.
Lakers to work out free agent forward Jermaine O'Neal in Las Vegas on Tuesday, source tells Y! O'Neal has recovered from knee surgery in Feb

— Marc J. Spears (@SpearsNBAYahoo) July 17, 2012
Prediction: The Lakers generally get what they want, unless David Stern has something to say about the move. O'Neal's signing certainly would not be vetoed and Los Angeles will bring O'Neal on board to add depth to their frontcourt.
This article is
What is the duplicate article?
Why is this article offensive?
Where is this article plagiarized from?
Why is this article poorly edited?