Ohio State Football: Breaking Down the Vegas Odds on Every Game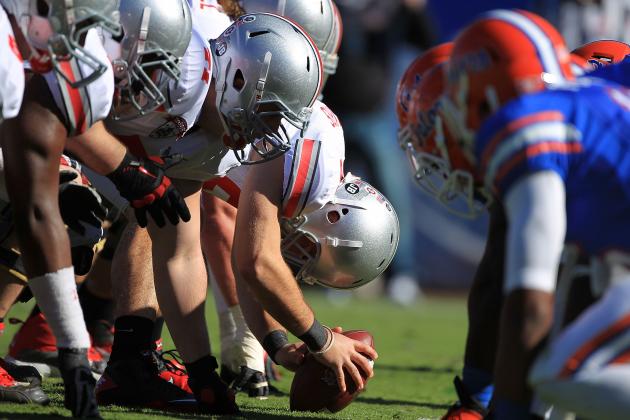 Scott Halleran/Getty Images

I know its early, but if there's two things America loves its college football and gambling. I learned this the interesting way when I had a hard time believing that I would manage to find odds on every Ohio State game this season but was pleasantly surprised to find over 798 college football game's point spreads.
Thanks to the good people at Beyond the Bets, you can view spreads for every game you could ever imagine, including our beloved Buckeyes.
In recent years, OSU has been a difficult team to pick with the spread due to Jim Tressel's conservative style of coaching and their slow pace of play. Things have certainly changed in Columbus now.
With the hiring of Urban Meyer, the Buckeyes should manage to put more points on the board quicker, and I fully expect them to win big when they're supposed to as opposed to what they've done in recent years. As for the closer games, it's your gamble, but I would be glad to help you out and put my own two cents in.
Of course, I'm always here to put my two cents in.
Begin Slideshow

»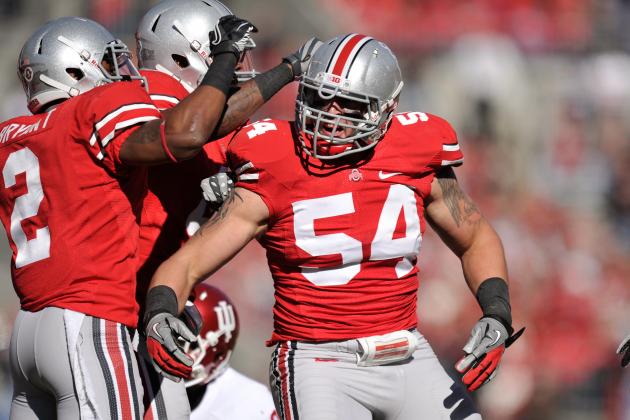 Jamie Sabau/Getty Images

Odds: Ohio State -27
Well the Buckeyes kickoff the season with somewhat of a cupcake game against in-state opponent Miami (OH). OSU is far more athletic than the Redhawks and should win this game with ease.
I expect Meyer to come into this game looking to make a statement and win by at least 27 points. This is a perfect stage for the new head coach to put points on the board with his new offense and set the tone for the rest of the season and other opponents on the schedule.
This is a no-brainer. Take Ohio State against the spread.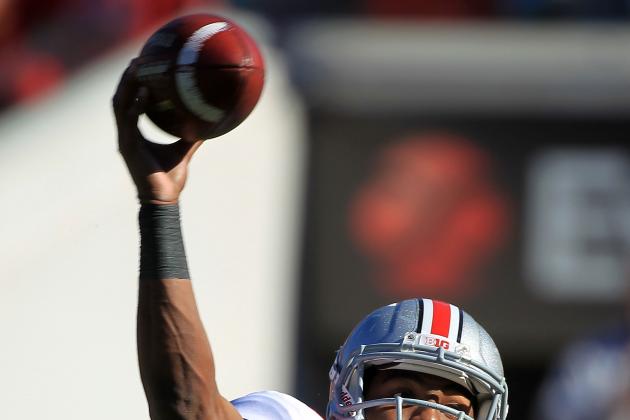 Scott Halleran/Getty Images

Odds: Ohio State -16.5
Last season, the Buckeyes didn't have much success against their Sunshine State opponent, but Vegas expects OSU to outlast UCF by at least 17 points. This spread seems a little risky considering the fact that UCF always fields a solid team and the Buckeyes may be without three starters on offense.
To be honest, this spread makes me nervous, and while I don't think it's impossible for Meyer and company to win by 17, I would take the spread on this one. However, this is a toss-up to me.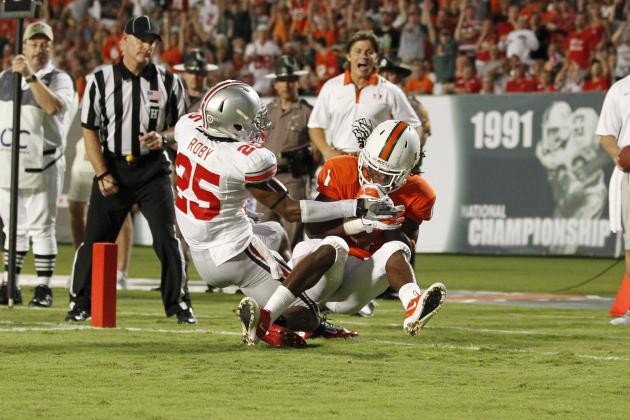 Joel Auerbach/Getty Images

Odds: Ohio State -14
This classic Rose Bowl matchup gives plenty of reason to be excited about this game and the spread is not half bad either. The Golden Bears field a decent team this season but nothing too special and I don't expect the Buckeyes to overlook this BCS opponent like they may against UCF.
Fourteen points isn't too steep and I think Ohio State should cover this spread fairly easily.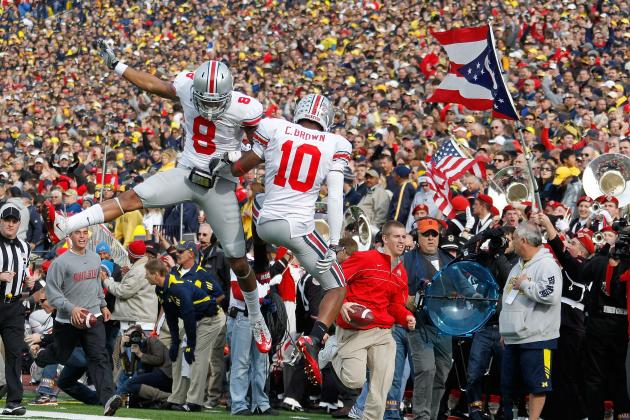 Gregory Shamus/Getty Images

Odds Ohio State: -38
This will be the Buckeyes last tune-up game before Big Ten play and its certainly not their toughest test on the schedule. UAB is one of the weakest teams limping into the 2012 season and Vegas clearly agrees.
Although 38 is a pretty hefty spread, I fully expect the Buckeyes to cover this and head into Big Ten play in high spirits.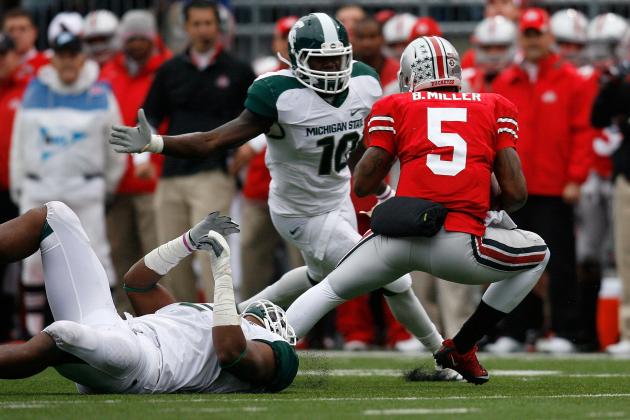 Kirk Irwin/Getty Images

Odds: Ohio State +1.5
Last season's showdown against Michigan State was extremely painful to watch and showcased almost no offense. Michigan State gets favored in this game, mostly because they are the home team, but I can't say I agree with them on this one.
Yes MSU is the home team but they also lost quite a few players from last season including senior quarterback, Kirk Cousins. Ohio State should win this game, and I say they win it by a field goal. Take the points and the Buckeyes.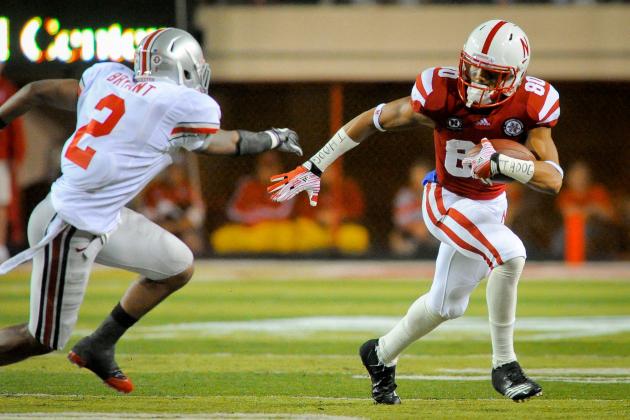 Eric Francis/Getty Images

Odds: Ohio State -5
This will be the Buckeyes first home, in-conference game which is probably why they are favored in Vegas. At this point I expect the Buckeyes to be undefeated, but this will certainly be a tough test for Meyer and company.
Even if the Buckeyes do win this game, I don't expect them to win by more than a field goal so I would take the points here.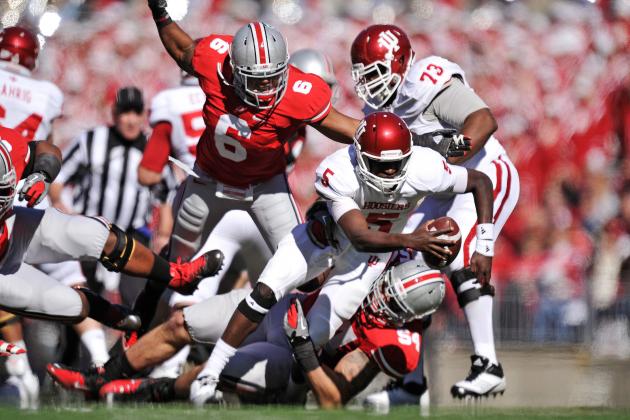 Jamie Sabau/Getty Images

Odds: Ohio State -21
You would have to ask your grandpa what it was like to watch Indiana beat Ohio State because it hasn't happened in quite awhile. Unfortunately for the Hoosiers, I highly doubt it will happen this year. Indiana returns an excellent quarterback but not much else and although they gave the Buckeyes some trouble last season, this shouldn't be much of a test.
A spread of 21 really isn't too steep and the Buckeyes should cover this with immense ease.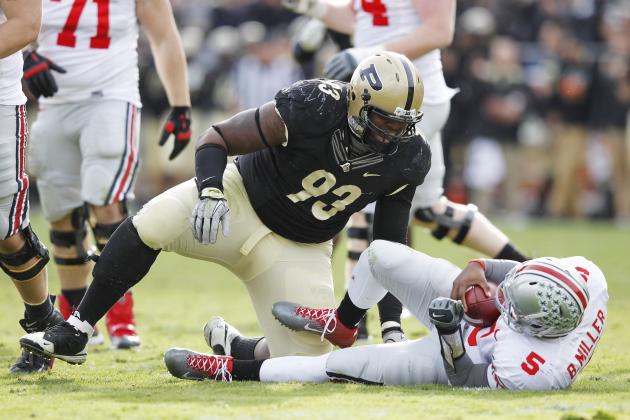 Joe Robbins/Getty Images

Odds: Ohio State -16.5
In the past few years, no underdog team has given the Buckeyes more trouble than the Purdue Boilermakers. It's hard to pinpoint the reason why, but the Buckeyes just don't have their best outings against this Big Ten opponent. That is why this spread makes me so nervous.
As of now, the Boilermakers have Ohio State's number, which scares me off of this pick. If I were a betting man, I would take Purdue and the points just based on history alone.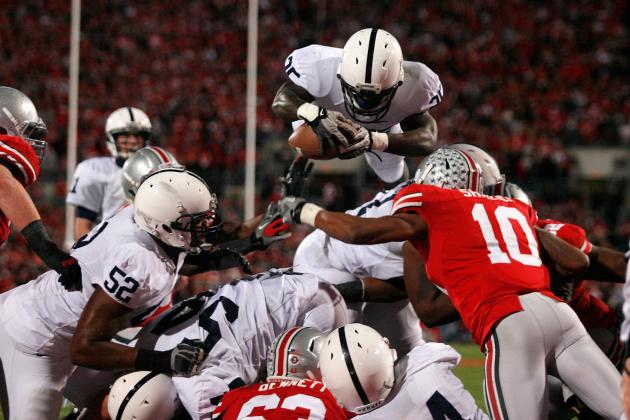 Kirk Irwin/Getty Images

Odds: Ohio State -6
I wonder what the odds are that this is the first piece of news you've read that doesn't deal with Paterno, Sandusky or that entire shameful mess at Happy Valley?
Penn State's program is in complete mayhem and we still have no idea if they will be disciplined by the NCAA but, nonetheless, I don't expect them to have a productive year in this "blank" storm they're in.
With so much going on around PSU, I confidently expect the Buckeyes to cover this spread.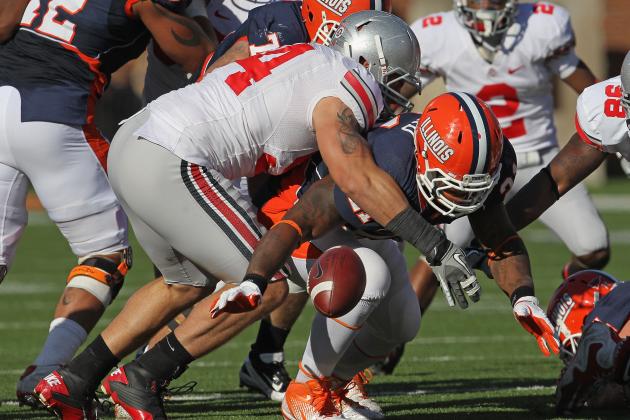 Jonathan Daniel/Getty Images

Odds: Ohio State -19.5
This spread almost had me fall out my seat. While I don't expect Illinois to be in any BCS bowl game, they still return an excellent quarterback and have a solid change of culture with a new head coach.
In a game against two new coaches take the Buckeyes, but I wouldn't expect them to cover that steep spread.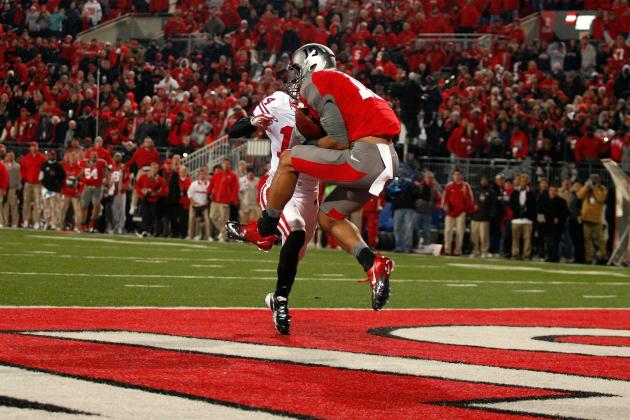 Kirk Irwin/Getty Images

Odds: Ohio State +4
The Buckeyes will have two weeks to prepare for the Badgers and their toughest test in the Leaders division. Due to this bye week before the matchup, I feel a little more confident that Meyer and his troops could pull off the upset, but I'm definitely not sold.
Right now, I would put my very few dollars on Wisconsin to win the B1G, and as much as it hurts to say, I wouldn't pick the Buckeyes to win or cover the four point spread.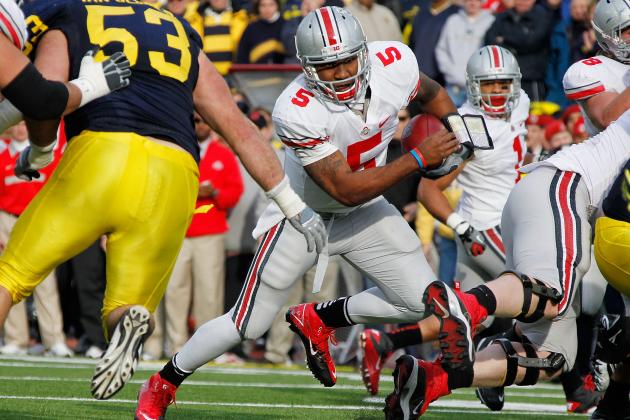 Gregory Shamus/Getty Images

Odds: Ohio State -4
Before taking a look at the odds, I expected Vegas to favor the Wolverines a little more in this game. Don't get me wrong, I love that they're picking OSU by four, but so many people are high on Michigan right now that I expected it to be a smaller spread.
Of course Ohio State is the home team which definitely adds to the spread, and although it may seem crazy, I expect the Buckeyes to win by at least four. It's a revenge game at home, and I think Meyer would rather lose all his games and beat Michigan than have it the other way around. He's going to put his heart and soul into this rivalry's debut and it's going to pay off.