Big Ten Football: Ranking the 2012 Big Ten Left Guards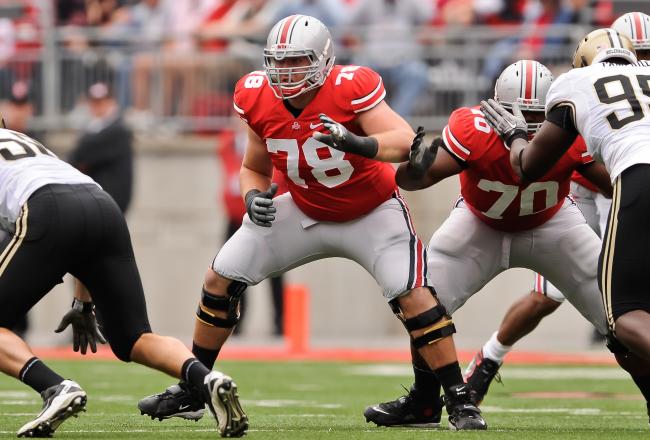 Jamie Sabau/Getty Images
Every Tuesday, the Big Ten Blog will rank the top players at each position for each team in the Big Ten. Today, we're going for the hogmollies up front: the left guards. This list is subject to change as not every depth chart is public at this point, and changes are often made as late as August, but here's how the races stand in June.
12. Tommy Olson, Minnesota
Olson is the presumptive starter here after injuries elsewhere on the line opened up a spot for him in the middle of the season, but he couldn't break back into the starting lineup after an injury kept him out of the Michigan State game. He's got decent potential at the very least, so if he can put together a full season he might not be the worst left guard in the conference this year.
11. Elliott Mealer, Michigan
As starters go, Mealer's name atop the depth chart is written in pencil, and that's remarkably disappointing. His primary competition at the position is Joey Burzynski, a 6'1", 284-pound walk-on who looked OK in the spring game. Incoming 5-star freshman Kyle Kalis could factor in here, but he wasn't an early enrollee. So how in the world has Mealer not sewn this job up?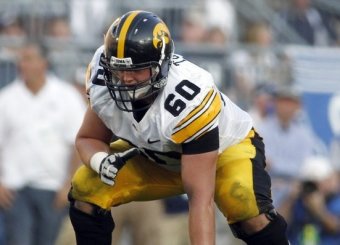 10. Matt Tobin, Iowa
Tobin is a former walk-on with good size at 6'6" and 290, and he started 10 games at left guard for Iowa. He also lost three starts to Brandon Scherff (now at LT) during Big Ten play, and truthfully neither inspired confidence. Still, he's holding off Conor Boffeli and doesn't look to have any other serious competition for the spot, so there you go.
9. Kevin Pamphile, Purdue
Who's the top left guard in the conference?
Pamphile, a converted defensive is "penciled in" here at LG, according to a Danny Hope interview on ESPN. But left guard is where Peters Drey started for most of 2011 before injury took him down. Drey missed spring too, so Pamphile's got the edge here. What he lacks in experience he makes up for with physicality; he's a beast at 6'5" and at least 280 pounds with explosive power. If his feet hold up, he could be one of the best run-blockers at left guard in the conference.
8. Bernard Taylor, Indiana
Taylor turned heads in 2011 by moving to the offensive line during preseason camp as a true freshman, and establishing himself so well at left guard that he was starting by Week 3. He looks like a four-year starter in the making, and that'll be crucial for Indiana's improvement in the conference. Taylor's not a transcendent physical talent, though, and this is still only his second year in Big Ten play. Also, his size isn't ideal at 6'2" and 284. His tenacity's exactly what you want, though.
7. Miles Dieffenbach, Penn State
Dieffenbach is listed as a co-starter with Marc Arcidiacono on Penn State's depth chart, but since Dieffenbach's name was listed first let's focus on him. He's a third-year sophomore with great footwork and the smarts to play center, but he's struggled to put on weight and still only clocks in at 286 pounds. If he's big and strong enough to take on the likes of Michigan's Will Campbell, great; everything else is there.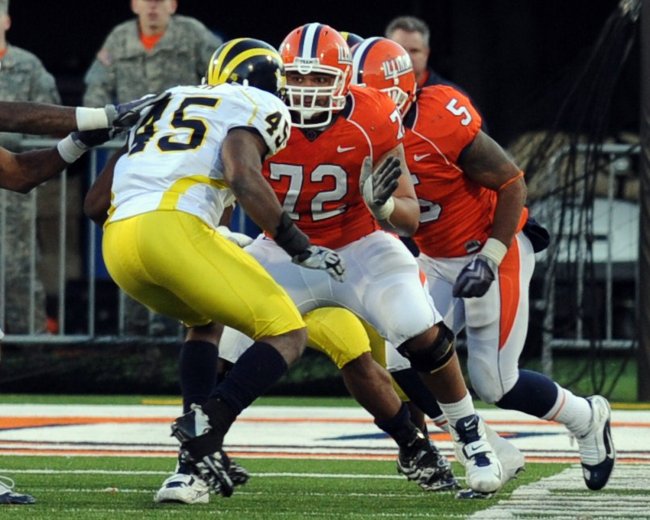 6. Hugh Thornton, Illinois
Per Athlon Sports, Thornton moves over to left guard after starting most of 2011 at RG for an Illini offense that was pretty solid on the line. Thornton's a three-year starter, but he hasn't pushed for all-conference honors in his career. This is his last year to make a push for postseason honors; if he establishes himself as a senior leader on the line, that's a possibility.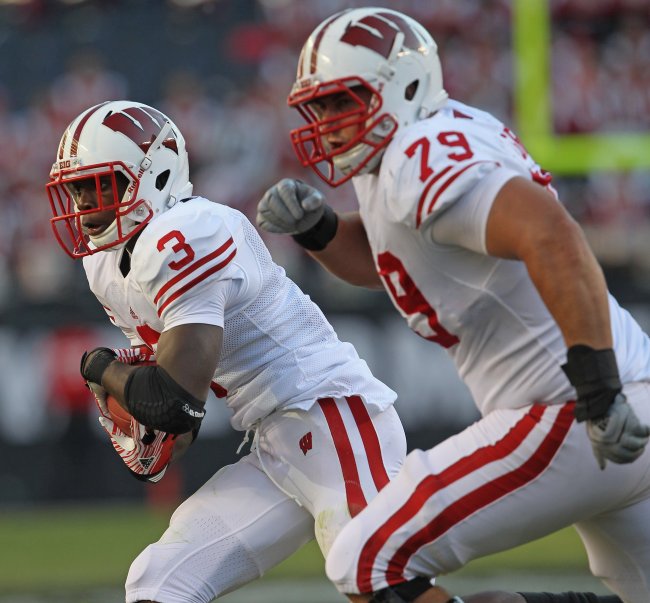 Jonathan Daniel/Getty Images
5. Ryan Groy, Wisconsin
Travis Frederick is Wisconsin's starting left guard from last season, and he's back and ready to mash; he's just at center now. Groy, who hilariously made two starts at fullback in 2010 despite being over 300 pounds and recruited as a lineman, eventually made his way to the line where he belongs, and he made four starts as an injury replacement last year—three at left guard. This is his spot now, and if he's like every other Wisconsin lineman, he'll excel here.
4. Blake Treadwell, Michigan State
Part of the Spartan resurgence on the offensive line is returning multiple starters from injury, and that includes Treadwell, who was doing fine at center before being lost for the year in Week 3. He's back, practicing, and looking good; he's even holding off upstart redshirt freshman Jack Allen for the starting role here. The coaches love Allen, so if Treadwell's even better, Michigan State is in great shape here.
3. Seung Hoon Choi, Nebraska
One of the most pleasant surprises of the 2011 season, Choi emerged as a bona fide guard for the Huskers, starting five games at LG as Andrew Rodriguez was hampered by injury. Choi looks set there now, and he's one of the Huskers' strongest linemen and best pass blockers. Not bad for a former walk-on who didn't know a lick of English when he moved here at 14.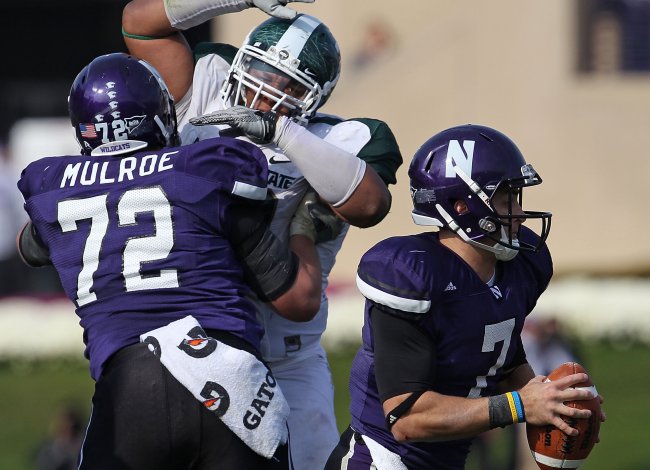 Jonathan Daniel/Getty Images
2. Brian Mulroe, Northwestern
One of the linemen who's most poised for a great 2012 is Brian Mulroe, the third-year starter at left guard for the Wildcats. He was named the offense's "Big Playmaker" three times last year and the offensive player of the week against Eastern Illinois. He's a member of the team's leadership council and should be the anchor of a pretty impressive offensive line in Evanston.
1. Andrew Norwell, Ohio State
Norwell is locked in after a successful 2011 season, when he started for suspended left tackle Mike Adams for the first five weeks then slid back in at starting left guard when Adams returned. He's versatile enough to play any position on the line, he's a road grader at 6'6" and 304, and he's only a junior this year. Look for a huge year and maybe even postseason honors for Norwell.
This article is
What is the duplicate article?
Why is this article offensive?
Where is this article plagiarized from?
Why is this article poorly edited?