London 2012 Olympics: Comprehensive Guide to the Summer Games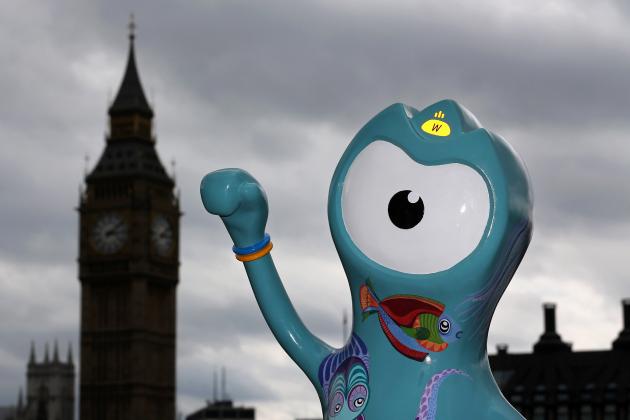 Dan Kitwood/Getty Images
Kids, don't go in this thing's van if it offers you candy.
Okay, first of all, meet Wenlock, the creepiest Olympic mascot of all time. He and his buddy Mandeville look like Play-Doh sculptures made by the quiet kid in your kindergarten class who used to bite everyone at recess.
Who approves these things?
Anyway, the 2012 London Olympics are here, and they are loaded with great storylines to follow. With so much action going on over the course of a couple weeks, it's easy to get a little lost.
Bookmark this page and use it as a roadmap to guide you through the Summer Games. It's got the background info you need for each of the top events, plus important links and other key stories to follow. We'll have breaking news and analysis coming your way nonstop on the Bleacher Report Olympics page.
Begin Slideshow

»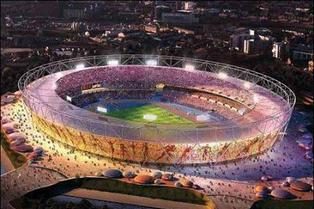 london-attractions.info
Brilliant director Danny Boyle (Slumdog Millionaire, Trainspotting, 127 Hours) has some big shoes to fill following up the jaw-dropping opening ceremonies in Beijing.
The opening ceremonies (dubbed "The Isles of Wonder") on July 27 will feature live farm animals, British humor and American athletes proudly wearing outfits made in China.
We've already predicted that the show will be a bust, but this is a must-see event in every Olympics.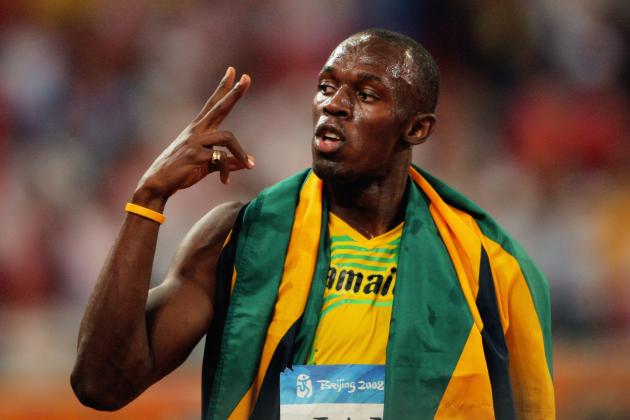 Stu Forster/Getty Images

WHEN: August 3rd-12th
WHERE: Olympic Stadium
TOP STORYLINES:
- Fastest men alive: Can 100 and 200-meter dash world record-holder Usain Bolt out-duel compatriot Yohan Blake, who beat him in both events during trials? Do feisty Americans Tyson Gay and Justin Gatlin have a shot?
- Lolo's a longshot: American sweetheart Lolo Jones tries to pick up an upset win to avenge a heartbreaking fall from the lead in Beijing.
- Blades of glory: South African Oscar "Blade Runner" Pistorius competes on 400-meter dash and relays.
- The Greatest: 24-year-old American Ashton Eaton is only getting better after setting the world record in the decathlon at the U.S. Olympic trials.
- Chinese champion?: Men's hurdler Liu Xiang (the 2004 champion) is in good position to win the 110-meter hurdles in order to make up for a heartbreaking pull-out in Beijing.
- Felix chases gold: American sprinter Allyson Felix has all the hardware a track athlete can hope for—except an individual Olympic gold. She will go for the double in both the 100 and 200.
- De-throning the greatest: American Jenn Suhr aims to take gold in the women's pole vault in an upset bid against Russian world record-holder Yelena Isinbayeva.
PREDICTIONS:
- Blake will win the 100 and Bolt will take the 200. Gay will win bronze in the 100.
- This is painful to say, but Lolo won't find the podium.
- Pistorius won't medal but will provide a memorable moment nonetheless as he steps to the starting line.
- Eaton will break his own record by improving in the throws, particularly the discus.
- Liu won't miss this opportunity to make his homeland proud.
- Felix will win the 200 but fail to medal in the 100.
- Suhr breaks through and upsets Isinbayeva.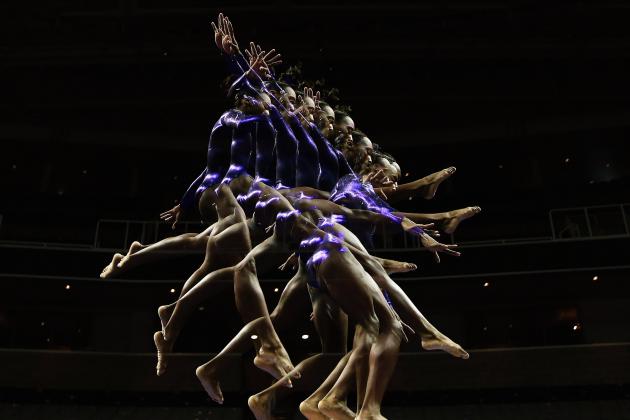 Ezra Shaw/Getty Images

WHEN: July 28th-August 5th
WHERE: North Greenwich Arena
TOP STORYLINES:
- Third time's a charm: The American women's team has entered the last two Olympics as world champs, but left with silver medals each time. It's the same setup in London.
- Uchimura tries to dominate: Japanese star is on a whole different level and favored for men's all-around title.
- Korean first?: Men's vaulter Yang-Hak Seon is the world champion and is favored to win South Korea's first-ever gymnastics title.
- Chinese repeat: Chen Yibin and Zou Kai lead the Chinese men's team in an attempt to repeat as gold medalists.
- Leyva time: Cuban defector Danell Leyva is America's best, bringing big talent and personality to London.
- Wieber time: American star Jordyn Wieber goes for multiple golds with surging teammate Gabby Douglas on her heels.
PREDICTIONS:
- The U.S. women break through and win their first gold since 1996.
- Uchimura takes men's all-around gold.
- Seon wins with the toughest vault every attempted.
- The world champion Chinese men win another gold.
- Leyva wins horizontal and parallel bars while U.S. men win bronze.
- Wieber and Douglas finish 1-2 in women's all-around competition.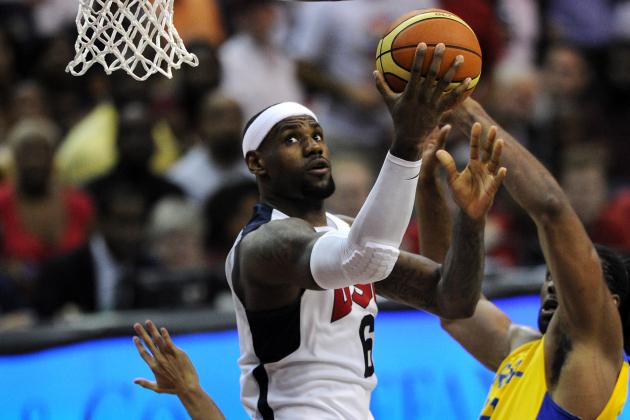 Patrick Smith/Getty Images

WHEN: July 28th-August 12th
WHERE: Olympic Park Basketball Arena
TOP STORYLINES:
- Team USA upset?: The Americans are 50-1 since Coach K took over the program. Some naysayers think that the lack of depth in the post leaves the team vulnerable.
- Second best: Team USA is the most talented, hands down. However, Spain and Argentina are considered the top upset contenders.
- Davis debut: PF/C Anthony Davis was a late call-up after Blake Griffin went down. He may play a big role, or he may be as useless as Christian Laettner was to the '92 Dream Team.
PREDICTIONS:
- Team USA wins the gold on an undefeated run. Their perimeter defense won't allow the ball to get into the post effectively, and they will force turnovers non-stop.
- If either Spain or Argentina meets Team USA, they will have leads somewhere in the middle parts of the game but will ultimately be worn down and lose by at least 10.
- Davis will be used more than expected and will be pushed around when banging against international bigs. Overall, though, he'll be serviceable.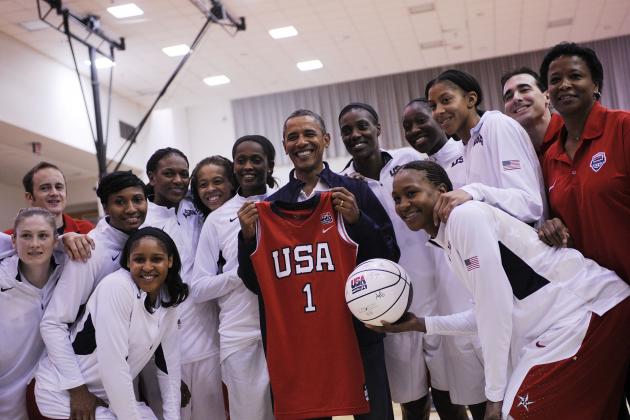 Pool/Getty Images

WHEN: July 28th-August 12th
WHERE: Olympic Park Basketball Arena
TOP STORYLINES:
- USA all the way: The American women are just as dominant as the men, if not more.
- Who will step up?: The international field in the women's tournament is not as strong as the men's. Australia is the top contender to pull an upset.
PREDICTIONS:
- Team USA will extend its 33-game Olympic winning streak in dominant fashion.
- No team will come within 25 points of the U.S. squad.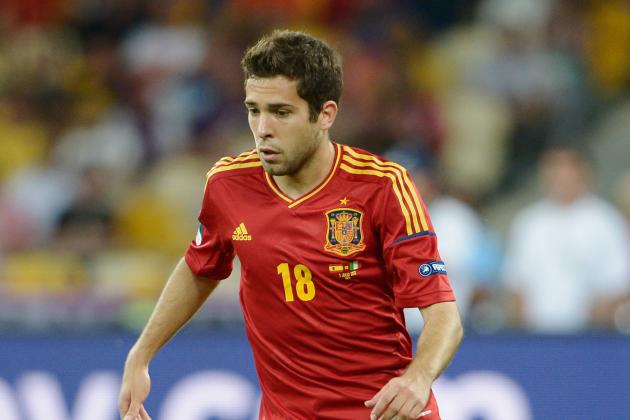 Claudio Villa/Getty Images

WHEN: July 26th-August 11th
WHERE: Wembley Stadium (London), Old Trafford (Manchester), St. James' Park (Newcastle), Hampden Park (Glasgow), City of Coventry Stadium.
TOP STORYLINES:
- Reign of Spain: The UEFA Cup champs are stacked with top players and are a favorite for gold.
- Home turf: The British try to defend their home pitch without David Beckham, who was left off the team.
- Brazil Still Searching: Brazil is considered another favorite, and has never won a gold medal.
- Alba Brushes Barca Aside: Spanish star Jordi Alba (pictured) will play against the wishes of his new team, FC Barcelona.
PREDICTIONS:
- This may be a vote more from the heart than the brain, but GB's favorite sport on its home turf will end in a gold-medal triumph. The Olympic tournament is not considered a rival to the World or UEFA Cup in terms of significance, but it will be the signature moment of the Olympics for the host nation. Captain Ryan Giggs, 38, will play the hero and solidify his legacy as one of the greatest players in U.K. history.
- Brazil will be heartbroken to win silver despite a strong showing behind stars like Thiago Silva. Spain will settle for bronze.
- Alba will have a solid tournament, motivated to put in a meaningful performance and prove to Barcelona that playing in the Olympics meant something.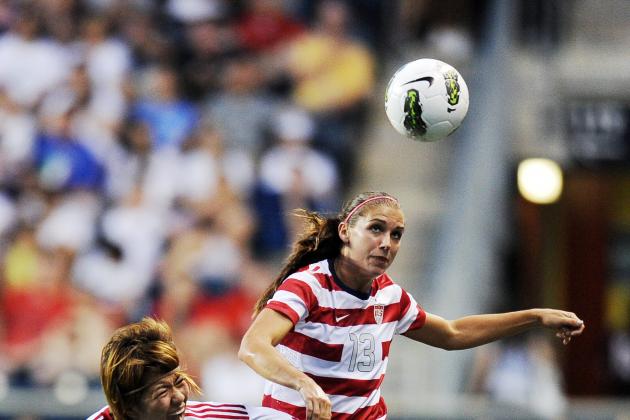 Drew Hallowell/Getty Images

WHEN: July 25th-August 9th
WHERE: Wembley Stadium (London), Old Trafford (Manchester), St. James' Park (Newcastle), Hampden Park (Glasgow), City of Coventry Stadium.
TOP STORYLINES:
- American three-peat: Team USA is vying for three consecutive gold medals behind stars Alex Morgan (pictured), Abby Wambach and Hope Solo.
- Cup follow-up: Japan won the World Cup last year and returns a nearly identical squad to London.
- Brazilian breakthrough: Just like the men's side, Brazil has never won Olympic gold. They have another good chance this time around.
PREDICTIONS:
- Japan's tournament experience will lead to the first World Cup-Olympics double in women's soccer history. Team USA will settle for silver, and Brazil will take bronze.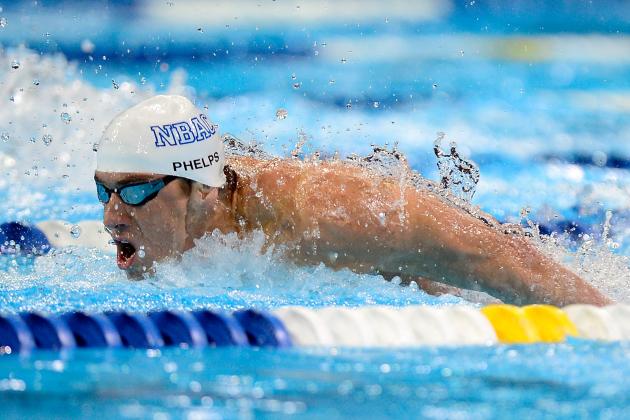 Jamie Squire/Getty Images

WHEN: July 28th-August 4th
WHERE: London Aquatics Centre
TOP STORYLINES:
- Phelps Wants More: The greatest swimmer in Olympics history follows up his eight gold medals in Beijing by competing in seven more in British waters.
- Teenage queens: 17-year-old Missy Franklin looks to kick off her Olympic career by proving she has the potential to top the great Natalie Coughlin at some point. Fifteen-year-old Katie Ledecky has gold medal hopes in the grueling 800-meter freestyle.
- Lochte and loaded: Ryan Lochte may have been out-done by Phelps at the Olympic trials, but he has the potential to win six gold medals in London. He has a chance to take individual gold in the 800 freestyle, 400 IM, 200 freestyle and 200 backstroke.
- European contingent: Among all the stateside hype around American stars are some stellar European swimmers who can top the podium. Check them out here.
PREDICTIONS:
- Michael Phelps is Mr. Olympics, but Lochte has more to prove. Rumors are that he wasn't tapered at the trials and that could make a difference. He'll win at least three gold medals.
- Missy Franklin wins four golds and a silver. Ledecky, who has very little experience in bigger meets, kicks off her Olympic career with bronze.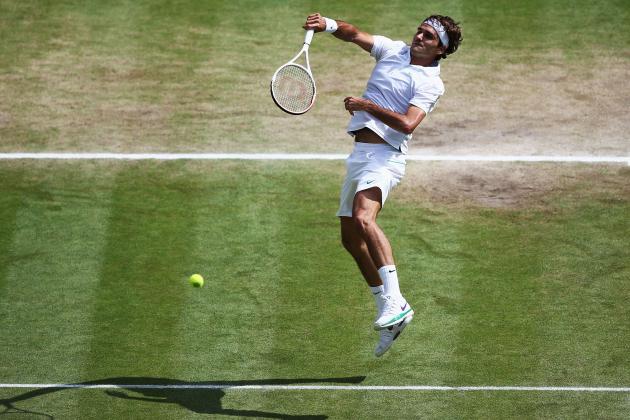 Paul Gilham/Getty Images

WHEN: July 28th-August 5th
WHERE: All England Club
TOP STORYLINES:
- Roger that: A red-hot Roger Federer enters the Olympics as the favorite in men's singles after winning WImbledon on the same court weeks earlier.
- Dandy Andy: British hero Andy Murray tries to become one of the best stories of the Olympics for the host nation with a golden opportunity.
- Serena time: Serena Williams is one of the favorites in singles and doubles, where she will be playing alongside sister Venus.
- Maria, Maria: A medal-less Maria Sharapova, ranked No. 1 in the world, goes for her first Olympic gold after missing the last two Olympics due to injury.
PREDICTIONS:
- The shortened matches (best-of-three sets) on the men's side lead to upsets, but no one takes down Federer. He wins gold.
- Murray wins bronze in singles and silver in doubles with his brother.
- On the heels of her Wimbledon victory, Serena wins the women's title.
- Sharapova medals, but not in golden fashion.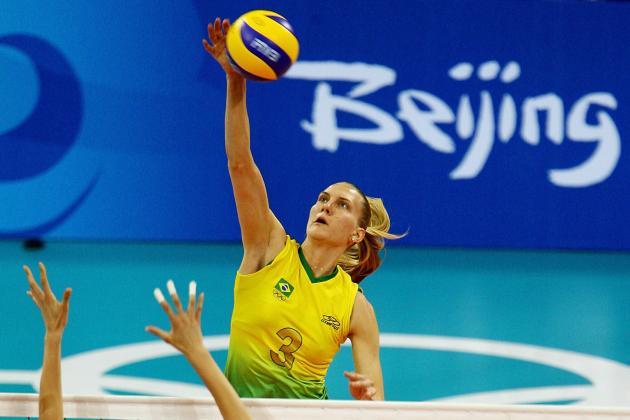 Jeff Gross/Getty Images

WHEN: July 28th-August 12th
WHERE: Earls Court Exhibition Centre
TOP STORYLINES:
-Brazil still strong: It was Brazil and the United States meeting in both the men's and women's finals in Beijing. The U.S. men won gold in upset fashion while the Brazilian women triumphed.
-Coach McCutcheon: The U.S. women are led by Hugh McCutcheon, the men's coach from Beijing. McCutcheon was one of the biggest stories in the last Olympics after his father-in-law was murdered in Beijing. The Americans triumphed in an effort dedicated to him.
-America's chances: The U.S. women carry the world's top ranking into London, while the men are fifth. The men's side features a veteran roster, however, so you can't count them out.
PREDICTIONS:
- McCutcheon and assistant coach Karch Kiraly lead the women to gold, while the U.S. men make it to the bronze medal game, defeating an always-athletic Cuban squad.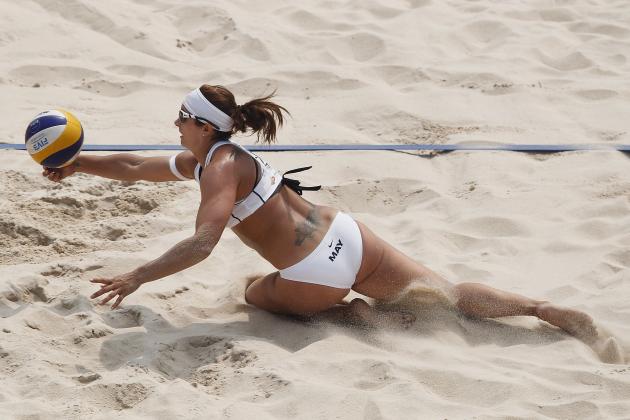 Lintao Zhang/Getty Images

WHEN: July 28th-August 9th
WHERE: Horse Guards Parade
TOP STORYLINES:
- Misty and Kerri: The American duo, seeded third heading into the tournament, will try to make it a three-peat for gold in their final Olympics.
- Todd and Phil: The men's field will try to take down defending champions Todd Rogers and Phil Dalhausser. The 38-year-old Rogers is one of the game's greatest defenders ever, while the 6'9" Dalhausser is an absolute beast at the net.
- Rain possibility: Rain is in the forecast, meaning there may be less bikinis on display. Shucks.
PREDICTIONS:
- Sorry to sound like a homer, but both American duos will win. Look for American men Jake Gibb and Sean Rosenthal to make the medal stand as well. Brazil will be represented on both medal stands.
- Maybe they won't be as scantily clad as in other competitions, but this will be a great sport to watch. There will be some red cards dished out, as beach players are prone to blow up on officials.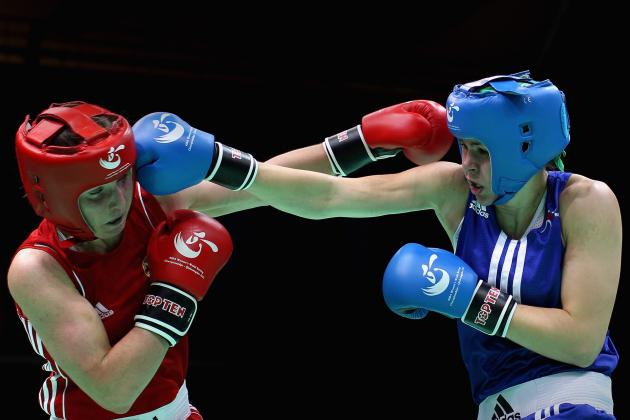 Feng Li/Getty Images

WHEN: July 28th-August 12th
WHERE: Excel Exhibition Centre
TOP STORYLINES:
- Welcome, ladies: For the first time, women's boxing will be included in the Olympics. There will be three weight classes represented.
- British hopes: World No. 2 Savannah Marshall is the reigning world champion at women's middleweight and has golden dreams on home soil.
- Lots of fighting: The Olympic card is a full one, with 250 men and 36 women competing. Our own Madhusudan Rao provides a great preview of each weight class here.
PREDICTIONS:
- Marshall wins gold for Great Britain.
- Ukraine, which won a record five medals at the 2011 World Championships, will win five more in London, including three golds.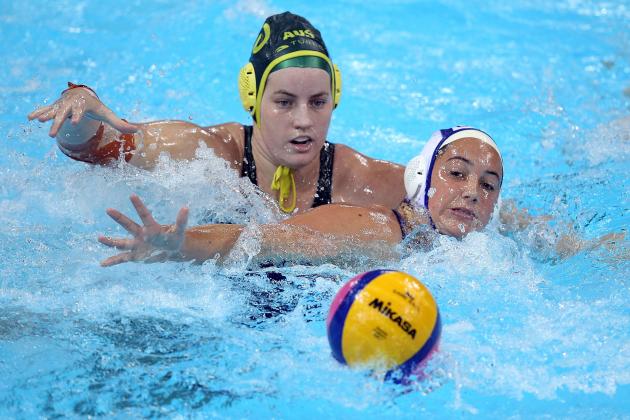 Clive Rose/Getty Images

WHEN: July 29th-August 12th
WHERE: London Aquatics Centre
TOP STORYLINES:
- Hungry Hungary: Water Polo is the national sport in Hungary, and the men's team will look for its fourth consecutive gold medal in London.
- American women: The U.S. was the world champ heading into the last two women's tournaments, only to take silver. It's the same scenario this time around.
- American men: The U.S. surprised by making it to the championship game and taking silver in Beijing, but are not projected to make the medal stand this time around.
PREDICTIONS:
- Hungary's men make it four straight in first.
- The American women finally break through with a veteran squad, while the men miss the podium.
LOCOG/Getty Images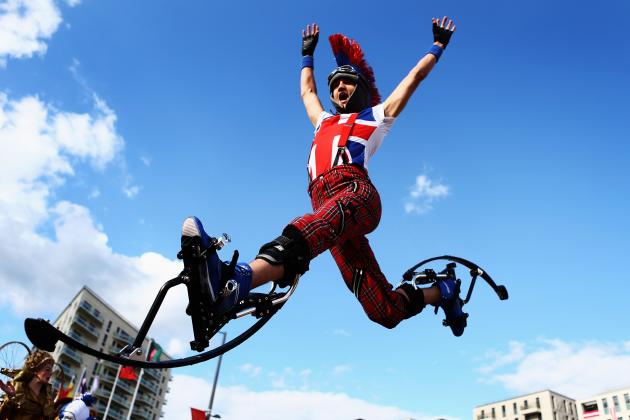 Paul Gilham/Getty Images

Of course, Bleacher Report's Olympics section will be updated continually with live blogs, analysis, breaking news and opinion pieces on the Summer Games. We're even going to wake up at 3 a.m. here to make sure we're right on top of the live action and results. That way, you can read about the latest news over your morning coffee instead of having to wait until lunch.
NBCOlympics.com is also a main hub for information and scheduling, and the format is very user-friendly.
Here is the main page of the London Olympics, and below are a few other links to use as references for the three hallmark Olympic sports:
Track and Field
Swimming
Gymnastics
Jamie McDonald/Getty Images

- Diving: Any U.S. medal will be a major accomplishment, given the Chinese and European excellence. But a medal or two wouldn't be shocking.
- Equestrian: The story here is the horse, Rafalca, who is owned by could-be First Lady Ann Romney. Also, competitor Zara Phillips is grand-daughter of Queen Elizabeth.
- Shooting: American Kim Rhode aims to be first athlete ever to win an individual medal in five straight Olympics. Amanda Furrer is the 21-year-old riflewoman who also poses in evening gowns and sundresses. Many of the athletes are in a special Army corps.
- Weightlifting: Superheavyweight (165 pounds-plus) Holley Mangold, sister of the New York Jets' Nick Mangold, vies for a gold medal.
- Cycling: Kristin "No Relation" Armstrong won the individual time-trial gold in Beijing, then retired and became a mom. She's back at age 38 to defend her title.