Philadelphia Eagles Complete 2012 NFL Training Camp and Preseason Guide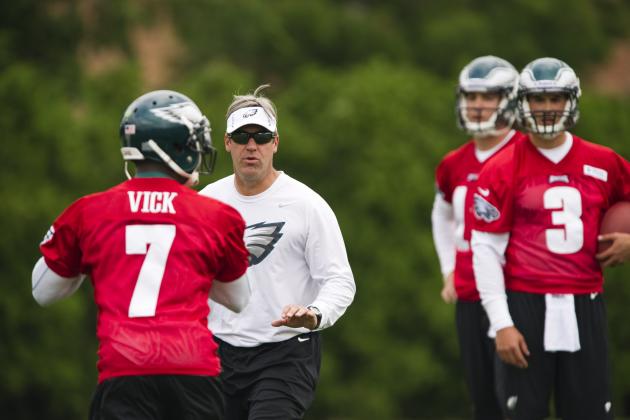 Howard Smith-US PRESSWIRE

Football is back as training camp and preseason are upon us. It's only a matter of time before the regular season is under way and the real fun begins. Training camp is where championship teams start to form. This is where you build chemistry and this is where you get tough while practicing in the hot summer weather.
The Eagles entered training camp last summer as a team full of arrogance and hype. Now they are a team that looks focused and determined to erase the haunting memories of last season and create some winning memories of this season. It all starts at Lehigh on Jully 22nd. The time to start building a championship season starts now!
Begin Slideshow

»
Rob Carr/Getty Images

Will Michael Vick Stay Healthy in 2012 and limit his turnovers?
Michael Vick had 18 turnovers in 2011 and missed three starts. He was also knocked out of two more games. The Eagles went 7-4 when he was started and finished each week in 2011. They went just 1-4 when Vick was hurt and 0-2 when he was knocked out of the game. The Eagles were also 3-0 and outscored their opponents 85-27 when Vick didn't throw an interception. Clearly, he has to take more step to both protecting himself and the football in 2012.
Will the Left Tackle Position be an issue this season?
When the Eagles lost Jason Peters for the season due to a torn Achilles tendon back in March, they didn't just lose their starting left tackle, they lost one of the top offensive linemen in the league. Normally this would spell doom for any team. Not for the Eagles because Vick is a left, which means the right tackle protects his blindside. Also, The Eagles have two capable left tackles on their roster in King Dunlap and Demetress Bell that could hold their own at the position for a whole season. Let's not forget they also have the best offensive line coach, Howard Mudd, making sure that any line position won't be a weak link for the offense.
Can DeMeco Ryans be the player the Eagles defense needs him to be?
Will DeMeco Ryans be closer to the player that earned multiple Pro Bowl honors with the Houston Texans before his Achilles injury or will he be closer to the group of middle linebackers that failed so miserably last season for the Eagles? He is as healthy as he has ever been in his career and should have plenty tread left on his tires. This defense needs a leader and a stable linebacker like Ryans in order to be a playoff contender.
Can a 5'11 outside linebacker cover tight ends in the NFL?
Mychael Kendricks was drafted by the Eagles in the second round to do just that. He may be just a shade under six feet, but his 39.5 inch vertical proves that he more than makes up for it athletically. It says a lot for a veteran head coach like Andy Reid to trust in a rookie like Kendricks to cover some of the most gifted athletes in the NFL at tight end. He will go against Fred Davis and Jason Witten twice and Jimmy Graham once, just to name a few.
Will the secondary be as great as we thought they could last season?
Nnamdi Asomugha and Dominique Rodgers-Cromarite are one of the best duos at cornerback. They are expected to play press man coverage on the outside which best fits their skill set. The Eagles currently have two outstanding slot corners in Joselio Hanson and rookie Brandon Boykin. Add that to up-and-coming free safety Nate Allen and more-than-capable Kurt Coleman at strong safety, and you have a pretty deep secondary. This should be one of the best groups in the league.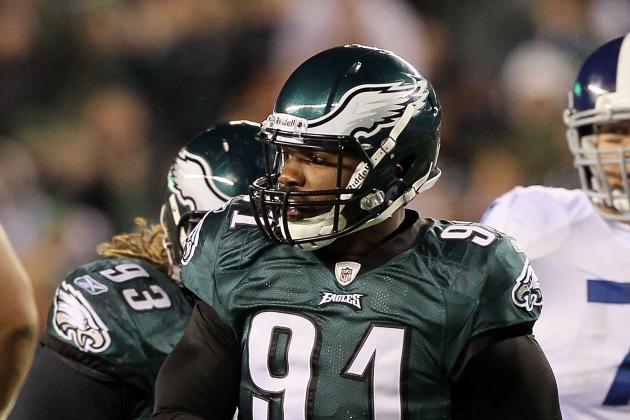 Jim McIsaac/Getty Images

Dion Lewis/Bryce Brown/Chris Polk- RB
These three running backs are all on the roster bubble because of each other. Two of these backs are going to back up LeSean McCoy, while the other player will be cut. Dion Lewis has a year of experience under his belt to give him the edge. Bryce Brown looked like a future stud during the Eagles OTAs. Chris Polk was once viewed as a second- or third-round draft pick until some serious injury concerns scared everyone away from taking him last April. If he proves he is healthy and hasn't lost a step, this coaching staff is going to have a really tough choice to make at running back.
Marvin McNutt/RIley Cooper- WR
Both McNutt and Cooper are similar type of receivers. They don't have great straight line speed but they have good body control and good size. I don't see the Eagles keeping both players. One of these guys is going to step up as a potential red zone target. That player will make the squad while the other will be a part of final cuts.
Brett Brackett- TE
Brackett was a slot wide receiver at Penn State before making the switch to tight end in the NFL. He put on weight and learned how to block last season while spending time on the Miami Dolphins and the Eagles practice squads. This summer he is better equipped to earn a roster spot. It may come down to whether or not the Eagles want to keep two tight ends or three. If he shines during camp and preseason, it may not matter. You don't deny players roster spots when they are playing at a high level.
Dennis Kelly- OT/Brandon Washington- OG
The Eagles spent a fifth-round draft pick on left tackle Dennis Kelly and a sixth-round draft pick on Brandon Washington. Both players are projects and will be third string players at their positions heading into camp. They need to show the coaches that they have improved a lot over a short period of time in order to earn a roster spot.
Darryl Tapp/Phillip Hunt- DE
It's a tough year to be a unestablished defensive end in Philly. The Eagles are loaded at this position. They have two established stars, Jason Babin and Trent Cole. They also have two budding stars in their 2010 first-round pick Brandon Graham and this year's second-round pick Vinny Curry. That leaves maybe one spot open for either Darryl Tapp or Phillip Hunt. Tapp is the better run defender and more polished player. Hunt is a better pass rusher and has much more upsides and less of a cap hit. Preseason will decide this roster battle.
Antonio Dixon- DT
Dixon was a great run-stuffing tackle in the old defensive line scheme. Under Jim Washburn's wide-9 scheme, we don't quite know how Dixon will fit. He played in just four games last season before tearing his triceps muscle. He will have an even shorter time period to prove his fit in the wide-9.
Keenan Clayton- LB
He picked a bad team to miss OTAs while recovering from a sports hernia surgery. Clayton is a good coverage linebacker and nothing more. The Eagles now have two every-down linebackers in DeMeco Ryans and Mychal Kendricks. Do they really need a reserve coverage linebacker? Clayton has to show he is more than just a coverage player in training camp if he wants to earn a spot on the roster this season.
Moise Fokou- LB
Fokou looked like the strong side-linebacker of the future in 2010 when he took over for Akeem Jordan. He played well against the run and showed some potential in pass coverage as well. Now he is fighting just to be a backup outside-linebacker after spending time as a starter in each of the last three seasons.
Joselio Hanson- CB
Joselio Hanson is a really good slot-corner. The problem for him is that the Eagles just drafted a really good slot-corner, fourth-round pick Brandon Boykin. He could have a stellar camp and preseason, but if the Eagles don't want to keep two slot-corners, Hanson will be cut.
Jaiquawn Jarrett- S
Jarrett is just one season removed from being a second-round draft pick, but concerns about his speed and coverage skills have raised some questions about his ability to ever become a starting safety in the NFL. The Eagles signed O.J. Atogwe to be the backup safety. He can play both free and strong safety so expect him to back up both Kurt Coleman and Nate Allen. The Eagles will most likely keep safety and special teams ace Colt Anderson. Jarrett has to prove he deserves a roster spot. One won't be given to him simply because he was a second round pick in 2011.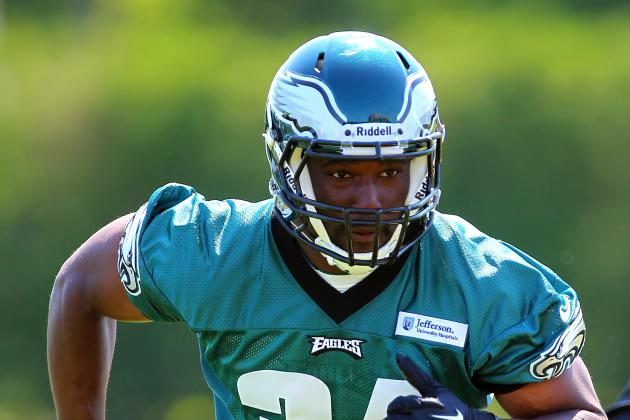 Rich Schultz/Getty Images

Mike Kafka- QB
It will be important to see if Kafka really looks the part of a reliable backup quarterback and if his arm strength has improved this summer. He has a lot of the tools needed to be a successful quarterback in this league. His blitz recognition and pocket presence is outstanding for a player with his experience. Preseason will give us a better idea of how reliable a backup Kafka will be this season.
Bryce Brown/Chris Polk- RB
The Eagles spent their final pick in the 2012 NFL Draft on former phenom Bryce Brown. They also signed the undrafted, but once thought to be a third round selection, Chris Polk. Both players have been passed over by everybody in the league but they both still have a great deal of potential. Brown ran a 4.37 at his pro day and looked every bit as fast during the Eagles OTAs. Polk on the other hand looked a bit slow. One of these players is going to make the roster and get a change to get their share of touches on game day.
Riley Cooper- WR
Is this the year Riley Cooper becomes a legitimate red-zone threat? He had just one catch inside the 20 in 2011 but showed some signs of progress. He has the size at 6'3, 220, but he doesn't always show the skills needed to be a good, physical receiver.
Damaris Johnson- WR
Johnson was one of the more impressive players at the OTAs. He has elite speed and dangerous return ability. He is built and runs similar to DeSean Jackson. Can he return punts like Jackson does? If so, he will earn a roster spot. If he can turn that explosiveness that he demonstrated during OTAs and use it in a live game situation he can't be cut.
Brett Brackett- TE
Brett Brackett was a really good slot-receiver at Penn State. He made the switch to tight-end last season as a rookie. He has the receiving skills needed to be a success at the position. It will be interesting to see how he has improved as a blocker.
Demetress Bell- OT
Replacing a player like Jason Peters is never easy, especially for a player trying to learn a completely different scheme. It's important for Bell to get off to a good start at camp. He is more than capable of being a really good left tackle in Howard Mudd's blocking scheme.
Phillip Hunt- DE
Hunt has a lot of upside at defensive end. He was an outstanding pass-rusher in the CFL before the Eagles snagged him up last season. He had two sacks in his last four games and starting to really get after the quarterback. He looked both stronger and faster during the team's OTAs. It's crowded at defensive end. He can't have a bad summer and still be a part of this roster. It's important for him to show the growth that he has made since last season.
Mychal Kendricks- LB
Last season the Eagles trusted a rookie at middle linebacker to defend against the inside runs. This season they are trusting another rookie linebacker, Mychal Kendricks. Kendricks will be an every down linebacker at the strong-side position and will be covering the tight end the majority of the time. A player with that kind of responsibility being handed to them has to get off to a good start at camp.
Curtis Marsh- CB
Curtis Marsh was drafted in the third-round last year as a project at corner. He made the switch to cornerback in college. He has all the physical tools to be a really good corner, but he has to learn all the nuances of the position. It will be really interesting to see how he has grown over the last season.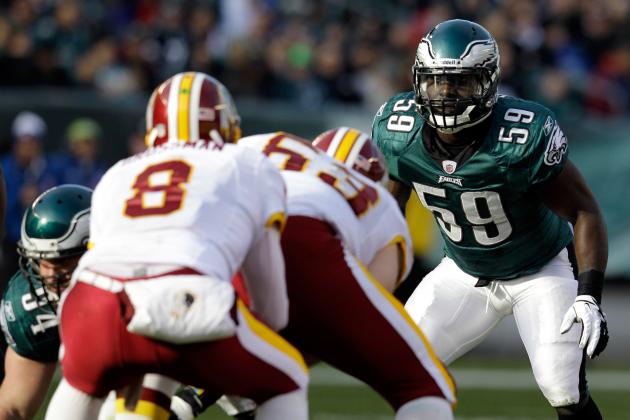 Rob Carr/Getty Images

LeSean's Backups
LeSean McCoy is an elite back, but he needs players that can help shoulder the load. Three players will battle for two roster spots and a chance to get touches each week. Dion Lewis is the favorite. Bryce Brown is receiving all the hype this summer and Chris Polk is the wildcard we just don't know about just yet.
Lewis is the only one of these three backs coming in with any NFL experience, though he had just 99 total yards in 2011. Brown was once a top recruit coming out of high school, but a lack of commitment and effort in college pushed him to the seventh round of the 2012 NFL Draft. Shoulder and hamstring injuries pushed Polk out of the entire draft altogether.
Every player will get a clean slate heading into training camp. The two players that perform the best will back up LeSean McCoy this season.
Red Zone Target
The Eagles have two possession receivers on their roster capable of being a go-to guy in the red zone. It is very likely that only one will make the roster. Riley Cooper has two years under his belt but little production. He has shown some signs of progress, but he had just one catch inside the 20 in 2011.
Marvin McNutt is a rookie, taken in the sixth round last April. He is built very similar to Cooper. Both players are 6'3 with Cooper being a little bigger at around 220 pounds(McNutt is about 215). Neither player is going to wow you with their speed but they both have good hands and body control.
Cooper has had two years to impress. If McNutt is the better player, then the Eagles coaching staff will have a tough choice. Either cut Cooper or keep both and cut someone else.
Left Tackle
Demetress Bell is easily the favorite to win this job. He has been a starting left tackle for the Buffalo Bills over the last three years. He didn't always look like a starter, but he should be a better fit in Howard Mudd's blocking scheme that better utilizes more athletic tackles like Bell.
Dunlap has the advantage of playing for Mudd last season. He has made a few starts at tackle during his career, but has never been trusted to be a full-time starter. This should be Bell's job to lose. Dunlap would either have to look dominant or Bell would have to really struggle in preseason.
Defensive End
Jason Babin and Trent Cole are guaranteed starters. That much we know. Who will be the reserves on game day is more up in the air. Defensive line coach Jim Washburn rotates his linemen in and out like a hockey coach does with his line changes. That means the the two backup ends will see around 30 to 40 percent of the snaps, depending on how they play.
Four players are up for two spots. Darryl Tapp is the long shot. The coaches have seen his ceiling and it is about five sacks a season. Washburn wants pass rushers who can defend the run: not run defenders that can give you an occasional pass rush. The other three players, Brandon Graham, Vinny Curry and Phillip Hunt will battle for the two reserve end spots on game day. All three players should make the team, but only two of those three will be active on game day.
Weak-Side Linebacker
This will be the most contested starting job at camp. This speaks volumes about the starters that are already in place. The weak-side linebacker job isn't an every down linebacker. They will play mostly in base formations during first downs and running downs.
Brian Rolle won this job in Week 3 and started there for the rest of the season. Jamar Chaney will be his challenger. He started two games at strong-side linebacker and moved to the middle for the next 13 games. Rolle was a physical, but athletic weak-side linebacker. He is what you want in that position. He doesn't have the height to cover tight ends but he plays the game hard enough to give plenty of support against the run while also possessing the speed to chase down running backs all over the field.
Chaney looked soft and lost all season long. He was terrible in the open field and never offered much run support. He is going to have to be a better run defender to win this job. Ideally, he is a good backup because he has the speed to be outstanding in special teams and can fill in at all three linebacker spots.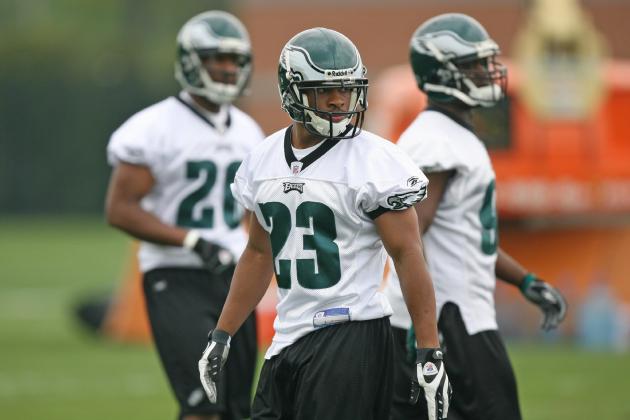 Hunter Martin/Getty Images

Training Camp Schedule
Sunday, July 22nd 5:00 p.m.
Rookies and selected vets report.
Monday, July 23rd
8:45 a.m. Walk Through; 3:30 p.m. Full Practice
Tuesday, July 24th
8:45 a.m Walk Through; 3:30 p.m. Full Practice
Wednesday, July 25th
8:45 a.m. Full Practice
Friday, July 27th
Full Team Reports
8:15 a.m. Walk Through; 2:35 p.m. Full Practice
Autograph Signing: Defensive Line
Saturday, July 28th
8:15 a.m. Walk Through; 2:35 p.m. Full Practice
Autograph Signing: Offensive Line
Sunday, July 29th
8:15 a.m. Walk Through; 2:35 p.m. Full Practice
Autograph Signing: Defensive Backs
Monday, July 30th—Eagles Youth Partnership Top Achievers Day
8:15 a.m. Walk Through; 2:35 p.m. Full Practice
Autograph Signing: Wide Receivers
Tuesday, July 31st
Day Off
Wednesday, August 1st—Military Day
8:15 a.m. Walk Through; 2:35 p.m. Full Practice
Thursday, August 2nd
8:15 a.m. Walk Through; 2:35 p.m. Full Practice
Autograph Signing: Quarterbacks, Tight Ends, Specialists
Friday, August 3rd
8:15 a.m. Walk Through; 2:35 p.m. Full Practice
Autograph Signing: Running Backs and Linebackers
Saturday, August 4th—Health and Safety Day
8:15 a.m. Walk Through; 2:35 p.m. Full Practice
Autograph Signing: Defensive Line
Sunday, August 5th
8:15 a.m. Walk Through; 2:35 p.m. Full Practice
Autograph Signing: Offensive Line
Monday, August 6th
8:15 a.m. Walk Through; 2:35 p.m. Full Practice
Autograph Signing: Wide Receivers
Tuesday, August 7th
Day Off
Wednesday, August 8th
Closed to Public
Thursday, August 9th
Preseason Opener vs. Pittsburgh
Friday, August 10th
Day Off
Saturday, August 11th
8:15 a.m. Walk Through; 2:35 p.m. Full Practice
Autograph Signing: Defensive Backs
Sunday, August 12th
8:15 a.m. Walk Through; 2:35 p.m. Full Practice
Autograph Signing: Running Backs and Linebackers
Monday, August 13th
8:15 a.m. Walk Through; 2:35 p.m. Full Practice
Autograph Signing: Quarterbacks, Tight ends and Specialists
Tuesday, August 14th—Fan Appreciation Day
8:15 a.m. Walk Through; 2:35 p.m. Full Practice
Preseason Schedule
Thursday, August 9th vs. Pittsburgh Steelers 7:30 p.m.
Monday, August 20th at New England Patriots 8:00 p.m.(ESPN)
Friday, August 24th at Cleveland Browns 7:30 p.m.
Thursday, August 30th vs. New York Jets 6:35 p.m.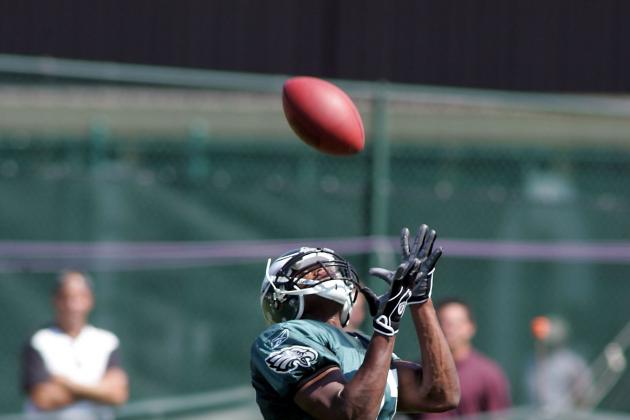 Jim McIsaac/Getty Images

The Eagles hold their training camp at Lehigh University in Bethelhem, Pennsylvania. They have been running camp at Lehigh since 1996 and are currently signed on through the 2013.
The Philadelphia Eagles and Lehigh have had a great relationship. Together they have put together an outstanding training camp that puts the fans closer to the players then they could ever imagine. It truly has a special atmosphere and is an event that every Eagles fans should attend at least once in their life.
It's a great event for the kids with position specific autograph signings every day, while it also gives the adult fans the first look at how the team looks heading into the season.
Bethelhem is far enough away from the city to get everyone away from the big city experience but close enough to still be a part of the Philadelphia culture. It really is a special venue for a must-see event.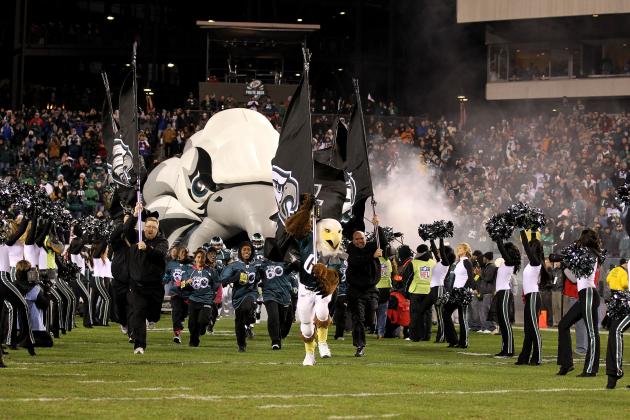 Al Bello/Getty Images

Cornerbacks
Nnamdi Asomugha; Brandon Boykin; Joselio Hanson; Cliff Harris; Brandon Hughes; D.J. Johnson; Trevard Lindley; Curtis Marsh; Dominique Rodgers-Cromartie
Defensive End
Jason Babin; Trent Cole; Vinny Curry; Brandon Graham; Phillip Hunt; Darryl Tapp, Monte Taylor
Defensive Tackle
Fletcher Cox; Antonio Dixon; Tevita Finau; Cullen Jenkins; Derek Landri; Mike Patterson; Cedric Thornton; Frank Trotter
Full Back
Stanley Havili; Emil Igwenagu; Jeremy Stewart
Kicker/Punter/Long Snapper
Jon Dorenbos; Alex Henery; Chas Henry; Ryan Tydlacka
Middle Linebacker
Greg Lloyd; Casey Matthews; DeMeco Ryans
Offensive Guard/Center
Mike Gibson; Jason Kelce; Evan Mathis; Alfred McCullough; Dallas Reynolds; Steve Vallos; Julian Vandervelde; Brandon Washington; Danny Watkins
Offensive Tackle
Demetress Bell; King Dunlap; Todd Herremans; D.J. Jones; Dennis Kelly; Thomas Welch
Outside Linebacker
Jamar Chaney; Keenan Clayton; Moise Fokou; Akeem Jordan; Mychal Kendricks; Ryan Rau; Brian Rolle; Monte Simmons
Quarterback
Trent Edwards; Nick Foles; Mike Kafka; Michael Vick
Runnning Back
Bryce Brown; Dion Lewis; LeSean McCoy; Chris Polk
Safety
Colt Anderson; Nate Allen; O.J. Atogwe; Kurt Coleman; Jaiquawn Jarrett; Tom Nelson; Phillip Thomas
Tight End
Brett Brackett; Brent Celek; Chase Ford; Clay Harbor
Wide Receiver
Elvis Akpla; Jason Avant; Riley Cooper; Mardy Gilyard; Chad Hall; Jamel Hamler; DeSean Jackson; McKay Jacobson; Damaris Johnson, Ronald Johnson; Jeremy Maclin; Marvin McNutt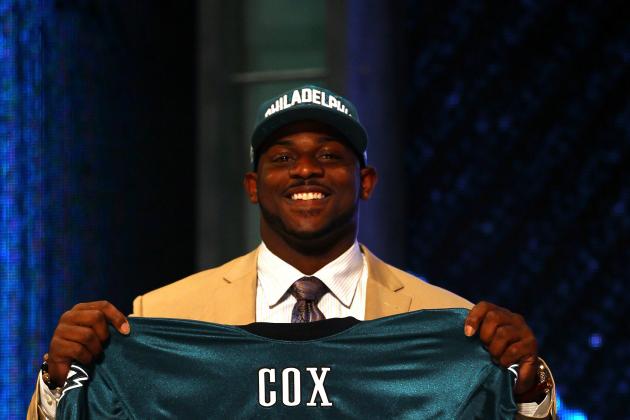 Al Bello/Getty Images

Fletcher Cox- DT
Cox was the Eagles first-round draft pick. He is as perfect of a fit as they come. If you wanted a player to build a wide-9 scheme around, Cox would be your guy. He is athletic, powerful and versatile. He clogs the middle and penetrates through it. No rookie is a sure thing but he is close.
Cox may not be a starter right away, but he will see close to the majority of the snaps. He can line up as a defensive tackle and a defensive end. He plays the run and gets after the quarterback. It will be exciting to see what kind of impact he will have early in his rookie season.
Mychal Kendricks- LB
If Cox is the most talented Eagles rookie, Kendricks is the most important. From day one his job will be to cover tight ends and help fellow linebacker DeMeco Ryans stuff the run. That is a tall order that no linebacker was able to accomplish last season. He is one of the most athletic players at linebacker. He has all the physical tools to get the job done.
Vinny Curry- DE
Curry isn't a finished product at defensive end. He needs to get stronger and fix his technique in order to be an effective run defender. What he does do well is pass rushing. Ideally he would be drafted to a team that just wants to use him as a pass rusher in year one. It would also be ideal for him to be drafted by the team he grew up loving. Lucky for him both things happen.
It's rare for a player to be that blessed on draft day. It's an ideal situation for Curry. Should lead to a monster rookie season with little pressure to be great right away.
Nick Foles- QB
Foles wasn't the most popular pick of the draft, but he still may come out of this class as the best pick. He potentially has a great arm. When he has time he throws a beautiful deep ball that was rivaled by few coming out of the draft. When he doesn't have time he is very erratic as a thrower. A quicker release and better footwork should change that.
Foles is a project at quarterback. He will be the third-stringer this season and maybe for 2013 as well. His only responsibility is to continue to develop and work hard on his game.
Brandon Boykin- CB/KR
Boykin was the Eagles best value pick. They got an outstanding slot corner and the most dangerous kick returner in the draft. He was an absolute steal in the fourth round. He will fill both roles this season. It's rare to get a player this talented in two different roles, but Boykin really is.
Dennis Kelly- OT
Kelly is one rookie to really keep an eye on throughout camp. He is a project at left tackle, but teams don't keep three left tackles like they do three quarterbacks. He has to show that he could fill in at tackle in a pinch.
Kelly looked a bit stiff at the team's OTAs. He has the right line coach to fix that in a hurry, but he has to show some upside in a hurry if he is going to make a very crowded roster.
Marvin McNutt- WR
McNutt is exactly what the Eagles need at wide receiver. He is long, fluid and has great body control. Riley Cooper is a similar type of receiver, he just hasn't delivered during the regular season like he was supposed to.
McNutt's future with the Eagles doesn't fully depend on Cooper not making the team. If McNutt impresses and shows that he can be a good possession and red zone receiver he will make the team. If not, he will just be another failed sixth-round pick.
Brandon Washington- OG
Washington is in a similar situation as Kelly is. Washington is a powerful interior linemen, but needs a lot of work on his technique. I like his upside, but he has to show the team something now if he wants to make the team.
The Eagles can't stash him on their AA roster for two or three years. The NFL isn't run like baseball or hockey. If you can't give your team any impact or reliability as a offensive linemen, you don't make the team. The only hope would be if you stash him on the practice squad and nobody scoops him up for their 53-man roster.
Bryce Brown- RB
It's rare to see a seventh-round draft pick look like such a lock to make the roster, but Brown really does look like he belongs on this team. In college you will see a smaller school sign a player who is talented enough to play for a big school but doesn't because of off-the-field issues. Brown is like that for the Eagles.
He played just one season at Tennessee before transferring to Kansas State where he had just three carries in one game before quitting. He appears to realize now that you have to commit to your team in order to have any success in football. He is talented enough to be a really good back in this league.
He ran a 4.37 40 at his pro day at Kansas State. That is impressive for a 220 pound back. We can't fully guarantee that he will make the roster until we see him run in an actual game, but man did he look good at OTAs.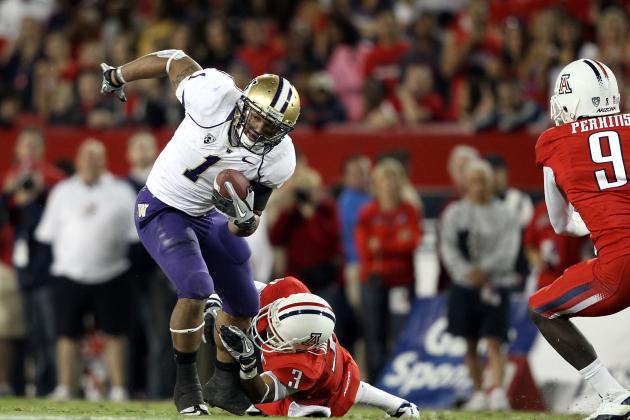 Christian Petersen/Getty Images

Elvis Akpla- WR
Akpla isn't likely to make the team, but he will be fun to watch in preseason. Watch out for him in the fourth quarter of these tight preseason games. He isn't very big (6'1 190) and he doesn't have great speed but he is athletic and will go all out for any pass in his vicinity. Akpla had over 2,000 career receiving yards at Montana State.
He would be a fine addition to the practice squad once final cuts are through.
Wade Bonner- CB
Bonner is one of several undrafted free agents on the Eagles roster that few have even heard of. He played in 48 games in his career at Mississippi State and made the switch from running back to corner after his freshmen season. He is still learning the position.
The depth at corner isn't set in stone for the Eagles. Any player that impresses in camp can earn a roster spot. Dimitri Patterson did it and so did Brandon Hughes.
Tevita Finau- DT
Finau is another player that will make fans grab their training camp programs and go "Who?" He had three sacks and five tackles for loss as a senior at Utah. He is a bit undersized for an NFL defensive tackle at just under 290 pounds. The coaching staff will be looking for pass-rushing potential in Finau. If he doesn't show much he will probably be one of the first to go.
Chase Ford- TE
If the Eagles decide to keep three tight ends, Ford has a really good shot at making the team. Right now he is behind Brent Celek, Clay Harbor and Brett Brackett but he isn't that far behind Harbor. Ford did very little at Miami after transferring from junior college but he really impressed during the OTAs.
If he looks even more fluid than he did at mini-camp he will give the coaching staff another difficult decision.
Cliff Harris- CB/PR
Harris is really fast. Both on the field and behind the wheel. His reckless driving, along with some other issues, cost him his 2011 season at Oregon. He looks just as fast when fielding punts. That is how he will make the roster. He was a dangerous return man back in 2010. If he shows that at camp he could sneak onto the roster for a return needy team.
Emil Igwenagu- FB
Igwenagu played three different position on offense in college at UMASS. The problem with that is those type of players rarely succeed in any position in the NFL. Igwenagu has good receiving skills but lacks the blocking ability to make it as a full back. He might get an invite to the practice squad to serve as an insurance policy for Stanley Havili, but he won't make the final roster.
McKay Jacobson- WR
Jacobson is a pretty unknown player coming out of BYU. He doesn't have the size or speed you want in the position. Effort will keep him on the roster longer, but he is definite long shot.
Damaris Johnson- WR
Johnson is really small but really fast. At 5'8,175 pounds he doesn't look like he can take the punishment of the NFL, but with his speed he might not have to. He finished his NCAA career with 7,706 all-purpose yards and 3,417 kickoff return yards: both records at the time. He was ineligible during the 2011 season due to off-the-field issues. He also finished his career with 150 plays of 20 yards or more.
Johnson has the best shot of any Eagles' undrafted player to make the roster. He can come right in and take over as the punt returner and help out as an extra receiver on passing downs. You just don't cut speed like this when he has proven he knows how to use it.
Alfred McCullough- OG
The battle for the jobs as reserve interior-linemen is wide open. The Eagles have a lot of players who can play guard and center. Everyone has a chance to make the roster if they impress. McCullough is no exception.
Chris Polk- RB
He is the prize of the undrafted free agents, if he is healthy. He finished second all-time at Washington with 4,049 career yards. Shoulder concerns scared every team away from drafting him. He is a big back who runs really well. If he is healthy he makes the roster, simple as that. He didn't look great in OTAs but training camp is a new ball game.
Ryan Rau- LB
Rau is a future special-teams standout and nothing more. He is undersized at 230 pounds soaking wet but he runs really well and plays hard. He has practice squad written all over him.
Jeremy Stewart- FB
If your a fullback and you can catch the football and lead block a little bit you have a chance to make the Eagles roster. Stanley Havili is the starting fullback right now but he spent last season on the practice squad. If Stewart impresses as a blocker he might make the roster. He had just under 1,000 career rushing yards and 14 career touchdowns at Stanford. We already know he can handle the football, but can he block?
Monte Taylor- DE
Taylor is a pass rusher and nothing else. He has potential as a wide-9 edge rusher. He is a good athlete but is far from a finished project at defensive end. He will struggle to see the field at camp but if he impresses he could stick around for a while.
Phillip Thomas- S
Thomas was another player that many thought could have been drafted. Concerns about his speed kept him from being drafted. Before the Eagles signed O.J. Atogwe he had a real shot to make this team. Now he probably has to beat out second-year man Jaiquawn Jarrett to make the roster.
Frank Trotter- DT
Trotter is a long shot to make the team but he is a better fit in the wide-9 than anything else. He is undersized at 275 pounds but still produced 36.5 tackles for loss at Memphis. He is a high-motor player that will be fun to watch at camp.
Ryan Tydlacka- P
The fact that the Eagles still have two punters heading into camp says something about Tydlacka. He had 20 punts over 50 yards as a senior at Kentucky and 19 downed inside the 20. Chas Henry didn't exactly wow anyone as the Eagles punter in 2011. His kicking motion is slow and his accuracy isn't great. He still can improve in both areas but his job is far from safe.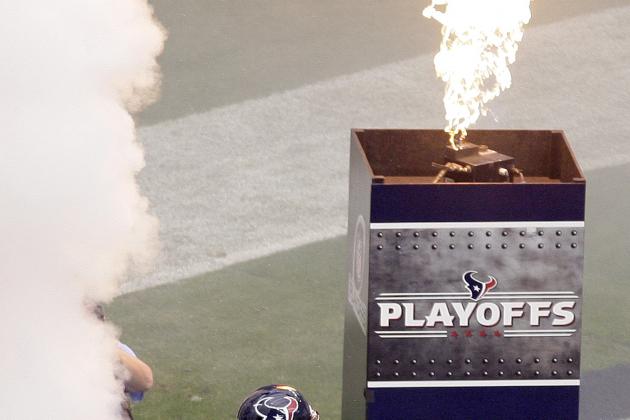 Thomas B. Shea/Getty Images

The 2012 offseason for the Eagles was completely different than 2011. Instead of signing players from just about every other NFL team like they did last summer, they decided to take care of their own. LeSean McCoy, Evan Mathis, DeSean Jackson, Trent Cole and Todd Herremans were all either given new deals or extended their current deals.
The Eagles already had a pretty solid roster. They still had a couple of holes, but they were able to fill them with three roster moves.
Eagles Send a Fourth-Round Draft Pick and Swap Third-Round Picks with the Houston Texans for DeMeco Ryans
Leading up to free agency we were hyping up the best free-agent linebackers for the Philadelphia Eagles. They needed a veteran middle-linebacker who can stuff the run badly. We thought the Eagles would go after a established middle-linebacker like Curtis Lofton, Dan Connor or London Fletcher. Ryans came out of nowhere.
Ryans was a former Pro Bowl middle-linebacker before an Achilles injury slowed him down and a change to the 3-4 defense became a bad fit. Now he is healthy and back in the 4-3 defense. He is both the leader and run stuffer this defense needs. They finished 16th in total defense in 2011. Imagine what they can do with a Pro Bowl-caliber middle-linebacker containing the run.
After Jason Peters Goes Down with Achilles Tear, Eagles Sign Left Tackle Demetress Bell
Jason Peters going down to a season-ending Achilles injury seemed to spell doom to the offensive line, but signing Demetress Bell to replace him will minimize the loss. Bell isn't Peters—no left tackle is—but he should be able to do a solid job for 16 games.
Bell wasn't a bad starting left-tackle for the Buffalo Bills, but never really wowed anyone. He was stuck in a blocking scheme that better utilizes bigger and slower linemen. In Howard Mudd's blocking scheme his athleticism will be better used. He won't sit back and wait for the pass rush, he will initiate contact.
In the right blocking scheme Bell can be a really good left-tackle in this league. He should be able to become that player very quickly this season. Remember, Jason Kelce and Evan Mathis became very good players with little prior success in the NFL. They did it in their first year in Mudd's blocking scheme during a lockout shortened offseason.
Eagles Add Depth at Safety, Sign O.J. Atogwe
The Eagles needed a quality. experienced safety who can backup both Nate Allen at free-safety and Kurt Coleman at strong-safety. They really struck gold with O.J. Atogwe. He had been one of the better starting safeties in the NFL before injuries really wrecked him last season with the Redskins. It was one nagging injury after another before they finally released him after the season.
Atogwe isn't the same player he was in St. Louis. Knee injuries have robbed him of some of his speed, but he can still hold his own. He will head into training camp as the Eagles backup free safety with a chance to compete for the starting strong-safety spot with Coleman.
The Eagles didn't just get a good insurance policy at safety, they got a great player for the film room. He has been known for studying film really hard before each game. He will see things on tape that neither Allen or Coleman will see. Even if he doesn't play a down this year, that alone with be worth signing him.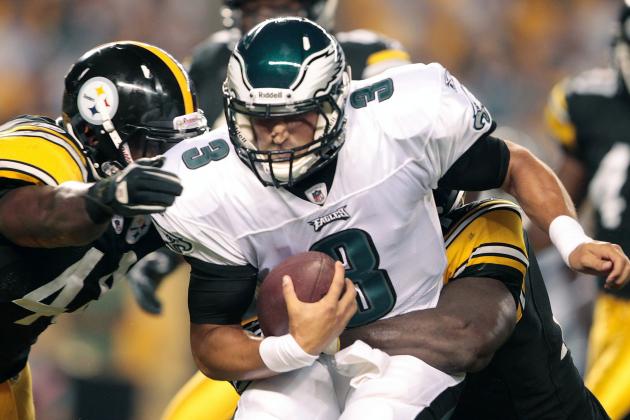 Jared Wickerham/Getty Images

Week 1: vs. Pittsburgh Steelers August 9th
The first game of preseason you tend to see the first-team offense and defense on the field for one or two series, depending on how the first series goes. Last season the Eagles opened up against the Baltimore Ravens. The first-team offense came in for one series, scored a touchdown and were taken out for the rest of the game.
Ideally that is what you want in the first preseason game. You want your first-team offense to have a long drive and you want your first-team defense to get a quick stop. Then you let your backups take over the rest of the game. You get to see what these lesser-known players can do in a live game.
Last season the Eagles run defense got exposed by the Pittsburgh Steelers, mainly Casey Matthews. This season DeMeco Ryans gets a good early test against those same Steelers. Hopefully he won't look quite as bad as Matthews did.
It's hard to predict how these preseason games will go. You got your first-team, second-team and third-team seeing plenty of action in the same game. Sometimes it comes down to which team has the better third-stringers.
I like the Eagles depth a lot.
Eagles 23 Steelers 14
Week 2: at New England Patriots August 20th
This will probably be the week the starters see the most action. Normally the starters would play two-and-a-half to three-quarters of action in the third preseason game. The problem with that for the Eagles is that they play the Cleveland Browns in the third week, who is also their first opponent in the regular season. You don't want to show them to much of our offense and defense when you play them two weeks later.
If that's the case and the coaching staff plans on playing the starters around half the game, that could be an advantage for the Eagles. If their starters are still out on the field late in the second quarter and the Patriots already have their backups that is a huge mismatch.
Look for the Eagles' starters to play a lot and really try and got all that rust off left over from a long offseason.
Eagles 27 Patriots 21
Week 3: at Cleveland Browns August 24th
You won't see much of the Eagles starters in this one. For one, they play Cleveland in the first week of the regular season, but also because this is four days after their last preseason game and six days before their final one. Maybe the starters play a quarter- to a quarter-and-a-half.
It doesn't matter how long they play for: The play calling will be really conservative and simple. They don't want to give the Browns a taste of what they will be seeing in a couple weeks. If anything, they might run a totally different offense just to throw them off.
Neither coaching staff is going to give away their game plan. This game will be sloppy and conservative.
Browns 16 Eagles 3
Week 4: vs. New York Jets August 30th
The Eagles finish off the preseason against the New York Jets. This is the final week of preseason, which means we won't see the starters play. This is the time where the backups make one final push to earn a roster spot.
This week will be huge for players like Chris Polk, Marvin McNutt, Brett Brackett, Steve Vallos, Darryl Tapp, Keenan Clayton and Joselio Hanson. Every turnovers, every dropped pass and every missed tackle gets you one step closer to the employment line.
This week isn't for the average football fan. This is for the fan that enjoys seeing players like Mike Kafka, Elvis Akpla and Tom Nelson play.
Eagles 31 Jets 17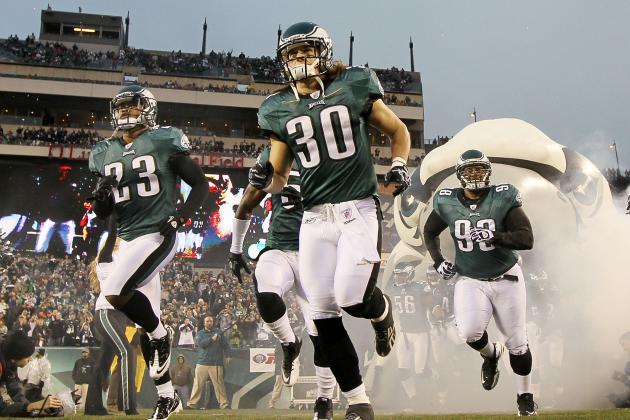 Jim McIsaac/Getty Images

Projecting the Eagles final 53-man roster is really hard this year. There are at least 60 players that are good enough to be on just about any roster. That means about seven players that should make this team are going to be cut. That is a good problem to have but it doesn't make the decisions any easier.
Cornerback
Nnamdi Asomugha; Dominique Rodgers-Cromartie; Brandon Boykin; Curtis Marsh; Brandon Hughes
This is one less player than the Eagles had at cornerback last season. Cutting Joselio Hanson was a difficult decision to make, but can you justify keeping two slot corners on the same team? If Boykin gets hurt, Curtis Marsh should be able to fill in in the slot. He has enough quickness to handle the position.
Defensive End
Trent Cole; Jason Babin; Brandon Graham; Vinny Curry; Phillip Hunt
This is the strongest and best-utilized position on the Eagles roster. All five players demonstrate explosiveness off the line and can all consistently get after the quarterback. Darryl Tapp is the odd man out here as expected. You can't cut a player with the upside that Phillip Hunt has and you can't cut a player that you just drafted in the second round.
Defensive Tackle
Fletcher Cox; Cullen Jenkins; Mike Patterson; Derek Landri; Antonio Dixon
I don't know which player is left inactive each week, but I do know that these are the five best defensive tackles on the roster and all give you something different. Cox is the best athlete and the most versatile. Jenkins is the best pass-rusher as he proved with his 5.5 sacks last season. Patterson is the craft veteran who always finds a way to get the job done no matter what. Landri is a flat-out warrior who will get into the backfield consistently. He just has a knack for it. Dixon is the best run-defender, by far.
Full Back
Stanley Havili
This his Havili's job to lose. He doesn't have any experienced competition. All he has to do is prove he can block and the job is his.
Kicker/Punter/Long Snapper
Alex Henery; Chas Henry; Jon Dorenbos
Same three guys as last time. Alex Henery was outstanding last season, only missing two kicks under 50 yards, and none after Week 4. Chas Henry wasn't great but should win the job over the undrafted rookie Ryan Tydlacka. Jon Dorenbos is one of the best long-snappers in the game. You don't hear about him or hear his name called during a game. For a long snapper that is a good thing.
Middle Linebacker
DeMeco Ryans; Casey Matthews
Ryans locked this position up when the Eagles traded for him last March. Matthews' putting on about 15 pounds of bulk tells us that the Eagles want him to stay at middle linebacker. Greg Lloyd will spend another season on the practice squad if he is lucky.
Offensive Guard/Center
Evan Mathis; Danny Watkins; Jason Kelce; Mike Gibson; Brandon Washington
Julian Vandervelde was a tough cut here, but the Eagles don't really need him. He is a good backup with the ability to start by 2013. The problem with that is Mathis and Watkins have no history of injuries and they are both signed through next four-plus seasons. They aren't going anywhere.
Gibson makes the team because he can fill in at all three interior line spots. Washington makes the team because he has the most upside of all the backup guards.
Offensive Tackle
Demetress Bell; Todd Herremans; King Dunlap; Dennis Kelly
Bell and Herremans are the starts and Dunlap is the backup at both tackle spots. He has started on both sides and has also played guard as well. Kelly stays on as a project player and the emergency tackle, should two tackles get hurt.
Outside-Linebacker
Brian Rolle; Mychal Kendricks; Jamar Chaney; Akeem Jordan
Keenan Clayton is the surprise cut here but he doesn't offer much but coverage skills. Ryans and Kendricks are both every-down linebackers who can cover. The only reason you need a cover-linebacker is if a starter gets hurt and his backup struggles in coverage.
Quarterback
Michael Vick; Mike Kafka; Nick Foles
By far the easiest position to figure out. Vick is the starter, Kafka is his backup and Foles is the project. Case closed.
Running Back
LeSean McCoy; Bryce Brown; Dion Lewis
If it's between Brown or Chris Polk for the final roster spot at running back, then Brown is in good shape after a strong showing at OTAs and a poor one for Polk.
Safety
Nate Allen; Kurt Coleman; Jaiquawn Jarrett; O.J. Atogwe; Colt Anderson
Colt Anderson is the real wildcard in projecting the 53-man roster. He isn't much of a safety but man, can he cover on special teams. You can't cut a player like that. Special teams has become that valuable.
Tight End
Brent Celek; Clay Harbor; Brett Brackett
The Eagles keep three tight ends this season. They will look to run more two tight ends sets this season. You can't consistently run two tight-end sets without a third tight end for insurance purposes. Plus Clay Harbor needs someone on the roster that can push him for playing time.
Wide Receiver
DeSean Jackson; Jeremy Maclin; Jason Avant; Riley Cooper; Damaris Johnson
Damaris Johnson is the reason that Marvin McNutt won't make the Eagles roster in 2012. You just can't cut a player with that much speed and talent. He can line up on the outside or in the slot and he is a dangerous return man on punts.