The Dream Team vs. the 2012 Squad: How Do They Match Up?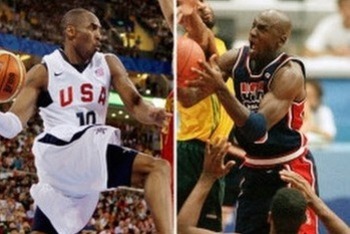 "You can't cover the sun with your finger."
It's the now infamous quote made by Cuban national basketball head coach Miguel Calderon Gomez after his Cuban team fell to the United States by a whopping 79 points on June 28, 1992, during an Olympic warm-up in Portland, Ore.
The 136-57 victory not only served as the international debut for what is now known as "The Dream Team," but also as a warning to the rest of the world. This was not a team you could take lightly anymore. Let me rephrase that: this was not a team you could beat, let alone compete with.
After a disappointing third place finish at the 1988 games in Seoul, the addition by FIBA to include professional players in the Olympics proved to be more than enough ammunition for the United States.
Led by the likes of Michael Jordan, Patrick Ewing and Magic Johnson, the Americans would go on to defeat their opponents by an average of 44 points on their way to wrapping up the gold medal against Croatia at the 1992 Summer Olympics held in Barcelona. To this day, it is considered as one of the most incredible runs made by any team, in any sport, ever.
The Dream Team? Please. Even the most imaginative human being couldn't have dreamt up a team this dominant.
The team, elected to the basketball Hall of Fame in 2010, boasted 11 future Hall of Famers out of its 12-man roster.
It's a feat that easily has them dubbed the greatest team ever assembled. Ask anyone, and they'll assure you that those guys were unbeatable.
That is, unless you ask Kobe Bryant.
"I think [the 2012 United States National Basketball squad] could beat the 1992 Dream Team," Bryant boldly predicted (via Yahoo!).
The statement sent shock waves throughout the entire basketball world. Talking heads from all over debated the issue, including members from both squads.
Most notable, Michael Jordan stirred the pot when asked about the comments.
"I absolutely laughed when I heard Kobe's remarks," the six-time NBA champion told the Associated Press (via ESPN). "For him to compare those two teams is not one of the smarter things he ever could have done. Remember, they learned from us. We didn't learn from them."
The verbal jabs continued from players, and pundits alike, with even margin of victory predictions thrown about. The sports betting system AccuScore got in on the action as well, predicting that the 2012 team would beat the 1992 squad 47 percent of the time.
As outrageous of a statement that many will make you to believe it was, it really isn't that far off. The 2012 squad is led by Kobe Bryant, Chris Paul, Kevin Durant, and LeBron James. All of whom could hold their own with anyone on the '92 squad.
However, with 20 years between the two squad, it's impossible settle this one on the court. So let's take a crack at breaking this one down ourselves.
The starting lineups we will be using for discussion purposes will be listed below. The stats will be taken from the '91-92 season for the '92 squad and from the past season for this year's squad.
1992 2012
Patrick Ewing C Tyson Chandler
Charles Barkley PF Kevin Durant
Scottie Pippen SF LeBron James
Michael Jordan SG Kobe Bryant
Magic Johnson PG Chris Paul
Let's get this started...
Center: Patrick Ewing vs. Tyson Chandler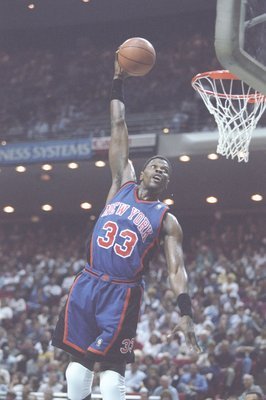 Andy Lyons/Getty Images
TALE OF THE TAPE
EWING/CHANDLER
AGE: 29/29
HEIGHT/WEIGHT: 7'0" - 240 lbs./7'1" - 240 lbs.
MPG: 38.4/33.2
PPG: 24.0/11.3
RPG: 11.2/9.9
APG: 1.9/0.9
BPG: 3.0/1.4
Chandler matches up pretty evenly with Ewing—as far as age, height, and weight are concerned. As for everything else? Not quite as much.
Ewing would outright dominate Chandler. It wouldn't even be close. It would get so bad that people would start questioning the decision to anoint Chandler as the No. 1 big-man for the squad (in all fairness to the '12 squad, both Dwight Howard and Andrew Bynum were unable to participate).
With Ewing's dominant post game, Chandler could very easily see himself in foul trouble early on. At the other end, although Chandler boasts a high shooting percentage within the paint, Ewing's defense would fluster and frustrate Chandler enough to the point where he starts putting up careless shots or turning the ball over.
Advantage: Dream team... easily.
Power Forward: Charles Barkley vs. Kevin Durant
TALE OF THE TAPE
BARKLEY/DURANT
AGE: 29/23
HEIGHT/WEIGHT: 6'6" - 252 lbs./6'9" - 215 lbs.
MPG: 38.4/38.6
PPG: 23.1/28.0
RPG: 11.1/8.0
APG: 4.1/3.5
BPG: 0.6/1.2
"He dribble-dribble-dribble, then shoots a 75-footer from the top of the key."
That was Barkley back in April criticizing Durant on his style of play with the shot clock running down during TNT's inside the NBA. In this match-up, Barkley would get the chance to back-up his trash talk on the court.
In what would prove to be an entertaining match-up, these two would go at each other hard. Durant's long range shooting could prove to be an early problem for Barkley. Back in the early '90s there weren't too many big men who could shoot from the perimeter. So, in this matchup, Barkley would be forced to defend in a part of the court that he's not used to. This would leave him vulnerable to the pump-fake and drive that Durant has made look so effortless in his first five years in the league.
Barkley on the other hand has the physical size advantage over Durant. He could punish Durant down low and get himself some easy buckets. This could lead to some double-teams that would open up shooters on the perimeter.
Both players would tire each other out, and honestly, either player could out perform the other on any given day. I'd like to give a slight advantage to Durant, but it's really too close to call.
Advantage: Tie.
Small Forward: Scottie Pippen vs. LeBron James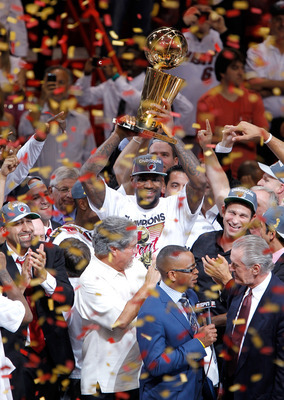 Mike Ehrmann/Getty Images
TALE OF THE TAPE
PIPPEN/JAMES
AGE: 26/27
HEIGHT/WEIGHT: 6'8" - 210 lbs./6'8" - 240 lbs.
MPG: 38.6/37.5
PPG: 21.0/27.1
RPG: 7.7/7.9
APG: 7.0/6.2
BPG: 1.1/0.8
Don't get me wrong, Pippen was a great player and was a quality asset for The Dream Team. However, when it comes to squaring up with LeBron, Pippen is thoroughly outmatched.
LeBron is just too talented right now. He is at the peak of his career and coming off his first NBA Championship where he looked to be clicking on all cylinders. He will no doubt be the go-to-guy for this year's squad. This is his team.
I honestly don't see any aspect to the game that Pippen might be able to grab an advantage on LeBron. The only thing that can be expected from him here is just to limit the damage done by LeBron.
It'll be a rough night for Pippen. Maybe he'll make an appearance on a poster or two.
Advantage: 2012 squad.
Shooting Guard: Michael Jordan vs. Kobe Bryant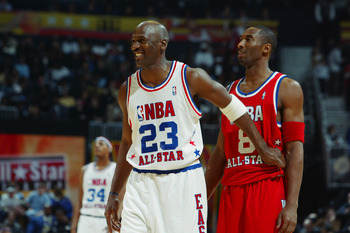 Jamie Squire/Getty Images
TALE OF THE TAPE
JORDAN/BRYANT
AGE: 29/33
HEIGHT/WEIGHT: 6'6" - 195 lbs./6'6" - 200 lbs.
MPG: 38.8/38.5
PPG: 30.1/27.9
RPG: 6.4/5.4
APG: 6.1/4.6
SPG: 2.3/1.2
Jordan versus Kobe. Kobe versus Jordan. It's a matchup basketball fans would be salivating for. Arguably the top two players to ever play the game squaring up against each other. Who wouldn't want to see this? The reality is, we have seen it.
In eight head-to-head match-ups, spanning from 1996 to 2003, Kobe holds a 5-3 advantage over Jordan. Kobe averaged 35 MPG, 28.7 PPG, 5.2 RPG, 5.2 APG and shot 48 percent from the field including 56 percent from three-point range. On the other hand, Jordan averaged 37 MPG, 27.3 PPG, 3.7 RPG, 3.8 APG and shot 48 percent from the field, but only 38 percent from beyond the arc. In other words, Kobe had the upper-hand in their head-to-head battles.
In this contest, you could expect to see a lot of jawing between the two, especially after buckets. With each passing taunt only being used as added motivation to the other. If one hit a big shot, the other would most certainly answer right back on the other end of the floor. This matchup alone could end up out-shadowing the entire game itself.
If it came down to a final possession, expect the ball to be in either one of these guy's hands.
I want to call this one a tie, but c'mon, let's be serious. This is Jordan in his prime.
Advantage: Dream Team.
Point Guard: Magic Johnson vs. Chris Paul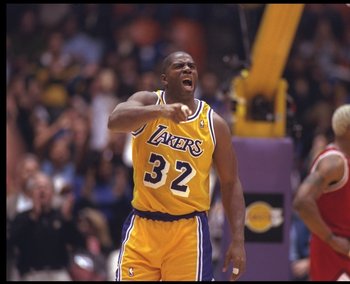 Getty Images/Getty Images
TALE OF THE TAPE
JOHNSON/PAUL
AGE: 32/27
HEIGHT/WEIGHT: 6'8" - 215 lbs./6'0" - 175 lbs.
MPG: 37.1/36.4
PPG: 19.4/19.8
RPG: 7.0/3.6
APG: 12.5/9.1
SPG: 1.3/2.5
This will prove to be yet another interesting match-up. Although the two play the same position, their sizes would tell you a different story. However, their size, or lack there of it, helps each player out in their own way.
For Magic, his height advantage would help make his presence felt down low as well as on the boards. Magic could find himself with a couple of second chance opportunities. He would also be able to use his strength to open up lanes for himself against the much smaller Paul.
For Paul, he will have to rely on his speed and defensive prowess. On the ball, his speed, matched with his dribble-penetration will help free him up for the open shot or drive. He'd definitely have to work more to find his shot than Magic would. On defense, Paul has to use his quick hands and defensive positioning to frustrate Magic and to create some turnovers.
To this point, the battle looks to be pretty deadlocked between the two. However, it's Magic's court vision that helps him grab the upper hand. His knack for knowing exactly where a player will be before they get there will aid The Dream Team in converting some easy baskets. That will ultimately prove to be the difference in this match-up.
Advantage: The Dream Team.
And the Winner Is....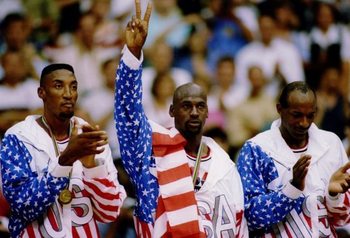 The game would be tight early on, as each squad felt out the other. As they did with the debate, Kobe and Jordan would set the tone early on. It would almost seem that the other eight players on the court were just standing and watching the two go back-and-forth. Each would reach double-digits in points by the end of the first.
In the second, the game would start to settle down and the Dream Team would start to open up a lead. Ewing would prove too much to handle for Chandler, as he finds himself on the bench early in foul trouble. However, the Dream Team don't pull away too far as LeBron makes easy work of Pippen, keeping the '12 squad in it.
Halftime Score: Dream Team up 68-62
The second half would really exploit the '12 squad as not having the same amount of depth as The Dream Team. After taking advantage of Pippen throughout the first half, the double team seems to help limit James scoring output. At the same time, the '12 squad have no answers for Ewing, who continues to have a monster game. By the end of the third, the Dream Team's lead would double.
Throughout the fourth, Kobe turns on that killer instinct and, with the help of Paul, helps cut the deficit back to single digits a couple times. However, the Dream Team has a closer of its own in Jordan, who helps put the '12 squad away for good.
Final Score: Dream Team 132-118
While it wouldn't be a 40-point blowout, it wouldn't be a close game either. The Dream Team was just a little more loaded than this year's version.
To be fair, the Dream Team consisted of the best of the best at that time period. This year's squad is missing a bunch of key players with Dwight Howard, Chris Bosh, Dwyane Wade, Derrick Rose and Andrew Bynum all not available to play.
But honestly, even if this year's squad had those players at their disposal, I still don't think they would pull it off. That 1992 squad was just a group of special players. I don't think we'll see a team like that for a long time, if ever.
Keep Reading