Tottenham Hotspur enjoyed their most successful period of the past two decades under the management of Harry Redknapp, but the time was right this summer for him to leave in order for the club to move on to the next level.
While the job he did at White Hart Lane left a strong legacy for new Spurs head coach Andre Villas-Boas and his staff to inherit, the club had gone as far as it could have under Redknapp's management.
On paper, sacking Redknapp last month looks like the club pressing the self-destruct button. This, after all, was the man who arrived in October 2008 with the club bottom of the Premier League and set about clearing up the mess he inherited from predecessor Juande Ramos.
Spurs would finish the season in a comfortable eighth place, just two points off a potential European spot. In addition, they also reached the final of the Carling Cup, only losing the title they had won the previous year to Manchester United on penalties.
The London club would then qualify for the Champions League for the first time via the playoffs, and went as far as the quarterfinals in 2011, beating both Milan clubs en route.
The upward trajectory the Spurs were enjoying reached a plateau shortly after their elimination at the hands of Real Madrid. They finished fifth that season, missing out on an immediate return to the Champions League, while Chelsea's triumph in the competition last term condemned their London rivals to a place in the Europa League despite them finishing fourth in the table.
While Redknapp cannot exactly be blamed for Chelsea's unlikely glory, it came after Tottenham had enjoyed a fine first half of the season during which they were even seen by some as outside bets for the title.
As late in the campaign as mid-March Tottenham were third in the table, but a poor dip in form saw them overtaken by local rivals Arsenal, who had endured their worst start to a season for six decades.
While injuries played a part in those results, Redknapp also had to take a big share of the responsibility. He showed his tactical limitations when pressed into making changes due to missing personnel, while his persistence in experimenting with winger Gareth Bale in a more central role after one successful deployment there against Norwich backfired.
Of course, Redknapp had never been known as a master tactician—he famously told striker Roman Pavlyuchenko to "just f****** run around" (as reported by The Guardian) when bringing him off the bench in one of his first games in charge—but this deliberate attempt to deviate from his tried and tested game plan proved costly and exposed his lack of versatility as a coach.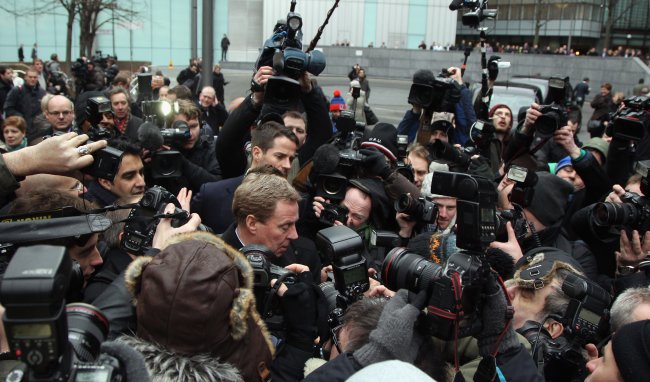 Dan Kitwood/Getty Images
Another factor attributed to the Spurs' collapse was Redknapp's link with the vacant England job. In the space of 24 hours in early February, Redknapp was cleared in his trial for tax evasion and Fabio Capello quit the England job. The Spurs manager had never been shy about expressing his interest in the job to his many friends in the media, and those same chums immediately anointed him as the leading candidate on a shortlist of one to take it as soon as he walked out on to the steps of Southwark Crown Court a free man.
When Roy Hodgson was appointed by the FA, it left Redknapp and Tottenham in an awkward situation. With just one year to go on the 65-year-old's contract, Spurs chairman Daniel Levy realised that this partnership had gone as far as it could and that it was the right time to part ways.
While the good times were rolling at Tottenham it was not particularly apposite to highlight the flaws in the job Redknapp was doing, but they were there. He clearly had his favourites among the squad, and if you were not in that group then there was very little chance of getting back into the first-team picture. Several fringe players complained privately that Redknapp would not even talk to them individually at all.
Will Andre Villas-Boas take Tottenham up a level?
Towards the end of his reign, even his fabled nous in the transfer market came into question. With the short-term signings of aging, injury-prone duo Louis Saha and Ryan Nelsen contributing little to the cause and Steven Pienaar being loaned back to Everton just a year after he was bought.
The decision was made by Spurs to make a nice, clean break from a manager who had done so much for them, rather than wait for a potentially damaging run of results to force their hand.
A club proactively "changing up" on managers is always a risky policy if things do not improve quickly, but for the club to progress it was necessary for it to be defined by more than just the big personality in the dugout.