Drama Between Jeremy Lin and New York Knicks Much Ado About Nothing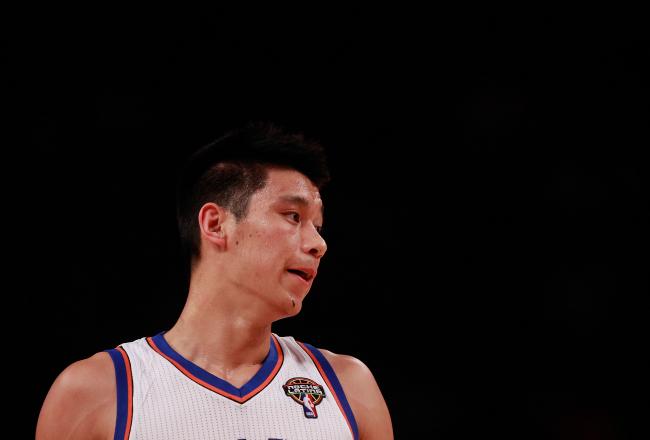 Chris Trotman/Getty Images
Can you remember the last time so much of a national fuss was made over an NBA player whose free agency meant so little in the grand scheme of things?
I'm referring, of course, to the firestorm that erupted over whether or not the New York Knicks should match the Houston Rockets' three-year, $25 million offer sheet for Jeremy Lin in recent days.
Those for it, like NBA.com's David Aldridge, downplayed the fiscal consequences of Lin's "poison pill" contract and pointed to his potential improvement on the court, ahead of the likes of Raymond Felton and Jason Kidd. Those against it, like ESPN pundit and professional bloviate Stephen A. Smith, argued that it'd be "Linsane" to give Jeremy so much money for a 26-game stint that ended with a knee injury.
Granted, those points are all moot now that the Knicks have declined to match the Rockets' contract, per Howard Beck of the New York Times.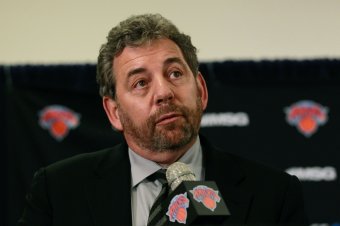 Chris Trotman/Getty Images
Still, the huffing and puffing over what the Knicks should do about their "Lin problem" was entertaining at times, if not utterly annoying at all others. Should the Knicks have offered Lin a contract before he went out to and scrounged up a better deal from Houston? Was the Knicks' decision at all driven by owner James Dolan feeling butthurt about Linsanity's supposed lack of loyalty?
Or, has the new collective bargaining agreement done what years of failure as a sports executive couldn't do: turn Jimmy D. into a penny pincher?
All of which overlooks the most important point: that the Knicks weren't and aren't going to contend for an NBA title, with or without Lin in the fold.
At present, New York's roster resembles little more than a collection of talented but ill-fitting (not to mention expensive) parts that seems unlikely to gel into a cohesive whole.
Carmelo Anthony is an elite scorer who needs the ball in his hands to be effective and doesn't play a lick of defense. The same goes for Amar'e Stoudemire, with the word "elite" essentially replaced by the phrase "fragile knees." Tyson Chandler's the reigning Defensive Player of the Year, but even he can't make up for 'Melo and STAT's shortcomings entirely.
Not to mention the fact that Chandler occupies the same space on offense that the Knicks' marquee stars are already busy fighting over.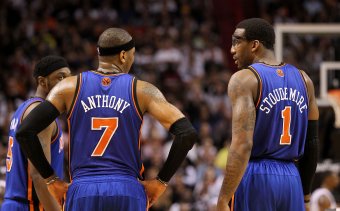 Mike Ehrmann/Getty Images
Lin wasn't about to change all of that. Sure, he's a solid playmaker who's demonstrated a strong understanding of how to operate in the pick-and-roll game. But Anthony and Stoudemire were arguably at the bottom of the totem pole of those who benefited from it, with Chandler sitting at the top.
And, really, what good would it be to have two scorers combining to make nearly $40 million per year if they don't mesh well with the guy handling the ball up top?
Then again, that may well be the case even with a declining Felton and a 39-year-old Kidd running the point. Felton played well with Amar'e and the Knicks during the first half of the 2010-11 season, but the team's dynamics have shifted dramatically since then, with Carmelo coming in and head coach Mike D'Antoni on the outs.
As for J-Kidd, he's little more than a shell of his former Hall of Fame self on the court, to say nothing of the erosion of his decision-making skills off of it.
Where will the Knicks finish in the East without Jeremy Lin?
To be fair, the rest of the supporting cast (i.e. JR Smith, Marcus Camby, Steve Novak, Kurt Thomas) is surprisingly solid, though none of that matters much when the core of the team is being held together with the MacGyver toolkit.
Let's not forget, either, about Iman Shumpert, whose emergence as an athletic presence and a shutdown perimeter defender following his move back to shooting guard played a crucial part in the Knicks' improvement during the short-lived Linsanity era. Shump expects to be back from a torn ACL at some point in January, though there's no telling how effective he'll be after major knee surgery.
And when it comes to championship contention, New York simply has too far to climb with too disjointed a group of players just to get a word in edgewise in that conversation. Can the Knicks realistically compete with the defending-champion Miami Heat, against whom they fell in five games in the opening round?
What about the Boston Celtics, who've reloaded for another run at a title?
What about the Chicago Bulls when Derrick Rose returns? Or the reshuffled Indiana Pacers?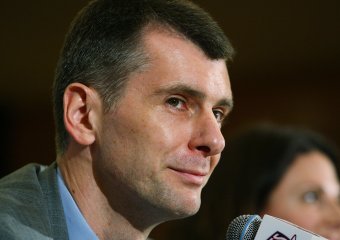 Mike Stobe/Getty Images
Oh yeah, and the crosstown Brooklyn Nets have put together a pretty darn good roster too. Can the Knicks realistically claim that they're any better than Mikhail Prokhorov's pals?
Jeremy Lin wouldn't likely have changed any of that, healthy knee or no, fewer turnovers and a smoother jump shot or no. At best, he might've vaulted the Knicks from the middle of the pack in the Eastern Conference to...ummm...the other middle.
However, Lin is all but officially signed, sealed and delivered to Houston now, meaning that the rest of the basketball world can get back to the business of ignoring the Knicks for the practically irrelevant franchise they are.
And being all the better for it.
This article is
What is the duplicate article?
Why is this article offensive?
Where is this article plagiarized from?
Why is this article poorly edited?

New York Knicks: Like this team?