Training camps can teach us much about an NFL team—what the final 53-man roster will look like, who will be lining up where and who is in better and worse shape than they were the last time we saw them.
However, training camps can't provide a full insight into how we can expect a given team to perform in the regular season. It also can't teach us specific things that can only be learned in live-game situations.
As such, here are three things that won't be learned about the 2012 Baltimore Ravens through how they look in training camp.
Whether or Not Quarterback Joe Flacco has become more consistent
Jeff Gross/Getty Images
Though Ravens quarterback Joe Flacco's overall numbers over the last three seasons have been practically identical—around 3,600 passing yards, 225 yards per game, around 20-25 touchdowns and 10-12 interceptions—that doesn't show the complete picture of his issues with inconsistency.
Last season, Flacco would alternate between games in which he'd throw for 300 or more yards and those in which he'd throw for 160 or fewer. He'd also alternately be called upon to pass the ball 40 or more times with 24-throw appearances.
As such, it's hard to predict how the Ravens' passing game will look from one week to the next. It doesn't help that the team doesn't consistently employ a No. 3 receiver, or that it is still trying to settle on whether tight end Dennis Pitta or Ed Dickson should be a featured target or both.
Clearly, game-by-game consistency for Flacco and the Ravens' passing game is a goal this year. But no matter how much attention it gets in training camp this year, there's no telling how it will translate to the field until the Ravens begin the regular season.
All Flacco can really do during camp is to get as much time with his receivers and make sure everyone is on the same page in terms of routes, timing and communication. But there's no telling how this work will pay off via camp alone.
If the Ravens defense will struggle without Terrell Suggs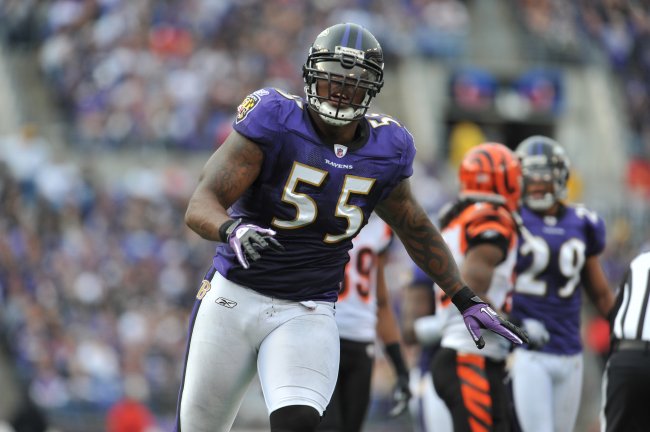 Larry French/Getty Images
One of the major priorities for the Ravens defense and coordinator Dean Pees during camp is to figure out ways for that side of the ball to not have a significant drop-off in production without reigning NFL Defensive Player of the Year Terrell Suggs on the field.
Suggs, who tore his Achilles' tendon in May, is out of his walking boot and is reportedly enjoying his time rehabbing his leg. But as of yet, he won't give a specific target date for his return.
Though he very well could come back to play in the 2012 season, as of now the Ravens must game-plan and operate as though he's not, because that's the situation they have found themselves in as the regular season approaches.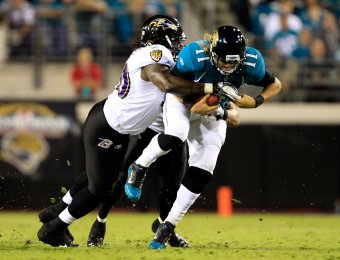 Sam Greenwood/Getty Images
Presently, it appears that Paul Kruger will be lining up at Suggs' outside linebacker spot, with second-year player Pernell McPhee likely to get the defensive end snaps that Suggs took as a hybrid OLB/DE. The other vacant outside spot, which once was Jarret Johnson's, will go to rookie Courtney Upshaw unless Sergio Kindle finally distinguishes himself (the two could also split time).
Last year, Suggs amassed 70 total tackles, 14 sacks, seven forced fumbles, two interceptions and six defended passes. That's a lot of production that the rest of the Ravens' linebackers (and their defensive line) will have to make up for.
Camp will be for finding formulas that work, but until they are tested out for a full four quarters with their starters, it will be hard to determine whether or not they are successful or if there's more work to be done.
Whether the Ravens will use Ray Rice less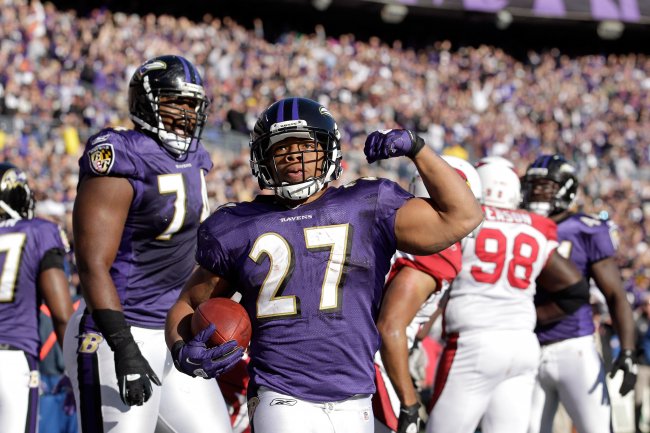 Rob Carr/Getty Images
The Ravens and Ray Rice struck a last-minute deal on Monday to give the star running back a long-term contract and the kind of financial security it represents. Rice is now set to earn up to $40 million over five years, with $17 million of that money coming this season and $25 million of it guaranteed.
It thus seems confounding that the Ravens would agree to pay Rice such an huge sum and then perhaps consider cutting down on his carries and receptions. But it's quite possible—it is quite the investment they made, after all.
Last year, Rice had 291 carries—not at all the most carries in the league—but he also had 76 receptions, more than any other player in the entire AFC North.
Rice's carries might get shaved off some (the team drafted Bernard Pierce, and now they seem to actually have a capable No. 2 and change-of-pace back behind Rice), and the hope is that Flacco won't need to check down to Rice as much with the rest of the passing game finally coming together.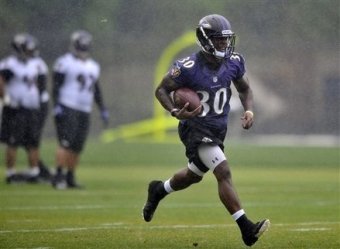 However, we won't be able to tell from training camp whether or not the Ravens will ultimately lighten Rice's workload. He's likely to get his reps, to be sure, but a running back is a finite quantity, and one as newly-expensive as Rice needs to be protected.
It's likely that, in camp, Pierce and fellow back Anthony Allen will see more reps as they battle it out for the No. 2 job (while I believe that Pierce will ultimately win it, it's not set in stone yet) while Rice's full capacity is saved for the regular season.
It would benefit the Ravens to keep Rice's carries around the 300 mark—though he could definitely handle more. But most importantly, they need to get their passing game in tune, which means it would be best if Rice doesn't get as many targets as he did last year.
But until we know whether or not the Ravens prefer to conserve Rice and whether or not the deeper passing game is firing, we won't be able to tell if Rice's snaps will decrease this year.