Dodgers Trade Rumors: 8 Ways Jimmy Rollins Would Impact Los Angeles' Lineup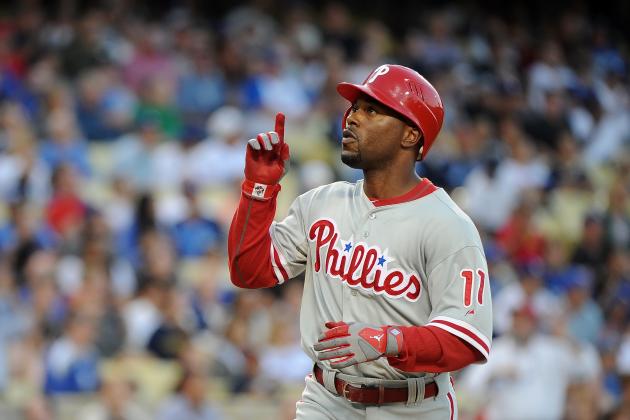 Lisa Blumenfeld/Getty Images

The Los Angeles Dodgers appear to be in a one-on-one duel with their long-time arch-nemesis San Francisco Giants in the NL West, and they appear ready to pull out all the stops.
According to Danny Knobler of CBSSports.com, the Dodgers have more than just a passing interest in acquiring Philadelphia Phillies shortstop Jimmy Rollins.
This was a bit of a surprise when it first surfaced, but apparently the Dodgers are casting a wide net in terms of bringing in the pieces they feel can lead them back to the postseason and beyond.
Just how would Rollins impact the Dodgers? Let's take a look.
Begin Slideshow

»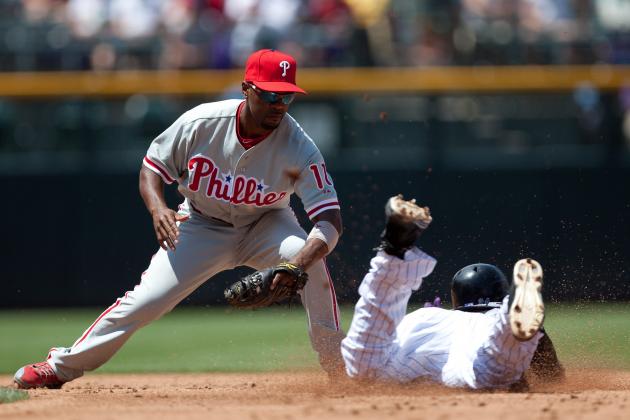 Justin Edmonds/Getty Images

Los Angeles Dodgers shortstop Dee Gordon took a head-first slide attempting to steal second base in a game against the Cincinnati Reds in July and paid a heavy price.
Gordon tore a thumb ligament on the slide, requiring surgery that knocked him out for at least six weeks. For a team that was already reeling with injuries to Andre Ethier and Matt Kemp, it couldn't have come at a worse time for the Dodgers.
Kemp and Ethier are now both back in the lineup, but Gordon won't return for at least another five weeks.
By acquiring Philadelphia Phillies shortstop Jimmy Rollins, manager Don Mattingly can stop using a platoon of Luis Cruz and Juan Uribe at short—certainly not an optimum plan.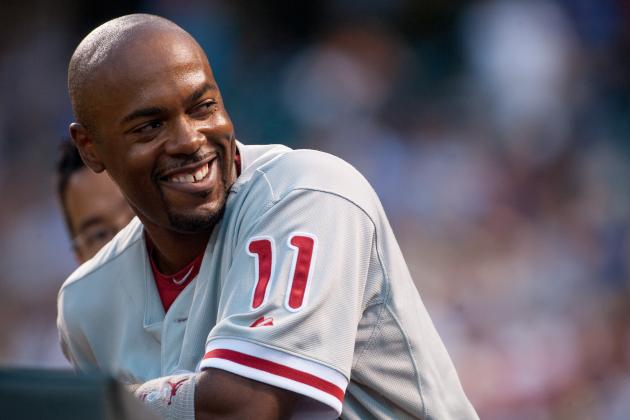 Dustin Bradford/Getty Images

Philadelphia Phillies shortstop Jimmy Rollins has been plying his trade in Major League Baseball since 2000. With the Phillies he has experienced it all—losing seasons, last-place finishes, end-of-season disappointments, division titles, plenty of postseason play and a World Series championship.
For a team like the Los Angeles Dodgers, that type of experience is priceless.
Rollins has been in the trenches for five consecutive seasons with the Phillies as they have battled for the postseason. For the Dodgers, that type of veteran leadership can go a long way in a tight race.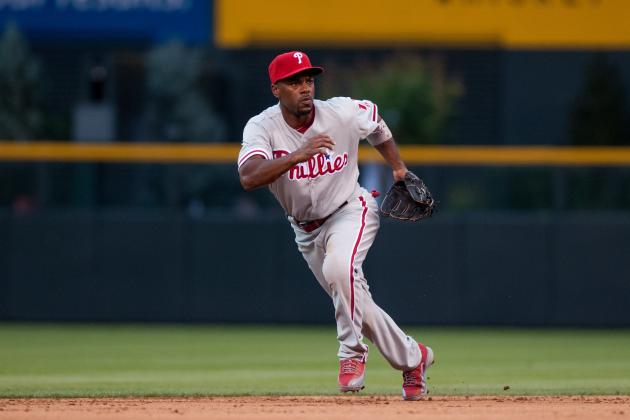 Dustin Bradford/Getty Images

As mentioned in the previous slide, the Los Angeles Dodgers are not an overly young team—they do have veterans who have tasted postseason play during their careers.
But none of them have done so quite like Philadelphia Phillies shortstop Jimmy Rollins.
The Phillies have won five consecutive NL East Division titles, one of them culminating in a World Series championship in 2008.
Rollins carried the team on his back in 2007, boldly predicting that his Phillies would finally break through and win the NL East. Not only was he right, but Rollins led them to that title, winning the NL MVP Award in the process.
If you don't think that kind of postseason experience wouldn't be a key factor for the Dodgers' postseason hopes this year, guess again.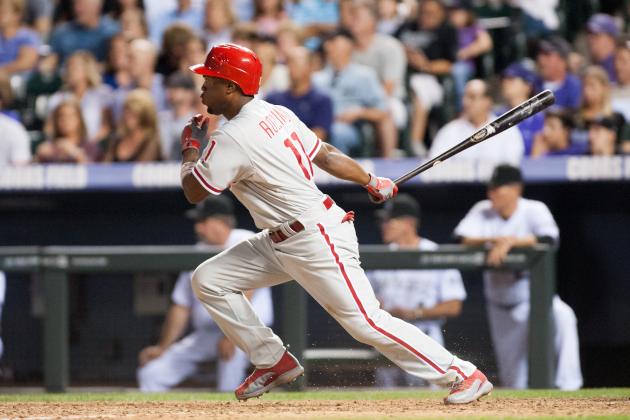 Dustin Bradford/Getty Images

Philadelphia Phillies shortstop Jimmy Rollins is not having the best of years in 2012. The numbers aren't terrible, but they're not great, either.
Hitting .262 with nine HR and 34 RBI, the Phillies were leaning on Rollins to help pick up the offensive slack in the absence of both Chase Utley and Ryan Howard. While the blame for the Phillies' sputtering offense can't be laid on the feet of Rollins, the Phillies have nonetheless been disappointed.
Oftentimes, trades can act like kindling on a fire. When a flame starts to flicker, sometimes adding a bit of kindling can re-spark the fire.
That was certainly the case the last year with current Phillies right fielder Hunter Pence. Pence was hitting a solid .308 when he was acquired from the Houston Astros, with 11 home runs in his first 100 games. After the trade, Pence hit .324 with 11 HR in just 54 games with Philly.
A change of scenery can certainly act as a spark, and for the Dodgers, they can only hope that if they do acquire Rollins, he acts as a kindling for a flickering offense.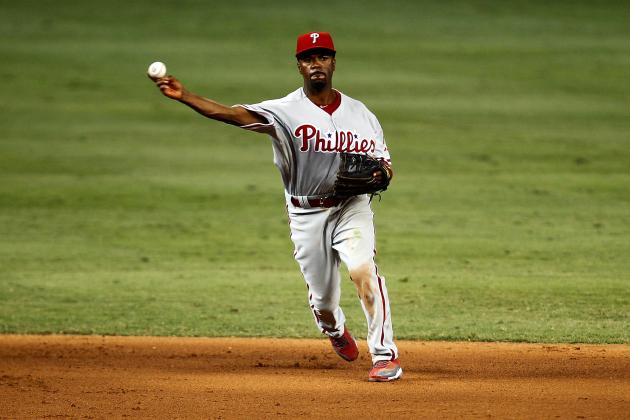 Sarah Glenn/Getty Images

Young Los Angeles Dodgers shortstop Dee Gordon is a work in progress defensively. Just 24 years old, Gordon has committed 17 errors for a .948 fielding percentage before going down with a thumb injury in early July.
Jimmy Rollins is a three-time Gold Glove Award winner. While he may not have the range at short that he displayed throughout the 2000s, Rollins knows exactly how to position himself for each hitter and be in the right place at the right time.
With just seven errors thus far and a .980 fielding percentage, Rollins vastly improves the defense up the middle for the Dodgers. In a tight pennant race, saving runs is equally important as scoring them.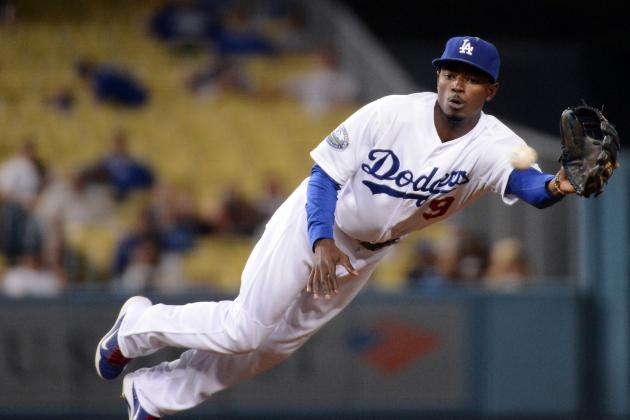 Harry How/Getty Images

Dee Gordon has been a shortstop his entire career. Every game he has played at the professional level has been at that position.
However, how about the possibility of moving him to second base when he returns from the disabled list, if in fact the Dodgers do acquire Philadelphia Phillies shortstop Jimmy Rollins?
The Dodgers have used six players at second base this season, with Mark Ellis, Jerry Hairston and Adam Kennedy receiving the most time of the six. While Ellis has been effective for the Dodgers (.270, 3 HR, 11 RBI), putting Gordon at second base keeps the speed in the Dodgers' lineup that would otherwise be lacking.
Gordon could always move back to short when Rollins' contract expires, he'll only be 26 years of age and entering the prime of his career at that point.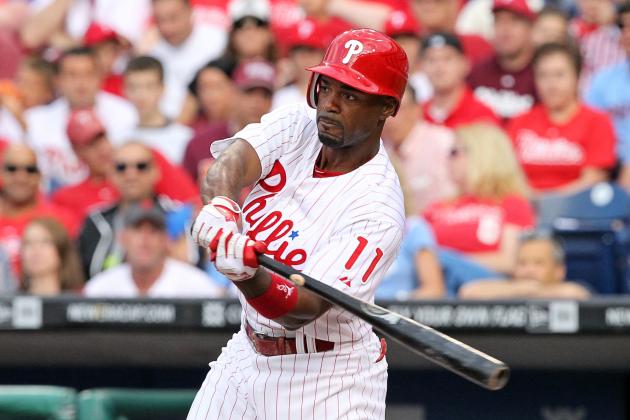 Hunter Martin/Getty Images

Philadelphia Phillies shortstop Jimmy Rollins hasn't just been a terrific player during his 12-plus seasons in the majors, he's been a class act as well.
A fan favorite in Philly throughout his career, Rollins could serve as a mentor to young Dee Gordon as a member of the Dodgers. Rollins was the guy that Ryan Howard looked up to as a youngster when he first started, and Rollins has always been supportive of his teammates throughout his career.
Rollins' career certainly isn't winding down, but he is approaching the latter stages. Imparting his wisdom and experience to a young Gordon could prove invaluable.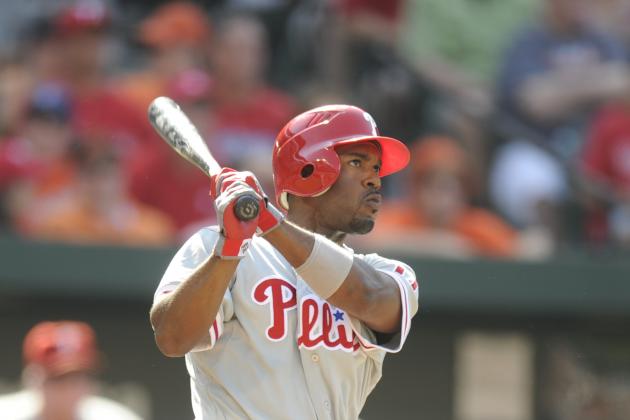 Mitchell Layton/Getty Images

The Los Angeles Dodgers were not expected to be in a division title hunt at the beginning of the season, especially with all that was happening in the front office.
Despite the off-field distractions, the Dodgers came out of the gate charging, and with two and a half months left in the season find themselves sniffing a playoff berth.
With new ownership in place and with much deeper pockets, it seems pretty clear that the Dodgers not only want to position themselves well for the future, but they also want to seize the opportunity that's before them right now.
Acquiring Philadelphia Phillies shortstop Jimmy Rollins would be a clear sign to the Dodgers' fan base that the front office is indeed jumping on that opportunity.
What better way to re-energize a fan base than by bringing in a proven winner?
Doug Mead is a featured columnist with Bleacher Report. His work has been featured on the Seattle Post-Intelligencer, SF Gate, CBS Sports, the Los Angeles Times and the Houston Chronicle.