How Houston Rockets Should Rebuild Roster Around Jeremy Lin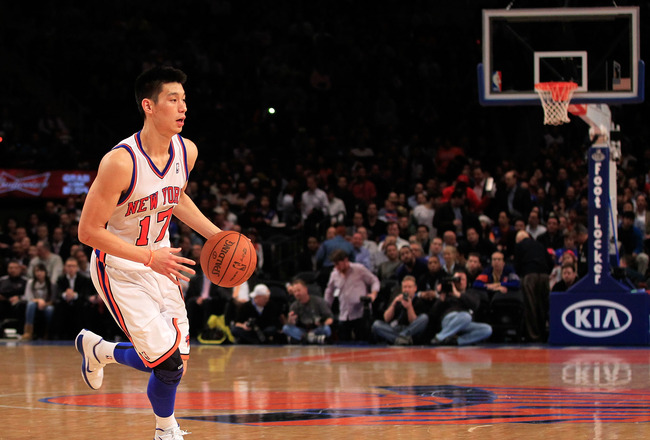 Chris Trotman/Getty Images
Jeremy Lin has already signed an offer sheet with the Houston Rockets for three years and $25.1 million.
With all signs pointing towards the New York Knicks declining to match the offer, it looks like the Rockets can start figuring out how to rebuild the team into a contender.
The process won't be immediate. Lin is a great player with high upside, but he won't be leading this team to the playoffs in year one or anything.
So, how can the Rockets build around Lin and become true contenders?
Read on to find out.
Forget About Dwight Howard Right Now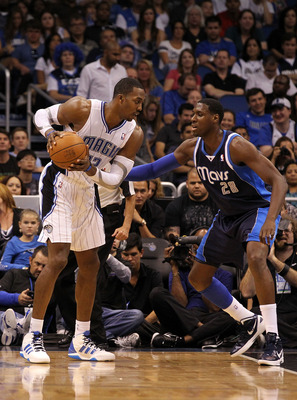 Sam Greenwood/Getty Images
Even though Daryl Morey's entire existence right now seems to revolve around managing to bring Dwight Howard to the Houston Rockets, he should back off the pursuit for the time being.
What he has to remember is that Dwight will most likely still be on the market next offseason, except this time he'll be an unrestricted free agent. Even if the big man is traded away from the Orlando Magic, he probably won't sign an extension.
Superman loves his attention and he's only going to get more of it next offseason when every team with enough financial flexibility can put in a bid.
Houston will have the cap room to make a play for Dwight after the 2012-2013 season. For now, focus on rebuilding and keeping the assets that are already in place. Allow the city to become Jeremy Lin's before a mega-star is brought in.
Keep Young Pieces and Let Them Develop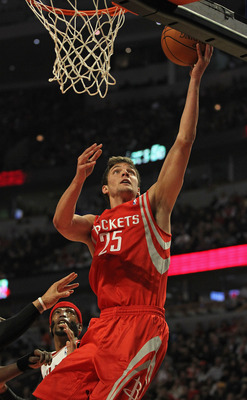 Jonathan Daniel/Getty Images
Speaking of keeping the assets that are already in place, the Rockets have an insane amount of young players who could become major contributors down the road.
Chandler Parsons, Marcus Morris, Patrick Patterson and Donatas Motiejunas are all draft picks from the past who could still blossom.
Parsons had a solid rookie season and proved that he really is a jack of all trades. The former Florida Gator still needs to develop one true calling card, but he's so good in so many areas that he's a valuable asset.
Morris might not have had the success that his twin brother Markieff enjoyed during his rookie season, but he's still an NBA-ready big who can contribute across the board and put up points with his smooth mid-range jumper.
Patterson has spent two years out of Kentucky and hasn't made an impact, but he's been blocked by the presence of Luis Scola. Now he'll get a chance to earn a larger role with his defensive play and midrange game.
Motiejunas hasn't played in the NBA yet, but opened everyone's eyes with a 25-point, nine-rebound debut in the Summer League this year, complete with some athletic dunks and smooth three-pointers.
Then there's the talented crop of first-round picks from this year. Daryl Morey's stockpiled draft picks turned into Jeremy Lamb, Terrence Jones and Royce White.
Between Lamb's offensive game and ridiculous shooting ability, Jones' defensive presence and above-average court vision from either forward spot and White's sensational versatility and positional prowess, the Rockets are bound to get a contributor.
Obviously, not all of these young players will pan out. Imagine if they do though.
Jeremy Lin can't carry the team by himself, but keeping this bevy of young guns and seeing which ones are for real and which ones will misfire is crucial.
Sign Shooters Left on the Market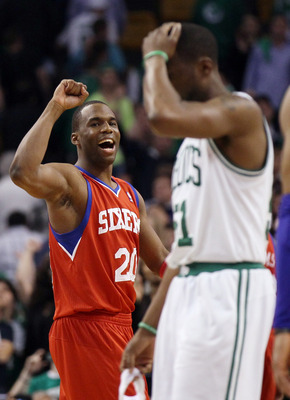 Elsa/Getty Images
The best type of player that the Houston Rockets can place around Jeremy Lin is a sharpshooter, a guy who can knock down open three-pointers after Lin penetrates and makes the defense collapse around him.
Take Steve Novak last year for example. During Jeremy Lin's time as a healthy starter—from February 6 to March 24—Novak lit it up. He averaged 11.0 points and 3.1 three-pointers made per game on 48.7 percent shooting from downtown.
For the season, Novak averaged 8.8 points and 2.5 three-pointers made per game on 47.2 percent shooting.
It's no secret that Lin makes long-range shooters better. Of Lin's 216 assists last year, 50 resulted in triples and another 60 ended up in made jumpers.
Surrounding Lin with players who can knock down their open shots is essential. This year, targeting someone like Jodie Meeks is a must.
Next year, J.J. Redick and Stephen Jackson would be good options. Jimmer Fredette could be intriguing as well if the Sacramento Kings don't pick up his team option.
The Rockets also have a bunch of big men who can shoot, which is yet another reason why they should be kept. Donatas Motiejunas, Marcus Morris and Patrick Patterson all possess nice jumpshots and should benefit tremendously from Lin's presence on the court.
Let Kevin Martin Walk
Streeter Lecka/Getty Images
For all the good that he's done for the Houston Rockets, Kevin Martin can't be an essential part of the franchise's long-term plans.
Martin is set to become an unrestricted free agent in the summer of 2013, and the Rockets must let him walk instead of allowing him to sign an extension.
As good as Martin is at scoring, particularly at drawing contact and getting to the charity stripe, he's a ball-dominant player who hinders both the development of the young players in Houston and the ability of the franchise to sign more stars.
Allow Martin to mentor Jeremy Lamb this year and help the former Connecticut Husky learn how to become a great NBA player, but don't keep him any longer than necessary.
Go After One of the Big Centers Next Offseason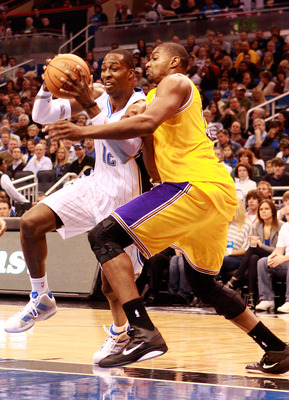 Sam Greenwood/Getty Images
When the summer of 2013 rolls around, that's when the Houston Rockets can resume the pursuit of Dwight Howard.
If Howard doesn't wind up playing for a team he likes this next season, he won't sign an extension and will become an unrestricted free agent. Then, the Rockets can attempt to lure him in with a lot of campaigning and a whole lot of money.
Then again, if D12 is unwilling to commit to Houston long-term, the Rockets can go after Andrew Bynum, who will presumably be an unrestricted free agent as well if he's unable to come to terms on an extension with the Los Angeles Lakers.
Either way, the Rockets will have a chance to land a premier center.
Try to Lure in a Max or Near-Max Athlete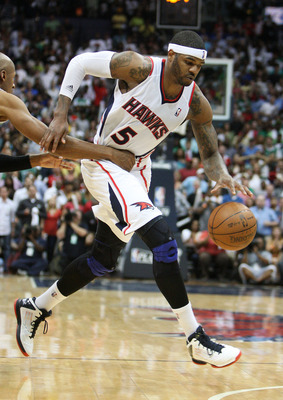 Mike Zarrilli/Getty Images
Even if the Rockets are able to sign either Dwight Howard or Andrew Bynum to a max deal, they'll still have the money left over to pursue another stud.
If they already have a dominant big man and a couple knockdown shooters, the last remaining piece of the puzzle would be an elite athlete who can contribute across the board and play top-notch defense.
To fill this role, the Rockets should turn to Josh Smith, who is set to become an unrestricted free agent next offseason if he can't come to terms with the Atlanta Hawks on an extension.
A huge All-Star snub this past season, Smith is a great complementary player and can do just about everything the Rockets could hope for on the basketball court.
If all goes according to plan, the Rockets would now have a starting lineup of Jeremy Lin, Jeremy Lamb, Josh Smith, Marcus Morris and Dwight Howard/Andrew Bynum for the 2013-2014 season. They'd also have Jodie Meeks, J.J. Redick, Marcus Morris, Terrence Jones, Chandler Parsons and Royce White coming off the bench.
That's a rotation that can truly compete.
Keep Reading

Houston Rockets: Like this team?