ESPN Body Issue 2012: Best Quotes from the Athletes Who Posed for the Mag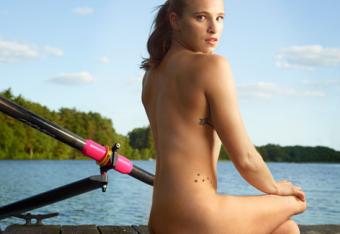 Martin Schoeller/ESPN

As they do in each annual edition, this year's ESPN the Magazine Body Issue includes sections where the athletes talk about why they've decided to appear in the issue and what demands the sport they play takes on the body.
So for you, readers, I've compiled some of the best quotes from those sections this year.
From an MMA fighter afraid to tell her mother to a tennis player with a sweet tooth, the following should certainly entertain.
Ronda Rousey
One of the most entertaining interviews about this year's Body Issue came when
Rousey was interviewed by her older sister, Maria Burns Ortiz
. The highlight was Rousey talking about how her mother reacted when she told her she was appearing nude in a magazine.
That segues nicely into my next topic—the ESPN The Magazine Body Issue, of which you're on the cover. Mom says you did not even tell her you posed for it. What was her reaction when she saw the pictures?

I was trying to explain to her that it was "artistically nude." Mom said: "Hmm. As far as I can tell, that's pretty much the same thing as naked." She kind of gave me one of those motherly disapproval looks. But [our stepfather] Dennis kind of helped me out when he made the point, "At least she wasn't the naked guy with the horse licking his bald head." She couldn't really argue there.
Yup, it's pretty hard to argue with that.
Daniela Hantuchova
Hantuchova has one of the longest, sleekest frames in women's tennis today. But it's probably not because of her diet.
What about your body would surprise us?

I can eat like crazy and it doesn't show up. I eat a lot of sweets. Nutella on anything—I have a weakness for that. I can't tell you how many jars of Nutella I go through. It's embarrassing. Sometimes I just eat it on its own. I also love ice cream, especially Haagen-Dazs. I love tiramisu and croissants. And, oh gosh, anything my mom bakes.
Genetics can go a long way. And let's be honest—Nutella is amazing, and tiramisu is pretty much the best thing ever.
Maurice Jones-Drew
They call him "Pocket Hercules" for a reason.
Yes, it's because he's one of the NFL's most powerful runners and dynamic players at the halfback position. But it's also because he's a shorter guy.
And he likes his size, because he feels it inspires people to do things bigger than themselves.
What do you like about your body?

That I'm short, because fans can relate to it. It gives people hope that they can do anything. People tweet at me, "Man, I'm your size, I'm not big." I was never the biggest or fastest, but no one worked harder than me. So it's, If he can do it, why can't I? And I love that.
Great answer, MJD. Keep inspiring.
Jose Bautista
These days, it seems like all Toronto Blue Jays outfielder Jose Bautista does is hit home runs. He's one of the premier home-run hitters in baseball today, and you might think his power derives from muscular, jacked arms he incessantly trains.
What about your body would surprise us?

Most people expect me to have huge arms because people identify hitting home runs with big arms, I guess. When they see me, they are like, "Oh my god! You are not as big as I thought! You have small arms!" Everyone keeps going on and on about arms, arms, arms. I've never had big arms, though, so to me it's pretty funny that people think that I'm supposed to have big arms because I hit home runs.
I don't think it's terribly polite to tell someone they have small arms when you meet them. Though I have to be honest—I figured Bautista was probably pretty jacked.
The days of Sammy Sosa and Mark McGwire—and all that nasty illegal stuff—are behind us.
Oksana Masters
One of the most inspirational athletes to pose this year was paralympic rower Oksana Masters. If you want a truly compelling story, you need to check out the full interview when she talks about her life.
But she opens the interview talking about what posing can do for the adaptive community, showing a different side to the Body Issue and reminding people that there are athletes out there of all shapes, sizes, disabilities and backgrounds, and we all need to be reminded of athletes who overcome the odds.
Why did you decide to pose for the Body Issue?

This was an amazing opportunity for me and also for the adaptive community. When I first had my legs amputated, it was hard for me to be positive and feel pretty. Many people don't know that someone with a disability can be strong and beautiful and successful as an athlete.
That's what it's all about, people.
Hit me up on Twitter—my tweets are money like the transfer window.

This article is
What is the duplicate article?
Why is this article offensive?
Where is this article plagiarized from?
Why is this article poorly edited?