Cy Young, MVP and Major First-Half Awards for Every Minor League Level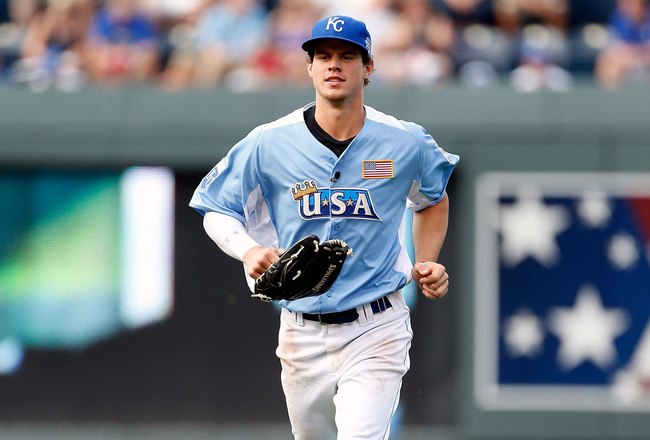 Jamie Squire/Getty Images
Even though the second half of the minor league season is well underway, and many top prospects have been either rewarded or challenged with a promotion to a more advanced level, there's still plenty of time to analyze the first half of the 2012 season.
After reviewing every team's top prospect at the halfway point last week, I feel that it's necessary to evaluate the amount of talent scattered throughout the minor league by identifying some of the top performers.
Therefore, I thought it would be entertaining to name an MVP and Cy Young award winner at every minor league level—rewarding prospects who enjoyed a highly productive first half of the season. And because there are so many players having impressive campaigns, I've also added an honorable mention group for each award.
Triple-A: Wil Myers and Tyler Cloyd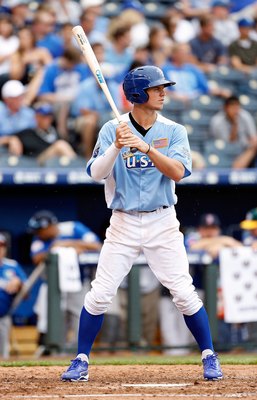 Jamie Squire/Getty Images
MVP
Wil Myers, OF, Kansas City Royals
.316/.397/.638, 29 XBH (15 HR), 45 RBI, 48 K/26 BB (52 G)
After posting a 1.146 OPS at Double-A Northwest Arkansas over 35 games, Myers was promoted to Triple-A Omaha where he's continued to rake. Since the promotion, 29 of his 62 hits have gone for extra bases, and he's driving in runs with consistency, batting .375/.450/.750 with 42 RBI with runners on base.
MVP Honorable Mention
Jedd Gyorko, 2B/3B, San Diego Padres
Adam Eaton, OF, Arizona Diamondbacks
Jake Elmore, 2B, Arizona Diamondbacks
Travis d'Arnaud, C, Toronto Blue Jays
Cy Young
Tyler Cloyd, RHP, Philadelphia Phillies
9-1, 96.1 IP, 1.96 ERA, 3.40 FIP, .210 BAA, 65 K/24 BB (15 GS)
After registering a 2.82 FIP over 106.2 innings last season at Double-A Reading, Cloyd has only furthered his success this season in Triple-A. Although his 6.07 K/9 and 2.24 BB/9 are the worst rates of his minor league career, the right-hander has once again been tough to square up as he induces weak contact with regularity.
Cy Young Honorable Mention
Jake Odorizzi, RHP, Kansas City Royals
Dan Straily, RHP, Oakland Athletics
Double-A: Oscar Taveras and Dan Straily
Courtesy of MiLB.com
MVP
Oscar Taveras, OF, St. Louis Cardinals
.332/.381/.593, 47 XBH (18 HR), 66 RBI, 6 SB, 46 K/26 BB (85 G)
While all of the honorable mentions listed below are arguably deserving of the award, what Oscar Taveras has done this season as a 20-year-old is remarkable.
The left-handed hitter somehow manages to get the barrel on everything, as evidenced by his 84.5 percent contact rate. Furthermore, he is thriving with runners in scoring position: 1.000 OPS with 13 extra-base hits and 48 RBI.
MVP Honorable Mention
Mike Olt, 3B, Texas Rangers
Josh Rutledge, SS, Colorado Rockies
Alfredo Marte, OF, Arizona Diamondbacks
Jurickson Profar, SS, Texas Rangers
Cy Young
Dan Straily, RHP, Oakland Athletics
3-4, 85.1 IP, 3.38 ERA, 2.53 FIP, .224 BAA, 108 K/23 BB (14 GS)
After showing glimpses of his potential in 2011, Straily has been relentlessly baffling opposing hitters all season. He is the minor league strikeout leader with 154 in 118.1 innings, and every pitch in the right-hander's arsenal is capable of generating a swing-and-miss.
More importantly, Straily's advanced command allows him to set-up and mix his pitches with efficiency, as well as consistently work down in the zone. So how tough is it to square up Straily? This season, 31.1 percent of his outs have come via the strikeout, and 23.3 percent of those were of the swinging variety.
Cy Young Honorable Mention
Zack Wheeler, RHP, New York Mets:
Tony Cingrani, LHP, Cincinnati Reds
Danny Hultzen, LHP, Seattle Mariners
High-A: Miles Head and Cody Buckel
Courtesy of MiLB.com
MVP
Miles Head, 1B, Oakland Athletics
.382/.433/.715, 47 XBH (18 HR), 56 RBI, 55 K/23 BB (67 G)
Even though Head has always possessed plus raw power, this is the first season that he's flashed at least an above-average hit tool. His plate discipline has noticeably improved from 2011, allowing him to see more pitches and drive the ball across the whole field.
Furthermore, by employing a more consistent approach, Head has also trimmed his traditionally high strikeout rate.
MVP Honorable Mention
Nick Castellanos, 3B, Detroit Tigers
Jackie Bradley, OF, Boston Red Sox
George Springer, OF, Houston Astros
C.J. Retherford, 3B, Los Angeles Dodgers
Cy Young
Cody Buckel, RHP, Texas Rangers
5-3, 75.2 IP, 1.31 ERA, 2.17 FIP, .186 BAA, 91 K/25 BB (13 GS)
Although he's undersized, Buckel has a big-time arsenal that generates a mixture of strikeouts and ground outs. Additionally, he has a deceptive yet explosive delivery with lots of torque—mechanics that he learned from one of his closest friends, Trevor Bauer.
Prior to his promotion to Double-A, the right-hander led the Carolina League with 91 strikeouts and placed near the top of every other category. Over the last two seasons, Buckel has been especially difficult to square up, as opposing hitters repeatedly struggle to generate extension after contact.
Cy Young Honorable Mention
Donn Roach, RHP, San Diego Padres
Hiram Burgos, RHP, Milwaukee Brewers
Yordano Ventura, RHP, Kansas City Royals
Low-A: Alen Hanson and Jose Fernandez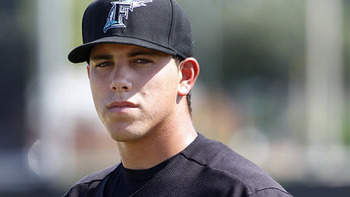 Courtesy of MiLB.com
MVP
Alen Hanson, SS, Pittsburgh Pirates
.329/.391/.577, 119 H, 51 XBH (15 HR), 49 RBI, 22 SB, 79 K/37 BB (89 G)
Hanson's all-around performance this season at Low-A has been both impressive and unexpected. In a system loaded with highly touted pitching prospects, Hanson's ability to hit for both average and power noticeably stand out.
He possesses considerably more power than his frame suggests, as well as above-average speed that makes him a constant threat for extra-bases. He has the tools and natural ability to remain at shortstop and is a legitimate middle infield prospect whose stock is on the rise.
MVP Honorable Mention
Tyler Austin, OF, New York Yankees
Matt Skole, 3B, Washington Nationals
Kaleb Cowart, 3B, Los Angeles Angels
Will Swanner, C, Colorado Rockies
Mason Williams, OF, New York Yankees
Cy Young
Jose Fernandez, RHP, Miami Marlins
7-0, 79 IP, 1.59 ERA, 1.75 FIP, .189 BAA, 99 K/18 BB (14 GS)
In his first full professional season, Fernandez has been absolutely dominant at Low-A, certifying himself as one of the game's more promising right-handed pitching prospects.
A power pitcher with electric stuff, Fernandez exhibits command of his entire arsenal well beyond his years. His flawless performance at Low-A to open the season recently earned him a promotion to High-A, and it seems as though the 2011 draft class will yield yet another frontline starter.
Cy Young Honorable Mention
Aaron Sanchez, RHP, Toronto Blue Jays
Alex Meyer, RHP, Washington Nationals
Noah Syndergaard, RHP, Toronto Blue Jays
Dylan Bundy, RHP, Baltimore Orioles
Matt Barnes, RHP, Boston Red Sox
Keep Reading