Is the New York Mets' Magic Finally Wearing Off?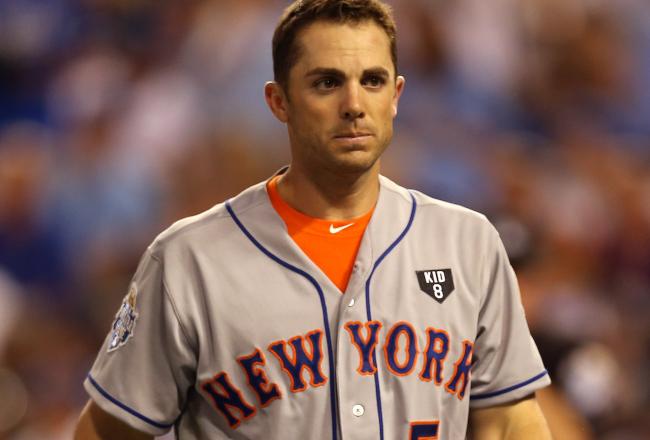 Have David Wright and the Mets already done their best in 2012?
Jonathan Daniel/Getty Images
The New York Mets have been one of the surprise teams of baseball in 2012.
Going into the season, not much was expected from them. The team's finances were essentially frozen while ownership attempted to untangle itself from association with Bernie Madoff. General manager Sandy Alderson was overhauling the entire organization, changing how future rosters would be assembled.
The lineup appeared to be filled with overpaid, underperforming veterans mixed with too many role players. On the pitching side, would Johan Santana recover from shoulder surgery? Could R.A. Dickey develop into a top-of-the-rotation starter? Would Frank Francisco and Jon Rauch bring stability to a shaky bullpen?
For the first three months of the season, however, almost all of those questions were answered in the affirmative.
David Wright has been an MVP candidate all year, hitting his way to the top of several offensive categories in the National League. Dickey and his knuckleball dominated opposing lineups while captivating fans and media with his late bloomer story. Santana threw the franchise's first no-hitter, while Francisco was the closer the team lost after trading Francisco Rodriguez.
Everything was coming together for the Mets. Ruben Tejada was a suitable replacement at shortstop for Jose Reyes. Kirk Nieuwenhuis was a Rookie of the Year candidate. Wright gave the team just enough offense until Lucas Duda found his power stroke and Ike Davis began hitting like a major-leaguer again.
The Washington Nationals emerged as the best team in the NL East, but the Mets were close behind in the standings, running alongside the Atlanta Braves. Was this team playing over its head or did they really have a chance for playoff contention?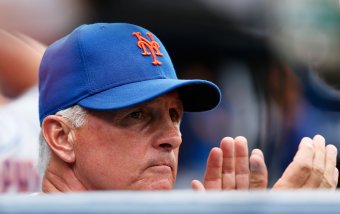 Mets manager Terry Collins has little to applaud in July.
Kevin C. Cox/Getty Images
The Mets toed a fine line through much of the season, continuing to win games even when it appeared they had less talent than their competitors.
So far in the month of July, however, the team has struggled. The car hasn't been running nearly as smoothly, and plenty of ugly noises can be heard from under the hood. Pretty soon, engine lights will come on and smoke will pour out from under the hood of the vehicle.
Over their past 10 games, the Mets have gone 3-7. They've been outscored by 15 runs so far in July. They still hold third place in the NL East, but have fallen to six games behind the Nationals. The Miami Marlins are just three games away. Even more of a concern, the Mets are three games back in the wild card standings with four teams ahead of them for those two coveted playoff spots.
Wright has batted 11-for-43 (.256) during this 10-game stretch. His OPS is below 1.000 for the first time since mid-April. Dickey's record is still 12-1, but he's given up five runs in three of his past four starts. Francisco is on the disabled list with an oblique strain, and as his replacement, Bobby Parnell is reminding everyone why the team had to bring in a veteran closer.
Reinforcements could be on the way, however.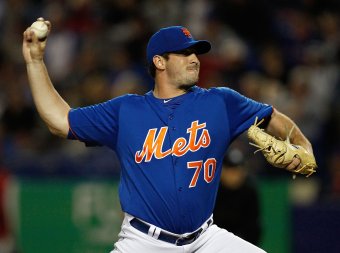 How soon before top prospect Matt Harvey joins the Mets rotation?
Sarah Glenn/Getty Images
Top pitching prospect Matt Harvey could join the team on Saturday. As the New York Times points out, Harvey's pitching schedule and the Mets' fifth spot in the starting rotation match up exactly.
Zack Wheeler is mowing down Double-A competition, making Mets manager Terry Collins eager to move him through Triple-A and up to the majors in time to help this season.
Will Alderson try to bring in outside help at the trade deadline? The bullpen could use a reliever for depth, if not an outright replacement for Francisco. The outfield is probably well stocked, especially as Scott Hairston has developed into a big threat against left-handed pitching.
Jason Bay will eventually return from injury too. But if there's a chance to get a power-hitting corner outfielder, should the Mets pursue that option?
With six games against the Nationals in the next nine days, beginning Tuesday night, the Mets could find out very soon whether or not they're still a viable playoff contender. If not, they'll be knocked out of the race just in time for Alderson to consider selling off a piece or two at the trade deadline. Then the planning can begin for next year.
However, looking ahead to next year at this point in the season would be a shame considering how much the Mets have exceeded expectations thus far. Could the fun really be coming to an end so quickly?
But that indicates just how improbable and precarious the Mets' success was to begin with. This team really wasn't strong enough to compete with its NL East rivals and we're seeing that now.
Though this season could already be viewed as a success, with a brighter future ahead than originally envisioned, maybe the Mets have one more surprise left in them. We'll find out within the next week or so.
Follow @iancass on Twitter
This article is
What is the duplicate article?
Why is this article offensive?
Where is this article plagiarized from?
Why is this article poorly edited?