Philadelphia Eagles: Michael Vick Is No Donovan McNabb, Thank Goodness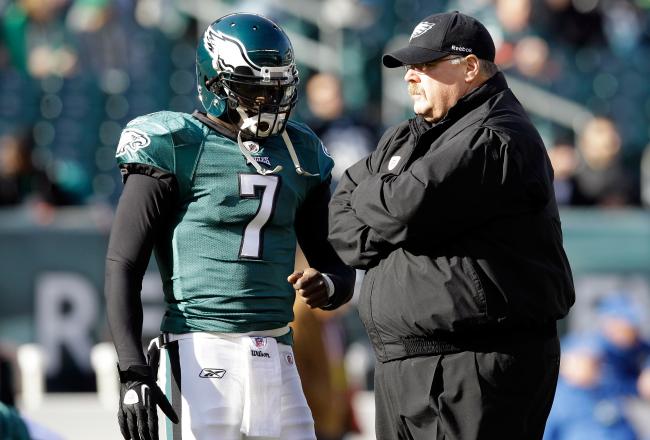 You had better hope they see eye to eye this season, unlike here.
Rob Carr/Getty Images
How do you feel about Michael Vick as the quarterback of the Philadelphia Eagles?
After two-and-a-half years with him as an Eagle, and after having him entrench himself as the starting quarterback, I have a final answer: I feel great about it.
Not about him, mind you. I do not believe in his personal redemption. I do not buy his remorse. I think Vick is doing all of the right things because he has no other choice. There is only one way to remain in eight-figure contract land, and it is by playing the hell out of the quarterback position in Philadelphia for as long as they will have him.
Vick cannot do that if he gets suspended again and he cannot do that if he loses the job. Motivation is a remarkable thing.
Vick deserves a lot of credit for realizing all of this and for not losing all semblance of his ability while he was in the joint. But I do not want my son wearing his jersey or knowing anything about him beyond his name, his number and how many yards that last touchdown pass or run covered. Vick is doing this for himself and himself alone, no matter how many high schools he visits on Tuesdays.
Thing is, I feel better about Michael Vick's chances to go on a deep playoff run in 2012 than I ever felt about Donovan McNabb's chances to do the same in any season.
For the longest time, I had trouble separating the man from the uniform—it is easy to loathe Vick, but it is hard for any real Eagle fan to squelch the thrill that comes when Vick goes from "sack and a 10-yard loss" to "35 yards and 1st-and-goal" in an eye blink. Vick was punished for what he did and now he is free to make his living however he can.
Personally, I served over 10 years with a great citizen, a great player, but ultimately, not a winner as the Eagles' quarterback. McNabb had more chances to make "the play," to play "the game," to thrive in "the moment" than any Philadelphia athlete in my lifetime. Apologists emphasize that all the playoff games McNabb won were by definition "big"—but realists know different.
You will recognize this as No. 5 holding the ball. You saw a lot of that.
Ronald Martinez/Getty Images
The last drive against the Patriots in Super Bowl XXXIX, the 2003 and 2004 NFC Championship games against Carolina and Tampa Bay, respectively, as a favorite at home, even the last gasp against the decomposing corpse of Kurt Warner and a plucky but flawed Arizona team in the desert in the 2008 NFC Championship game. So many chances to get it right, and he never did.
One Super Bowl appearance (no wins) with the teams McNabb had around him...it just was not enough.
So, if you will excuse a strained metaphor, I have earned the right to cheer for a convicted felon leading the Eagles to (probably) the playoffs and putting himself in the Most Valuable Player discussion along the way.
I do not have to take him to lunch, introduce him to my family or play golf with him. I just want him to get the ball across the other team's goal line as many times as he can and stay out of trouble as long as he is an Eagle.
And that's that.
This article is
What is the duplicate article?
Why is this article offensive?
Where is this article plagiarized from?
Why is this article poorly edited?

Philadelphia Eagles: Like this team?