New England Patriots: 5 Signs That Point to Another Successful Season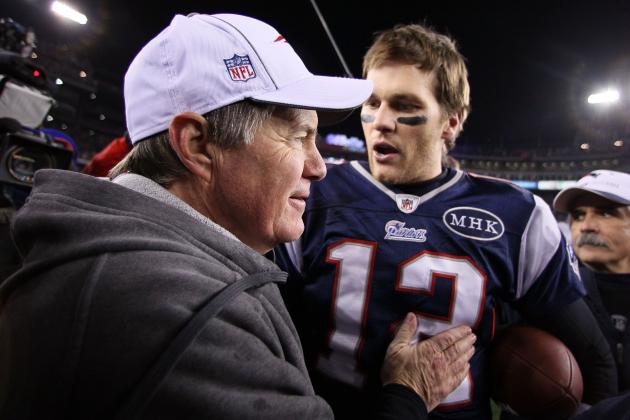 Elsa/Getty Images

Although the New England Patriots came up a couple plays short of their fourth Super Bowl title last season, the 2012 squad—bolstered by a bevy of talented pass-catchers and pass-rushers—appears poised to have another successful season.
It seems simple, but the combination of Tom Brady and Bill Belichick is legendary in NFL lore.
The winningest quarterback-coach duo in league history has kept the Patriots among the NFL's elite since 2001, and this year looks to be no different.
With a motivated Brady/Belichick tandem and a much deeper squad than in 2011, all signs point to the Patriots being in prime position for another Super Bowl run in 2012.
Begin Slideshow

»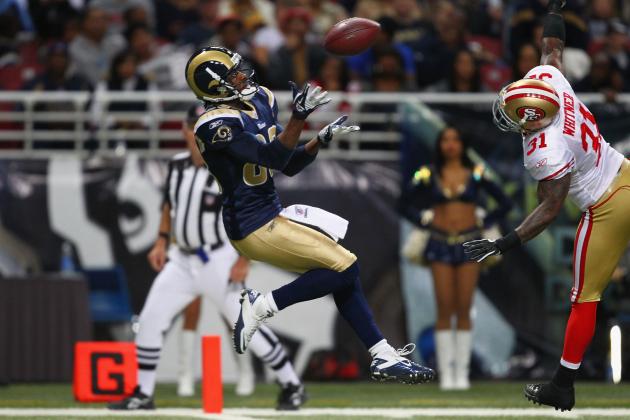 Dilip Vishwanat/Getty Images

For the second time in two Super Bowl trips, an aggressive New York Giants defense stifled an historic New England Patriots offense.
With superstar tight end Rob Gronkowski rendered ineffective due to a high-ankle sprain, the Giants successfully shut down the rest of New England's passing attack.
Slot receiver extraordinaire Wes Welker managed just seven catches for 60 yards, and hybrid tight end/receiver Aaron Hernandez averaged just 8.4 yards on eight receptions.
New York bottled up New England's elite trio, while veterans Deion Branch and Chad Ochocinco barely showed up.
So how did Bill Belichick address this problem?
He brought back a little taste of '07 in the form of Donte Stallworth and Jabar Gaffney.
Although there's no guarantee either player will make the roster, adding two veteran receivers with experience in Josh McDaniels' system will make Tom Brady's job just that much easier.
In his lone season in Foxboro, Stallworth quietly averaged 15.2 yards on 46 catches, but he hasn't produced much since.
On the other hand, Gaffney has improved his play, posting a career-high in catches (68) and yards (947) last season.
Neither player is a true game-changer, but even if only one of the two emerges as a reliable third receiver, New England's potent offense will receive a huge boost this season.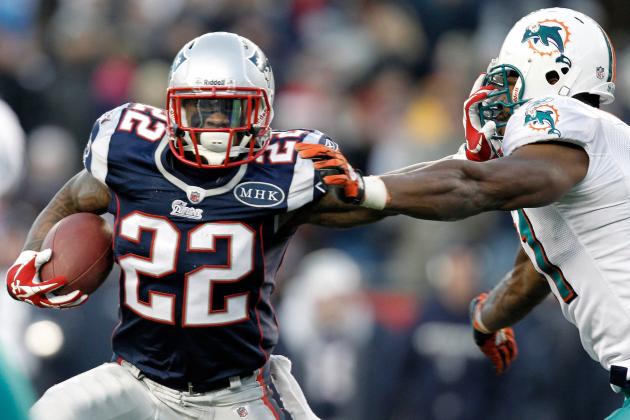 Winslow Townson/Getty Images

With the steady BenJarvus Green-Ellis departing for greener pastures in Cincinnati, the competition for carries in New England's backfield has officially begun.
Green-Ellis made the admirable leap from undrafted free agent to starter, carrying the ball 510 times without fumbling during his four-year stint with the Patriots.
The Patriots haven't had a true lead back since Corey Dillon, instead opting for a running back-by-committee approach.
However, even with third-down back Danny Woodhead in the fold, all signs point to 2012 being the year of Stevan Ridley and Shane Vereen (via Mike Reiss of ESPN Boston).
Back in 2011, the Patriots passed on the chance to draft Heisman Trophy winner Mark Ingram in Round 1 and took a two-headed approach by selecting Vereen and Ridley in the second and third rounds, respectively.
Surprisingly, it turned out to be Ridley, the 73rd overall selection, who made the bigger impact in 2011.
The former one-year starter at Louisiana State showed flashes of lead back ability, rushing for 441 yards on just 87 carries in his debut season with the Pats.
Unfortunately for the 5'11", 220-pounder, ball security issues led him straight to the bench by season's end.
Compared to Ridley, Vereen's 2011 season would definitely be one he'd like to forget.
The heir to Jahvid Best at the University of California figured to be a first-year contributor on passing downs, but a preseason hamstring injury derailed his rookie season.
When healthy, Vereen showcases the speed, agility and versatility to be a big-time contributor in New England's pass-first offense and figures to be a great complement to Ridley's tough, slashing style.
By adding six-year veteran Joseph Addai to the mix, there will be plenty of competition in the Patriots backfield.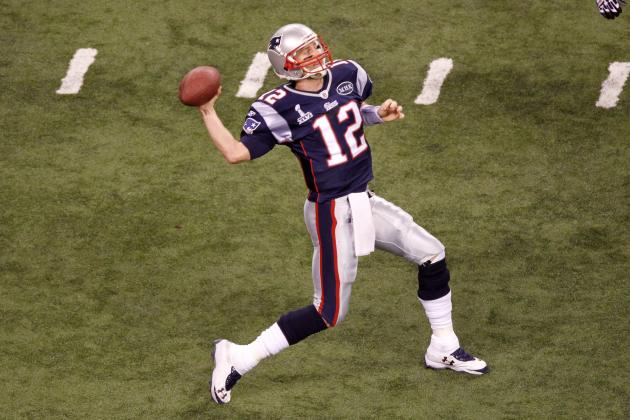 Gregory Shamus/Getty Images

If there's one thing that Tom Brady loves, it's winning.
Well, Gisele Bündchen might have something to say about that.
Either way, the three-time Super Bowl champion is still seeking the last ring to complete his full-hand collection.
Since taking over the reigns from Drew Bledsoe in the 2001-2002 season, Brady has become arguably the best quarterback of our generation.
However, after suffering two heart-wrenching losses in his last two trips to the big dance, people now dare to question whether Brady still has the elusive clutch gene that made him a hero in New England during the early part of the millennium.
In a seemingly painful irony, Brady has posted historic, record-breaking numbers over the past half decade without a single Super Bowl title.
Some of that blame rests on the defense (or lack thereof), but for the quarterback who began his playoff career with 10 straight wins and three titles, his 6-6 record since doesn't exactly jump off the page.
I don't doubt that Brady will continue to play at a high level for another three or four years, but his window of opportunity is closing.
It's never a good thing to bet against Tom Terrific, so I expect great things from No. 12 in 2012.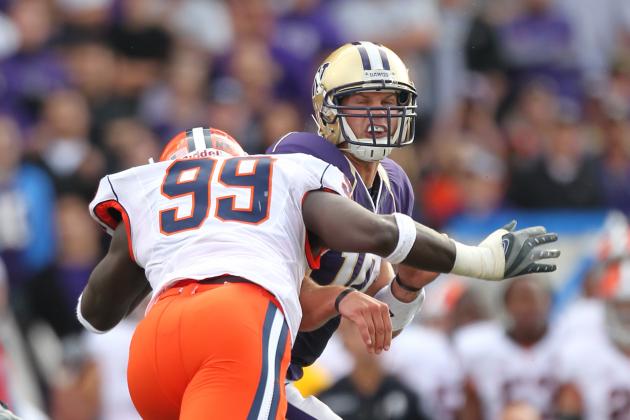 Otto Greule Jr/Getty Images

Patriots fans have clamored for Bill Belichick to draft an impact pass-rusher for years.
In the 2012 draft, he may have found three.
The man in the hoodie stepped out of the box and traded up twice in the first round to select two premier athletes to bolster the front seven in Syracuse defensive end Chandler Jones and Alabama linebacker Dont'a Hightower.
Jones, who measures in at 6'5", 265 pounds, is tailor-made for the Patriots' elephant position—a hybrid defensive end/outside linebacker role made famous by former Patriot Willie McGinest.
Despite a rather underwhelming career at Syracuse, Jones possesses the requisite length, athleticism and intelligence to grow into the role, although it remains to be seen how big of an impact he'll have in 2012.
By selecting Hightower, the Patriots got a hard-hitting, versatile linebacker with experience in Nick Saban's 3-4 system.
Even though the Pats already have two solid inside linebackers in Jerod Mayo and Brandon Spikes, Hightower's ability to line up at multiple spots—including rush end—will make him a valuable chess piece for Belichick.
In the third round, Belichick went back to the SEC and took the conference's second-leading sack artist in Arkansas' Jake Bequette.
The career owner of 23.5 sacks, Bequette was named First Team All-SEC in 2011 after recording 10 sacks, just 3.5 behind Georgia's Jarvis Jones.
Like Jones, Bequette's 6'5" frame should make him an intriguing pass-rushing option early in his career.
Along with second-round safety Tavon Wilson and potential seventh-round steal Alfonzo Dennard, the Patriots have made a concerted effort to infuse their defense with talent in 2012.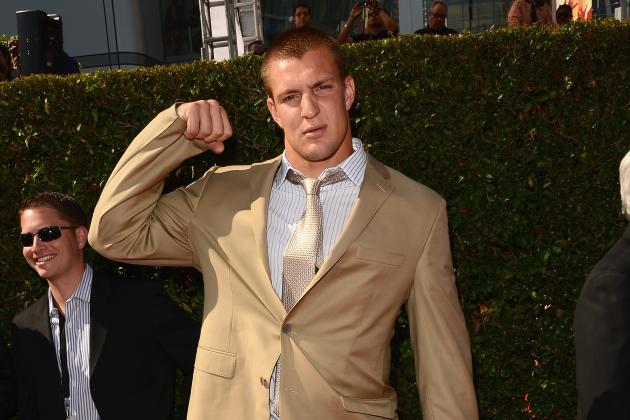 Jason Merritt/Getty Images

Life is good for Rob Gronkowski.
When he's not gracing the cover of ESPN The Magazine's "Body Issue" or making an appearance at the ESPY Awards, the 6'6" man-child is busy breaking records.
After catching an NFL-record 17 touchdown passes in 2011, Gronk broke the bank this offseason by signing a six-year, $54 million contract extension to ensure he'll remain in New England throughout his prime.
Securing Gronkowski for the future was an excellent move by the Pats, considering he's already the best all-around tight end as he enters just his third season in the league.
Investing that type of money in the former second-round pick also speaks well to the team's comfort with Gronk's recovery from offseason surgery to repair the damage he sustained from a nasty high-ankle sprain.
With Gronk toning down his offseason escapades in order to prepare to hit the field again, it appears to be all business for the Patriots and their all-world tight end.
A healthy, motivated Gronkowski? Always a good sign.