2012 Summer Olympics: 5 Athletes That Will Produce Must-See TV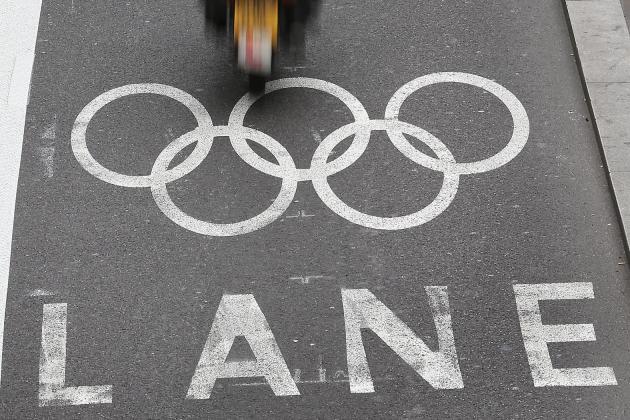 Peter Macdiarmid/Getty Images

With just 10 days remaining, the opening ceremony of the Olympics is rapidly approaching and that means it is time to get into the full swing of things by embracing all that is the finest international sporting event of the summer.
Many athletes will compete in a plethora of different events, yet only a select few will have the privilege of standing atop the podium, basking in their success while their national anthem rings through the loudspeakers for all of the world to hear.
Although the Olympics is truly a massive sporting event and it can become very difficult for the casual observer to become completely immersed, having preview coverage such as this article could prove useful helping viewers determine which events are an absolute necessity to watch.
After the jump I have profiled five very different athletes who have risen to the top of each of their respective sports, dominating the competition and thus warranting the media exposure that makes their impending performances must-watch television.
Begin Slideshow

»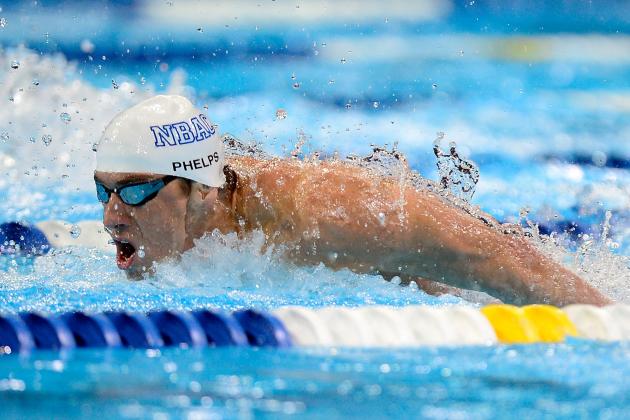 Jamie Squire/Getty Images

The media has proclaimed Michael Phelps as the "King of the Pool," but make no mistake about it, he has the accolades as one of the most decorated Summer Olympians to be the most deserving swimmer to receive such an esteemed title.
The 6'4", 185-pound University of Michigan alum has absolutely crushed the competition in the pool during these past two Olympics that he has competed in to the tune of 16 medals—14 of them gold.
While his standout performances in both the 2004 and 2008 Games have propelled him to super-stardom in the sporting world, he will surely not disappoint in London—despite the stark competition from the field in guys like fellow Team USA member Ryan Lochte, Korea's Park Tae-Hwan, Paul Biedermann of Germany and French teen phenom Yannick Angel.
Phelps certainly has a target on his back as his rivals will come into this competition hungry with nothing to lose in their pursuit of upsetting the favored American.
In any case, a swimming race that involves the "Bullet from Baltimore" is must-watch television as we the viewers will surely be in for a treat watching Phelps attempt to glide past his challengers to repeat and perhaps even break a few of his numerous world records.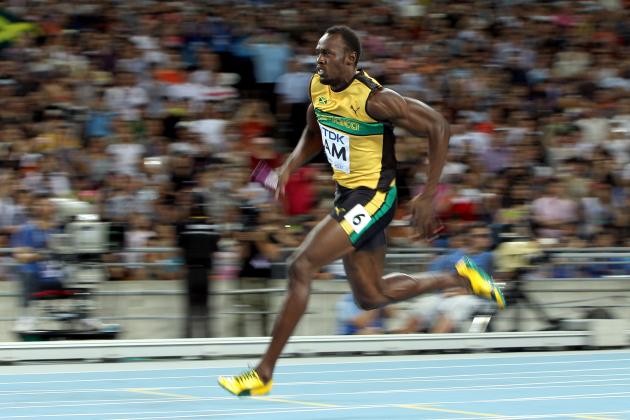 Michael Steele/Getty Images

The island nation of Jamaica has produced many dominant athletes in sport of track and field, but perhaps none more accomplished than the World's Fastest Man, Usain Bolt.
At just 25 years old, Bolt is already considered the top runner in the world of competitive sprinting—but that doesn't mean that he isn't going into these Olympics neglecting that he has something to prove.
What the Lighting Bolt needs to accomplish to cement his place amongst the ranks of legendary sprinters like Michael Johnson is win more gold medals in London.
But this task will be significantly more difficult to achieve than in 2008 when he torched the field en route to three gold medals, for he will have to face his toughest competition yet—in his teammate and training partner, Yohan Blake.
Nicknamed "The Beast," Blake raised the bar when he took down Bolt twice in the Jamaican Olympic trials, and he along with a loaded field including top United States runners Justin Gatlin and Tyson Gay, along with fellow countryman Asafa Powell, will all look to take home Olympic gold.
Bolt and the competition's speed alone shall make for some of the most exciting Olympic viewing, for nothing showcases the pinnacle of pure physical dominance like observing the World's Fastest Man and his chief rivals darting across the track on running's biggest stage.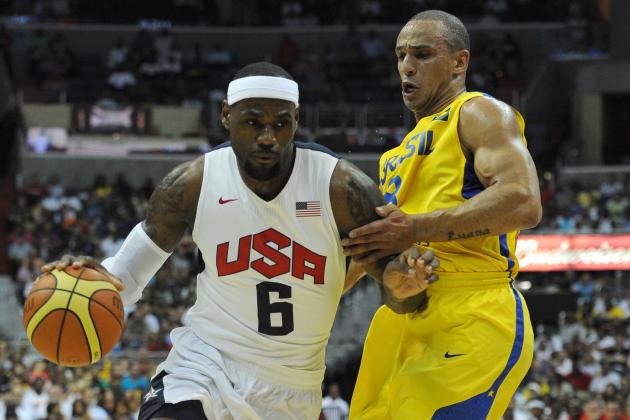 Patrick Smith/Getty Images

The King of South Beach is fresh off his first NBA title victory, and he will surely look to carry the momentum into the Olympics where the international competitors such as Spain, France and Argentina have become increasingly more dangerous, matching the U.S. by putting top NBA stars on their own rosters.
With that being said, there is only one LeBron James, and he will look to utilize his overwhelming physical talents to consistently slash to the hoop, simply overpowering some of best talent foreign nations have to offer.
This means we should expect to see James and Company wreak havoc against internationals that don't compete against the level of competition James and the rest of the Team USA squad play against on a nightly basis in the NBA.
Granted, Spain—with the Gasol brothers and Serge Ibaka (or as I like to call him Iblocka)—along with Brazil's Nene and Anderson Varejao will provide some of the tough inside-the-paint presence that could challenge the Miami star and disrupt his game.
But LeBron surely has the talent to adjust himself so that he is able to get off the best shot possible in the situations that he is pressured by a matched opponent such as France's Nicolas Batum.
And he also has a high enough basketball IQ to understand that he must get his All-Star cast of teammates involved should he be pressed to the point that he is unable to a find a high percentage shot.
I am a firm believe that anyone of the Team USA stars—whether it be Kevin Durant or Kobe Bryant—could be inserted into this spot and I feel as though LeBron will put on the most explosive basketball performance in this Olympic tournament, unleashing his superior talents once again on the global scale.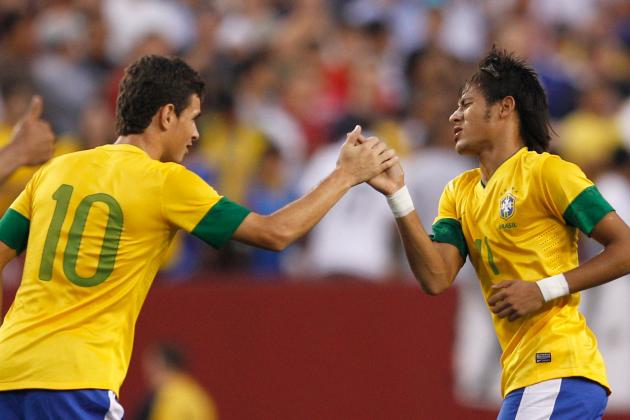 Rob Carr/Getty Images

The South American player of the year at just 20 years of age has already emerged as Brazil's leading talent, and it is only a matter of time before this much converted star will be swept away into an elite league such as the Champions League or the English Premier League.
But for now none of that matters as we take to international play where whole nation of Brazil will be holding their collective breath when it become tournament time.
They will be partly counting on their most popular player in Neymar, hoping and praying that their young star striker can propel their squad to victory—in a tournament in which they've shockingly never won gold.
The Brazilian phenom will not have to go into the London tournament alone though, as he will be flanked by some extremely capable help in the quest to help their country bring home the gold—with a star-studded roster including Hulk, Sandro, Marcelo, Thiago Silva, Alexandre Pato and Lucas Moura to name just a few.
There is no doubt that Neymar is a young and inexperienced talent that has not yet dealt with pressures that comes with participating on the Olympic stage, but his pure talent as a footballer—with his technical, yet creative style of play—shall shine thought and make for some extremely exciting international football, which the world has been anxiously awaiting since the culmination of the 2010 World Cup.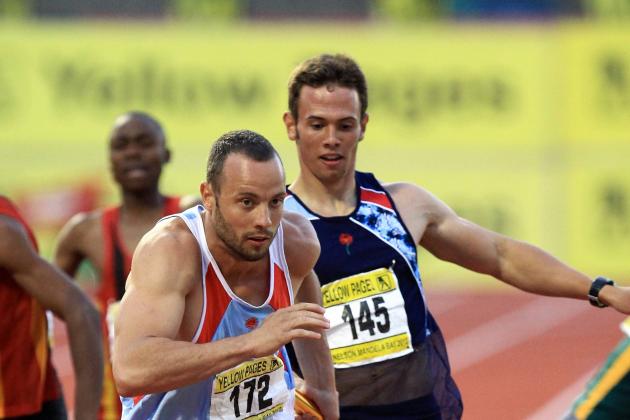 Gallo Images/Getty Images

I truly believe that I have saved the most remarkably talented (and arguably the most deserving) selection in this slideshow for last with the showcasing of this next athlete.
As you can probably see from the picture above, South Africa's Oscar Pistorius isn't just your average run of the mill track and field athlete—he comes with some additional baggage that surprisingly isn't much of a hindrance for the 25-year-old.
His sporting motto appropriately reads: "You're not disabled by the disabilities you have, you are able by the abilities you have."
Nicknamed "Blade Runner," the double-amputee Pistorius has defied all odds and qualified to become the first disabled runner to compete in the Olympic games.
Thus he has set a new bar for amputated athletes in what is quite possibly the most remarkable storyline as we count down the final days until the opening ceremony.
Competing in both the 400-meter and the 4x400-meter relay races will surely be an emotional ride for the South African, yet regardless of whether he medals, his appearance in this game is must-watch television because it is the first time ever that the world will be exposed to something completely out of the ordinary in a sport that is usually doesn't receive too much change.
There is no question that Pistorius is fast, the fastest man on no legs in fact, and with his qualification for the 2012 games, a monumental hurdle in the world of disabled athletics is being overcome.
And so I have selected Pistorius' events as an absolute must to tune into if you are at all interested in watching history being made in the track and field world.