Baseball's 20 Greatest Diving Catches Ever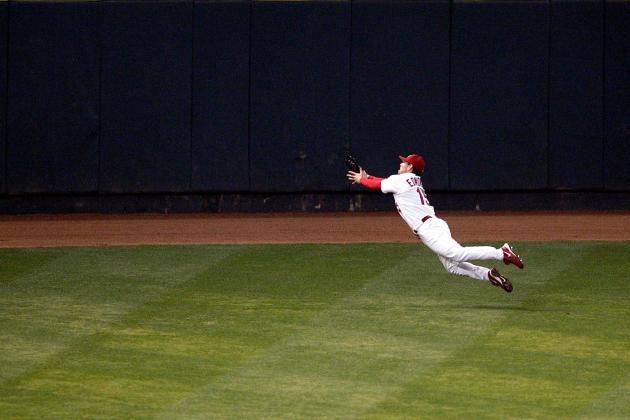 Stephen Dunn/Getty Images

One of the most exciting plays in baseball is watching an outfielder chase after a ball that he shouldn't be able to catch. Seeing a player make an outstanding diving catch is always a treat for the fans and it could turn a game around.
Throughout baseball's history there have been a number of outstanding diving catches. Players such as Jim Edmonds were known for the great catches that they made in the outfield throughout the course of their careers.
A number of these outstanding diving catches have come in big moments and they are certainly plays that have been and will be remembered for years.
Begin Slideshow

»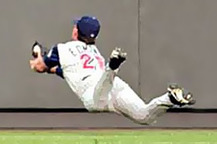 Photo Credit: Angels Win Blog
Why not start off the countdown with one of the best diving catches in MLB history. June 10, 1997 was just a routine day until Jim Edmonds went to chase down a ball hit by Dave Howard.
Edmonds turned and started running straight back after the ball came off the bat. Realizing that he would not be able to run and make the catch, Edmonds fully extended his body and made an insane diving grab.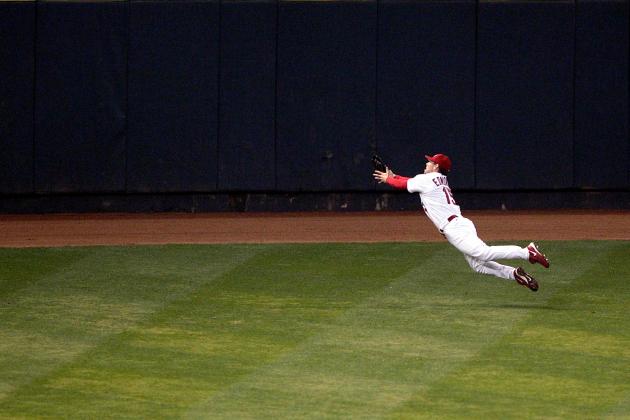 Stephen Dunn/Getty Images

Anyone that was able to see Jim Edmonds play center field on a regular basis knows that he earned each of his eight Gold Glove Awards.
One of the best catches of Edmonds' career came in Game 7 of 2004 NLCS against the Houston Astros. With runners on and the St. Louis Cardinals down one, Edmonds was able to track down a long fly ball and make a run-saving catch. This play kept the Cardinals in the game.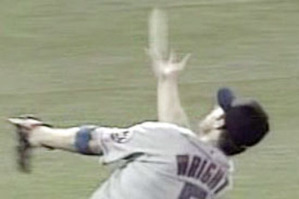 Photo Credit: New York Mets
The New York Mets knew that David Wright was going to be special early on during his career. He confirmed that when he made an insane bare-handed diving catch during his second season in the bigs.
Wright made the diving catch in a game against the San Diego Padres. It is not the only outstanding diving grab that Wright has made in his career.
It is hard to do this catch justice by trying to describe it. David Wright made an absolutely phenomenal diving grab against the Seattle Mariners in June of 2005.
Wright flew right over the fence on the third base side of the field and was some how able to hold onto the ball after he hit the stands.
The 1969 New York Mets needed a miracle or two on their way to the World Series title. They also needed an outstanding diving catch from Ron Swoboda.
With the Mets up one in the top of the ninth in Game 4 of the 1969 World Series, Swoboda prevented at least a double with his diving catch. A run scored to tie the game on the play, but the Mets would go on to win.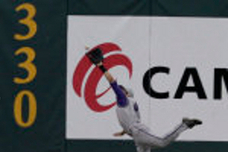 Photo Credit: Kicks 105
It is not only the major league players that can make some outstanding plays. The kids in college have been known to make a diving grab or two as well.
Rene Moreda of Stephen F. Austin University made a great diving catch against Rice University in 2012 and the play was shown repeatedly on television.
Wow! While this play is more of a leap than a dive, it needs to be mentioned.
Derrick Salberg of Lower Columbia Community College made a phenomenal grab in the first round of the NWAACC playoffs when he managed to lay out to rob a home run.
These college kids sure know what they're doing. Ryan Laboy of Greensboro College made an incredible catch.
He is able to reach out and fully extend himself to get to a ball that he has absolutely no business catching.
Not even a wall was going to keep Shane Farmer of Chico State from making a great leaping grab against the University of California San Diego in the NCAA Regionals.
Farmer was fearless as he dove, made the grab and then hit the fence. It is very impressive that he was able to hold onto the ball.
When an opposing player gets a standing ovation from Boston Red Sox fans, you know that they made an unfathomable play.
Ken Griffey Jr. covered a ton of ground and then made a diving catch against the Red Sox at Fenway Park in 1996 and the crowd liked what they saw.
Sometimes mistakes lead to magical moments in baseball. Quintin Berry has provided an example of this.
Berry misjudged the ball off the bat and went the wrong way during a game against the Minnesota Twins. When he righted the ship, he was forced to leap up and try to make a grab of the ball. Berry did just that.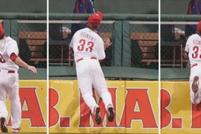 Photo Credit: Finger Food
Aaron Rowand earned a ton of respect from Phillies fans when he showed that he was going to do whatever it took to record an out.
Rowand chased down a ball deep in center field. As he was in the process of catching the ball, he left his feet and dove right into the wall. He paid the price and suffered multiple lacerations as a result, but he also came away with an insane grab.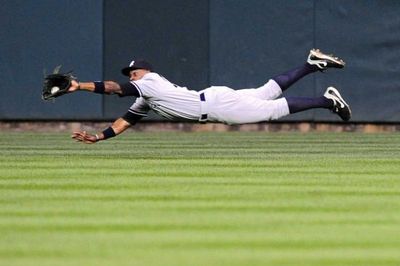 Photo Credit: Newsday
Baseball players step things up in October and that is exactly what Curtis Granderson did for the New York Yankees in Game 4 of the 2011 ALDS.
In the first inning with pitcher A.J. Burnett in trouble, Granderson went horizontal to make a run-saving diving catch.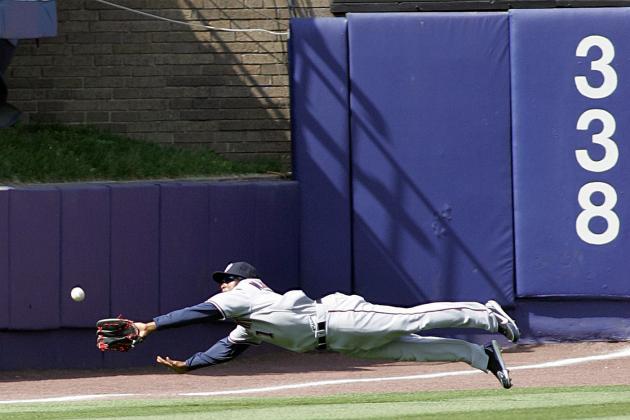 Photo Credit: NY Sun
Wilie Harris may not have great offensive numbers against the New York Mets during his career, but he has made a number of big plays against them.
One of those plays came in the ninth inning of a 1-0 game. Harris robbed Ryan Church to help preserve the Washington Nationals' lead in a game that they would go on to win.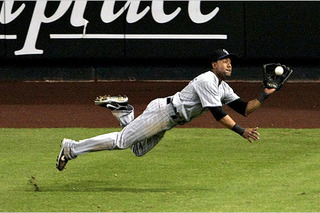 Photo Credit: New York Times
It should come as no surprise that with all of Willy Tavares' speed, he has made a few diving catches in his day.
One of his best diving catches came during the 2007 NLCS. The grab helped keep the Colorado Rockies ahead of the Arizona Diamondbacks.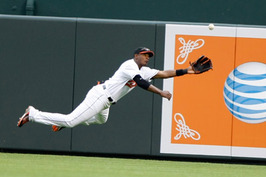 Photo Credit: MASN
Adam Jones has emerged as one of the stars in Major League Baseball because of his outstanding all-around ability. He puts up great numbers at the plate and he is a Gold Glove center fielder.
Jones has made his fair share of diving catches during his career, and this is just one of the many grabs that has drawn "oohs and ahhs" from the fans at Camden Yards.
It seems that during the course of every perfect game that one player will make an incredible play to keep a hit off of the board. Gregor Blanco did that in June of 2012.
With Matt Cain perfect through seven innings, Jordan Schafer hit a long fly ball to right-center. Blanco got on his horse and went back to make an incredible catch.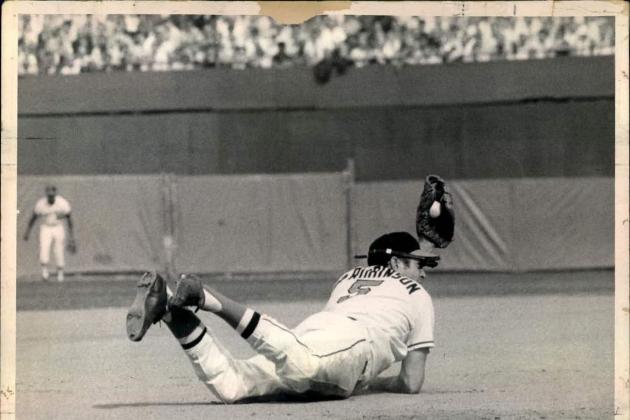 Photo Credit: Mears Online Auctions
There should be two things that tell you everything that you need to know about Brooks Robinson's defensive abilities. He won 16 Gold Gloves during his career and he earned the nickname "Vacuum Cleaner."
During the 1970 World Series, Robinson snared a Johnny Bench line drive out of the air and then showed the ball to the umpires to let them know he made that incredible catch.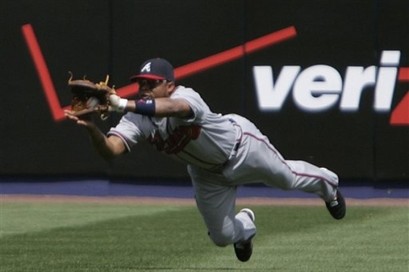 Photo Credit: Sports Illustrated
No list of diving catches would be complete without at least one mention of Andruw Jones. There seemed to be almost no ball that would land in center field at Turner Field when Jones was patrolling that space.
Jones seemingly made a diving catch at least once every two or three games. People just got used to Jones making outstanding grabs. Throughout his time with the Atlanta Braves, Jones has robbed a number of New York Mets of base hits just as he did with this grab.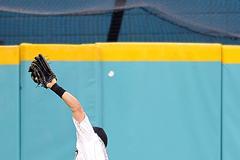 Photo Credit: USA Today
Rick Ankiel must have thought that he had a hit on April 5, 2011 when he hit a shot toward left-center field.
Chris Coghlan was determined not to let that happen. After making a long run to get near the ball, Coghlan left his feet and watched the ball land in his glove.