10 Strange Developments in Troy Tulowitzki's Season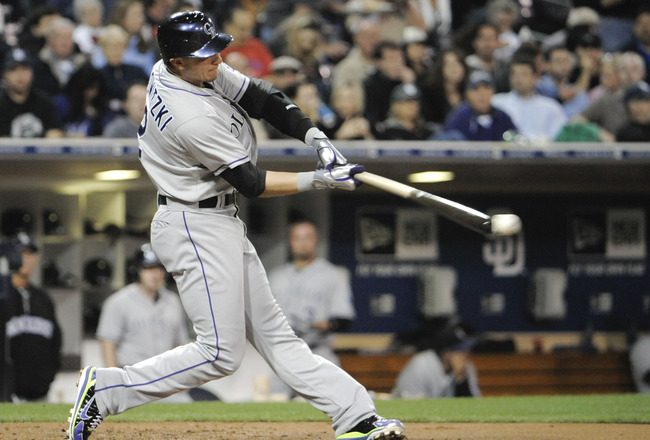 Denis Poroy/Getty Images
Troy Tulowitzki's presence in the Mile High City has been prominent ever since his debut in 2007. The madness of Tebowmania may have clouded the judgment of Colorado fans, but Tulo is still the marquee player in Denver's Mount Rushmore of sports. The electric shortstop unofficially became the face of the franchise when he became a Rockie for life after signing a contract extension in 2010.
Tulo quickly racked up accomplishments in his young career. He currently holds two All-Star appearances, Silver Slugger awards and Gold Gloves, respectively. And when Todd Helton passed the torch to the Long Beach State graduate early in the season, Rox fans anxiously waited for Troy's first season as the true team leader. The results have not panned out as planned. What exactly has happened in Tulo's 2012?
Troy the Leader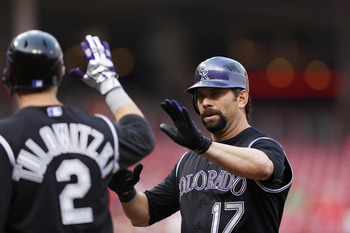 Joe Robbins/Getty Images
All the talk in spring training was the new page in Troy Tulowitzki's career. In a quiet, hat-tip sort of fashion, Todd Helton acknowledged his teammate as the new leader of the Rox. "For the first time ever, I feel like it's my team," claimed a proud Tulo. The shortstop was always recognized as one of the focal points in the locker room, but wasn't the leader. Tulo kept his clubhouse talks slightly restrained, because Helton was always seen as the team's go-to guy.
"I told Tulo I will help him in any way I can," Helton said (via the Denver Post). "But if this is going to be his team, he needs to act like it's his team. Don't worry about what I think... Say what you feel when you feel it. And 99 percent of the time it's going to right."
Problems with Old Teammates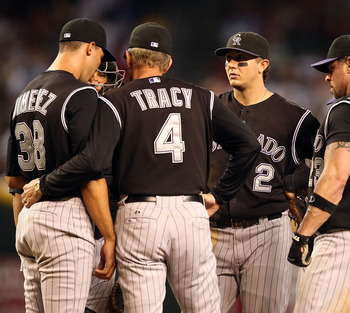 Christian Petersen/Getty Images
The notoriously frivolous Rockies opened up the books in 2010, just a year removed from the club's last postseason appearance. Tulo cashed in on a 7 year, $134 million megadeal and Jorge de la Rosa landed a two-year, $21.5 million payday. Carlos Gonzalez also signed on the dotted line for $80 million over seven seasons. Everybody in Denver was ecstatic with the news.
Everybody except Ubaldo Jimenez. The hard throwing pitcher was fresh off of possibly the finest season ever played by a Rox starter. He recorded the franchise's first no hitter, started the All-Star Game and posted an impressive 19-8 record. Jimenez was still under contract, and wasn't too pleased to seeing his teammates padding their bank accounts.
What followed was a complete meltdown in 2011. The touted Rockies fell apart and finished nearly 20 games out of a playoff spot by year's end. Jimenez was a shell of himself circa 2010, and looked disinterested on the mound. The fallout was so severe he was ultimately traded away to the Cleveland Indians. While in Cleveland, "U" never fully opened up about his quarrel with the Rox, but tension was apparent. "I went through a lot of things that people outside the organization don't know. But me and the front office know," he conceded, as reported by The Plain Dealer.
Tulo Voices His Opinion
Doug Pensinger/Getty Images
The Jimenez fallout left a lingering stain on the 2011 season, and the new team leader felt a need to put in his two cents on the situation. However, Tulo was a little more direct with his words as opposed to Jimenez.
"He has come out and said there were some contract issues after CarGo and me got paid. It doesn't make any sense to me," Tulowitzki said (from Indians.com). "He had signed his deal and had years left on it. Why would we give him something new when we didn't see anything out of him?"
As if that weren't enough, Tulo continued. ""If someone doesn't want to be here, we always say, 'Please, go up to the manager and tell him you want to leave or that you don't think this is the best place for you.' That was kind of the case with him."
Is that good enough of a verbal exchange? Not for Tulo.
"He needs to put this to an end, go pitch and help his team. Now his new team is questioning him."
The gloves were off.
Jimenez didn't come back with a retort. He instead saved up his emotions for confrontation on April 1.
Jimenez Responds

Photo Courtesy of wiggzdotcom

In Jimenez's and Tulowizki's first meeting as opponents, Jimenez wasted little time exacting a matter of revenge on the All-Star shortstop. On the first pitch, Jimenez drilled Tulo in the left elbow, forcing the Rockie from the contest and into the X-ray room. Tulo and Jimenez squared off in the middle of the field and exchanged threats as the benches cleared, but the physical matter didn't escalate any further.
The verbal element, however, reached extreme levels. "That's the most gutless act I've seen in 35 years in the game," seethed Jim Tracy (from Yahoo! Sports). ""Five days before opening day, you're going to take a pot shot like that? It's the worst I've ever seen. I've lost all respect for him, and that's a very difficult thing for me to say with all the players I've had to manage over the years."
Jimenez strayed away from the incident and blamed the pitch on a lack of command, but his quotes predetermined his actions. From The Plain Dealer: "He was calling me things. I'm a man...He was calling me a chicken."
Since, the Ubaldo divorce has been put to rest, but the scars remained evident on Tulowitzki's elbow. Tulo's tenure as team leader was off to somewhat of a dubious start.
Slow Start to the Season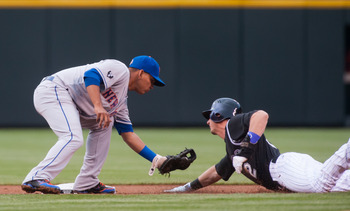 Dustin Bradford/Getty Images
Tulowitzki' bat was lukewarm for the first month of the season. His average hovered around .280 and he finished the month with just three homers. More disturbing was his struggles in the field. The normally sure-handed Gold Glover racked up more errors than he did in all of 2011 over the course of a few weeks.
The public slowly began to grow impatient with their favorite Rockie and wondered aloud if Tulowitzki was able to hold down he title as 'team leader.'
Red Hot Month of May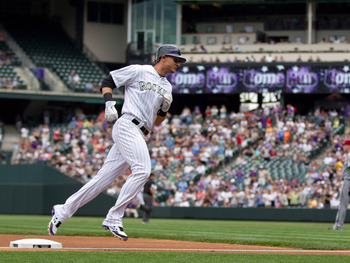 Justin Edmonds/Getty Images
Tulo finally hit his stride about six weeks after opening day. Late in May, Tulo strung together a nine-game hitting streak, blasting four home runs in the process. His average began to creep upwards toward .300, and his slugging percentage increased by 50 points.
The Rockies pitching prevented the team from making any kind of impact in the standings, but Tulo's dominance at the plate spearheaded Colorado's charge as one of the top offensive teams in all of baseball.
Off to the Disabled List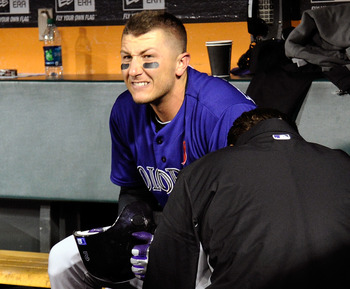 Thearon W. Henderson/Getty Images
In a cruel twist of fate, the streak immediately hit the skids on May 31. Tulowitzki's troublesome groin forced the star to the disabled list once again. He was forced from a game in the sixth inning when he experienced discomfort. The Rockies were optimistic, but obviously had no idea of the troubles that lay in wait.
"This is the right thing to do, this is the right move to make," Rockies manager Jim Tracy said (via ESPN). "I don't think it's anything structurally bad. However, he's very sore and very tender." Unfortunately, the trainers didn't see any serious problems either, and gave Tulo the green light to return to action.
An Undesired Result in Triple A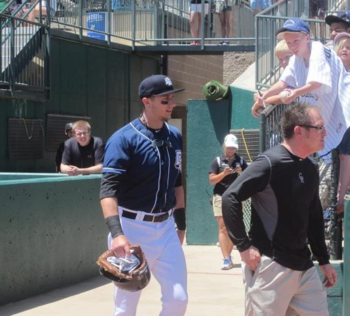 Photo courtesy of the Colorado Springs Sky Sox
Two weeks after being pulled from the game, Rockies fans breathed a sigh of relief when Tulo was scheduled for a rehab start in Triple-A Colorado Springs. Days later, the same fans would throw up their hands in disbelief.
Tulo thought he was fine, and endorsed his health. "I feel really good," he claimed, and stated he experienced no problems in practice (via the Denver Post). He didn't miss a beat in the field, smashing a home run and a single in his return to action. But his playing time was short lived. The much anticipated return lasted all of three innings before Tulo was off the trainer's room once again.
The injury was aggravated. And finally, it was apparent that this problem was more than a simple strain.
Surgery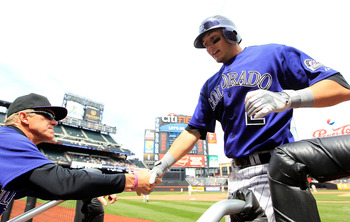 Chris Trotman/Getty Images
The organization finally learned of the severity of the groin injury after the issues in Colorado Springs. Tulowitzki had to endure an operation to remove scar tissue from the area, and was projected to miss about two months of baseball.
"That's a blessing knowing what it is, but the downside of that is more than likely he's lost for eight weeks. That's what we are planning on and will adjust off that," general manager Dan O'Dowd told the Denver Post. "Even if we were having an average year rather than a bad year, losing him would be problematic."
Tulo's absence reflected Colorado's place in the standings. In the first three weeks without arguably its top player, the Rox posted an abysmal 5-13 record.
What's Next for Troy Tulowitzki?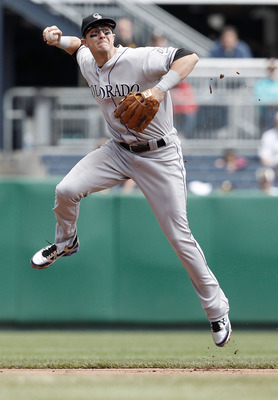 Jared Wickerham/Getty Images
If all goes as planned, Troy Tulowitzki is scheduled to return in late August. Such a timetable would allow him to play about four weeks of baseball before another long offseason sets in for his club. I already harped on the idea that allowing Tulo back into the fold at any time this season would generate much more risk than reward.
However, Rox management would never allow its franchise pinup to ride the bench if given a clean bill of health. Colorado's season may be lost, but the new team leader would never allow his mates to play as he willingly watches from the dugout. We will most likely get to see another twirling throw and hear his pop-rock walkout song of choice at least a handful of times before Denver's attention fully shifts to the Broncos.
Hopefully it's a move the Rockies won't learn to regret.
Keep Reading

Colorado Rockies: Like this team?