Buffalo Bills Complete 2012 NFL Preseason and Training Camp Guide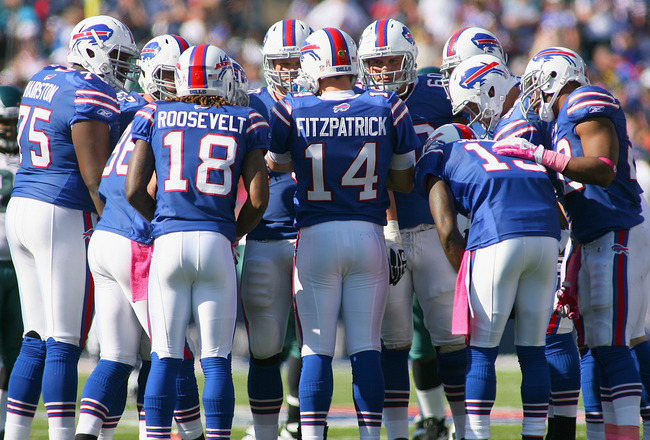 The Buffalo Bills are set to huddle up and kick off 2012.
Rick Stewart/Getty Images
After a brief period of downtime following OTAs and minicamp, the Buffalo Bills are finally set to kick off training camp and the 2012 NFL preseason.
It's been an offseason to celebrate for Buffalo. The team successfully filled holes via free agency and the NFL draft. On paper, things are looking great.
Now it's time to execute.
This time of the season is pivotal for many players. Some of them are on the roster bubble, while others are competing for starting roles. Coaches, too, are trying to work out all the kinks in their systems and playbooks.
The Bills will have to weigh all that happens between now and the start of the regular season in order to determine who should make the final 53-man roster. There are huge decisions to be made in a year full of high expectations for the Bills.
This slideshow will help you sort out all the factors. It highlights some burning questions, key players, important position battles and much, much more.
Here's everything you need to know as you, the fans, prepare for the Bills' 2012 training camp and preseason.
The Biggest Question Marks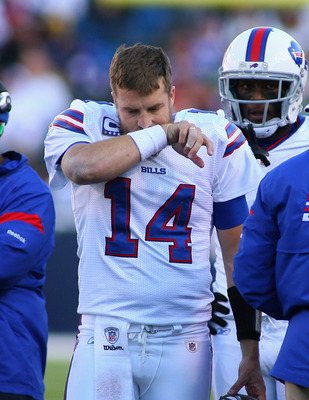 Quarterback Ryan Fitzpatrick is determined to lead the Bills to the playoffs.
Rick Stewart/Getty Images
Will Fitz Live up to His New Contract?
Starting quarterback Ryan Fitzpatrick received a lot of criticism last season after putting up less-than-impressive stats following his contract extension. However, much of that had to do with injuries to key players, including himself.
Fitz played through a pretty severe rib injury, according to head coach Chain Gailey (per Alex Marvez of FOXSports.com), which surely affected his play. While that isn't an excuse, it obviously didn't help his performance.
Buffalo's signal-caller is now back to full strength. He is training with new quarterbacks coach David Lee, who has been working with Fitz on his mechanics this offseason. He also enters year three in Chan Gailey's offense along with some of his key offensive teammates.
Consistency is a huge part of success in the NFL, and Fitz's mission will be to prove he is a key component to a winning formula in Buffalo.
How Will Carries Be Divided on Offense?
Bills lead journalist Chris Brown detailed this question on BuffaloBills.com. He noted that Gailey's plan for Fred Jackson and C.J. Spiller won't make either player fully happy, but that the objective is to do what's best for the team.
Buffalo has a good problem—it has two excellent options at running back. Jackson was on his way to an MVP-like season in 2011 before going down with a fractured fibula in Week 11. Meanwhile, Spiller is starting to gain confidence and performed extremely well in Jackson's absence toward the end of last year.
Both of these backs are playmakers, and both have earned the right to touch the ball. How exactly Gailey plans to do that is one topic all Bills fans are anxious to see.
Will the Defensive Line Live up to Its Potential?
Unlike most seasons in recent memory, the Bills have received a lot of hype this offseason due to their efforts to bolster the defense, particularly the defensive line. They handed out a hefty contract to free agent Mario Williams, and they also dedicated more money to defensive end Mark Anderson.
With Kyle Williams and Marcell Dareus playing defensive tackle in the new 4-3, the Bills have arguably one of the best defensive lines in all of football.
Buffalo is hoping the improvements up front will help the entire defense. A better pass rush should create more opportunities in the secondary for turnovers, which translates to better field position and an advantage in time of possession.
However, the Bills also have to prove in 2012 that they can do a better job of stopping the run. Dave Wannstedt's new 4-3 should be a great fit for the unit's personnel, and there's no reason to doubt the Bills will be better across the board this season.
Which Wide Receivers Will Step Up?
Jared Kracker, a contributing correspondent for BuffaloBills.com, listed four possible options for the Bills' No. 2 wideout spot.
Marcus Easley, T.J. Graham, Derek Hagan and Donald Jones—each of these players has talent, but is also unproven.
Easley has great attributes for the role, but has failed to stay healthy in his first two NFL seasons.
Graham is a rookie still getting comfortable with the offense.
Hagan has upside and a strong skill set, but like Easley, he is also untested.
Meanwhile, Jones missed a lot of time in 2011 due to injuries.
Whatever happens at the No. 2 wide receiver spot, the fact of the matter is that both Gailey and Fitzpatrick expect big things from all of these players, regardless of where they line up.
David Nelson is the most consistent player so far behind Stevie Johnson, but he'll likely see most of his time out of the slot.
There's a lot of potential and intriguing talent at wideout for the Bills, but at some point, the talk has to turn into production on the field. Hopefully, this is the year that happens.
Can Kelvin Sheppard Hold Down the Middle Linebacker Spot?
When Dave Wannstedt was named the new defensive coordinator for the Bills in January of 2012, one of his first orders of business was handing out praise to second-year linebacker Kelvin Sheppard (via BuffaloBills.com):
I've got all the confidence in the world with Shep being the middle linebacker. To me he's about what you're looking for in a 4-3 middle linebacker. He did a great job (last year). He really, I thought, got better and better as the year went on. He became more confident and quicker and now he's got to play in the box and doesn't need to play on the edge as much. I think it's going to fit his skills to a 'T'. I think he's going to be a very, very productive player for us.
During his college career, Sheppard was the defensive leader for LSU's exceptional unit. He quickly developed a close relationship with veterans Nick Barnett and Andra Davis, and his time with them is apparently already starting to pay off.
In fact, now that the Bills have moved to the 4-3, Barnett will shift to outside linebacker as Shep holds down the middle linebacker spot.
Can he get the job done?
All indications are that the young linebacker is set up for success. He'll be playing behind a very strong defensive line, which should enable him to make plenty of plays. In addition, he's sandwiched between two successful veterans in Nick Barnett and Kirk Morrison.
There's obviously still a lot for Sheppard to learn, and he'll experience those things in time. However, for now, everyone will be eager to see just how successful he can be as one of the newest leaders of the Bills defense.
Players on the Roster Bubble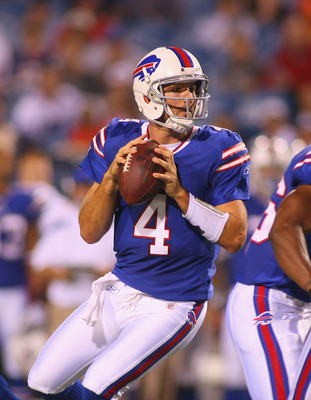 Can Tyler Thigpen hold off Vince Young for the No. 2 QB job?
Rick Stewart/Getty Images
QB Tyler Thigpen
After the Bills brought in Vince Young via free agency, it's looked like Tyler Thigpen's time in Buffalo could be drawing to a close. Young has a better skill set and is a big, mobile quarterback that could potentially fit well in Gailey's spread offense.
On the other hand, Young still has to prove he can grasp the offense in order to beat out the wily old veteran. Thigpen is getting a shot to compete for the No. 2 job. Unfortunately, the loser of that battle goes home, since Brad Smith is expected to be the third quarterback.
WR Naaman Roosevelt
The Bills signed Buffalo native and hometown favorite Naaman Roosevelt as an undrafted free agent in 2010. Since then, he's shown good chemistry with Ryan Fitzpatrick when given the opportunity.
Having said that, this year, getting an opportunity will be his biggest challenge.
With such a deep group at wideout, Roosevelt is clearly on the roster bubble. Stevie Johnson is a lock, so making the roster would require him to beat out someone like David Nelson, Donald Jones, Marcus Easley, T.J. Graham or Derek Hagan, just to name the majority of receivers.
Roosevelt has pretty reliable hands and has improved as a route-runner. However, he simply lacks the ceiling that most of the other players do in terms of their physical skill sets.
DL Dwan Edwards
Per Spotrac.com, Edwards is due a base salary of $3.8 million in 2012. Including bonuses, his cap hit is $4.175 million. That's a lot of money to invest in a backup defensive tackle.
Once the Bills officially moved back to a 4-3 base defense, the writing was sort of on the wall for the veteran lineman. He's a better fit in a 3-4, which is exactly why the Bills brought him in two years ago.
However, this is not to say he can't or won't make the team. Buffalo is as deep along the defensive line as it has been in quite some time, so the team may just decide to play to its strength, bite the bullet on Edwards' salary and keep the position as deep as it can be.
On the other hand, the Bills may have enough faith in a younger, cheaper player to back up at defensive tackle, which would make Edwards expendable.
OG Michael Jasper
Michael Jasper is just one of those players that fans want to see succeed. An intriguing seventh-round developmental pick from last year's draft, Jasper made waves with his insane athleticism for a man of his size.
He played at 6'4" and 440 pounds at Bethel University, seeing time on both sides of the ball. This year, Buffalo is using him along the offensive line.
Now in "the best shape of his life," according to Mark Gaughan of the Buffalo News, Jasper is down to 375 pounds. For comparison's sake, Marcell Dareus is 6'3" and 340 pounds.
He has a lot of work to do to make the final roster, but there are no fans in the NFL that appreciate an underdog story more than Bills fans. They'll be cheering for Jasper.
MLB Scott McKillop
Linebacker Scott McKillop has been flying under the radar this offseason. He suffered a torn ACL and patella tendon with the San Francisco 49ers in 2010, and he's been working to get back to full strength ever since.
However, he still has potential, and nobody understands that potential more than Dave Wannstedt. The Bills defensive coordinator was McKillop's head coach at the University of Pittsburgh.
Wannstedt has called the hard-working linebacker an "exceptional player" (per BuffaloBills.com). He's versatile, plays with 100 percent effort every play and has proven he can produce after leading the nation in tackles with 12.58 takedowns per game in 2007 (per NFL.com).
McKillop will have to overcome not only his recovering knee but also a backup linebacker group in flux in order to carve out a role for himself in 2012.
K John Potter
Buffalo spent a seventh-round pick on Western Michigan punter John Potter in this year's draft. He's a strong-legged kid who will have no problem booting the ball out of the end zone on kickoffs.
However, the Bills just gave kicker Rian Lindell a four-year contract extension last year (per Spotrac.com), and keeping three kickers (including Brian Moorman) seems like a luxury.
Potter is an intriguing kicker, but his time in Buffalo may have to wait.
FB/TE Dorin Dickerson
An exciting speed player brought in via free agency, Dorin Dickerson shined in OTAs and minicamp.
Dickerson is a former seventh-round pick who hasn't been able to find a permanent role since entering the league in 2010. He's 6'2" and 230 pounds with pure athleticism.
Per BuffaloBills.com, Gailey and the Bills view Dickerson as an H-back. His skill set combines exceptional speed, the ability to catch the ball and block some when needed to.
Joe Buscaglia of WGR 550 Buffalo has said he "wouldn't be surprised at all if he were to make the team outright," as Dickerson has made the most out of plenty of first-team reps this offseason.
Having said that, those 53 roster spots are precious. With Corey McIntyre entrenched as the starting fullback and Scott Chandler and Lee Smith headlining the tight ends, Dickerson will need to prove his worth.
If he does make the team, the Bills' offense would become that much more unpredictable.
RB Tashard Choice
The Bills did just re-sign Tashard Choice, but it was only to a one-year, $700,000 contract, per Spotrac.com.
The soon-to-be 28-year-old has never really got it going since his rookie year, in which he set career highs in rushing attempts, rushing yards, receptions and receiving yards.
Buffalo has a couple of interesting youngsters at the position now in 2011 fifth-round draft pick Johnny White and undrafted rookie Chris Douglas, who Bills scout Theo Young says has some promise (per BuffaloBills.com).
Choice will need to prove he's worthy of backing up Fred Jackson and C.J. Spiller, because those are some big shoes to fill.
WR Ruvell Martin
Veteran Ruvell Martin is a big asset on special teams, and he has good size for a wideout. However, considering the depth at wide receiver and the upside that many of his teammates have at the position, Martin's roster spot is in danger.
He'll be 30 in August and will have to beat out younger, faster receivers. Even players like Derek Hagan, David Clowney and Kamar Aiken may have an advantage over him, and that's just for the (potentially) final wide receiver spot.
DT Kellen Heard
Defensive tackle Kellen Heard fits the mold that Buffalo is looking for along the line, adding massive size at 6'6" and 340 pounds.
After the Bills signed him off the Oakland Raiders' practice squad toward the end of the 2010 season, Heard finished 2011 on a high note. He notched five tackles, two sacks and a forced fumble in the season finale against the New England Patriots.
His challenge will be beating out the competition in Dwan Edwards, Torell Troup and Alex Carrington as a backup defensive tackle. Two of these four guys will likely have to go.
Can Heard keep up the productive play?
WR Kamar Aiken
It's easy to understand why Kamar Aiken's name can become lost in the deep group at wide receiver, but he's a name worth monitoring.
According to Bills lead journalist Chris Brown at BuffaloBills.com, Aiken has a chance to compete for the final receiver spot:
Though he was unable to follow the path of David Nelson and Donald Jones in 2011 as an undrafted rookie that made the roster, Aiken's efforts last summer were good enough to earn him a practice squad spot. With good size (6'2" 213) and more polished route running Aiken could push for the last receiver spot.
Fans have been intrigued with Aiken's talent, but he'll need to put on an exceptional showing to leapfrog one of the current leading candidates.
Players to Watch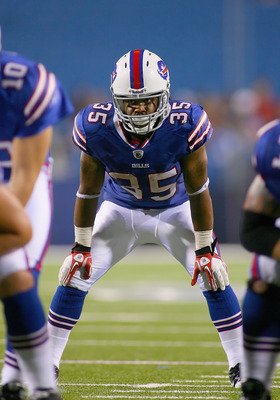 Last year's fifth-round pick Johnny White is fighting for room on the running back depth chart.
Rick Stewart/Getty Images
RB Johnny White
As previously mentioned, veteran running back Tashard Choice may be on the roster bubble heading into 2012. A lot of that has to do with Johnny White.
White is a former fifth-round pick out of North Carolina. According to Brian Galliford of Buffalo Rumblings, he actually played cornerback in college before making a switch to offense. During his senior season, he rushed for 720 yards and seven touchdowns on 130 carries.
At 5'10" and 202 pounds, the former Tar Heel has a lot to offer.
Galliford had this to say about his skill set:
[White] is a tough, hard-nosed kid, and that shows up in his running style. He runs very hard - so much so that he's dealt with injuries, including a broken clavicle. He's not a big speed guy, but he's tough between the tackles and also is a pretty talented receiver.
A good showing could earn him a spot on the 53-man roster.
WR Marcus Easley
The 24-year-old former fourth-rounder from 2010 is hoping to finally make a name for himself in Buffalo. Easley has great physical attributes, but season-ending injuries (knee, heart condition) have prevented him from proving his worth thus far.
Now fully healthy, Easley is the "man of mystery" for the Bills, according to Joe Buscaglia of WGR 550 Buffalo.
Fans are just as excited as he is to see what he can do. Easley has a lot of potential and will look to tap into it during training camp and preseason.
WR Derek Hagan
Hagan is 6'2" and 215 pounds, and according to Jared Kracker at the Bills official website, he's looking to lock down the No. 2 wide receiver spot.
He's been impressive so far during his time with the Bills, but again, the name of the game is opportunity.
After seeing some time at the end of last season, the 27-year-old will try to stand out among a deep group of wideouts all looking to prove themselves.
WR T.J. Graham
Buffalo used 2012 third-round pick on wide receiver T.J. Graham. While that may have come as a bit of a surprise at the time, so far he's looking like a great addition to the offense.
Graham is blazing fast and uses his frame well. However, he told the team's official website that his biggest challenge in year one will be learning the playbook and getting comfortable in Gailey's offense.
His speed will be on display during camp and preseason games. Though his performances may not be pretty at first, the more experience he gets, the better.
OT Cordy Glenn
Cordy Glenn has been receiving all the first-team reps at left tackle this offseason, and all indications are that the Bills are going to plug him into the starting lineup from Week 1.
Ryan Fitzpatrick's blindside protector will be a focal point during training camp. The Bills' offense has high expectations for 2012, and it's a big task for a rookie to come right in and anchor the left side of the line.
He'll certainly be a player to watch.
QB Vince Young
The front office wasn't lying when it said it would look to add competition at any and every position. Buffalo signed free-agent quarterback Vince Young to compete with Tyler Thigpen for the No. 2 quarterback job, and now is his chance to show he can win it.
Young is big and mobile, but Thigpen has experience in Gailey's offense. If the former Texas Longhorn has a good showing and proves he's capable of filling in for Fitz, he'll likely take Thigpen's spot on the final roster.
DE Mario Williams
The monster free-agent acquisition in Mario Williams has brought a lot of buzz to the Bills. Soon enough, everyone will get to see what kind of an impact he can really make on Buffalo's defense.
After signing a six-year, $96 million contract, the 27-year-old phenom pass-rusher is eager to prove his worth. He's coming off an injury-shortened season, and for a competitor like Super Mario, every snap away from the game is one too many.
Fans can't wait to see him hit the field, and when he does, the hope is that his fireworks will help light up the scoreboard.
MLB Kelvin Sheppard
Second-year linebacker Kelvin Sheppard is going to be manning the middle of the defense this year, which is a big role for last year's third-round draft pick.
He'll line up alongside teammate and friend Nick Barnett, who has taken a strong interest in mentoring the young player thus far.
Keep a close eye on how he manages the defense, because his progress will go a long way toward determining if he's the anchor that the linebacking corps has been searching for.
OLB Nigel Bradham
Rookie Nigel Bradham is a hard-hitting linebacker who can fly in the open field. Known for his nasty hits, he actually did a nice job during OTAs and minicamp of dropping back in coverage, according to Bills lead journalist Chris Brown.
Brown goes on to call Bradham a training-camp sleeper, noting the rookie's pure athleticism and raw skills as key reasons.
He'll play a big role on special teams, but fans should keep an eye out for how quickly he starts picking up the defense. There's no doubt he has the potential to be an important part of the Bills' future linebacking corps, and the sooner he can contribute, the better.
CB Stephon Gilmore
Everybody's excited to see rookie cornerback Stephon Gilmore hit the field. A dynamic playmaker in the secondary, expectations are very high for Buffalo's 2012 first-round pick.
Gilmore will step in and contribute from the get-go, and he's already made quite an impression during offseason activities.
According to Chris Brown of BuffaloBills.com, Gailey is very happy with the first-year player's progress. Both Stevie Johnson and Ryan Fitzpatrick have also discussed his immediate presence on the defense.
It will be fun to watch Gilmore during preseason games as he gets his first taste of NFL opponents.
CB Leodis McKelvin
Former first-rounder Leodis McKelvin is essentially on his last legs in Buffalo. He hasn't quite lived up to expectations thus far, and he's entering the final year of his rookie contract.
However, according to WGR 550 Buffalo's Joe Buscaglia, the Bills appear to be giving him every opportunity to prove his worth.
The secondary is looking deep this year with the additions of Stephon Gilmore and fellow rookie Ron Brooks. Aaron Williams, Terrence McGee and Justin Rogers are also vying for snaps.
In order to get one final shot with the team that drafted him, McKelvin will need to show he's up to the challenge. Hopefully with a stronger pass rush he'll be able to do so.
Best Depth Chart Battles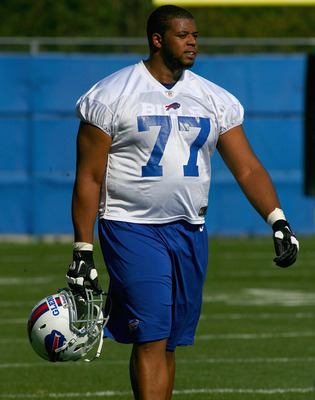 Rookie left tackle Cordy Glenn hopes to start from day one.
Rick Stewart/Getty Images
Starting Left Tackle: Cordy Glenn vs. Chris Hairston

Rookie Cordy Glenn and second-year pro Chris Hairston will presumably "battle" for the starting left tackle job, but if this offseason has been any indication, Glenn appears to be the favorite.
He's received all the first-team reps so far, while Hairston has filled in at right tackle for the injured Erik Pears. ESPN's James Walker, who covers the AFC East, reported that Pears is expected back by training camp. Once he returns, he should move right into the starting lineup.
The Bills were stunned to see Glenn still hanging around in Round 2 of this year's draft, and he certainly has the size to man the blindside tackle spot. He'll have to show he can adapt to the speed of the game, though, since Hairston received extensive experience last season as a rookie.
Either way, the Bills have to see consistency at left tackle.
No. 2 Wide Receiver: Donald Jones vs. Derek Hagan vs. Marcus Easley vs. T.J. Graham

In a well-documented position battle—perhaps the hottest of the offseason—the No. 2 wideout spot could go a number of ways.
The Bills could return to Donald Jones, who started outside last season. He fared decently. However, injuries curtailed his season, and he wasn't able to show he can produce on a regular basis.
Third-year wideout Marcus Easley is another option, as he is finally 100 percent healthy and ready to contribute. However, he is also unproven after missing extensive time in his first two years.
Buffalo also spent a third-round pick on speedster T.J. Graham in this year's draft, but he's still adjusting to the offense.
Finally, Derek Hagan impressed during minicamp, and he's hoping to bypass the competition and steal the job outright.
Whatever happens, the Bills will use plenty of three- and four-receiver sets, so the outcome isn't terribly huge. Nonetheless, it's an important role, and hopefully the competition leads to a stronger group overall.
One thing is for sure, and that's that fans want to know who will be lining up opposite Stevie Johnson in 2012.
Nickel Cornerback: Terrence McGee vs. Leodis McKelvin vs. Justin Rogers

Second-year pro Aaron Williams and rookie Stephon Gilmore are presumed to be the starters at corner, but nothing is certain.
However, if that were to happen, the Bills would feature veteran Terrence McGee, former first-rounder Leodis McKelvin and last year's seventh-rounder Justin Rogers in the competition for the nickel cornerback job.
McGee restructured his contract this offseason, which was a smart move for the aging defensive back. He has struggled to stay healthy.
Meanwhile, McKelvin is trying to prove to the Bills and the rest of the league that he isn't a first-round "bust."
Finally, Justin Rogers has been a pleasant surprise for Buffalo, contributing as a rookie and shining thus far in minicamp.
Toss in 2012 fourth-rounder Ron Brooks, and the secondary is looking pretty deep.
Backup Quarterback: Vince Young vs. Tyler Thigpen

It appears as though the No. 2 backup job is going to be a winner-take-all battle between Vince Young and Tyler Thigpen.
Tim Graham of the Buffalo News reported in June that head coach Chan Gailey had declared Brad Smith as the No. 3 quarterback. The reason is because the Bills want to use Smith as a gadget player in Wildcat packages.
As a result, either Young or Thigpen will not make the final 53-man roster.
This position battle has been hotly debated ever since Young arrived in Buffalo. Some argue that Young is a clear upgrade to Thigpen, while others worry about his checkered past and potential inability to master Gailey's offense.
Whoever wins the job, the coaching staff better be certain he's the right guy. Buffalo has the potential to put up a lot of points on offense this year under starter Ryan Fitzpatrick, and if he were to miss any time, either Young or Thigpen would have to ensure there's no drop-off.
Early signs are pointing to Young winning the job, but this competition is going to go down to the wire.
Backup Center: Colin Brown vs. Mark Asper
Much like Fitz, starting center Eric Wood is the signal-caller of the offensive line. However, he's struggled to stay healthy over the past couple of years, and his loss in 2011 led to noticeable change in the offense's rhythm.
Andy Levitre played out of position and did not perform well, to say the least. Kraig Urbik then replaced him at center and fared much better. Either way, both players are starters at guard, and moving them to center starts a trickle-down effect of movement across the line.
That's never a good thing.
Buffalo currently has center Colin Brown under contract, who is listed as Wood's primary backup on the Bills' depth chart.
In addition, the Bills drafted Oregon's Mark Asper in the sixth round of this year's draft. Asper played mostly guard in college; however, the Bills are giving him a good look at center.
Brown has experience in the offense, but the Bills may like Asper's versatility.
Ultimately, everyone hopes that Wood stays healthy, because when he's in the game he's one of the top centers in the league. However, his backup will have to be prepared just in case.
Full Buffalo Bills Training Camp and Preseason Schedule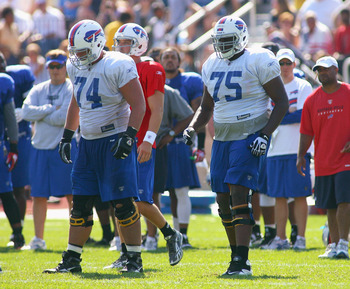 Last year, Colin Brown (74) and Chris Hairston (75) took advantage of their reps at camp.
Rick Stewart/Getty Images
Bills fans never miss an opportunity to watch their favorite team, read up on all the latest news and speculate about what's to come.
To help those folks set their calendars, here is the Buffalo Bills' full training camp schedule, courtesy of BuffaloBills.com:
| | | |
| --- | --- | --- |
| Date | Practice Time (ET) | Operational Hours |
| Thursday, July 26 | 3:00-5:30 p.m. | 2:00-6:30 p.m. |
| Friday, July 27 | 3:00-5:30 p.m. | 2:00-6:30 p.m. |
| Saturday, July 28 | 3:00-5:30 p.m. | 2:00-6:30 p.m. |
| Sunday, July 29 | 6:30-9:00 p.m. | 5:00-10:00 p.m. |
| Tuesday, July 31 | 3:00-5:30 p.m. | 2:00-6:30 p.m. |
| Wednesday, August 1 | 6:30-9:00 p.m. | 5:00-10:00 p.m. |
| Thursday, August 2 | 3:00-5:30 p.m. | 2:00-6:30 p.m. |
| Friday, August 3 | 3:00-5:30 p.m. | 2:00-6:30 p.m. |
| Saturday, August 4 | 3:00-5:30 p.m. | 2:00-6:30 p.m. |
| Monday, August 6 | 3:00-5:30 p.m. | 2:00-6:30 p.m. |
| Tuesday, August 7 | 3:00-5:30 p.m. | 2:00-6:30 p.m. |
| Saturday, August 11 | 6:30-9:00 p.m. | 5:00-10:00 p.m. |
| Sunday, August 12 | 3:00-5:30 p.m. | 2:00-6:30 p.m. |
| Monday, August 13 | 3:00-5:30 p.m. | 2:00-6:30 p.m. |
| Tuesday, August 14 | 6:30-9:00 p.m. | 5:00-10:00 p.m. |
After a healthy dose of practice and preparation, the Bills plan to be prepared for the preseason.
Buffalo kick off on August 9. The team will alternate between home and away, and the shortest break between games comes between Weeks 3 and 4 of the exhibition period.
| | | | |
| --- | --- | --- | --- |
| Date | Opponent | Location | Time (ET) |
| Thursday, August 9 | Washington Redskins | Ralph Wilson Stadium | 7:00 p.m. |
| Friday, August 17 | Minnesota Vikings | Mall of America Field | 8:00 p.m. |
| Saturday, August 25 | Pittsburgh Steelers | Ralph Wilson Stadium | 7:00 p.m. |
| Thursday, August 30 | Detroit Lions | Ford Field | 7:00 p.m. |
Buffalo Bills Training Camp Info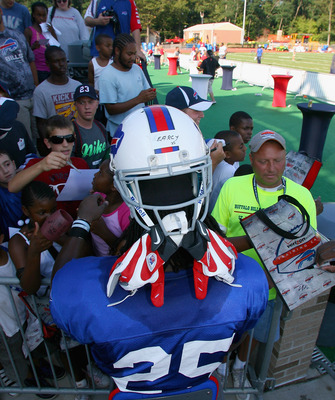 St. John Fisher College is a great training camp facility for both players and fans.
Rick Stewart/Getty Images
The Bills will once again hold their training camp at St. John Fisher College, a yearly tradition that's been in place since 2000.
According to BuffaloBills.com:
St. John Fisher College, located in the Rochester suburb of Pittsford, NY has been the summer home of the Bills since 2000 and is regarded as one of the top training camp sites in the NFL.
Quarterback Ryan Fitzpatrick (via Sjfc.edu) even described it as a "first-class operation all the way" and "one of the best—if not the best—training camp in the NFL."
The Bills have had a long-standing relationship with the college and its campus, and the School of Education is actually named after Bills owner Ralph C. Wilson, Jr.
In September of 2011, the Bills reached an agreement with St. John Fisher College to continue training there for "at least five years," according to BuffaloRumblings.com. Furthermore, many of the facilities have been upgraded, both for player performance and safety as well as the fans' overall experience.
Keeping camp at Fisher College was a good move for Buffalo, as it only adds to the consistency that the team is trying to establish, both on the field and in the community.
The team's official website notes that admission is free and that Bills merchandise and tickets can be purchased there.
There's sure to be many die-hard Bills fans in attendance from the very start.
For further information regarding the Bills' training camp history, be sure to check out this in-depth breakdown from BuffaloBills.com.
Full Buffalo Bills Camp Roster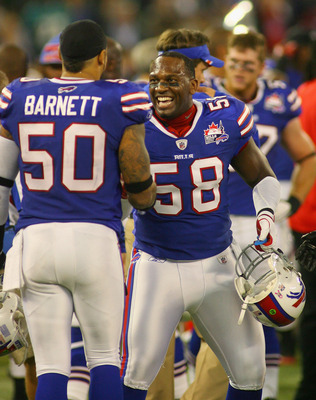 Linebackers Nick Barnett and Kirk Morrison have high expectations for 2012.
Rick Stewart/Getty Images
Here is a complete list of all the Buffalo Bills players on the camp roster. The players are listed alphabetically by position, as indicted by the Bills' official website.
Note: Dorin Dickerson is listed at two positions (fullback, tight end) since that is how the team is listing him thus far.
Quarterbacks
Fitzpatrick, Ryan
Smith, Brad
Thigpen, Tyler
Young, Vince
Running Backs
Choice, Tashard
Douglas, Chris
Jackson, Fred
Spiller, C.J.
White, Johnny
Fullbacks
Dickerson, Dorin
McIntyre, Corey
Wide Receivers
Aiken, Kamar
Clowney, David
Easley, Marcus
Graham, T.J.
Hagan, Derek
Johnson, Stevie
Jones, Donald
Martin, Ruvell
Nelson, David
Roosevelt, Naaman
Session, Derek
Tight Ends
Brock, Kevin
Caussin, Mike
Chandler, Scott
Dickerson, Dorin
Onobun, Fendi
Smith, Lee
Offensive Tackles
Carmon, James
Glenn, Cordy
Hairston, Chris
Pears, Erik
Sanders, Zebrie
Young, Sam
Offensive Guards
Jasper, Michael
Levitre, Andy
Rinehart, Chad
Urbik, Kraig
Vermiglio, Jake
Williams, Keith
Centers
Asper, Mark
Brown, Colin
Snow, David
Wood, Eric
Defensive Ends
Anderson, Mark
Eddins, Robert
Johnson, Spencer
Kelsay, Chris
Merriman, Shawne
Moore, Kyle
Williams, Mario
Defensive Tackles
Carrington, Alex
Dareus, Marcell
Dotson, Lionel
Edwards, Dwan
Gilbert, Jarron
Heard, Kellen
Ross, Jay
Troup, Torell
Williams, Kyle
Outside Linebackers
Barnett, Nick
Batten, Danny
Bradham, Nigel
Moats, Arthur
Morrison, Kirk
Scott, Bryan
White, Chris
Middle Linebackers
Carder, Tank
McKillop, Scott
Sheppard, Kelvin
Cornerbacks
Brooks, Ron
Gilmore, Stephon
Green, Isaiah
Hill, Cris
McGee, Terrence
McKelvin, Leodis
Miller, Prince
Rogers, Justin
Williams, Aaron
Free Safeties
Byrd, Jairus
Howell, Delano
Nesbitt, Joshua
Saenz, Nick
Strong Safeties
Searcy, Da'Norris
Sukay, Nick
Wilson, George
Punters
Moorman, Brian
Powell, Shawn
Kickers
Lindell, Rian
Potter, John
Long Snapper
Sanborn, Garrison
Buffalo Bills 2012 Rookie Class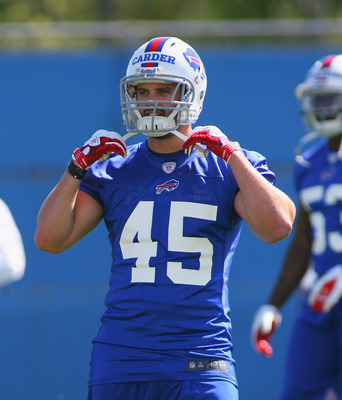 ILB Tank Carder plays harder than most.
Rick Stewart/Getty Images
After three days of pure execution during the 2012 NFL draft, the Bills received plenty of praise and recognition from around the league. The team did an excellent job of not only filling needs but also acquiring talented players at each stage of the draft.
Here is the complete list of Buffalo's rookie class, along with a few notes on each player.
Round 1, Pick 10: Stephon Gilmore, CB, South Carolina
Gilmore is a dynamic playmaker who is expected to start right away at corner. He is physically gifted, competitive, dedicated and instinctive. The future is bright for this young star in the making.
Round 2, Pick 41: Cordy Glenn, OT, Georgia
Buffalo got great value on Glenn in Round 2. He's a massive offensive lineman who played both guard and tackle at Georgia, but it looks like the Bills are going to plug him in at left tackle to begin with. To grab a potential starting left tackle in the second round is a steal.
Round 3, Pick 69: T.J. Graham, WR, North Carolina State
With exceptional speed and sticky hands, Graham could be the long-term deep threat Buffalo has been looking for. He's still adjusting to the offense, but the Bills will try to get the ball in his hands early and often.
Round 4, Pick 105: Nigel Bradham, OLB, Florida State
This smooth, athletic linebacker is a hitter, but he's also been honing his craft in coverage this offseason. He'll start on special teams, but it shouldn't take long for him to see extensive playing time. He's already seen plenty of snaps during the offseason. Dave Wannstedt is going to love him.
Round 4, Pick 124: Ron Brooks, CB, LSU
Brooks went overlooked at LSU due to the strong secondary there. In Buffalo, he hopes to make a name for himself and help improve the pass defense behind a revamped defensive line. For a smaller defensive back, he plays physically enough to be a solid slot corner very soon. He's also very fast.
Round 5, Pick 144: Zebrie Sanders, OT, Florida State
Sanders is more of a developmental project at offensive tackle. He'll have to work to crack the final 53-man roster, but there is a lot of upside in the 6'6", 318-pound 22-year-old rookie. The best part is that the Bills are in no rush to get him on the field, since there will be capable starters ahead of him in his first NFL season.
Round 5, Pick 147: Tank Carder, ILB, TCU
Yet another great value pick, Carder figures to play in the middle of the Bills' 4-3. He has great instincts, understands the game, is a sure tackler and plays with a tireless work ethic. Though he isn't the most athletic player, his production is undeniable. His toughness and hard-nosed attitude will fit in perfectly with what the Bills are trying to do on defense.
Round 6, Pick 178: Mark Asper, OL, Oregon
Even though he played primarily at guard in college, the Bills like Asper's potential at center. He's a versatile interior lineman who has a legitimate shot to make the active roster if he can perform well between now and the regular season. With ability to play all interior positions, he could be a great depth player.
Round 7, Pick 251: John Potter, K, Western Michigan
The verdict on Potter is that he has a huge leg. The Bills already have Rian Lindell under contract, so Potter will have to prove extremely valuable to convince the team to keep three kickers (Lindell, Potter and Brian Moorman).
Buffalo Bills 2012 Undrafted Free Agents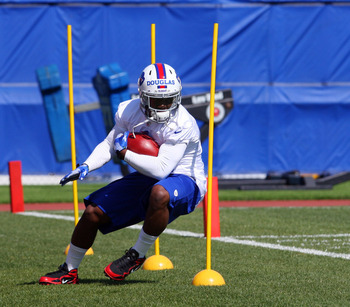 Undrafted free-agent running back Chris Douglas has upside (photo courtesy of BuffaloRumblings.com).
Of the dozen or so players the Bills signed as undrafted free agents, six will enter training camp with the same lofty goal to defy the odds and crack the official roster.
It won't be easy for these players to bypass more veteran talent, but there's certainly always hope. At the very least, sticking out during camp and the preseason could ensure the Bills don't forget these guys when they might need them down the road.
Chris Douglas, RB, Missouri State
Of all the undrafted free agents, running back Chris Douglas may have the best shot at making the official roster. To do so, he'll have to beat out veteran Tashard Choice and second-year player Johnny White. Douglas has all the physical abilities to succeed in the NFL, he'll just need to take advantage of every opportunity and prove he can learn the offense during camp and the preseason. For now, it's a long shot.
Cris Hill, CB, Virginia Tech
Cris Hill has a lot of valuable qualities for a corner. Despite measuring in at just 5'11" and 178 pounds, he plays aggressively and has 4.5 speed. With the additions of cornerbacks Stephon Gilmore and Ron Brooks in this year's draft, Hill will have a difficult time making the 53-man roster. However, his playing style resembles that of Justin Rogers. With a strong showing, he could push former first-rounder Leodis McKelvin.
Delano Howell, SS, Stanford
A three-year all-conference selection, Delano Howell has good athleticism but will need to learn how to play to his strengths at the next level. He moves well in the secondary but can work on taking better angles. His primary competition for a roster spot will be Nick Saenz, who has been seeing a lot of reps during OTAs and minicamp. Howell is likely to head to the practice squad.
Shawn Powell, P, Florida State
According to BuffaloBills.com, Shawn Powell is "the first consensus All-American punter in Florida State history." Quite simply, he has a booming leg but needs to refine his accuracy. Veteran Brian Moorman's job is safe, but he's a free agent after this season. Powell will try to impress to keep his name on the front office's short list.
David Snow, OL, Texas
The Bills clearly made an effort at revamping the interior of their offensive line this offseason. In addition to drafting Mark Asper, they also signed undrafted free agent David Snow from Texas. Snow has experience at both center and guard. He's a long shot for the final roster, but Bills scouts seem impressed with his long-term potential.
Nick Sukay, SS, Penn State
Like fellow undrafted free agent Delano Howell, Nick Sukay is trying to claw his way out of the depths of the strong safety position. He's a big athlete with less speed than Howell; however, he's also a little bit better than Howell in the box. His 2012 outlook isn't promising, but stranger things have happened in the world of football.
Buffalo Bills 2012 Free Agency and Trade Acquisitions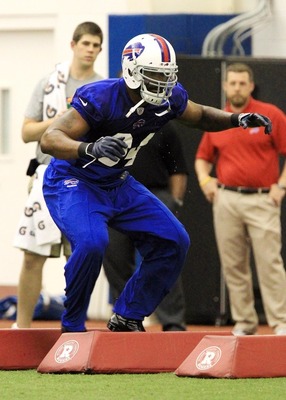 Defensive end Mario Williams headlines the Bills' 2012 free agents (photo courtesy of BuffaloRumblings.com).
As expected, the Bills didn't make any trades during the offseason other than to move up by two spots in Round 3 of the draft to select T.J. Graham.
They did, however, sign a few noteworthy free agents that should have an immediate impact on the roster.
Here are the Bills' 2012 free-agent acquisitions.
Mario Williams, DE
The Bills invested a lot of money in pass-rusher Mario Williams, and expectations are through the roof. He'll be a crucial piece in what has suddenly become an exceptional defensive line.
Mark Anderson, DE
In case signing Mario Williams didn't catch the league's attention, Buffalo also signed defensive end Mark Anderson away from the New England Patriots. Anderson had 10 sacks and two forced fumbles last year. With two quality defensive tackles in Marcell Dareus and Kyle Williams, as well as Mario Williams on the other side, Anderson hopes to see a lot of one-on-one matchups in 2012.
Vince Young, QB
The former No. 3 overall pick of the 2006 NFL draft, Vince Young was signed to compete for the job of Ryan Fitzpatrick's backup. He'll battle journeyman Tyler Thigpen, as he hopes to steer his career on the right path in Buffalo.
Game-by-Game Preseason Analysis and Predictions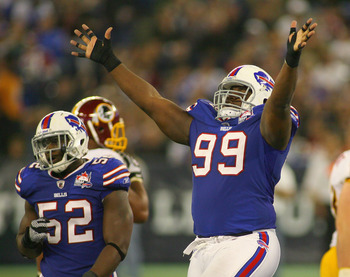 Marcell Dareus hopes to continue his success against Washington in Week 1 of the preseason.
Rick Stewart/Getty Images
Week 1: vs. Washington Redskins
That's right, Bills fans. Robert Griffin III's very first NFL game will come against the Buffalo Bills.
Griffin's talent is well-known and well-documented, but NFL teams won't fully understand how to defend him until they play against him. Buffalo will get the first crack.
Both teams should be oiling the parts in their first preseason game, so there are bound to be some imperfections on both sides.
Here are some of the key matchups to watch for.
Key Matchup: RG3 vs. Bills D-Line
Buffalo's defensive line is going to be hungry to prove to the world that it is the real deal. Meanwhile, RG3 is going to set out to do the same thing.
His athleticism will be on full display for the first time in an NFL uniform. On the other side of the ball, pass-rushers Mario Williams and Mark Anderson hope to make the most of their limited time with their new team and not be too over-aggressive.
A couple of early sacks on Griffin would be a great start for the Bills.
Key Matchup: CB Stephon Gilmore vs. WR Santana Moss
Gilmore may get his shot to cover Washington's No. 1 wideout Santana Moss. An accomplished veteran, Moss is a superb route-runner who has an extra pep in his step this season (perhaps because of his new quarterback).
For the rookie Gilmore, making a few key plays on a proven talent would go a long ways toward building his confidence. Even if it's not Moss whom he's covering, players like Pierre Garcon, Josh Morgan and Leonard Hankerson will be good tests in Gilmore's first game.
Prediction: Bills 23 Redskins 17
Week 2: @ Minnesota Vikings
Adrian Peterson is the face of the Minnesota Vikings, but second-year quarterback Christian Ponder is hoping to make a name for himself in 2012. The offense is still working to find an identity overall. Expect them to be motivated to do so this offseason.
Minnesota wasn't great defensively last year, either, other than ranking 11th in the NFL in average rush yards allowed per game with 107.
The Bills will likely pass a bunch early on with the first team before balancing out the approach with the reserves.
Key Matchup: LT Cordy Glenn vs. DE Jared Allen
Rookie left tackle Cordy Glenn is going to get the challenge of his life on the road in Minnesota, facing off against one of the NFL's elite pass-rushers in Jared Allen.
Allen is quite simply an animal with a relentless motor and extremely polished moves. On the other hand, Glenn is an untested lineman who is still working things out before the regular season.
Buffalo will likely give Glenn some extra support and also stay away from Allen as much as possible. If there's one thing the team doesn't want heading into 2012, it's a battered-up Ryan Fitzpatrick and an unconfident left tackle.
Key Matchup: MLB Kelvin Sheppard vs. QB Christian Ponder
Two second-year players on opposite sides of the ball will be calling signals to their respective teams.
Quarterback Christian Ponder has had his first full offseason, and the Vikings have attempted to give him more weapons by adding wide receiver Jerome Simpson and a franchise left tackle in Matt Kalil.
Then there's Kelvin Sheppard, Buffalo's starting middle linebacker. Shep is a big breakout candidate for 2012, as he'll be taking control of the defense in just his second season. Keep an eye on how he reads and reacts to not only Ponder's pre-snap calls, but also his decisions on offense.
Prediction: Bills 28 Vikings 13
Week 3: vs. Pittsburgh Steelers
If there's one player who wants to step up in this game, it has to be Bills wide receiver Stevie Johnson.
After his infamous drop in 2010 against Pittsburgh in overtime that could have won the game, Johnson received a lot of criticism. However, perhaps no one was harder on him than himself.
It's a new season, and Stevie will be on his Stevie Johnson as always.
Playing the Steelers is never an easy task, but Buffalo will be up to the challenge.
Key Matchup: RB C.J. Spiller vs. OLB Lawrence Timmons
Two up-and-coming players will see plenty of each other in this matchup. Bills running back C.J. Spiller should see a good amount of action, as Week 3 of the preseason usually offers the most extensive playing time for starters. With Fred Jackson also in the fold, Buffalo could decide to give Spiller a few more touches.
Timmons, meanwhile, has put together a handful of consecutive exceptional seasons. He's a quick, aggressive linebacker who can sniff out plays like the many other linebackers who have trampled through Pittsburgh over the years.
Both players are effective in open space, which should make for one exciting show.
Key Matchup: CB Leodis McKelvin vs. WR Antonio Brown
Bills cornerback Leodis McKelvin is on his last legs in Buffalo. A former first-rounder, he's entering the final year of his rookie deal and is not guaranteed anything.
Buffalo is apparently giving him one last shot to prove his worth, and there will be no better game for him to do that than this one. The Steelers have multiple deep threats in Mike Wallace, Emmanuel Sanders and Antonio Brown, so McKelvin will have plenty of opportunities.
A strong performance against a deep receiver group would likely factor into the Bills' decisions regarding the final roster and the cornerback position.
Prediction: Bills 20 Steelers 17
Week 4: @ Detroit Lions
The Detroit Lions finally started to live up to their potential last season, as quarterback Matthew Stafford exploded for 5,038 yards and 41 touchdowns.
Yeah.
Detroit made the playoffs, but lost to New Orleans in the Wild Card Round.
Starters should see limited playing time in this one. Additionally, the Bills will only be coming off four days of rest. They play Pittsburgh on Saturday and then travel to Detroit for a Thursday matchup.
While the Lions hope to improve on a strong 2011 campaign, the Bills hope to follow in their steps and finally end their playoff drought.
Key Matchup: QB Vince Young vs. CB Alphonso Smith
Both of these players have a lot to prove.
For Alphonso Smith, he's trying to distinguish himself in the Lions' secondary after they selected three cornerbacks in the 2012 NFL draft.
For Young, this will be his final shot to beat out Tyler Thigpen for the No. 2 quarterback job.
Young should see a lot of young, raw corners in this one. Whether or not he executes against them will be telling.
Key Matchup: RB Tashard Choice vs. DT Sammie Hill
According to their official website, Lions general manager Martin Mayhew is "expecting a big year" out of defensive tackle Sammie Hill.
Detroit already features Cliff Avril, Kyle Vanden Bosch, Ndamukong Suh and Corey Williams across the defensive line, so Hill should see a healthy amount of snaps in the preseason finale.
That means Tashard Choice will have his hands full—both literally and figuratively—carrying the rock against a solid line.
Choice needs to shine in order to hold off Johnny White, and this game may be his best opportunity to do that.
Prediction: Lions 26 Bills 17
Predicting the Final 53-Man Roster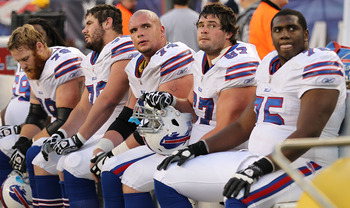 Jim Rogash/Getty Images
It's a difficult task, but predicting the Bills final 53-man roster is also fun.
Here's an early look at what the Bills 2012 roster could look like heading into the regular season.
All players are listed alphabetically by position.
Quarterbacks
Fitzpatrick, Ryan
Smith, Brad
Young, Vince
Running Backs
Choice, Tashard
Jackson, Fred
Spiller, C.J.
Fullbacks
McIntyre, Corey
Wide Receivers
Easley, Marcus
Graham, T.J.
Hagan, Derek
Johnson, Stevie
Jones, Donald
Nelson, David
Tight Ends
Chandler, Scott
Dickerson, Dorin
Smith, Lee
Offensive Tackles
Glenn, Cordy
Hairston, Chris
Pears, Erik
Young, Sam
Offensive Guards
Jasper, Michael
Levitre, Andy
Rinehart, Chad
Urbik, Kraig
Centers
Brown, Colin
Wood, Eric
Defensive Ends
Anderson, Mark
Kelsay, Chris
Merriman, Shawne
Williams, Mario
Defensive Tackles
Carrington, Alex
Dareus, Marcell
Troup, Torell
Williams, Kyle
Outside Linebackers
Barnett, Nick
Bradham, Nigel
Moats, Arthur
Morrison, Kirk
Scott, Bryan
Middle Linebackers
Carder, Tank
Sheppard, Kelvin
Cornerbacks
Brooks, Ron
Gilmore, Stephon
McGee, Terrence
McKelvin, Leodis
Rogers, Justin
Williams, Aaron
Free Safeties
Byrd, Jairus
Strong Safeties
Searcy, Da'Norris
Wilson, George
Punters
Moorman, Brian
Kickers
Lindell, Rian
Long Snapper
Sanborn, Garrison
Keep Reading

Buffalo Bills: Like this team?