USA vs. Brazil: Highlights, Twitter Reaction and Analysis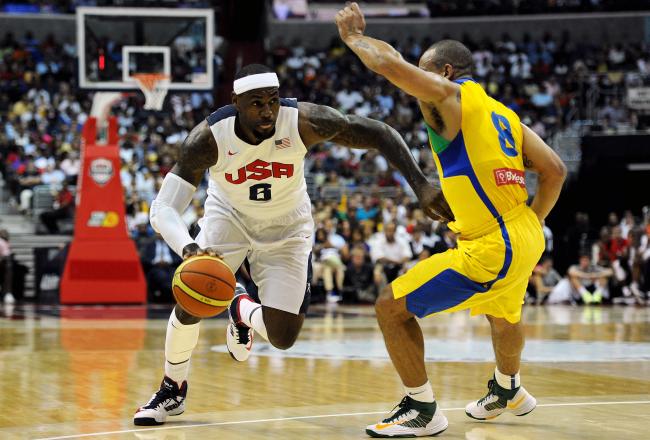 Patrick Smith/Getty Images
Team USA wasn't as dominant against the Brazilian national team as it was against the Dominican Republic, but Mike Krzyzewski and company got the job done in relatively easy fashion on Monday night, winning by a score of 80-69.
There were some scares for the United States, as Brazil kept it close for the majority of the second half, but LeBron James helped the national team pull away late at the Verizon Center in D.C.
The United States fell behind 27-17 by the time the first quarter buzzer sounded, but outscored Brazil 20-5 in the second to take a lead that would not be relinquished. It was clear that the USA just needed a little work on the team chemistry early on, and Brazil had a tough go once the Americans got going.
President Barack Obama and Vice President Joe Biden were in attendance, and there were plenty of reasons for them to smile.
There is a serious lack of low-post presence on Team USA, but the Americans do a great job of masking that deficiency by attacking the rim with various backdoor cuts and alley-oops. However, they'll need to knock down outside shots at a higher clip if they are going to take the gold in London.
Look for Team USA to pick up more steam and become more cohesive as the players rack up more court time together.
Tweets of the Night
Fake Bill Walton makes another appearance on a Team USA recap. He's becoming a regular with his humorous in-game tweets.
Kevin DURANT just used his tingling spider senses to throw one downfrom the digital heavens above! What a game!! #TeamUSA

— Not Bill Walton (@NotBillWalton) July 17, 2012
ESPN's Chris Palmer shares the specifics of America's ferocious second-quarter defense that had Brazil looking awful:
Team USA forces 12 TOs in the 2nd quarter. Absolutely suffocating defense.

— chris palmer (@ESPNChrisPalmer) July 17, 2012
SportsCenter's Linda Cohn reports that President Barack Obama sided with Michael Jordan in saying that the 1992 Dream Team would beat the 2012 group:
President Obama just told Mark Jones at halftime of USA-Brazil, he thought the original 1992 Dream Team would best the 2012 team. #espn2

— Linda Cohn (@lindacohn) July 17, 2012
Houston Rockets power forward Jon Leuer wasn't too impressed with the performance that Team USA put on:
Team USA has no flow right now

— Jon Leuer (@JLeu30) July 17, 2012
Sports on Earth's Shaun Powell makes a valid point. James seldom hears anything but vehement boos in visiting arenas:
Have never heard LeBron James cheered like this in a "visiting" city, even before the Decision.

— Shaun Powell (@Powell2daPeople) July 17, 2012
Must-See Highlight
LeBron James takes a pass from Chris Paul and flies down the court for a one-handed fast-break slam.
Deciding Factor: Team USA's Tantalizing Defense
Team USA is typically known for its offensive flair and ability to score at will, but the team's tenacious defense was the main reason for victory in this one.
What makes this team so good is that it is a defensive force to be reckoned with. It takes a few games for an offense full of new players to become properly acclimated, but the defense hasn't suffered.
In the second quarter, Brazil was able to manage just a measly five points.
Game MVP: LeBron James
James scored 30 points and grabbed six boards to lead the charge for the U.S. He had an embarrassing moment when he missed a two-handed dunk in traffic, but was on his game all night otherwise.
We've seen James put a team on his back in the NBA, and he's obviously up to that same challenge on the international stage. Look for LeBron to remain one of the pivotal players in the team's quest for a gold medal.
What's Next?
Team USA trains for the next two days before heading across the pond to get ready for a matchup against the Great Britain national team at the Manchester Arena on July 19.
The United States then take the world tour of exhibitions to Palau Sant Jordi in Barcelona to take on Argentina on July 22.
This article is
What is the duplicate article?
Why is this article offensive?
Where is this article plagiarized from?
Why is this article poorly edited?