Golden State Warriors: 5 Bold Predictions for Stephen Curry in 2012-13
Ezra Shaw/Getty Images
Despite the team's most productive offseason in recent history, the Warriors will enter the 2012-13 season with question marks up and down their lineup.
Can new center Andrew Bogut stay healthy? Can David Lee post impressive numbers on a playoff roster? Is Klay Thompson more than a volume scorer? Who will be head coach Mark Jackson's starting small forward?
However, there will be no player with more question marks than Stephen Curry—and the answers to those questions will hold more significance than any other player on the roster.
Curry has been one of the league's most exciting players and one of its most frustrating ones, sometimes on the same night.
While Curry has been held back by injury, the addition of Jarrett Jack provides Jackson's team with some insurance in case Curry's injury demons resurface. But as easy it seems to picture this Warriors team as a playoff contender with Curry running the point, it's just as hard to picture them in the postseason if Jack starts the majority of their games.
In what's quickly become the most optimistic offseason for the always-optimistic Warriors fans, here are five bold predictions to help extend that optimism Curry's way.
5. He'll Push Charles Jenkins to the D-League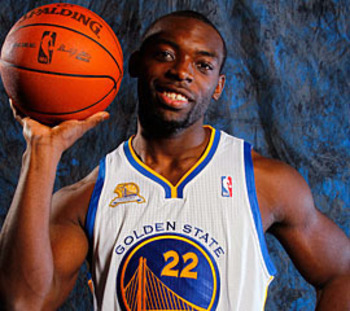 Curry's 2011-12 campaign frustrated fans for the amount of time he spent off the court.
But his on-court performance was perhaps more troublesome.
With career lows in points (14.7), assists (5.3) and minutes (28.2), Curry clearly did not have the tools he needed to be successful.
And all of that was fine with the Warriors' second-round draft pick, Charles Jenkins. After fighting for meaningful minutes in the first three months of his NBA career, he posted 11 games of double-digit points between March 13 and the team's final contest on April 26.
Jenkins figured to have an uphill battle for a repeat performance with a seemingly healthy Curry coming back, and the addition of Jack made the challenge that much harder.
Realistically, though, the return of a healthy Curry would mean much more than just a decrease in minutes for Jenkins—it just might mean a trip south for a prolonged stint with the Santa Cruz Warriors.
4. He'll Join the 50-40-90 Club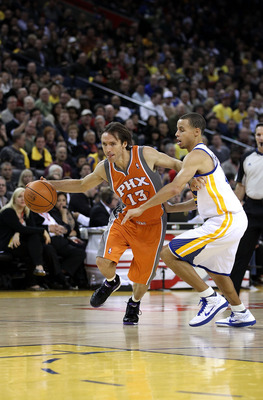 Ezra Shaw/Getty Images
A veritable who's who of basketball's greatest shooters of the past 30 seasons, the 50-40-90 club is as exclusive as it gets.
To qualify for entry, a player must shoot 50 percent on field goals, 40 percent from three-point range and 90 percent from the free-throw line (in addition to shooting a certain number of attempts).
To date, only five players have reached this plateau: Steve Nash, Dirk Nowitzki, Reggie Miller, Mark Price and Larry Bird.
Curry just missed the mark in his sophomore season, qualifying on the three-point (44.2) and free-throw (93.4) percentages but narrowly missing the mark on his field-goal shooting (48.0).
He regressed at the charity stripe last season (80.9), but improved his field-goal (49.0) and three-point (45.5) percentages for the third consecutive season.
3. He'll Play 70 Games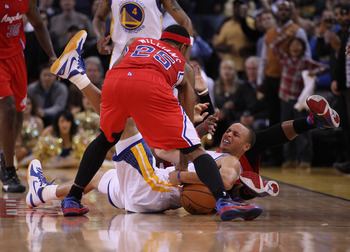 Ezra Shaw/Getty Images
Curry's ankles have been some of the most discussed ligaments in professional basketball over the past year.
And with two ankle surgeries in less than a calendar year and 40 games missed this past season because of injuries, that attention has been justified.
But it's worth noting that Curry's ankle problems have been a relatively recent development in his playing career.
Prior to last season, he had missed just 10 games in his first two professional seasons. He also played in 104 of his Davidson team's 105 games during his three seasons in North Carolina.
It seems outlandish to suggest that Curry is not injury-prone, but five of his past six seasons seem to suggest just that.
2. He'll End the Warriors' All-Star Drought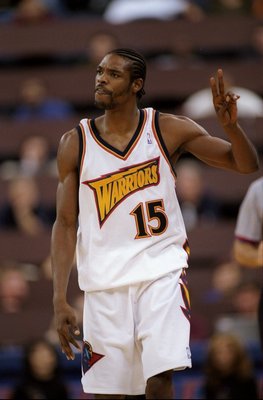 Otto Greule Jr/Getty Images
The last time the Golden State Warriors had a player in the All-Star game, Bill Clinton was less than a month into his second term as President, The English Patient won the Oscar for Best Picture and The Fugees' The Score brought home the Grammy for Best Rap Album.
It was 1997 to be exact, a whopping 15 years ago.
That player, Latrell Sprewell, played his last NBA game in 2005.
With Steve Nash now challenging Chris Paul for L.A.'s best point guard, and Russell Westbrook anchoring the reigning Western Conference Champion Oklahoma City Thunder, Curry will need to play the best basketball of his life to be in the conversation.
Well, that or benefit from a San Francisco Giants-esque ballot stuffing.
But there plenty of reasons to expect Curry's play to justify an All-Star spot. On paper, this will be the most talented Warriors team he's played with to date. According to the Bay Area News Group's Marcus Thompson II, Curry expects to be 100 percent by training camp.
Oh, and let's not forget that Curry's in the final season of his rookie contract and hoping to cash in on a strong season.
1. He'll Then End the Warriors' Playoff Drought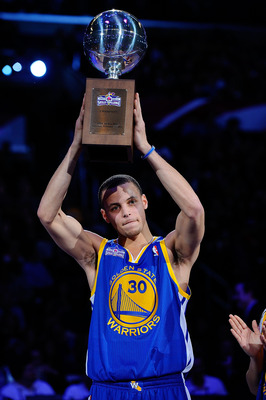 Kevork Djansezian/Getty Images
The Warriors aren't quite facing the 12-year playoff drought that the 2006-07 team ended, but they would be halfway to that mark if these postseason hopes remain just hopes.
But with the most complete Warriors roster (again, on paper) in years along with a full offseason for Jackson and his assistants to instill their defensive principles, there's finally a reason for those postseason hopes to exist.
The Warriors have bolstered their inside presence (Bogut) and depth (Jack, Harrison Barnes, Festus Ezeli and Draymond Green), and Klay Thompson has emerged from practicing with the USA Select Team as the star of the Vegas Summer League.
But Curry will be the main caveat for lifting these Warriors into playoff contenders. He's the team's best playmaker and will be in charge of making all these new pieces fit Jackson's system.
According to CSN Bay Area's Matt Steinmetz, the Warriors will not engage Curry in contract talks until they see that he is healthy. If he's able to meet the marks on this list, though, Curry could very well ring his personal cash register all season long.
Keep Reading

Golden State Warriors: Like this team?