Golden State Warriors: Should Jarrett Jack or Stephen Curry Start at PG?
Use your ← → (arrow) keys to browse more stories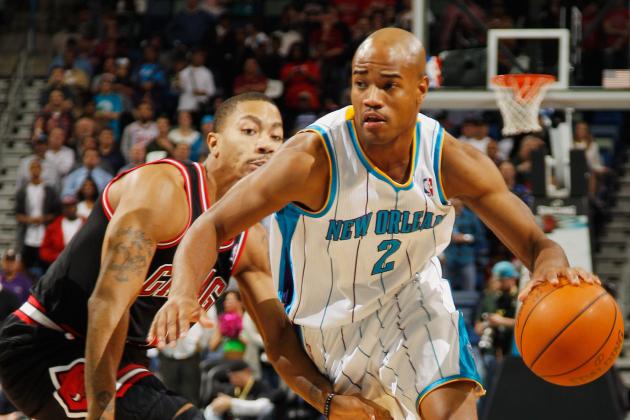 Chris Graythen/Getty Images

The Golden State Warriors recently traded for Jarrett Jack, who appears set to back up Stephen Curry at the point, but there is another way to look at it.
Look, there is no denying that Curry is the better basketball player, the best one on the team in fact, but Jack may be a better fit to start at point guard for the Warriors at the start of this season.
With Curry's inability to stay healthy, or perhaps his superhuman propensity to get injured, it makes sense to ease Curry back into starter minutes until he proves he can stay healthy.
Especially since he is coming off yet another ankle surgery.
Jack is a great fit for this team. He is a tough, aggressive penetrator who can get to the rim and defend.
He makes a perfect complement to Klay Thompson and Harrison Barnes. Both wings are great outside shooters who thrive coming off screens, something that Jack will be better at providing than Curry. Jack's ability to get into the lane will allow him to kick it out to the two outside shooters or set up David Lee and Andrew Bogut.
With those four scorers the Warriors would not miss Curry's offense all that much to start. They will be a much better defensive team to start the game, which would allow them to have a premier scorer coming off the bench. Sure, Curry wouldn't be used to being a sixth man, but until he is healthy why not have him play that role?
Curry said he expects his ankle to be 100 percent by training camp, so what does that mean? One hundred percent for his ankles is like 75 percent for a normal NBA basketball player, so wouldn't it make sense to bring Curry and his tender ankles off the bench for a while and let him get accustomed to playing heavy minutes?
Ezra Shaw/Getty Images
Having Curry off the bench would give the Warriors, along with the
Oklahoma City Thunder
, a leading candidate for sixth man of the year while giving the Warriors a ton of versatility. Curry's ability to play off the ball would allow him to fill any number of roles on any given night.
With Curry on the bench, the Warrior starters could set a defensive tone to start the game and then bring in their best offensive player to give the offense a boost. Actually the Warriors' second unit would be just as strong offensively as the first unit, which is a rarity.
Having Jack start also allows him to harass the opposing starting point guard for the first seven minutes of the game, disrupting the rhythm of their opponent's offense.
Limiting Curry's minutes in the beginning of the game would allow him to be well-rested in the fourth quarter, which is where the Warriors are going to need him the most.
With the Warriors' history of losing close games, Curry needs to be the floor to change that trend—and the more rested he is down the stretch the better. With all the other talent the Warriors have on their roster they don't need Curry to do everything from start to finish. They just need him to be there in the end as their closer, something he is fully capable of doing. It doesn't matter if he starts the game or not.
Until he proves that he can be healthy for a full season, the Warriors should start Jack and limit the stress on Curry's ankles. If Curry overdoes and goes down again, the Warriors and the playoffs are just not going to happen yet again.