5 Phoenix Coyotes Who Need to Step Up This Season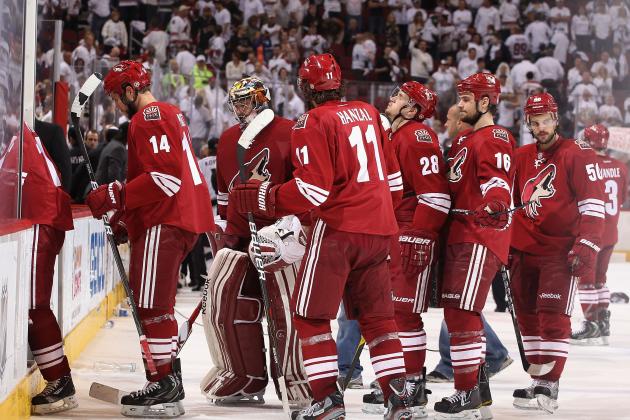 Christian Petersen/Getty Images
The Coyotes will need some improvement in certain areas to duplicate last year's record-setting season
The Phoenix Coyotes are coming off of their best season in franchise history. The hard work, determination and luck that goes into a Western Conference Finals run is something that is hard to duplicate in back-to-back seasons.
With the loss of some critical members of the pack (Whitney, Aucoin and Pyatt), several Coyotes are going to have to play better this season if the team hopes to return to the playoffs, much less the conference finals or beyond.
The following slideshow looks at five guys that I feel need to step up their game in order for the Coyotes to have the type of season that the franchise wants to have.
Begin Slideshow

»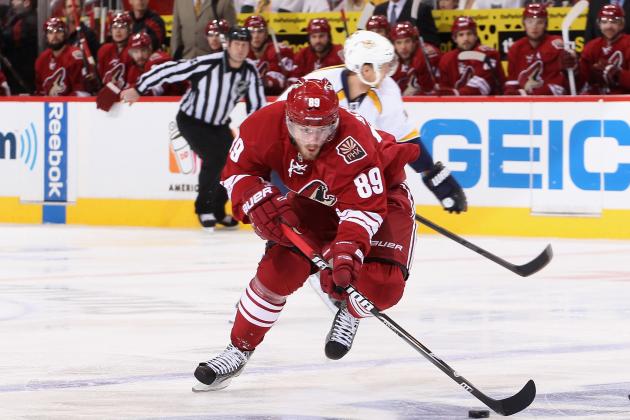 Christian Petersen/Getty Images
Boedker moves in on net against Nashville during the 2012 NHL Playoffs
1. Mikkel Boedker
The Danish speed merchant has a ton of talent but has not lived up to his potential as of yet. He has shown flashes of his offensive brilliance since becoming a full-time Coyote, but he needs to be a lot more consistent throughout the season.
He is going to be given ample ice time playing on the top-two lines and on the power play. He needs to cash in those minutes by scoring more points than he did last season.
Boedker scored 11 goals and 13 assists for 24 points in 82 games. He scored one point on the power play and zero short-handed points. With the departure of Ray Whitney, he should see some more time on special teams and needs to be more aggressive when given opportunities.
The 22-year-old Boedker is slotted as the second-line right wing if Shane Doan resigns, and he needs to be prepared to take the next step towards being a top scorer on this team. If he can take his stellar playoff performance and use that as a confidence builder heading into next season, he can be a very productive member of the squad.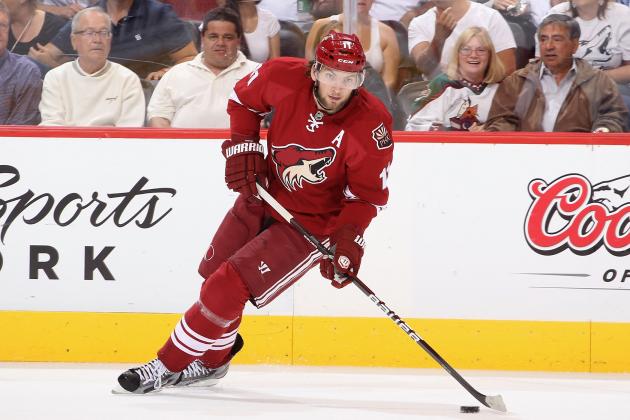 Christian Petersen/Getty Images
Hanzal looking to dish the puck against the Kings in the 2012 NHL Playoffs
The Czech center had a decent season but was struck by injuries which prevented him from playing in 18 games in 2011-2012. His statistics were below expectations though. Hanzal scored eight goals and had 26 assists for 34 points. He spent most of the season on the top- two lines and averaged almost 18:30 a game in ice time.
Hanzal is a good two-way player who seems to be on the ice all of the time.
He plays on the power play and on the penalty kill. He is a good face-off taker and showed during the playoffs that he is not afraid to sacrifice his body. Even if he gets as much ice time next season as he did this season, he needs to produce more.
A top notch center should be in the 50-60 point range at a minimum while excelling in all of the aforementioned areas. To do that, he is going to have to be more physical and use his 6'5", 220 lb. frame to put himself in good position around the net in order to cash in on rebounds and chances.
The 25-year-old Hanzal needs to stay healthy for the entire season. Many will look at his injuries last season as the reason why his point total was so low. But, if you look at his point per game output, though, at the rate he was scoring at, he would have still only scored 44 points last season.
The bottom line is that Hanzal needs to pick up his production for the Coyotes to get back to where they want to be.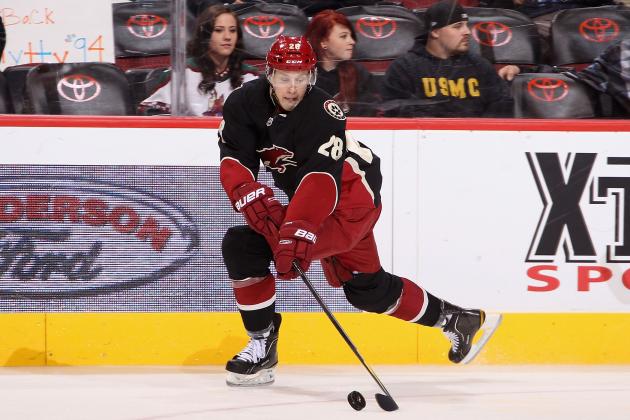 Christian Petersen/Getty Images
Korpikoski eluding his closest pursuer against the Blues last season
The Finnish winger has plenty of offensive talent and it all begins with his speed. Korpikoski is one of the faster skaters in the league and he generates most of his offense off of transition plays using his greatest asset.
The 28-year-old is coming off of a good season. He collected 17 goals and 20 assists for 37 points and established some consistency as he came close to duplicating his numbers from the previous season. Even if Korpikoski continues to get big minutes (17:08 a game in 2011-2012), he needs to produce even more than he has.
Korpikoski remained healthy during the regular season and played in all 82 games last season. But, he only played in 11 games during the playoffs. He registered zero points in the 11 games he played, although he was playing injured in the playoffs. His disappearance during the playoffs truly hurt the Coyotes' chances of advancing.
If Korpikoski plans on playing on the first two lines and on the power play, he needs to earn it by scoring more points than he did the previous two seasons.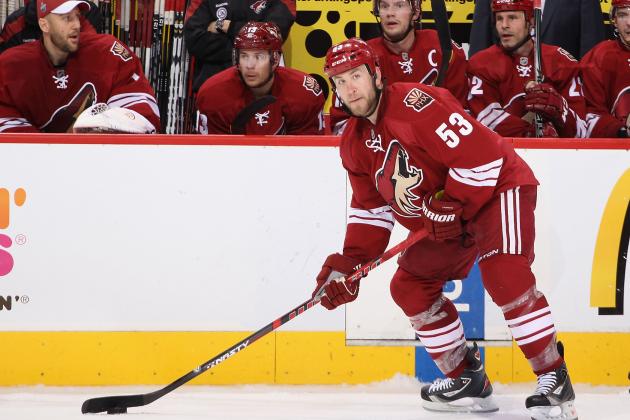 Christian Petersen/Getty Images
Morris looks to move the puck as they battle the Blue Jackets last season
Morris had a down year last season.
At times last season, he looked and played as an "old" NHL defenseman. Morris seemed to be stuck in place as younger, faster forwards skated by him on their way to the net. Morris did have some issues last season (he left the team for personal reasons), and it definitely could have affected his play, but he will have to be better this season in order to keep his job.
Morris has never been a huge point producer, but last season was a down year in a number of different ways.
He only scored 11 points in 59 games but his minus-12 rating is the number that has me worried. If Morris can't stay healthy (he missed multiple games with injuries), he will not be effective. If he is not effective, the Coyotes are very deep in their defensive corp and they might look to give others a chance.
The 33-year-old Morris did average over 18 minutes a game last season and to justify that, this season, he has to return to the form that he displayed in past seasons with the Coyotes. He will probably slot into the fifth defensive spot to begin the season (Top four- Yandle, Ekman-Larsson, Klesla, Michalek) and will have to prove that he can still be defensively sound to fend off youngsters like Michael Stone, David Schlemko, Brandon Gormley and David Rundblad, who will be looking to take his job.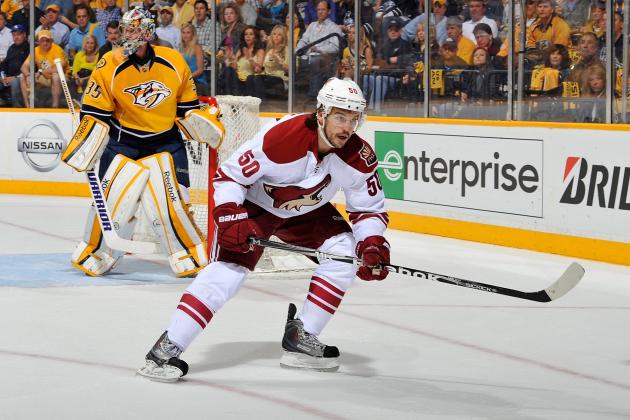 Frederick Breedon/Getty Images
Vermette setting up a hit against the Predators during the 2012 Playoffs
Vermette came to the Coyotes in a trade with the Blue Jackets near the end of last season. It proved to be a wonderful pickup as Vermette helped provide some much needed offense at the end of the regular season and during the playoffs. During the postseason, Vermette led the team in scoring with five goals and five assists for 10 points.
The 29-year-old center will get a chance to play major minutes for the Coyotes this season. He will be one of the team's top-two centers and will be expected to produce major points. He finished last season amassing 11 goals and 26 assists for 37 points. He needs to produce more than that if he is going to play on the top-two lines.
Vermette is a good face-off man and he will also play during special team situations, giving him more ice time and more opportunity to be amongst the leading scorers on the team next season. If he can continue his physicality and his point production from his excellent playoff run, the Coyotes will look back on the trade with Columbus with a huge smile on their face.