NBA: Who's Really Better, Brooklyn Nets or New York Knicks?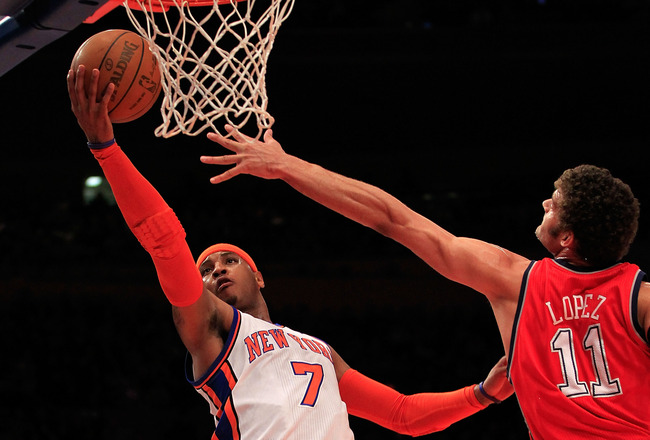 Chris Trotman/Getty Images
With the New York Knicks battling back to relevancy the last couple of seasons and the Brooklyn Nets busy offseason, many have questioned which NBA team is the best in the New York.
Which team is the better team right now?
Here we will take a look at all aspects of both teams and compare them. Then we will come to a conclusion of whether the Knicks or the Nets are the best basketball team in New York.
Brooklyn Nets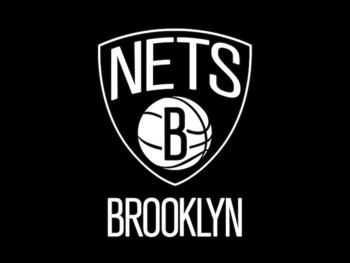 http://www.thefoxisblack.com/blogimages//Brooklyn-Nets-logo.jpg
Current Brooklyn Nets Roster
PG
Deron Williams
C.J. Watson
Tyshawn Taylor
SG
Joe Johnson
MarShon Brooks
SF
Gerald Wallace
Jerry Stackhouse
PF
Kris Humphries
Mirza Teletovic
Reggie Evans
C
Brook Lopez
Shelden Williams (FA)
Head Coach
Avery Johnson
New York Knicks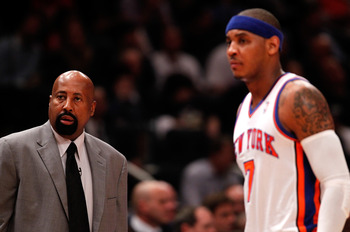 Jeff Zelevansky/Getty Images
Current New York Knicks Roster
PG
Raymond Felton
Jason Kidd
SG
J.R. Smith
Iman Shumpert
SF
Chris Copeland
PF
Amar'e Stoudemire
Steve Novak
Kurt Thomas
C
Tyson Chandler
Marcus Camby
Head Coach
Mike Woodson
Point Guard
http://sports-kings.com/passthepill/wp-content/uploads/2012/06/Deron-Williams.jpg
The Knicks have had an interesting offseason with their point guards.
They tried to acquire veteran point guard Steve Nash. After Nash accepted a sign-and-trade to the Lakers, the Knicks surprisingly signed Jason Kidd to a three-year, $9 million deal.
Meanwhile, Jeremy Lin was offered a $25 million three-year contract by the Houston Rockets. The Knicks let everyone in the world know that they were going to match the offer made by the Rockets. Lin decided to make a smart business move and used that as leverage to get an even better contract from the Rockets.
The Knicks went on to trade for Raymond Felton, who played for the Knicks in the 2010-11 season and was involved in the trade for Carmelo Anthony. Now with Felton coming back and the Rockets big offer, it looks like Linsanity is over in New York.
Whether it is Kidd, Felton or Lin running the point for the Knicks, the Nets still have the advantage at the position. That is because of Deron Williams.
The Nets successfully achieved their goal of getting Williams to re-sign this offseason. They took a gamble two years ago when they traded for him without any assurance that he would stay long-term. The moves that the Nets were able to make in that time convinced him to stay.
Williams is arguably the best overall point guard in the NBA and the Nets clearly have the advantage at this position.
Advantage: Nets
Shooting Guard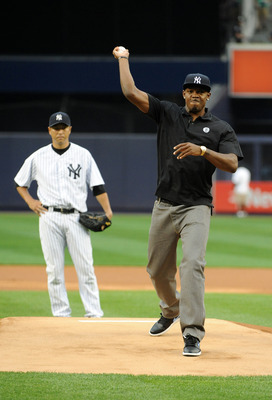 Christopher Pasatieri/Getty Images
The Toronto Raptors made an interesting move by offering Landry Fields a three-year, $20 million contract. Whether it was to block the Knicks from getting Steve Nash or because they have faith in Fields, the Knicks didn't match Toronto's offer.
The Knicks re-signed J.R. Smith, who will be the starting shooting guard until Iman Shumpert returns from his injury that he suffered in the playoffs.
Once again, it doesn't matter who the Knicks have on the court at shooting guard because Joe Johnson is by far a better player.
The Nets traded for Johnson in the middle of all the Dwight Howard trade talks. This move was apparently huge for Deron Williams and his decision to return.
Johnson has a big contract but still is a top-five shooting guard in the NBA. He is a six-time NBA All-Star who can score 25 points a night.
Advantage: Nets
Small Forward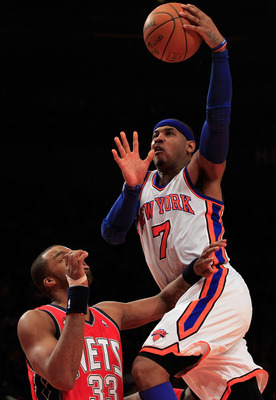 Chris Trotman/Getty Images
The Nets traded for Gerald Wallace at the trade deadline last season. It seemed like a strange move because Wallace could opt-out of his contract after the season and the Nets gave up their 2012 first-round pick.
Along with the moves the Nets have been making, one of them was getting Wallace to re-sign to a four-year, $40 million deal. He is a versatile small forward that can do everything.
While Wallace is a very good player, the Knicks have Carmelo Anthony. Anthony is the best player between the two teams and is one of the best scorers in the NBA. While he may not be as balanced overall like Wallace is, he is an elite player and has the ability to carry a team on his back. That gives the Knicks the edge at small forward.
Advantage: Knicks
Power Forward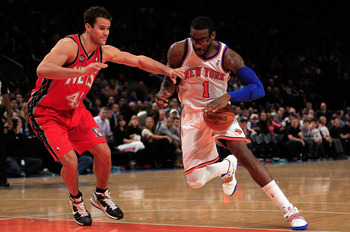 Chris Trotman/Getty Images
The power forward position is more difficult to compare than many might think.
The Nets and Kris Humphries have recently agreed on a two-year, $24 million deal. Humphries has emerged as a double-double machine and a solid player in the NBA. Last season he averaged 13.8 points and 11 rebounds a game. He has improved each season and could become a 15 point, 13 rebound a game player.
Stoudemire came to New York and was the first piece in making the Knicks relevant again. In his first season with the Knicks he averaged 25.3 points a game. However, since the Knicks traded for Carmelo Anthony, Stoudemire's numbers have dropped drastically. Last season, he averaged 17.5 points and 7.8 rebounds a game. Not to mention his back, knee and now hand issues are a cause for concern.
Humphries is the better defensive player and rebounder, but if Stoudemire can stay healthy, he is clearly the better offensive player.
Advantage: Knicks
Center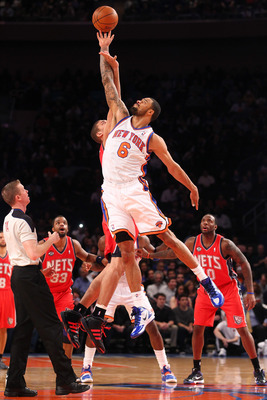 Al Bello/Getty Images
The difference between the Nets' center and the Knicks' center is one is an offensive big man and the other is defensive.
The Knicks added Tyson Chandler last offseason and he won the Defensive Player of the Year Award this past season. Chandler is one of the best defensive centers in basketball and he is a leader on and off the court. However, he is limited offensively. Chandler averaged 11.3 points a game last season, which was the second highest in his career.
The Nets attempted to acquire Dwight Howard with Brook Lopez as the centerpiece of the trade. The Magic didn't accept any deals so the Nets decided to re-sign Lopez to a big contract.
Lopez is one of the best offensive centers in the NBA. He is capable of scoring 20-25 points a game. His last season was hindered by freak injuries after playing all 82 games of his first three seasons.
Lopez's biggest flaw is his rebounding. In his first two seasons he averaged more than eight rebounds a game. Then he had a setback two seasons ago with six rebounds a game. Before last season, Lopez put on a decent amount of weight and size while also working hard at improving his rebounding skills. At 24 years old, Lopez has the potential to be a 20 point, 10 rebound a game player.
What is also very interesting is the blocked shots statistics. Lopez averages more block shots a game than Chandler does.
It will be exciting to see how Lopez will play when he is healthy and has a real team around him.
Advantage: Nets
Bench
Chris Chambers/Getty Images
The Nets have completely revamped their bench, with the exception of MarShon Brooks. They traded away a lot of their pieces on the bench for Joe Johnson but have made some moves to bring in quality role players on the bench.
Brooks is a talented young shooting guard with a ton of potential. He is often compared to Kobe Bryant and it should help playing under Joe Johnson. Brooks averaged 12.6 points a game in his rookie season. He is going to be a valuable player who can score in bunches off the bench.
The Nets also brought in veteran Jerry Stackhouse, point guard C.J. Watson and Reggie Evans. Stackhouse is clearly not the player he used to be, but is a nice leader and veteran presence. Watson did a nice job backing up Derrick Rose last season, averaging close to 10 points and five assists a game. Evans is an energetic player off the bench who can clean the boards. He has averaged close to seven rebounds a game in his career, including 11.5 rebounds in the 2010-11 season.
The Nets also signed European player Mirza Teletovic. Teletovic averaged 16.3 points and 6.9 rebounds per game while playing in Spain last season. It will be interesting to see how his game translates over to the NBA
The Nets could also still bring back Shelden Williams, who was a very valuable player for them last season.
The Knicks have also made some moves to help give them depth.
It is unknown whether Jason Kidd or Raymond Felton will be starting, but either one is a solid backup point guard.
The Knicks re-signed Steve Novak to a big contract and traded for two former Knicks who are near the end of their careers. They acquired Marcus Camby from the Rockets and got Kurt Thomas in the Felton deal.
The Nets seem to have better role players. If Kidd is coming off the bench, that gives the Knicks three key bench players who are 38 years old or older.
Advantage: Push
Verdict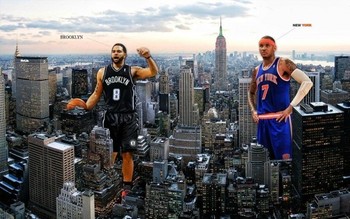 http://mikezanity.com/wp-content/uploads/2012/07/DeronWilliamsBrooklynNetsvsknicks-600x379.jpg
The Brooklyn Nets are getting a significant amount of hype, which is well deserved. But are they a better team than the New York Knicks?
After breaking down the rosters of each team, the verdict is that the Nets are the better team.
The Nets have a more balanced starting five and more valuable role players on the bench. However, they have to prove it on the court.
The Knicks are not as balanced as the Nets, nor do they have the same depth. Their star players, Anthony and Stoudemire, have yet to prove that they can play together. However with Anthony on their roster, the Knicks will always be a team that is able to compete.
I am giving the Nets the advantage on paper, but it has to be proven on the court. The Knicks still own New York, but the Nets are the better team.
Best Team in New York: Brooklyn Nets
Keep Reading

New York Knicks: Like this team?