Pine Tar Incident 2.0: Ozzie Guillen Clowns Himself, Not Bryce Harper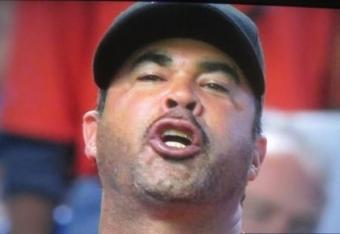 misterirrelevant.com

Bryce Harper's favorite player while growing up was George Brett.
His playing style has been compared to that of George Brett, and he even hung out with George Brett at this year's All-Star Game in Kansas City.
Now, the two will be forever entwined for a different reason entirely: Bryce Harper has his own Pine Tar Incident.
On Sunday afternoon, during a game against the Miami Marlins at the brand new Marlins Park in Miami, Bryce Harper strode to the plate in the first inning with a bat that looked suspicious to Marlins manager Ozzie Guillen. Ozzie felt it was an illegal use of pine tar, as the substance was pretty far up the handle of Harper's bat.
Rule 1.10(c) of the Major League Baseball rule book reads:
A bat may not be covered by such a substance more than 18 inches from the tip of the handle.
When Harper came to bat in the fourth inning, Guillen quickly emerged from the dugout to initiate another conversation with home plate umpire Marty Foster, presumably regarding the pine tar on Harper's bat. Bryce looked at Guillen and held out his bat with two hands while standing in the batter's box, trying to show Guillen that he had replaced his bat and it was now in compliance with the rule.
Guillen seemingly ignored Harper while he was still talking to Foster, but once he returned to the dugout, he became incensed. Guillen immediately engaged in a shouting match with Nationals manager Davey Johnson and third base coach Bo Porter.
During this heated exchange, Guillen stepped down from his perch along the dugout rail to retrieve a baseball bat, which he used to mimic Harper's actions in an exaggerated fashion, with a mocking expression on his face. Apparently, Guillen felt Harper's actions at the plate were disrespectful, and he let the entire Nationals dugout know about it.
The back-and-forth soon died down upon the urging of umpire Marty Foster, and surprisingly, there were no further incidents during the game. Not surprisingly, Guillen had plenty to say after the game, as told the Sporting News:
What he did (today) was unprofessional. I'm not going to tell you guys what he did because I'm not going to be talking about it on ESPN, Baseball Tonight. I'll just leave it like that. I'll talk to his manager in a little while.
"His manager" had something to say as well. Here is Bryce Harper's manager, Davey Johnson, also from the Sporting News:
Ozzie had complained that the pine tar was too high up on Harper's bat, so we changed it. Then he was still chirping about it. It got on the umpire's nerves. It got on my nerves. He was trying to intimidate my player, I guess. That's not going to bother our player. He does what he has to do.
Now, Sunday's version of the Pine Tar Incident is nothing like the original.
On July 24, 1983, Yankees manager Billy Martin used some information he had gathered earlier in the season and chose to save it for an opportune time: George Brett used too much pine tar.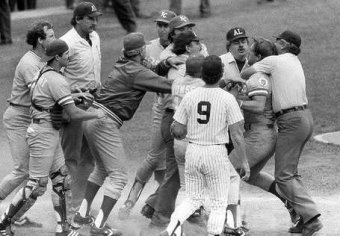 Brett gave Martin and the Yankees that opportunity when he hit a go-ahead two-run home run to right field in the top of the ninth inning. Martin immediately approached Tim McClelland and the umpiring crew to protest George Brett's bat. The pine tar on the bat was measured against the width of home plate, in accordance with the rules, and it was found to exceed the amount allowed by rule. George Brett was called out.
Meanwhile, in the Royals dugout, George Brett was talking to a teammate:
If they call me out for using too much pine tar, I'm going to kill one of those SOBs.
After he was called out, a maniacal George Brett came screaming out of the dugout and tried to do just that. He was only prevented from committing umpicide by manager Dick Howser and his teammates.
Sunday's incident did not have the fireworks of the original, although it was memorable in its own way. But another interesting parallel between the two incidents involves the managers at the center of the controversy.
Billy Martin was intense, overbearing and highly controversial. Coincidentally, Ozzie Guillen has drawn comparisons to the former Yankee skipper in a quote by Thomas Boswell of The Washington Post:
Ozzie is the contemporary Billy Martin, though not even half as bad.
Now, after another episode of ridiculous and embarrassing behavior, Ozzie Guillen has to hope that Marlins owner Jeffrey Loria is not a contemporary George Steinbrenner.
This article is
What is the duplicate article?
Why is this article offensive?
Where is this article plagiarized from?
Why is this article poorly edited?

Washington Nationals: Like this team?