NY Knicks: 5 Things Carmelo Anthony Must Learn from Olympics Teammates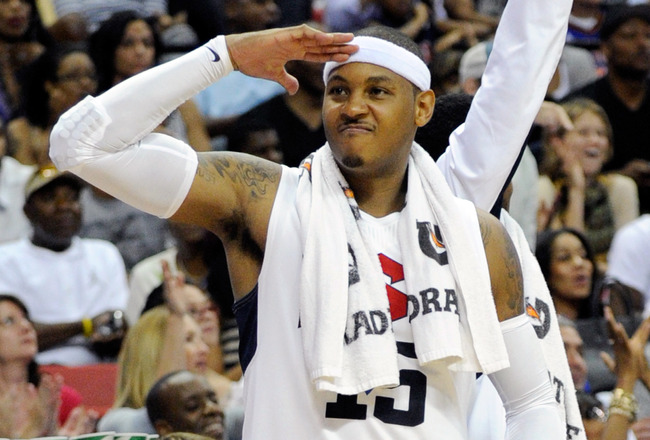 David Becker/Getty Images
Carmelo Anthony's inclusion on the 2012 USA Olympic Basketball team cannot merely be about representing his country.
Though the Olympics provide Anthony the opportunity to showcase his individual talents and separate himself from the NBA's elite, he must also embrace the opportunity to learn—specifically from his teammates.
On the New York Knicks, Anthony is the face of a franchise, but on Team USA, he is more of a cog, in an immensely talented, wildly innovative environment.
And he must take advantage of his surroundings.
Conditioning/Physical Fitness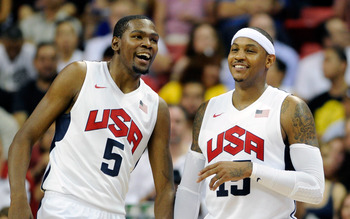 David Becker/Getty Images
Carmelo Anthony already appears to have slimmed down quite a bit, but he has to balance his conditioning with definition.
And there's no better environment to do that than alongside the epitome of physical fitness in LeBron James.
James plays Anthony's position and is the master of balancing explosion and power with agility and finesse; he's muscular yet not bulky. And as a close friend of Anthony's there is no one better to convey the importance of staying in superior shape.
With a bird's eye view of the edge James' build gives him on the cour,t, Anthony must follow in his footsteps and make it a point to return to the Knicks in similar physical fashion.
Defense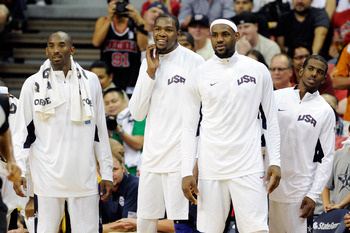 David Becker/Getty Images
Team USA doesn't boast what you would call a conventional frontline, but they're laden with talented defenders.
While Carmelo Anthony is a more than capable defender, consistency on that side of the ball has always been an issue.
Alongside defensive-oriented stars like Tyson Chandler, LeBron James, Chris Paul and even Anthony Davis, though, he stands to learn a thing or two about the importance of continuity on the defensive end.
Aside from a deep postseason push, defense is what stands in the way of Anthony and unquestioned superstar status.
And he has a chance to put such an obstacle to bed by embracing the defensive philosophies he will be exposed to throughout the Olympics.
Leadership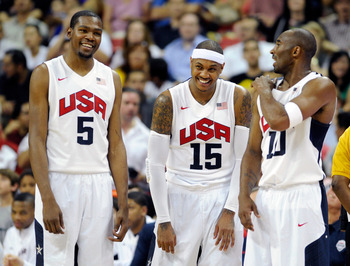 David Becker/Getty Images
Carmelo Anthony is currently surrounded by some of the most passionate leaders in the game.
Kobe Bryant, Tyson Chandler, Kevin Durant, Andre Iguodala, LeBron James and Chris Paul are all vocal athletes who strive to make their teammates better every game.
Though Anthony has the necessary skill set to emerge as one of the NBA's most prolific leading men, he has lacked the drive and motivational tools necessary to do so.
And while Team USA is a talented team that won't turn to one player to carry the load, there are a handful of players who will be counted on in games to ensure their unit stays the course. But Anthony will not be one of them.
By summer's end, though, after witnessing firsthand how a bevy of truly captivating and respected leaders carry themselves both on and off the court, such a notion must become an entity of the past.
Teamwork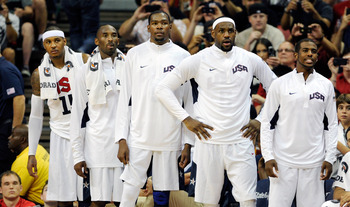 David Becker/Getty Images
More important than leading one's team is ensuring you're a part of it.
Carmelo Anthony is perhaps the most talented scorer in the game, but his off-ball prowess can be nonexistent; he relies on himself far too much.
As a member of Team USA, though, Anthony is surrounded by some of the most selfless, prolific talents possible. Even Kevin Durant, a former one-trick pony himself, has learned to embrace the concept of teamwork, ball movement and collective accountability.
And before the Olympics are through, Anthony can too.
Provided he keeps his distance from Kobe Bryant's voluminous mindset, that is.
How to Win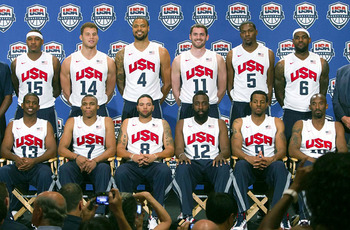 Photo via freesworld.com.
Just three of Carmelo Anthony's teammates have won an NBA title, but virtually all of them, unlike Anthony, have multiple deep postseason pushes to their name.
As previously mentioned, a strong playoff performance—most notably the attainment of a championship ring—is one of the things that truly separate Anthony from Kobe Bryant, LeBron James and the rest of the league's top talents.
Though Anthony is fortunate enough to play alongside Tyson Chandler all year round, he has the opportunity to benefit from the demeanor and insight of at least seven other "winners." A gold medal would only help his cause as well.
And let's not be coy, after forcing his way to New York, costing the Knicks a wealth of assets and essentially forsaking Mike D'Antoni's job, Anthony's seat has never been hotter.
How much he takes away from this Olympics experience will ultimately help determine how well he fares stateside for the foreseeable future.
Keep Reading