Odds That Each Current UFC Champion Will Fall Within the Next Year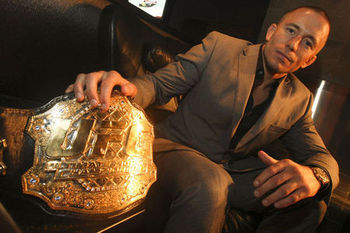 mmamania.com
UFC champions are carved from the rarest of stones.
With cement hands and granite chins, they've been able to translate world-class talent into rock-solid Octagon performances.
But as it is in geology, fighters are also subject to an eventual period of erosion and deterioration.
With that said, assuming each current champion defends his title at least once in the next 12 months, here's the odds they lose their most prized possession.
Dominick Cruz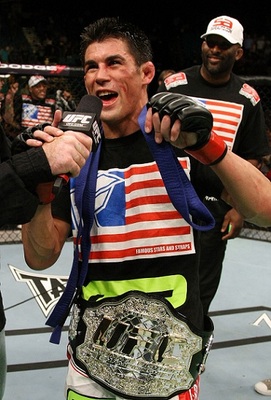 ringsidereport.net
Next Opponent: Urijah Faber or Renan Barao
Future Opponents: Michael McDonald, Eddie Wineland or Mike Easton

Chance of Defeat: 25 Percent
Following Cruz's debilitating injury, divisional contenders Faber and Barao have been left to battle it out for interim championship rights at UFC 149 this Saturday.
A fill-in titleholder will surely be crowned, but Cruz will still prolong his reign as the definitive bantamweight champion at the end of the day.
When he returns, it's going to be difficult to put his injury woes behind him en route to successfully defending his gold either against Faber for a second straight time or a more diverse striker in Barao.
Needless to say, Cruz is a true top-level talent. But it doesn't help when you don't fight and a 28-1 Brazilian is climbing the divisional ranks.
Jose Aldo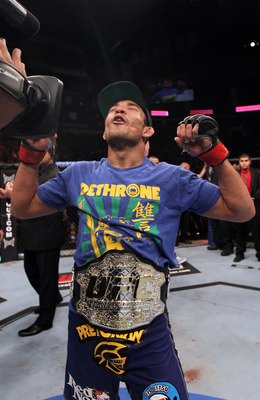 mmamania.com
Next Opponent: Erik Koch
Future Opponents: Chad Mendes, Ricardo Lamas, Chan Sung Jung or Cub Swanson

Chance of Defeat: 10 Percent
Aldo probably isn't going to lose anytime soon.
And while an injury put a hold on his featherweight title defense against the young Erik Koch, the 25-year-old Brazilian still serves as one of the best pound-for-pound fighters in the world.
If he can strike his way past Koch, Aldo's only true threat would have to be either Jung or Swanson.
Jung arguably has the most championship-worthy chin in the division, and Swanson has been one of the hottest fighters in the entire UFC.
Lamas could sneak a title shot in at the end of next year, but he doesn't pose an imminent threat.
Aldo should remain champion for the foreseeable future.
Benson Henderson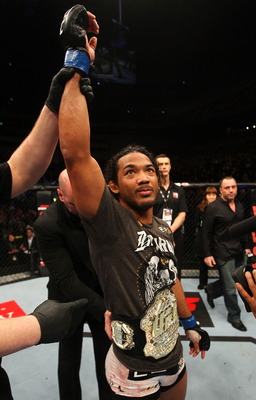 bicoastalbitchin.com
Next Opponent: Frankie Edgar
Future Opponents: Nate Diaz, Anthony Pettis, Gray Maynard or Jamie Varner

Chance of Defeat: 50 Percent
Henderson's first title fight with Edgar was more or less a toss-up decision, so to think their rematch at UFC 150 isn't going to end in similar fashion would be foolish.
The bottom line is that even though "Smooth" is a well-rounded fighter at 155 lbs., there's an array of athletes itching to take over his No. 1 spot.
Diaz is arguably the most prominent, while established contenders like Pettis, Maynard and Varner serve as plausible suitors.
To be honest, considering Henderson is fending off the deepest weight class in the UFC, giving him a 50-percent chance to retain his title may be generous.

Georges St-Pierre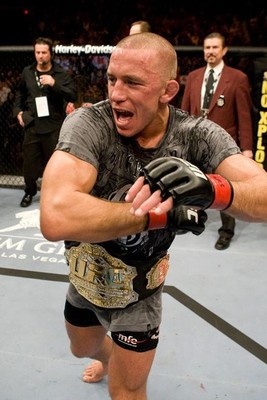 mmarepz.com
Next Opponent: Carlos Condit
Future Opponents: Martin Kampmann, Johny Hendricks, Nick Diaz, Demian Maia, BJ Penn or Rory MacDonald

Chance of Defeat: 15 Percent
When St-Pierre meets Condit at UFC 154 in November, he'll be nearly 20 months removed from his last title defense against Jake Shields in April of 2010.
That's a long time for any champion to be out of action, let alone one that has been ridiculed in the past for not decisively winning bouts.
Regardless, St-Pierre should still be considered one of the best fighters in the world when he reenters the Octagon opposite "The Natural Born Killer."
It should be a true test for Canada's only titleholder, but what makes the next year even more interesting is the fact that Penn has once again thrown his legendary name back into the title mix.
It certainly looks like the UFC welterweight division is starting to mold itself into the most stressful weight class a UFC champion could encounter.
Anderson Silva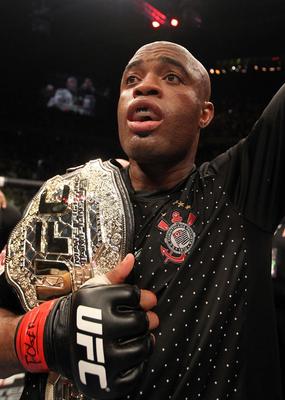 allwrestlingsuperstars.com
Next Opponent: N/A
Future Opponents: Michael Bisping, Brian Stann, Hector Lombard, Chris Weidman, Tim Boetsch, Rich Franklin, Alan Belcher or Rashad Evans

Chance of Defeat: 5 Percent
After securing a second-round TKO victory over Chael Sonnen at UFC 148 to retain the UFC middleweight title, it's safe to say that Silva is never going to lose again in his professional career.
Is that that crazy? To think that Silva could end his UFC reign unscathed?
It may be, yet there's a reason he's considered the greatest fighter of all time. But the one problem that arises with Silva's future is the fact that he intends to fight for 10 more years.
That seems a little optimistic. The Brazilian-based KO artist is not only 37 years old, but he's in the prime of his career. There may not be any more room for improvement or gradual growth for a guy that has already done it all in the sport of MMA.
However, that doesn't mean his record 10-straight title defense streak is going to come to an end within the next 12 months.
So while many people consider fresh contenders like Weidman and Lombard suitable challengers to take down Silva, don't hold your breath.
Jon Jones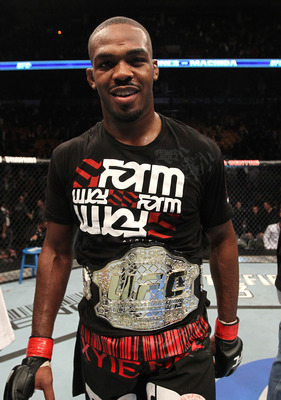 mmasucka.com
Next Opponent: Dan Henderson
Future Opponents: Alexander Gustafsson, Lyoto Machida, Ryan Bader, Mauricio Shogun Rua, Brandon Vera or Glover Teixeira

Chance of Defeat: 20 Percent
Despite knocking off Rashad Evans, Machida, Rampage Jackson and Rua in consecutive title fights, Jones' rise to prominence within a crowded light heavyweight division still possesses doubt.
The legendary hands of Henderson are next in line in trying to show the world of MMA that Jones isn't as good as Anderson Silva or Jose Aldo.
But the fact of the matter is that if "Bones" proves victorious, he has to be considered part of that illustrious group.
After Henderson, rising stars like Gustafsson and Bader command the contending spotlight, while UFC newcomer Teixeira could launch himself into title consideration with a KO over Jackson at UFC 153.
For now, all Jones has to do is avoid Henderson's "H-Bomb" and he'll be golden.
Junior dos Santos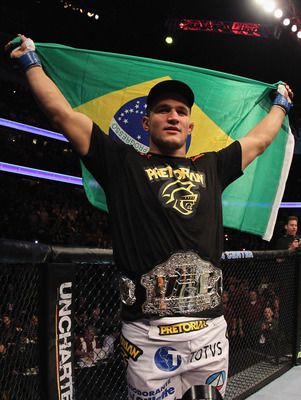 mmafrenzy.com
Next Opponent: Cain Velasquez
Future Opponents: Alistair Overeem, Fabricio Werdum, Roy Nelson, Shane Carwin, Travis Browne, Ben Rothwell, Stipe Miocic, Stefan Struve or Mark Hunt

Chance of Defeat: 35 Percent
For various reasons, Dos Santos doesn't come off as a perennial UFC champion.
Sure, he hasn't lost a fight within the organization, but it's safe to say that he hasn't fought anybody with similar skills.
His rematch with Velasquez later this year should shed some light on how good the Brazilian truly is, and a future title bout with Overeem will determine whether his boxing is suitable against a world-class kickboxer.
The bottom line is that Dos Santos has never been tested by the best. He's never been challenged on the ground, possesses an untested chin and has never been placed in front of a compatible striker.
With the UFC heavyweight division putting on pounds by the signing, Dos Santos' time as champion could be limited.
For more UFC news and coverage, Follow @DHiergesell
Keep Reading