Usain Bolt: Projecting How Sprint Star Would Fare in Other Olympic Track Events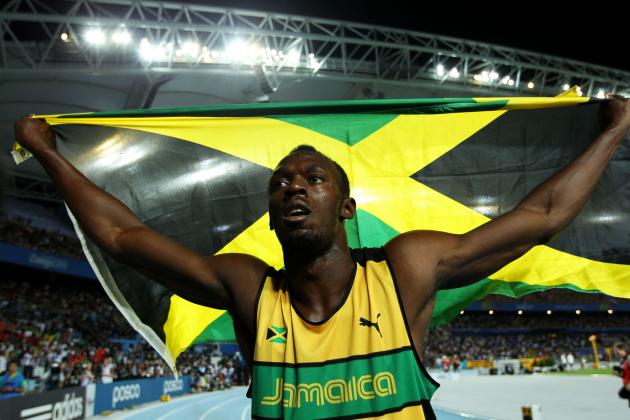 Ian Walton/Getty Images

Sure, Usain Bolt is the world's fastest man, but his true level of athleticism would be tested by competing in non-sprinting events at the 2012 Summer Olympics.
The long jump, for example, would be a great opportunity for Bolt to take advantage of his supreme level of speed and acceleration. And because he could build up much more momentum in comparison to other long-jumpers, Bolt would legitimately contend for a medal.
Later we'll break down Bolt and the long jump, but first, let's see how the speedster would pan out in some other track and field events.
Begin Slideshow

»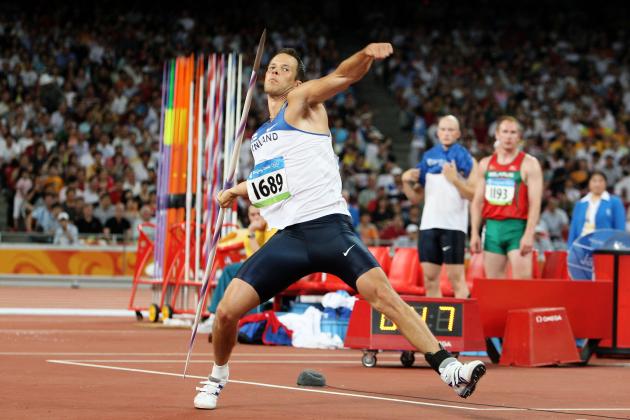 Mark Dadswell/Getty Images

One thing that gets overlooked about sprinters is how strong the upper body has to be.
Yes, explosive and strong legs are needed with quick feet and fast acceleration. But possessing a strong upper body allows sprinters to move even quicker, because that means they have strong lungs and use their arms as part of a flawless running form.
The javelin requires a similar body build to sprinting. However, in javelin one must transition from running to throwing in an immediate fashion before a foul occurs. Body control is vitally important, as is utilizing kinetic energy.
Usain Bolt would be interesting to watch here because his initial acceleration alone provides enough momentum for a good throw. The technique of the throw, though, takes longer to perfect, and Bolt would likely foul quite often from his overall speed.
Projection: 68 meters (223 feet, one inch), two fouls
Here is an event that really tests one's leg strength and ability to remain balanced throughout.
The triple jump is much more difficult than meets the eye. It requires the strength to jump on each leg and gain more than 50 percent of one's long-jump distance with each bound.
So, if an athlete long jumps 24 feet, he or she must be able to bound more than 12 feet. With his speed alone though, Bolt would surely top 24 or even 25 feet in the long jump, but getting even 12 feet per bound on the triple jump wouldn't even mark in the Olympics.
Fortunately, Bolt's quick explosion from the start and strength to push off his feet from sprinting are so fast that he would transition well into the triple jump. He would certainly do better than the javelin throw, but not well enough to make the Olympic finals.
After all, to qualify for the finals at the Beijing Games, 17.11 meters (56 feet, one inch) was the shortest mark.
Projection: 16.5 meters (54'1"), one foul
Usain Bolt's forte is not the 400-meter dash. However, he can still put on a strong show like did in 2010, running 45.85 seconds.
His personal best stands at 45.28 seconds, which would have been good enough to make the semifinals at the Beijing Games in 2008. In addition, Bolt ran the second-fastest 300-meter dash time ever (30.97) in 2010.
If Bolt were to continue his elite 300-meter ability and gain a bit more stamina, he would immediately develop as a 400-meter contender. His sprinting skill bodes well for the beginning and end of the 400, so building those lungs for the middle portion and properly running the turn would get him to the next level.
Not to mention that he would certainly improve his time against stronger competition just from adrenaline alone.
Projection: Prelims- 45.25 seconds, Semis- 44.9 seconds, Finals- 44.73 seconds (fifth place)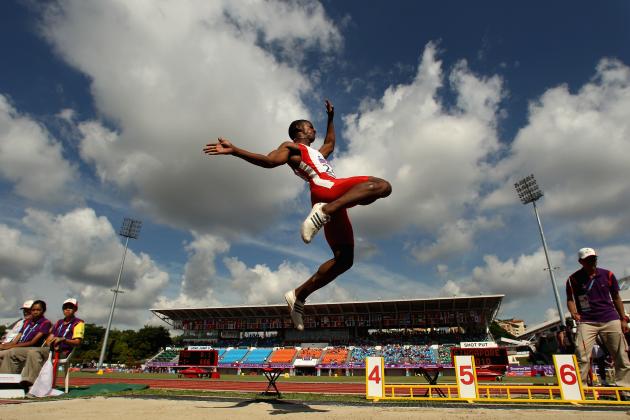 Mark Dadswell/Getty Images

The long jump is much easier than the triple and far less difficult than the 400-meter dash.
Here, all Usain Bolt has to do is burst out like he's sprinting in the 100- or 200-meter dash and launch off the board. He's obviously faster than any of the jumpers, so the only real concern for Bolt would be getting his steps and aerial form perfected.
As for his steps, it's just a matter of feeling the distance of the board as it gets closer.
Once off the ground though, limiting movement against the air resistance is key to maintaining momentum. Bolt's top speed and strength alone would certainly land him above 26 feet, so buffing out the rough spots from steps to air movement must get worked.
Once those two parts are performed well enough, all that's left for Bolt is to run, jump and then soar through the air.
Projection: Prelims- 8.05 meters (26'4"), Finals- 8.17 meters (26'9") (fourth place)
Okay, so the 20-kilometer walk race isn't the most exciting of events.
Nevertheless, how intriguing would it be to see how fast the world's fastest man could walk? For one, Bolt's height of 6'5" would give him a major advantage, and from there it's all just building stamina.
By no means is a 20-kilometer walk going to be easy—the event lasts roughly 90 minutes. The other distinct advantage for Bolt resides in quickness with each step. At all times, the athletes must be touching the ground and the urge to take off running must be withstood.
That alone would be the most difficult aspect for Bolt. Combine that with the race's length, and it's tough to choose him as the favorite. This walk race requires much more strategy than sprinting, and we'd get to see Bolt journey through a true mental and physical test against the world's fastest walkers.
Projection: 1 hour, 24 minutes and 58 seconds (31st place)
Follow John Rozum on Twitter.