R.A. Dickey Among 5 National League Players Who Need a Good Week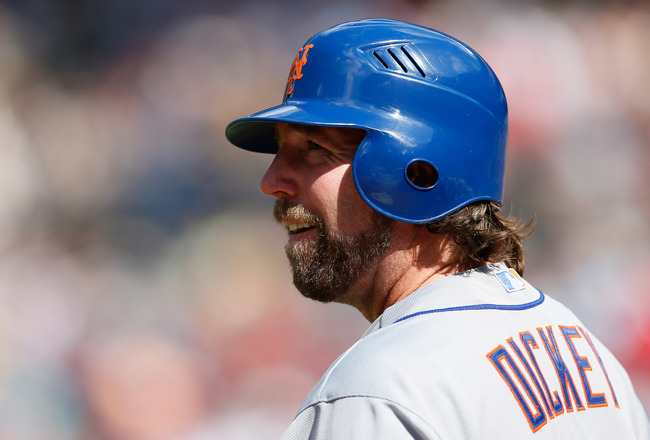 R.A. Dickey has allowed five runs in three of his past four starts.
Kevin C. Cox/Getty Images
Friday started off the second half of the 2012 season. Presumably, that provides an opportunity for players to evaluate how their years have gone so far. For some who might need it, the second half could be a fresh start.
Some players needed the four days off that came with the All-Star break. Maybe several of them were looking ahead to the time off, like most of us do the Friday before leaving for vacation. They're mentally checked out.
With that break out of the way and the relaxation and recuperation that presumably came with it, players can go about turning their seasons around, maintaining their excellent performances or perhaps resetting themselves to regain a magic touch they had earlier in the year.
Each of the five players listed here fit one of those categories. Here are a quintet of National Leaguers who need to have a good week.
Ian Kennedy, Arizona Diamondbacks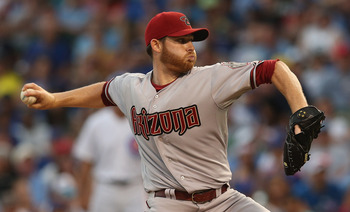 Jonathan Daniel/Getty Images
The Arizona Diamondbacks are in danger of falling out of the NL West race again. Going into Monday's play, the D-Backs are in third place, 6.5 games behind the Giants and five games back of the Dodgers.
For the D-Backs to get back in the race, they need their starting pitching to lead the way, much as it did last year. The rotation should take a cue from its No. 1 starter. The ace sets the example for the rest of the rotation to follow.
Ian Kennedy did that last year for Arizona, when he pitched like a Cy Young Award candidate. He finished with a 21-4 record and 2.88 ERA.
This year, his record is 6-8 with a 4.55 ERA. In his past two starts, Kennedy has allowed 10 runs and 16 hits in 12 innings.
On Friday, he gave up six runs to the Cubs, serving up two homers to Alfonso Soriano. It was one of Kennedy's worst performances of the season.
Unfortunately for him, Kennedy's next start is Wednesday at Great American Ball Park in Cincinnati. That's hardly the ideal venue for a pitcher to right himself. Where's Petco Park when he needs it?
Scott Rolen, Cincinnati Reds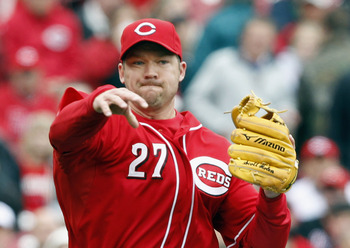 Matt Sullivan/Getty Images
Scott Rolen may have been the Reds' starting third baseman to begin the season. But a shoulder injury knocked him out, allowing rookie Todd Frazier to seize the position and become a meaningful contributor to a division title contender.
Coming out of the All-Star break, however, Reds manager Dusty Baker apparently wants to see what he can get out of Rolen now that he's back healthy.
Rolen started two of the Reds' past three games at third base. He hit well in both games, batting 4-for-8 overall with two RBI. That nudged his season slash average up to .197/.260/.314 in 150 plate appearances.
Compare that to Frazier, who's hitting .279/.348/.568 with 10 homers and 30 RBI in 204 plate appearances. Who should be playing at third base for the Reds?
In Dusty we trusty? Well, we can certainly trusty Dusty to go with his veterans, even when a younger player looks like the obvious choice to play. However, Baker needs to see what he has with Rolen, rather than let him gather dust on the bench.
So far, Rolen is off to a good start since returning. But can he keep that up?
Danny Espinosa, Washington Nationals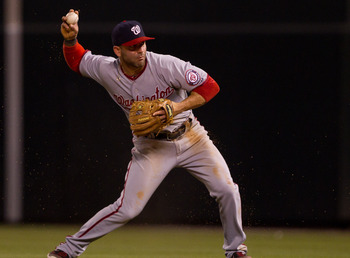 Justin Edmonds/Getty Images
Danny Espinosa has been a disappointment all season for the Washington Nationals, batting .230/.304/.371.
Even more of a letdown has been his lack of power, as you can see from that .371 slugging percentage. Last year, Espinosa hit 21 home runs. This year, he's on pace for 14.
Yet Nats manager Davey Johnson pencils Espinosa into the lineup every night because he's still the best second baseman the team has. (Well, Steve Lombardozzi might disagree. But he can help the team at a variety of positions.)
With Ian Desmond out due to an oblique strain, Espinosa will fill in as the Nationals shortstop. As the Washington Post's Adam Kilgore points out, Espinosa played shortstop in college and in the minors, so he should be a capable replacement.
However, unless Espinosa starts swinging the bat, Desmond's absence will be even more noticeable. Desmond is hitting .287/.317/.511, leads the Nationals with 17 homers and was a surprise All-Star.
That's quite a drop-off for the Nats. But if Espinosa hits while he's filling in for Desmond, the lineup won't suffer greatly.
Shane Victorino, Philadelphia Phillies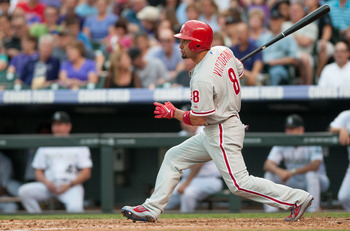 Dustin Bradford/Getty Images
Maybe it won't matter if Shane Victorino has a good week because it looks like he's going to be in another uniform soon. Though maybe not, as ESPN's Buster Olney reports that the Phillies are asking for a lot in return.
However, with the Dodgers, Yankees and Tigers reportedly among the teams scouting Victorino, a trade appears to be more than just a possibility.
Victorino would help his own cause by playing well during the next two weeks leading up to the July 31 trade deadline. He might even help the Phillies by allowing them to receive a bigger return in exchange for him.
Maybe the trade rumors have given Victorino a jolt. He batted 3-for-8 in his past two games. That's pushed him up to a season average of .245/.311/.379 with eight homers and 38 RBI.
A .690 OPS isn't usually something that fetches a big package in trade. But teams desperate for outfield help might be willing to overpay, which is exactly why Phillies general manager Ruben Amaro Jr. should deal Victorino.
Facing the Dodgers and Giants pitching staffs over the Phillies' next six games might not help Victorino's performance this week, however.
R.A. Dickey, New York Mets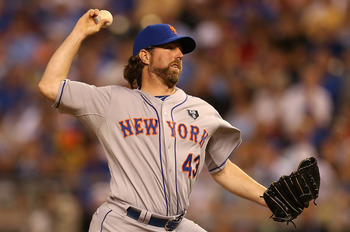 Jonathan Daniel/Getty Images
R.A. Dickey has basically been the darling of the baseball world for the first half of the season. Fans and observers got caught up in his compelling story, his path from the fringes of the sport to success in the major leagues. And there's just always a curiosity about the knuckleball.
Were we deprived of a fun moment when NL All-Star manager Tony La Russa opted to start the Giants' Matt Cain in last Tuesday's midsummer classic, rather than Dickey? I believe so. Especially since the game turned out to be a dud. At least give us a good story and let us watch that knuckleball for two innings.
However, the shine is beginning to come off Dickey just a bit in recent starts. After looking virtually unhittable and throwing like the best pitcher in baseball, the knuckleball has been failing Dickey and opposing batters are teeing off.
In three of his past four starts, Dickey has allowed five runs. To be fair, he faced some excellent lineups in the Yankees and Braves. The Phillies, probably not so much, but that's a division rival familiar with Dickey's game. The knuckleballer did shut out the Dodgers during that four-game stretch, but that was a feeble offense without Matt Kemp and Andre Ethier in the lineup.
Dickey's next start is against the Nationals, who have been swinging the bats extremely well in recent weeks. Not only does Dickey need to show he can keep a good lineup in check again, but the Mets really need any game they can get against the division-leading Nats to stay in the NL East race.
Last time Dickey faced the Nationals, he shut them out for 7.1 innings and held them to four hits. Can he come through with a repeat of that performance on Wednesday?
Follow @iancass on Twitter
Keep Reading