Baltimore Ravens Get It Right by Giving Ray Rice Long-Term Deal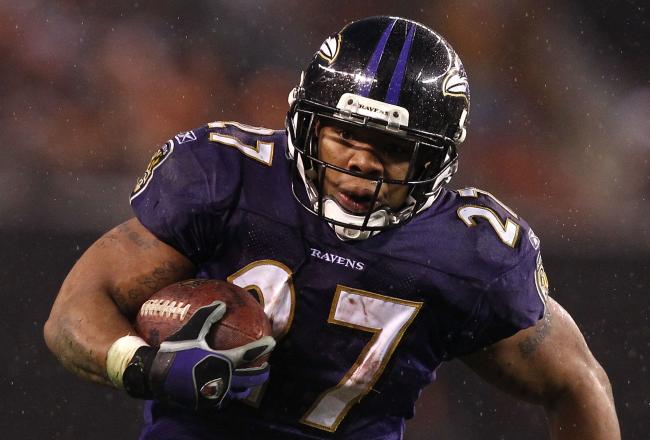 The Ravens saw the light and gave Ray Rice the long-term contract he most certainly deserved.
Matt Sullivan/Getty Images
Monday's 4:00 p.m. deadline for franchise-tagged players to receive long-term extensions rapidly approached with rumors swirling madly that Baltimore Ravens running back Ray Rice would get himself a last-minute deal. Indeed, that did come to pass, with the Ravens giving Rice a five-year, $35-$40 million deal that includes $25 million in guaranteed money over the first two years (including $17 million this season).
With news coming earlier in the day that the Chicago Bears finally agreed to a deal with their own franchise-tagged running back, Matt Forte, the hope was the Ravens would also make the move to lock down their own playmaker. That they did, doing the smartest thing they could for both the franchise and their RB.
Rice had the most yards from scrimmage of any offensive non-quarterback player last season, racking up 1,364 rushing yards, 704 receiving yards and scoring 15 total touchdowns. It practically goes without saying, then, that Rice was the most valuable member of the Ravens offense last year, and it made sense why he'd want more job security as well as money as a result.
You know what's painful to consider? A Ravens offense without this.
As long as Cam Cameron is calling the plays in Baltimore, it's fair to say that the Ravens won't be known for their passing game. Add into that the oft-inconsistent play of quarterback Joe Flacco, and Rice quickly becomes the Ravens' most reliable member of their offense. To not pay him what he's worth, and to not lock him down to a long-term deal, would have been a ridiculous misstep by the Ravens front office.
There's an inherent risk to paying a running back such a hefty deal, but that kind of conventional thinking needs to be thrown out the window when discussing a player like Rice.
Rice is a talented, shifty running back, but he's also integral to Baltimore's passing game. He caught 76 passes last season—the most of any player in the AFC North. He hasn't shown any signs of wearing down, he hasn't missed a game in three seasons, and he hasn't done anything other than outperform expectations season after season.
In the past three years, Rice has had at least 1,200 rushing yards and over 500 receiving yards per season. He's been nothing but consistently high-performing, and there's no worry that this production will somehow magically drop off or that he'll immediately get injured simply because the Ravens chose to pay him what he's worth.
How do you feel about the Ray Rice contract?
Without getting this deal done with their star back now, the Ravens would have been in a troublesome position next season. Baltimore would have had to juggle dealing with Rice's (very acceptable) demands, giving a new deal to Flacco, and finding the cash to extend safety Ed Reed—and that juggling act could very well have resulted in Rice getting his payday elsewhere.
Paying Rice this pricey deal isn't a gamble the way it was when the Tennessee Titans shelled out for Chris Johnson last year.
It's not that the Ravens are simply rewarding Rice for past performance—which is what the Titans ultimately did. They are just confident that what he's contributed in the last three years will continue on, uninterrupted, as long as Rice is able to do so. At 25 years old, there's a considerably large amount of gas left in Rice's tank. After all, he's spent the last three years making 300 carries per season look like a simple undertaking.
Say what you will about Forte, Arian Foster, Adrian Peterson and LeSean McCoy, but Rice is the better all-purpose player. The fact that the Ravens have acknowledged this by paying him such a hefty sum of $25 million guaranteed isn't a dumb or risky move—it's the single smartest thing the organization could have done.
Regardless of what may or may not change on the Ravens offense in the coming seasons, one thing is now certain: Rice will be there. It's safe to exhale now, Ravens fans.
This article is
What is the duplicate article?
Why is this article offensive?
Where is this article plagiarized from?
Why is this article poorly edited?