New York Giants 2012: Training Camp Battles to Watch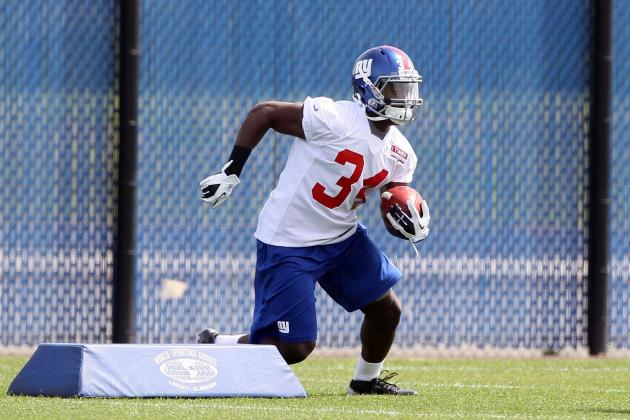 Jim McIsaac/Getty Images

It's not easy being the defending world champions of football. In 2012, the New York Giants will be targeted by the rest of the NFL, highly scrutinized by the media and will face heavy expectations from their fans.
When you combine the pressure with the numerous roster departures of this offseason, the Giants will be looking for some new guys to step up and continue the success of the 2011 title squad.
Several position battles are set to rage in Albany during training camp to determine who will man critical positions for Big Blue in 2012.
Here are the competitions to watch.
Begin Slideshow

»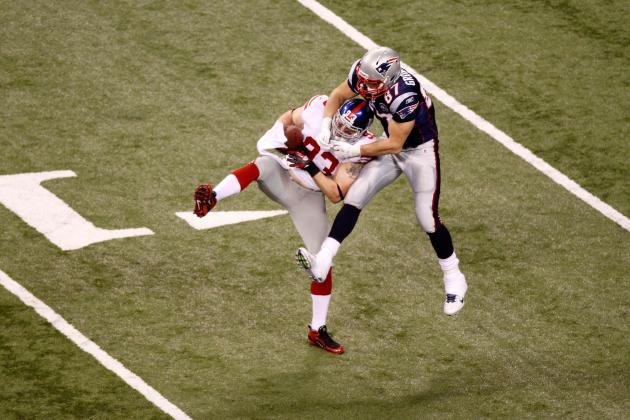 Gregory Shamus/Getty Images

Contenders: Mark Herzlich, Chase Blackburn, Jacquian Williams, Greg Jones, Adrian Tracy
Middle linebacker was a bit of a hole in the defense for the New York Giants last season. With a rotation of rookies and unproven players, the Giants had no answer at the position until the signing of Chase Blackburn in Week 13.
Rather than drafting a new prospect for the spot, the team is confident that they have the answer on their roster.
Given Blackburn's leadership, veteran experience and role he played in the Super Bowl run, he likely will enter camp with an edge to get the starting role. Many will remember his interception of Tom Brady in the Super Bowl as the turning point in that game.
His main competition for the role will come from Mark Herzlich, the undrafted free agent who survived his battle with cancer to reach the NFL. He showed potential as a run stopper and leader in 2011 and has already shown the necessary drive.
It is possible that defensive coordinator Perry Fewell goes with a rotation at middle linebacker, much as he did during the playoffs.
Starting MLB: Chase Blackburn
Rotational Player: Mark Herzlich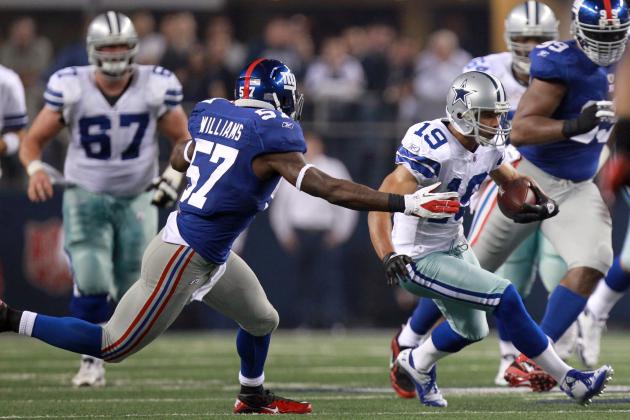 Ronald Martinez/Getty Images

Contenders: Keith Rivers, Jacquian Williams, Spencer Paysinger, Clint Sintim
This battle will decide who gets to play opposite Michael Boley at outside linebacker, since nothing short of a devastating injury will lose Boley his well-earned job.
Clint Sintim was drafted to fill this role, but he has been nothing short of a massive bust and is therefore unlikely to earn the job. Jacquian Williams was all but locked into the starting spot after his stellar playoff run, but the acquisition of former Cincinnati Bengal Keith Rivers has shaken things up a bit.
A former top-10 pick, Rivers has seen his career upended by injuries, but has the talent to be a key starter if he stays on the field. The trade for him was low-risk for New York, as only a fifth-round pick was sent to Cincinnati.
Williams proved to be stellar in coverage during the postseason, using his athleticism to keep up with Vernon Davis and other dangerous tight ends. Though his tackling could use work, Williams clearly has the talent to be a starting linebacker.
The training camp battle will likely be won by the more experienced Rivers and Williams' participation on special teams will also prompt the coaching staff to limit his snaps for fear of injury. Despite that, expect him to see plenty of snaps in Perry Fewell's exotic defensive system.
Starting OLB: Keith Rivers
Rotational Player: Jacquian Williams
Jeff Zelevansky/Getty Images

Contenders: Ruben Randle, Jerrel Jernigan, Ramses Barden, Domenik Hixon
Hakeem Nicks and Victor Cruz together form one of the most dynamic and lethal wide receiver tandems in the entire NFL, leaving their third companion to occasionally be forgotten.
Nobody has forgotten Mario Manningham, the man who made what proved to be the catch that saved the Super Bowl for New York. His key contributions over the course of the season will need to be replicated by his replacement.
The Giants' third wide receiver will have to be okay with being a lower priority option, able to block and make plays off the ball in addition to making the important plays when Nicks or Cruz see double teams.
Ramses Barden and Jerrel Jernigan have not been overly impressive in their limited time on the field so far and Domenik Hixon is an injury risk every time he suits up.
Ruben Randle is a wild card, coming from an LSU team that had a fluctuating quarterback situation during his time there. Widely considered a first- or second-round talent, Randle has the ability to make a splash for the Giants, as his size will allow him to perform the other duties outlined above.
This one should come down to the wire during the preseason. Randle's talent will either make him the clear winner, or Ramses Barden will capitalize on his incredible size (6'6'') to edge the competition. Jernigan could use a few more years to develop and Hixon is too much of an injury risk.
Starting WR3: Ruben Randle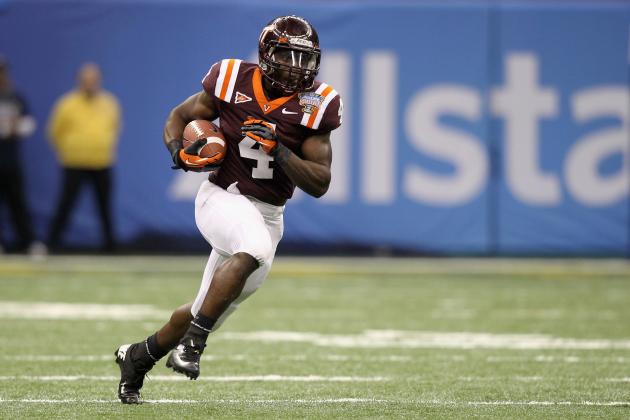 Matthew Stockman/Getty Images

Contenders: David Wilson, Da'Rel Scott, Domenik Hixon
Punt and kick returns have been a gaping hole on the New York Giants for a number of seasons now. We were spelled at one point by Domenik Hixon, but injuries and forced prominence as a wide receiver in the wake of Plaxico Burress have kept him away from special teams.
Tom Coughlin loves to preach field position, and thankfully he might now have something to work with in the return game.
First-round pick David Wilson was a decorated kick returner for Virginia Tech and will almost certainly receive a role during kickoff situations. Whether or not he returns punts will largely depend on his involvement in the offense behind Ahmad Bradshaw
Punt returns could be given to Domenik Hixon, given his return history and projected lack of snaps on offense.
Scott will likely take over kick return duties opposite Wilson, making this battle less of a "who gets to play" and more of a "who gets to play most" situation.
Priority Kick Returner: David Wilson
Secondary Kick Returner: Da'Rel Scott
Punt Returner: Domenik Hixon
Contenders: David Wilson, D.J Ware, Da'Rel Scott, Henry Hynoski
Ok, not really Henry Hynoski. Maybe he gets a goal line carry here and there.
The New York Giants love to fancy themselves as a running team, even with Eli Manning's growing prowess under center.
The departure of Brandon Jacobs has left a 265-pound hole in the backfield that will need to be filled. There are three backs on the Giants roster who are itching to take over his spot as backup to Ahmad Bradshaw.
Bradshaw has all the talent to be a bell-cow, but nagging foot injuries have made it safer to have him lead a platoon of runners, rather than take the world on by himself. The Giants will likely employ a three-back system, similar to the "Earth, Wind and Fire" backfield of Jacobs, Derrick Ward and Bradshaw from 2008.
Each of the three potential replacements has a gold star on his resume to give him an edge.
D.J Ware is the oldest by far, and is the savvy veteran at 27 years old. He also happens to be the biggest of the three, weighing in at 225 pounds for his six-foot frame. Replacing Jacobs will require somebody who can pound the rock inside and Ware is the only heavy back on New York's roster.
He has never blown up the box score in his career, but he did make some of the most memorable clutch plays of 2011. Fans are not likely to forget his two-point conversion on the draw to tie the Packers back in Week 13. He isn't flashy, but he can make small plays when he needs to, which is what you want from a large second string running back.
Da'Rel Scott was a completely unused rookie last year, but what Giants fan is going to forget his 97-yard touchdown run in the 2011 preseason? He has some developing to do, but we all know what happened to the Giants' last unheralded preseason hero (Victor Cruz).
David Wilson has the pedigree of being the Giants' first-round pick in the 2012 draft. That, combined with his 4.4 40-yard dash time practically demands that he be given the RB3 position. He can be utilized as the guy who gets five or fewer touches per game, but averages 10+ yards per carry.
Running back is a dangerous job and one or more of these guys is likely to get hurt at some point in 2012. Luckily for Giants fans, it should all work out either way.
Second-string Running Back (Power): D.J Ware
Third-string Running Back (Explosive): David Wilson