Lakers Rumors: Stat Predictions for Kobe, Nash and Team If Grant Hill Goes to LA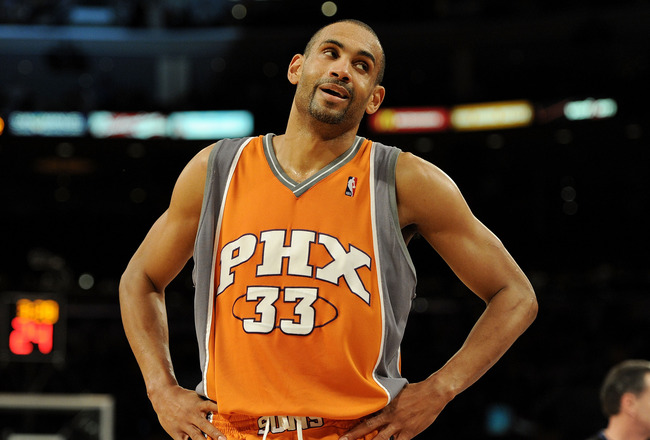 Harry How/Getty Images
Quick—someone call up Morgan Freeman. The NBA's aging stars are marching like penguins to join the Los Angeles Lakers and there's nobody around to narrate the documentary!
Actually, that's not true. There's no shortage of famous actors in LA who could lend their smooth vocal stylings to such an endeavor, especially now that Grant Hill appears to be leaning his way into purple and gold.
Thanks in no small part to close friend Steve Nash and longtime "foe" Kobe Bryant, his two prospective teammates.
Adding a 39-year-old Hill would hardly vault the Lakers to the top of the list of title contenders, nor would missing out on him leave the team mired in the middle like Malcolm.
Supposing Hill signs on the dotted line in the City of Angels, what might his statistical contributions look like on this revamped Lakers squad, next to those of Kobe, Nash and the rest of the residents at the Staples Center?
Grant Hill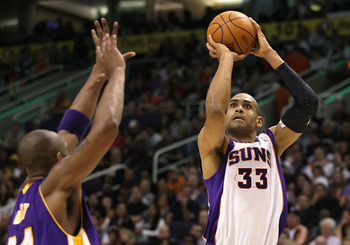 Christian Petersen/Getty Images
First and foremost, what can Lakers fans expect to see from Grant Hill if he does, indeed, decide to play in LA?
On the one hand, Hill is the second-oldest active player in the NBA (one day behind Kurt Thomas) and will turn 40 in early October.
On the other hand, he's still in tremendous shape, his body spared the usual wear and tear of 17 seasons spent in The Association "thanks" to so many months missed with ankle problems during his days with the Orlando Magic.
That being said, Hill's productivity would hinge on his role with the Lakers. He'd see significant minutes at small forward, though whether he'd be a starter or a reserve would likely depend on how fit Metta World Peace will be to start the season.
Which remains something of a question after The Basketball Player Formerly Known as Ron Artest came into last season in such poor shape.
In any case, it'd be reasonable to expect Hill to average around 10 points per game if he's able to log 25-30 minutes on the wing in LA. He's never gone a full season as anything less than a double-digit scorer, with last year's 10.2-point output setting a new career-low.
Not that the Lakers would mind even that much from Hill. Only three Lakers (four if you count Ramon Sessions) put up more than 10 points per game during the 2011-12 regular season.
If Hill can do that much, while hitting shots on kickouts and playing solid perimeter defense, LA will be that much more grateful to have him aboard.
Steve Nash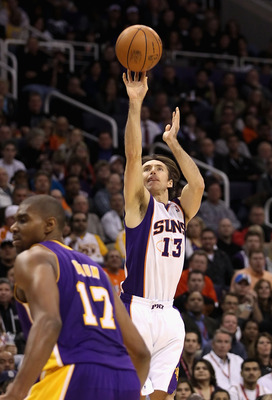 Christian Petersen/Getty Images
Setting up Hill on the outside, just like back in Phoenix, would be Steve Nash. How exactly Nash will fit into the Lakers' system remains something of a mystery, perhaps even to head coach Mike Brown.
It's reasonable to suggest, though, that Nash's numbers will fluctuate to and fro while playing alongside another ball-dominant guard in Kobe Bryant. More specifically, Nash may well see his assist numbers dip somewhat next season as he adjusts to being something other than the focal point of his team's offense.
The fact that none of Kobe's backcourt sidekicks have ever averaged more than 8.5 assists shouldn't deter Nash, seeing as how he's far better than anyone the Black Mamba's ever played with on the perimeter. A drop from his 10.7 dimes last season to, say, nine as a Laker—still more than he ever averaged while teamed with Dirk Nowitzki in Dallas—is well within reason.
So, too, is a corresponding increase in his scoring. With All-Stars like Kobe, Andrew Bynum and Pau Gasol by his side, Nash is bound to accrue more than a few additional open looks, be it as the ballhandler in pick-and-roll situations or as a spot-up shooter on passes out from LA's pre-existing Big 3.
An uptick to 15 points per game, then, from 12.5 in his last campaign, would be a fair expectation for Nash even at the age of 38.
Assuming, of course, that his shooting stroke is still pure enough to flirt with 50-40-90 shooting splits.
Kobe Bryant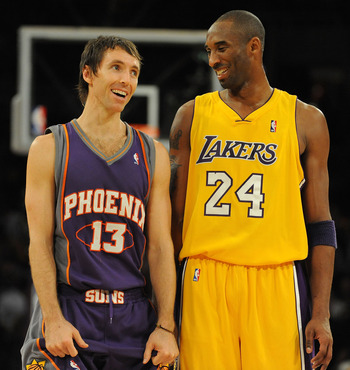 Harry How/Getty Images
If all goes according to plan, Kobe's numbers will decline across the board, thereby setting off a brand new national debate, the parameters of which Skip Bayless has yet to outline.
Probably something along the lines of, "Is Kobe still the Lakers' best/most important player?" or "Is Nash stealing Kobe's thunder?" or "Would the Lakers be better off amnestying Kobe?"
The Black Mamba's usage rate hasn't sneaked under the 30 percent threshold since Shaquille O'Neal's last season in LA, but could stand to do just that if Nash siphons off some of Kobe's ball-handling duties and decides to spend more of that time dishing to Pau and Bynum.
For the good of the Lakers, of course, and perhaps even to Bryant's benefit. Kobe's scoring (27.9 points per game) and shot-taking (23 shots per game) should drop somewhat—closer to 25 points on 18-20 shots—though his percentages should improve.
Assuming Kobe doesn't mess up his wrist in the preseason again (as he did last fall), he should be ready, willing and able to knock down however many open shots Nash is able to set up for him.
Grant Hill's presence off the bench would presumably give Lakers coach Mike Brown the leeway to reduce Kobe's minutes somewhat, after spending all of last season without a reliable backup at shooting guard.
And who knows? Maybe Nash's unselfishness will be so contagious that Kobe's assist totals will creep up a bit, from 4.6 to 5.5 per game...
Yeah, let's not get too far ahead of ourselves.
The Rest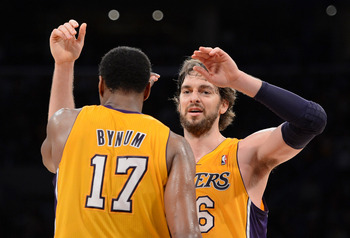 Harry How/Getty Images
As for the rest of the Lakers, the arrivals of Nash and (potentially) Hill should have significant ripple effects across the board.
Andrew Bynum and Pau Gasol both figure to post double-doubles as they did last season while shooting better than 50 percent from the field. Each is well-suited to playing the two-man screen game with Nash—Bynum as a big guy to roll to the rim and Gasol as a pick-setter who can pop out to 18 feet, thanks to his feathery touch from the perimeter.
Minutes won't be easy to come by for Steve Blake, even less so for Andrew Goudelock and Darius Morris, so long as Nash is busy running the show.
At the small forward, Hill's presence would likely lead to less playing time for Metta World Peace and Devin Ebanks, who just re-signed with the Lakers as a restricted free agent, and push Matt Barnes out the door entirely.
That being said, MWP's numbers might actually improve as his minutes drop, thanks to a healthy offseason in which he will (presumably) do a better job of staying in shape than he did last summer.
If that case holds, look for him to average about nine points and four rebounds per game, with Ebanks getting most of his run in garbage time.
Keep Reading

Los Angeles Lakers: Like this team?