Los Angeles Lakers: 5 Plays We Can't Wait to See from Steve Nash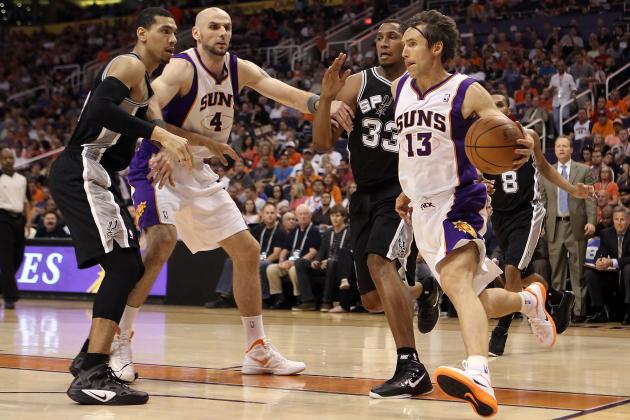 Christian Petersen/Getty Images

After the Los Angeles Lakers traded for Steve Nash, they immediately became a front-runner to win the NBA championship next season.
And with good reason.
Wherever Nash has played, he has made the players around him better. It also helped that he was able to play with Dirk Nowitzki in Dallas and Amar'e Stoudemire in Phoenix.
Now, he has Kobe Bryant in L.A., and he is in the best position he's ever been to winning his first NBA championship.
Nash is a professional on and off the court. His ability to run the floor and be the ultimate playmaker has solidified his reputation as one of the best visions in the league.
Even though the two-time MVP is 38, his skills are still far more superior to nearly every other point guard in the NBA. Here are some of the exciting plays Nash will be executing in Los Angeles.
Begin Slideshow

»
Steve Nash's vision is something Lens Crafters or Eye Masters should market.
In this video, despite having three defenders on him, Nash was able to see where his big man Robin Lopez was on the floor and delivered a jaw-dropping, behind-the-back pass under the basket.
Props go to Lopez for focusing on Nash the entire time and expecting the pass even though the entire Cavaliers defense didn't.
Now, Nash will have Andrew Bynum and Pau Gasol under the basket to catch these passes, and it gives the Lakers an even more dangerous threat down low.
Nash is dangerous from anywhere on the court.
In this video, anyone else would have turned the ball over or stepped out of bounds.
Luckily for the Lakers, (except in this video) Steve Nash isn't like everybody else.
The point guard is supposed to be the floor master general. He sets up the offense and orchestrates the tempo of the game. If you double team the point guard and force him to make an impossible play, nine times out of 10 the ball will be coming back to you.
Unfortunately for any team playing against Nash, they will have to head back to the drawing boards and conjure up something that hasn't even been thought of yet in order to get him to turn the ball over.
He's just that good.
What separates Nash from almost every other point guard in the NBA is his ability to draw defenders solely to him and hit open players in stride.
Although that sounds like more of a football reference than a basketball reference, watch Nash at the :10 mark as he forces two Cleveland defenders to guard him while he delivers a terrific bounce pass in the paint to Amar'e Stoudemire.
Defenders are so focused on Nash because they know he has the ability to beat them with the pass or the shot. Opposing teams guess wrong nearly every time.
With Nash's soccer background, he has extraordinary vision in seeing where players are going to be and where to drop off beautiful passes.
He's done it his entire career.
This is Nash bringing Chris Paul back down to earth as he displays his ball-handling skills in full force.
He forces defenders towards him because they think that double-teaming him will force a turnover. Sometimes teams flat-out respect him by letting one person guard him so they can cover everyone else on the floor.
As the video shows, nobody is safe against Steve Nash. It also shows that he can make even the best point guards in the NBA look silly.
As dreadful as the Lakers were at the point guard position last year, they will be unstoppable with Nash setting up plays.
As bland as a title as this slide may have, the fact of the matter is that Steve Nash controls the baseline better than anybody else in the NBA.
With his quick and nimble feet, along with his ability to know where everyone is on the court, Nash can draw defenders towards him even when he's in the most obscure spot on the floor.
After he gets past them, like he does in this video against the San Antonio Spurs, teams generally assume he'll dish it off to one of the three guys they've left open.
Just when they think they've got him figured out, Nash breaks their hearts with a layup of his own and leaves them scratching their heads.