Why Orlando Magic Rookie Andrew Nicholson Will Thrive in Orlando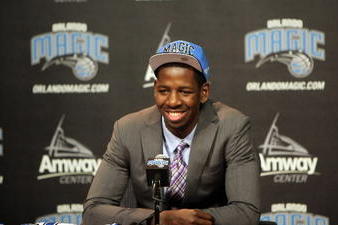 Andrew Nicholson

With all of the questions currently surrounding the Orlando Magic franchise, one thing is for certain: rookie Andrew Nicholson is ready to contribute immediately.
The former St. Bonaventure big man, who was picked 19th in last month's NBA draft, has a promising future in the Association. His solid athleticism coupled with his mature offensive game will allow the power forward to possess a role in the rotation right out of the gates.
Despite being a tad undersized for the NBA—as he is only 6'9" and 240 pounds—Nicholson was one of the most touted big man coming into the draft. His refined post-game, which includes a nifty hook and quality turnaround jumper, and ability to also face-up his opponent due to his quick footwork, made him arguably the safest pick in the draft.
Additionally, Nicholson can finish efficiently with either hand under the basket—a simple but necessary skill.
However, Nicholson doesn't just need to be under the basket to score. Due to the weak talent level at St. Bonaventure, there were times last season when Nicholson had to contribute on the perimeter. While many big men would struggle outside of the arc, this big man thrives taking his man off the dribble.
He also possesses a quick mid-range shot in his wide offensive arsenal. The fact that this big man can score in a plethora of ways is a true testament to the dedication and work ethic he currently has.
Many first-round prospects enter the league with a sense of entitlement. This is simply not the case with Nicholson.
This Canadian product has worked tirelessly to get noticed by NBA scouts. When a talented athlete plays for a rather small school like St. Bonaventure, which hails in the Atlantic 10, it is hard to receive the professional attention deserved.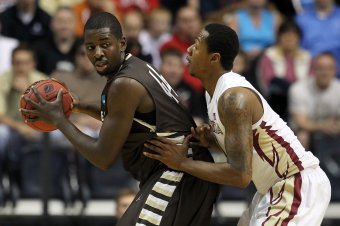 Jamie Squire/Getty Images
"It's very exciting," Nicholson said, shortly after the Magic made their selection (from the National Post). "It's something that I have worked hard for, for so long."
Nonetheless, Nicholson put St. Bonaventure on the basketball map, as the team reached the NCAA tournament this season.
Behind his 18.5 points, 8.4 rebounds and two blocks per game, the big man made this team a force to be reckoned with. While his production is fantastic, though, his mere presence has greatly changed the basketball atmosphere on the Bonnies, according to Pete Thamel of the NY Times.
"If that confluence of events appears improbable, consider the results that Nicholson produced since arriving four years ago. He is poised to become the rare physics major to be picked in the first round of the N.B.A. draft. He has emerged as the face of the university in the wake of a searing scandal nine years ago and has carried a program with the smallest budget in the Atlantic 10 to the N.C.A.A. tournament."
Even though the power forward saw some of his key statistics decrease from last season—which is part of the reason many teams shied away from him—the fact that he led his team to a postseason berth shows his heart, maturity and leadership.
If there is one thing Orlando needs with the Dwight Howard debacle suffocating the franchise, it is the aforementioned three qualities. He is a four-year collegiate player—an uncommon feat right now in the NBA—and majored in physics.
When the organization initially drafted Nicholson, I was a bit puzzled. With Perry Jones III still on the big board and numerous glaring holes on the roster, why would the team elect to select a relatively unknown prospect?
Well, recently-acquired general manager Rob Hennigan must have saw the desire Nicholson holds to succeed. Why else would they draft another power forward, the one position with depth on the roster?
From the Magic's official website:
"We are excited to have Andrew (Nicholson) join our Orlando Magic family," said General Manager Rob Hennigan. "We feel he embodies the types of values that will put him in a position to achieve success here. He's a humble, high character player, who's committed to working hard and playing within a team concept. We are intrigued by his cerebral, instinctual approach to the game."
With both Ryan Anderson, who just won Most Improved Player of the Year honors, and Glen Davis, who was the team's sixth man, on the roster, the minutes available at power forward were slim to none. The rookie was projected to see minutes only in garbage time.
However, Hennigan shipped Anderson to New Orleans in a sign-and-trade and there have been rumors that Glen Davis may be included in a Dwight Howard deal (from ESPN). Obviously, Orlando truly believes Nicholson is a special player, and for good reason.
Nicholson dominated in the Orlando Summer League, averaging 12.8 points and 6.8 rebounds per contest. The big man had a 24-point, 12-rebound performance against the Brooklyn Nets in his first professional outing.
His efforts throughout the week awarded him first-team honors, along with Indiana's Lance Stephenson and Miles Plumlee, Utah's Alec Burks and Detroit's Austin Daye.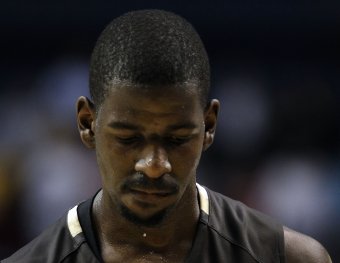 Jamie Squire/Getty Images
In fact, I had the opportunity to meet Andrew Nicholson before Orlando's game before the Philadelphia 76ers last week. It is easy to tell that this player has a good head on his shoulders—and giant hands.
Nevertheless, look out for this rookie forward. He may never turn into a perennial All-Star—or even a surefire starter—but a more athletic David West-esque player is definitely not out of the question.
Follow Hunter Konsens on his new Twitter!
This article is
What is the duplicate article?
Why is this article offensive?
Where is this article plagiarized from?
Why is this article poorly edited?

Orlando Magic: Like this team?