2012 Tampa Bay Rays: An Effective Team of Underachievers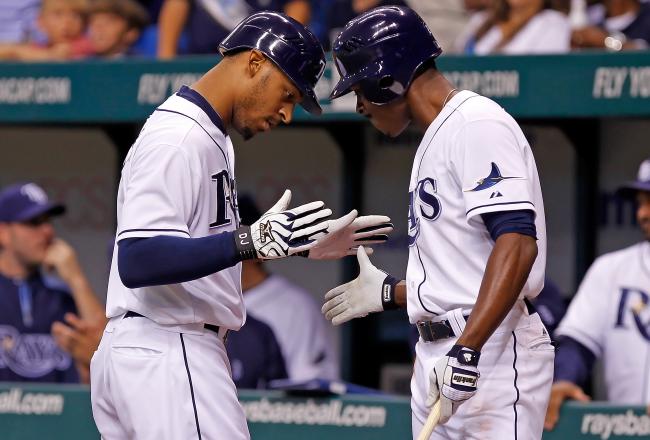 J. Meric/Getty Images
It's difficult to knock a team that sits just a half-game out of a playoff spot. It is perhaps, even more difficult to knock a team that has put together a 46-43 record in a perilous American League East division.
Because it is just so difficult to knock a team that accomplishes those things, I won't knock the Tampa Bay Rays. I will, however, present you with an observation that I deem "constructive criticism."
The Rays team consists predominantly of players that are greatly underachieving this season. That the team has accomplished what it has is a testament to the squad's talent and coaching staff's proficiency.
But, the team that has done well this summer should be doing better. It is perhaps a paradox to state that the 2012 Tampa Bay Rays team is a good unit made up of malfunctioning parts, but I am stating just that.
The unit's record speaks for itself. The parts? Let's take a look at them.
The Starting Rotation
David Price: It's impossible to expect anything more from a pitcher than what Price has given the Rays this season. He definitely gets a pass from the underachiever label.
James Shields: After a terrific 2011 season Shields has looked ordinary in 2012. He has not played to his capabilities this summer.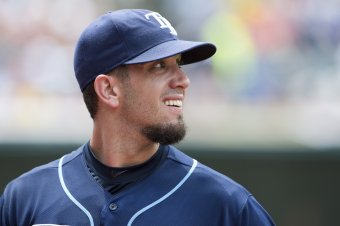 Shields has shown that he can give more than he has in 2012.
Jason Miller/Getty Images
Matt Moore: This is a tricky one, but given the expectations that followed Moore into the 2012 season, fans have to be at least a little disappointed with his performance thus far.
Alex Cobb: Not expected to be great, Cobb hasn't been. But he has been OK.
Jeremy Hellickson: He has had solid year, but not one up to the standard he set last season. The 3.48 is acceptable, but the 4-6 is troubling. Let's call this a slight underachievement.
Starting Position Players
Jose Molina: He hit the free agent market this winter with a fair amount of momentum, but has proved incapable of delivering as a starter. Molina has never been a star, but we are certainly used to seeing more production from him than he has given this year.
Carlos Pena: He still walks a lot, but 13 home runs is not nearly enough to excuse a paltry .199 batting average. Pena is on pace to have the worst (full) season of his entire career.
Jeff Keppinger: Excused!
Sean Rodriguez: Is he still underachieving or is he just not that good? Even by his standards, Rodriguez's performance at this point in 2012 has been deplorable.
Elliot Johnson: Johnson has been solid for the Rays this year. Not spectacular, but solid.
Evan Longoria: We could stay his body underachieved this season...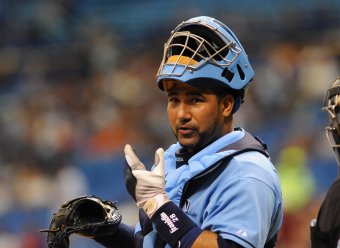 Molina had a strong 2011 season. He has not had a strong 2012 season.
Al Messerschmidt/Getty Images
Will Rhymes: Achieving less than the amount of playing time he is getting would suggest.
Desmond Jennings: What a half-rookie-season Jennings had last year. Truly fantastic. This year? Not great, but hey remember last year? Big time underachiever in 2012.
B.J. Upton: The poster child of underachieving, Upton has seen last year's power drop off and is posting a .300 OBP, the worst of his career.
Ben Zobrist: He got off to a wretched start this season, but Zobrist has recovered and looks to be in fine form now.
Matt Joyce: Joyce has been terrific this year, but has been limited by injuries.
Luke Scott: Though he has shown flashes of power this year, the .200 average and .257 OBP reek of underachievement.
The Bullpen
I'll save us all a little time here: the bullpen has not underachieved whatsoever. The group receives a collective exemption from the label.
Conclusion
Both the rotation and starting lineup are rife with underachieving contributors who have somehow managed to collectively produce a good product.
It is not inconceivable that the Rays will sneak into the playoffs at the pace they are on, but if one, two, or ten of their underachievers start playing to their potential, the possibility of that happening is only multiplied.
The squad has been good in 2012, but it should be better than good.
This article is
What is the duplicate article?
Why is this article offensive?
Where is this article plagiarized from?
Why is this article poorly edited?

Tampa Bay Rays: Like this team?