Since the Stanley Cup was handed out about five weeks ago, the talk in Toronto has been about nothing but goaltending.
Media outlets from all over have talked about the Leafs' goaltending situation nonstop.
These are the same people who were high on Reimer and said the Leafs should not waste money on a goalie in free agency because we have Reimer.
Now they say we should acquire the 33-year-old that is on the decline and has a decade left on his deal. A decade.
As an aside, I would just like to say that the sports media in Toronto are about as clueless as anyone can get. Just awful.
Do the Leafs really need to trade for Bernier? Luongo? Theodore?
No, they don't.
Two season ago, James Reimer hit Toronto like an earthquake. He shook everyone awake. People were optimistic about the Leafs again—as they should be.
I think James Reimer is the real deal, although I think Scrivens will end up being the better goaltender in the future.
In the 2010-2011 season, James Reimer played 37 games, amassing a record of 20-10-5, with a goals-against average of 2.60 and a save percentage of .921—truly amazing stats for a rookie.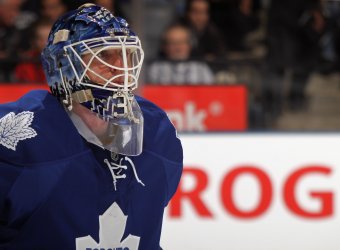 Bruce Bennett/Getty Images
As soon as the season ended, the first question people started asking was: Can he do it again? Can he continue his success?
The simple answer was yes, until a dirty hit from Gionta ended that.
James Reimer started the 2011-2012 NHL season as the starter and started the first five games. In those five games, he went 4-0-1, and Toronto was elated. The word that no one in Toronto had dared use for so long was on everyone's lips again—"playoffs."
James Reimer started the season hot. He shut out Montreal to start the season, won two more games after that and then lost one in overtime and bounced back with another win.
Reimer had, up until the dirty hit, a .912 save percentage and 2.57 goals-against average.
We can safely say that he was well on his way to continuing the success he had the previous half-season.
Now I know the season is long and that every player goes through ups and downs, but James Reimer's numbers were going to be good enough to get the Leafs into or at least close to the playoffs. If James Reimer did not get hurt, there is no way the Leafs end up drafting fifth overall.
There is no need for the Leafs to trade away assets for a goalie like Luongo. That contract will turn the Leafs into the biggest joke in the NHL in three years' time.
I personally believe that if the Leafs absolutely need to trade for a goalie, Bernier is the guy. In no league has Bernier ever posted higher than a 2.81 goals-against average or lower than a .910 save percentage. He has played well in all leagues, including the NHL. He is simply a solid goalie and a future No. 1 in the NHL.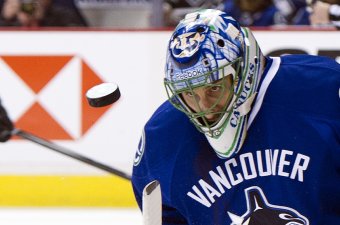 Rich Lam/Getty Images
My point here is that Luongo is not the answer and that the Leafs need to stand pat. Like it or not, the Leafs already have the answer in Reimer or Scrivens.
Scrivens was the best goalie in the AHL last season. Scrivens was better than highly talked-about prospects like Eddy Lack, Dustin Tokarski, Ben Bishop, Jacob Markstrom, Brayden Holtby, Anton Khudobin and so on.
I personally do not think that the Leafs are a contender for a playoff position this season, so why not wait a year? Let Reimer and Scrivens battle it out for the right to be named the best goalie prospect on the Leafs.
On July 1, 2013, the Leafs will have just 11 players under contract and $32-plus million to spend on the likes of Niklas Backstrom, Jose Theodore, Tim Thomas, Evgeni Nabakov, Jimmy Howard or Mike Smith.
Of course, the Leafs could make a trade as well. I'm sure the price for a 34-year-old Luongo with nine years left would be just the plane ticket out of town at that time.
While patience is something that people like me stress when it comes to the Maple Leafs as whole. The key area in which patience is a must is goaltending.