10 NFL Running Backs Ready to Break out in 2012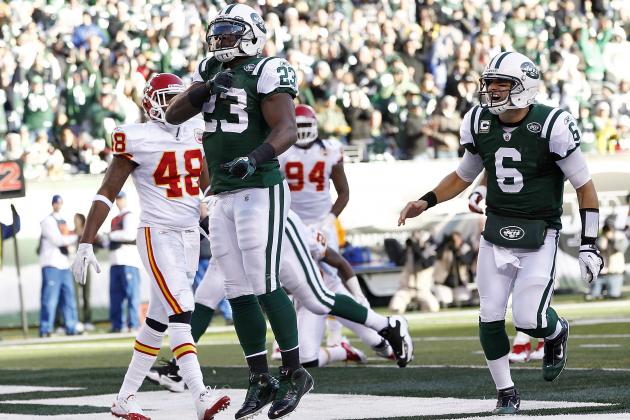 Jeff Zelevansky/Getty Images

While the NFL may be trending toward the passing game, there are a handful of runners that are set for a breakout season in 2012.
I intentionally kept rookies off this list, simply because they have nothing to "break out" from. One could argue that every rookie is technically a "breakout" player.
Whether they are coming back from an injury or getting their first chance at carrying the load for their respective teams, these runners are poised to have big seasons.
Begin Slideshow

»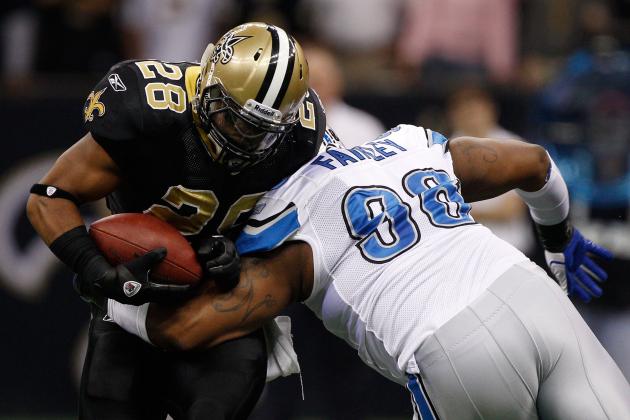 Chris Graythen/Getty Images

Few teams are deeper than the Saints are at running back, which is the only reason why the former first-round pick and Heisman Trophy winner has not been as productive as his resume would suggest.
Sooner than later, the Saints are going to realize that Mark Ingram is the more talented runner and give him more snaps than the incumbent starter, Pierre Thomas.
NFL Films guru Greg Cosell told the Shutdown Corner podcast how much he likes Ingram as a runner:
I love Mark Ingram, more so than I did when he came out ... He can be a true foundation back.. but the Saints don't run that kind of offense...The only thing holding Ingram back is Sean Payton.
As solid as Pierre Thomas is, Ingram's talent will eventually win out. When that happens, he will begin to put up the kind of fantasy football numbers that will put him on the map as one of the better runners in the game.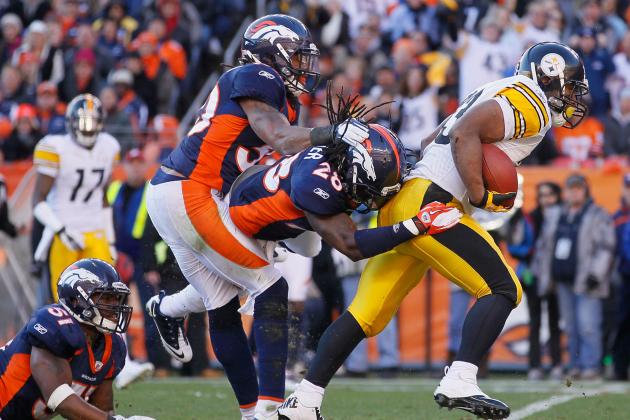 Jeff Gross/Getty Images

With Rashard Mendenhall a big question mark for the start of the regular season after tearing his ACL in Week 17 last year, the door is open for Isaac Redman to prove that he can be a starting RB in the league.
The fact that the Steelers decided against bringing in another runner to compete or take some of the load off Redman speaks to how confident they are in him getting the job done on his own.
While Mendenhall may return just a few short weeks into the season, it usually takes a player an additional year to fully recover from a torn ACL.
As a result, even with Mendenhall back in the fold, the Steelers will still rely heavily on Redman to carry the load in 2012.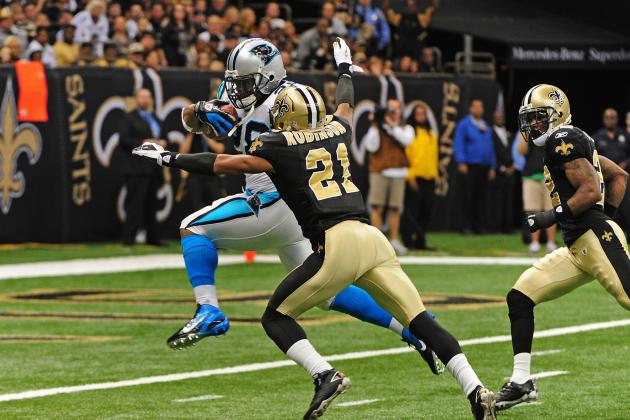 Scott Cunningham/Getty Images

While there was never a clear-cut starter amongst the "smash and dash" running back duo, the younger Jonathan Stewart has always seen fewer snaps than DeAngelo Williams despite the fact that Stewart was the superior runner throughout 2011.
Being four years younger than Williams, at age 25, Stewart is in the prime of his career, while Williams is slowly starting to feel the effects of age.
Williams' bloated contract is the only real justification the Panthers have for keeping him at the top of the depth chart, but they can no longer ignore the fact that Stewart is a better player than Williams at this point in his career.
Both players will see plenty of carries, but it is time to let Stewart take on more of a lead role, ignoring the amount of money both players are making. As soon as the Panthers make the inevitable switch for their primary back, Stewart will put up the kind of numbers that reflect his talent.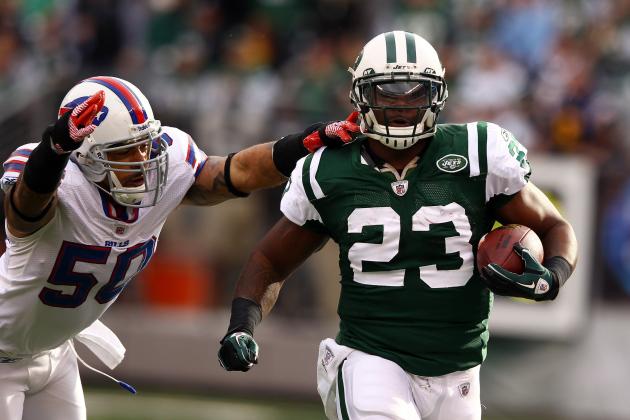 Al Bello/Getty Images

I know, it seems like every year is "the year" for Shonn Greene to break out. The truth is, Greene was never given the proper situation to succeed. Last year, Greene's first season as the lead back, the Jets decided to become more of a pass-first offense, which yielded disastrous results.
In addition, the health of his offensive line, particularly on the interior, was questionable at best. Nick Mangold missed two games at center, and in one of those games against the Ravens, the Jets had just 35 rushing yards.
On the right side, Brandon Moore was one of the best pass-protecting guards in the game, as he did not give up a sack all season. However, he was rated one of the worst run-blockers in the game by Pro Football Focus.
This is probably due to the surgery he had last offseason that caused him to miss some time in training camp. While he was not able to get the same kind of leverage as usual, he is a good enough technician to have still played at a Pro Bowl level.
At the end of last season, the other Jets guard, Matt Slauson, revealed that he was dealing with some serious shoulder issues. The injury clearly had an impact on the amount of power he had in the run game.
With a healthy offensive line and playing in a run-first offense, the stage is set for Greene to take off in 2012.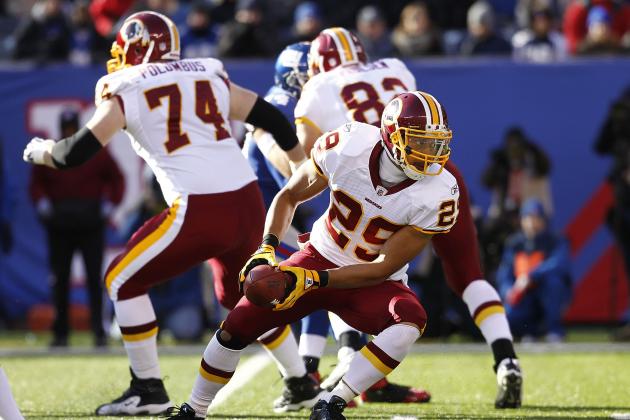 Jeff Zelevansky/Getty Images

According to OurLads.com, Tim Hightower is ahead of Roy Helu on the depth chart, which to me comes as a bit of a surprise.
When Hightower suffered a season-ending ACL tear in mid-October, the Nebraska product got his chance to shine, and he capitalized, averaging 4.2 yards per carry on the year.
While he is not nearly the pass-protector Hightower is (few runners on the planet block as well as Hightower), he looked more explosive and was also a threat in the passing game.
With time, Helu can learn the protection schemes well enough to convince coaches that it makes more sense to play the more effective back. Meanwhile, Hightower can put his protection skills to good use on third downs, which is when they are needed the most.
In addition, we have seen what mobile quarterbacks like RG III can do for running backs. One just has to look at he explosion of LeSean McCoy and the quarterback he plays with, Michael Vick, as a prime example.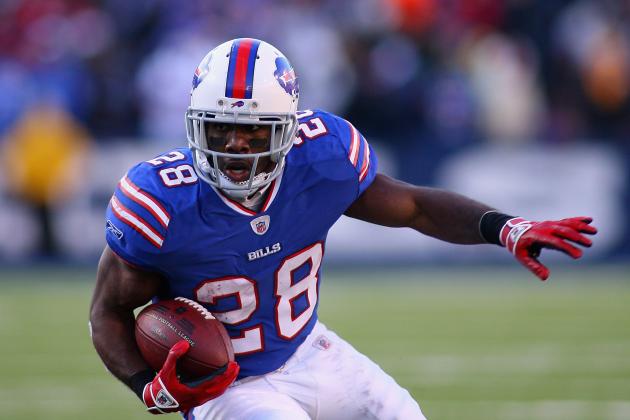 Rick Stewart/Getty Images

Before Fred Jackson's season-ending injury, Spiller was flirting with the "bust" label after being taken ninth overall in the 2010 draft.
However, in his role as the lead back, Spiller finished the season with a 5.2 per-carry average.
While he will revert to his complementary role now that Fred Jackson is healthy again, his role will undoubtedly increase after showing the coaching staff what he can do.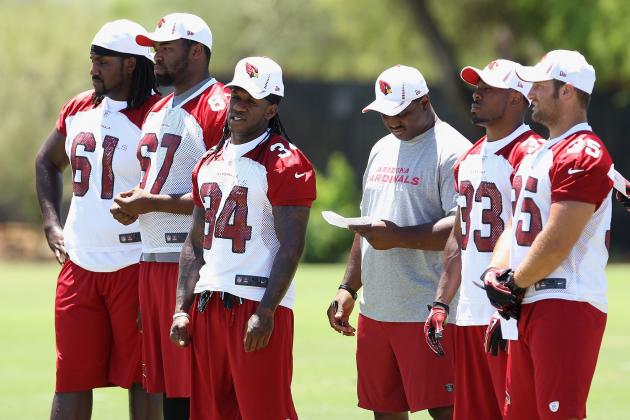 Christian Petersen/Getty Images

After spending his entire rookie season on IR after suffering a torn patella injury in camp, Williams is ready to return and become the lead back the Cardinals hoped he would become.
While a torn patella certainly has the potential to be a devastating injury, the good news is that Williams suffered the injury early enough in the season to have almost a full year to recover. In fact, he is ahead of schedule and should be a full go for camp.
While Beanie Wells has done an adequate job as a workhorse back, Williams, a second-round pick out of Virginia Tech in 2011, is a more explosive and powerful runner who is also more effective as a receiver.
Both players will see quality playing time this year, but with some time, Williams' talent will win out and become the lead back for the Cardinals.
When a team has quarterback and offensive line issues, the best way to hide them is by running the ball—a lot.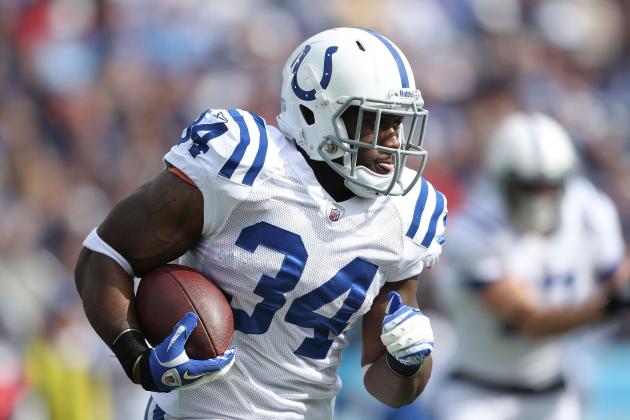 Andy Lyons/Getty Images

With so many changes coming to the Colts, why stop at running back?
Former first-round pick Donald Brown has been underwhelming for most of his career despite a midseason surge last year in which he averaged 4.8 yards per carry.
However, Delone Carter is a much more physical back that is better suited to the Colts offense. This is no longer Peyton Manning's team with finesse running plays sprinkled into a pass-first offense; the Colts are going to be more balanced than they have ever been in this century, which requires a bell-cow back.
As a more finesse player, Donald Brown is more suited to be Carter's complement than the other way around.
With a rookie quarterback, expect the Colts to lean on the run more than they ever have; Carter's numbers will be the primary beneficiary.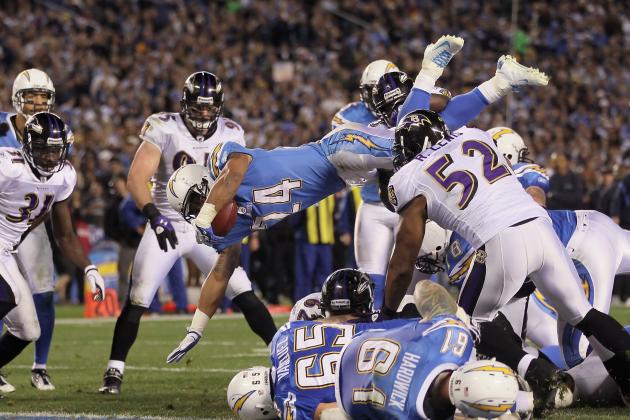 Jeff Gross/Getty Images

Greg Cosell will forget more about football than I will ever know, so when he talks, it's worth listening.
Based on his film study, Cosell believes that Ryan Mathews has top-five potential, as he told Evan Silva:
I think he's quick. I think he's got short-area burst. I think he's got some speed. There's nothing about the way he runs that I don't like. … I think in terms of running skill set, if I'm to look at backs in the league,

I think he could be a top-five guy.
Top five is Adrian Peterson and Ray Rice territory, making Cosell's assessment quite the bold statement. However, the only thing holding back Mathews is his health, as nagging injuries have kept him from reaching his full potential.
If he is able to stay healthy, I see no reason why Mathews cannot become one of the top backs in the league by the end of the season.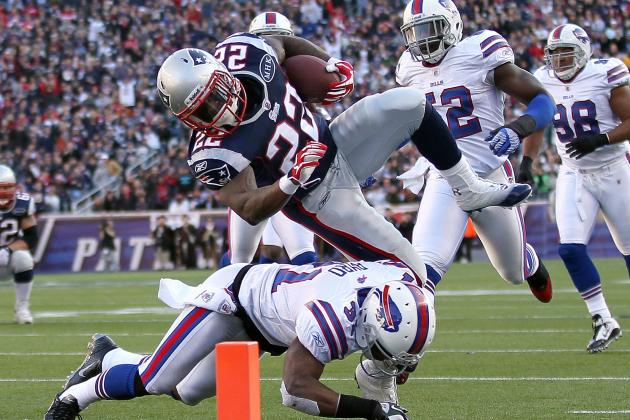 Jim Rogash/Getty Images

Between all of the offensive firepower on the Patriots roster, the running backs tend to be forgotten and are usually used as role players than game-changers. And their pass protection and non-fumbling ability is as—if not more—important than actually carrying the rock.
Stevan Ridley, however, is one of the most talented runners the Patriots have had since the days of Corey Dillon. In clean-up duty behind BenJarvus Green-Ellis, Ridley averaged 5.1 yards per carry as a rookie.
As long as he can keep his fumbles down (one fumble in 87 attempts last year), Ridley should emerge as the lead back for New England and provide yet another weapon for their offense.