Breaking Down the Strengths and Weaknesses of the Top UFC Middleweights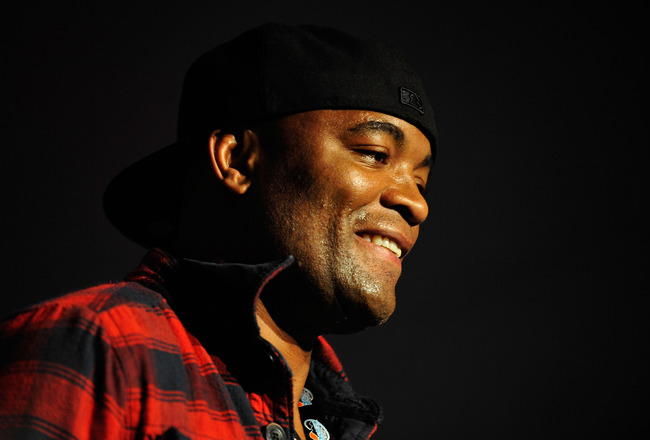 Rainier Ehrhardt/Getty Images
For almost six years, Anderson Silva has held strong to his UFC middleweight belt, having cleared the division more than once.
For the last two years, it seems the entire middleweight division sat suspended until Chael Sonnen had his much-hyped rematch against the champ. Now, that match is concluded, and Silva's emphatic victory answered every question that was asked of him.
Silva's next fight will have to be against a new guy—someone earning the shot for the first time, to inject some fresh blood into the path of the Brazilian.
A few names have emerged in the weeks following UFC 148. This slideshow will attempt to break down the strengths and weaknesses of all the top middleweights in the UFC.
My blog on MMA training, MMA techniques and MMA news
Alan Belcher
Michael Nagle/Getty Images
Alan Belcher's name has been mentioned more than once as a possible title contender, or at the least a gateway fighter for a title shot.
There's no doubt Belcher is on a run. After losing a three-round split decision to Yoshihiro Akiyama, he's amassed four straight victories, most recently against middleweight hotshot Rousimar Palhares.
It's that win against Palhares that was most satisfying and raised Belcher's profile. Palhares was on a run of his own, having gone 7-1 in his last eight fights. His secret was a vicious heel hook which he applied like an anaconda on four of his last five victims.
Going into the match, Palhares was the one with the reputation, but Belcher fearlessly went to ground with the jiu-jitsu master—and finished him.
He gave up his leg to the Brazilian without any fear or hesitation, eventually working his way to the mount.
He clearly has skills on the ground and has several submissions to his name. He also has nine knockout victories, which makes him one of the most consistent finishers in the division.
Michael Bisping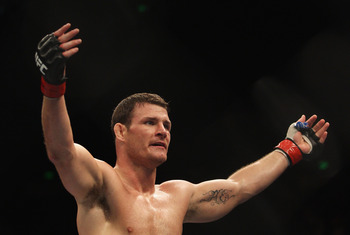 Mark Kolbe/Getty Images
Michael Bisping has been fighting in the UFC for a long time. As he's quick to point out, he has been part of the promotion since 2006 and has taken on the biggest names in the sport.
It's surprising then that the man with a solid 22-4 professional record has never been given a title shot. And now, "The Count" believes it's his time.
He already started his campaign moments after Sonnen's loss to Silva and has since called out every big-name UFC middleweight who he believes could get him a shot at Silva.
Bisping, as he himself freely admits, would already be a contender if he hadn't lost some crucial matches.
First there was the loss to Dan Henderson in 2009, which ended his undefeated run as a UFC middleweight. Then a victory over Denis Kang was followed by another loss to Wanderlei Silva, a crucial match for him at the time.
He then had a string of four wins against forgettable fighters, such as Dan Miller, Jorge Rivera and Jason Miller, before losing a controversial decision to Chael Sonnen.
That loss didn't do him that much harm since there are many, including Bisping, who think the Brit won the fight.
Bisping both out-struck and out-wrestled Sonnen for large parts of the match.
His striking is his go-to game, and he has proven able to stand toe-to-toe with the best of them. What's more, his wrestling seems to have improved remarkably too, and Bisping has the ability to defend most takedowns and keep the fight standing.
How that would work against Silva, however, is another matter. He hasn't displayed the depth of striking Silva is able to conjure up, and there are also question marks about his ground game.
He's never submitted anyone in his UFC career and doesn't have the top control needed for a ground-and-pound specialist like Chael Sonnen.
Bisping will face Brian Stann in September. Brian Stann is another fighter itching for a title shot, and it's likely that that fight will produce the next contender.
Brian Stann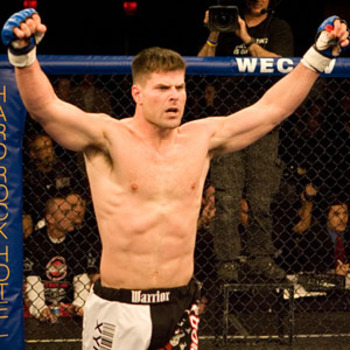 From mmafrenzy.com
Brian Stann would make a perfect ambassador for the UFC. His military background and congenial demeanour could make him the next Randy Couture or Georges St-Pierre—if he had the skills to back it up.
For as much promise as Stann has as a fighter, he has fallen at the crucial time. Since dropping to middleweight, the fighter has finished all of his fights, including those against Mike Massenzio, Chris Leben and Jorge Santiago.
However, when he came up against Chael Sonnen last October, he was utterly schooled. Stann had no answer for Sonnen's wrestling and was brought down and beaten with ease, finally being finished with an arm triangle choke submission in the second round.
He has since righted his career again, with an easy win over Alessio Sakara in April. That fight demonstrated just how lethal his striking is, and it's something Michael Bisping will have to contend with when the pair meet in Toronto later this year.
Both Bisping and Stann are power strikers, landing big shots and pressing the action. On paper, both in their grappling and striking, the two are equally matched.
In other words, they are vastly limited in their ground game, so expect a stand-up war between the two.
As two of the big names in the middleweight division, and considering that their fight is already scheduled, the winner is likely to face Silva next.
Chris Weidman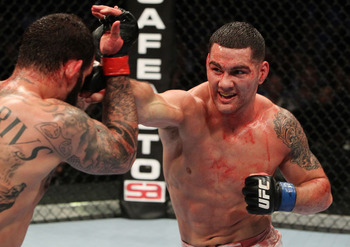 From fiveouncesofpain.com
Chris Weidman has shot to the top of the pile in the UFC middleweight division in just five short fights. His rapid ascent is reminiscent of Jon Jones' achievement, who was given the title shot after just seven fights.
His recent win over Mark Munoz turned heads, as Munoz had been ranked as one of the top three middleweights out there.
Weidman is an NCAA Division I wrestler, and he showed those skills against Munoz—elite in the discipline himself—taking him down at will and comfortably controlling him there.
He has power, pace and blistering cardio. He is also a highly inventive creative fighter, finishing Munoz with a perfectly timed elbow, reminiscent of Jones.
We've already seen how vulnerable Silva is to a wrestler in his matches against Sonnen. He could bring these skills into a fight with the champ.
And, despite only being a purple belt in BJJ, he already has two submissions to his name in his short UFC career, including a "Submission of the Night" (for the same standing guillotine choke that Jones used to finish Lyoto Machida).
He is one of the most well-rounded middleweights out there and one of the strongest future prospects.
Mark Munoz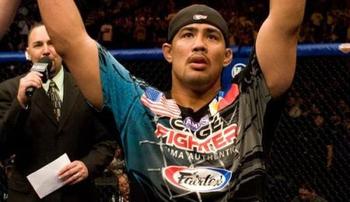 source: mmaontap.com
Poor Mark Munoz.
Last Wednesday, he needed only one win, and he would have earned a title shot against Anderson Silva. However, that fight happened to be against Chris Weidman, and one carefully timed elbow later, Munoz suddenly finds himself struggling to figure out a path to the belt.
That's a shame for Munoz, because until that fight, he had gone 7-1 as a UFC middleweight, and that one loss was a controversial split decision that went in favor of Yushin Okami.
Until losing to Weidman, he had defeated the likes of Demian Maia and Chris Leben to put himself in the reckoning for the title.
In his fights for the UFC, he has looked to his wrestling and devastating ground-and-pound to beat his opponents to submission. This strategy worked well until he came up against another top wrestler in Weidman.
In that fight, he showed holes in his stand-up game that need to be ironed out, as well as trouble fighting off his back.
Nevertheless, he is a powerful middleweight, having fought at light heavyweight before, and would give any fighter in the division a run for his money.
Hector Lombard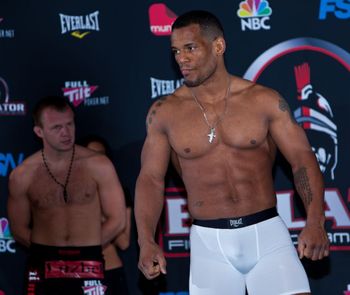 Source: themmanews.com
Still to fight his first match for the UFC, Hector Lombard has nevertheless built a formidable reputation fighting for Bellator and other organizations.
He hasn't lost since 2006 and is currently on a remarkable 25-win streak. Admittedly, 25 wins outside the UFC does not make a champion. The competition is vastly more intense in the premier promotion, and Lombard has yet to face any of the big names there.
Still, Lombard is used to pressure. He fights on average four to five times a year and owns the middleweight belt for three different organizations.
He is among the elite in judo—having competed for the Cuban team in the Olympics—and has a black belt in Brazilian jiu-jitsu. He also has some of the most powerful fists in MMA, finishing nine of his last 13 fights by KO or TKO.
As an American Top Team-trained athlete, he is used to fighting among the elite, and everything is clearly in place for him to shine with the UFC.
He has one crucial obstacle to overcome, however, before anybody can start talking about title shots. He faces Tim Boetsch at UFC 149 this Saturday.
Keep Reading