Detroit Lions Complete 2012 NFL Preseason & Training Camp Guide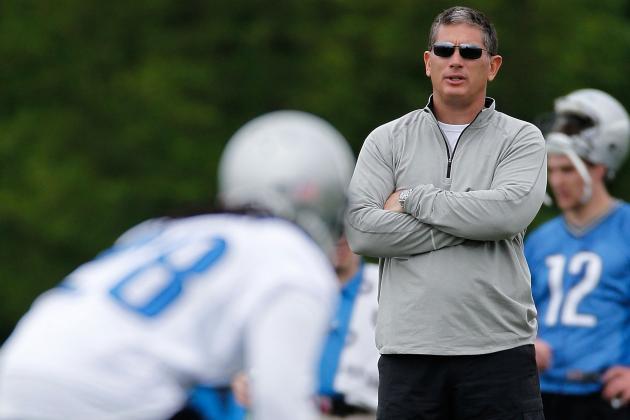 Gregory Shamus/Getty Images

It has been six months since our last taste of NFL football, and the approach of training camp signals that the wait is nearly over.
That means it's time to get ready for some football, as Hank Williams, Jr. will never say again.
But wait! Are you just tuning into NFL news for the first time since the draft? Not up on all the latest news and transactions? Have no idea who R.J. Archer is?
Fear not! For I have painstakingly put together a comprehensive guide to everything (and I'm pretty sure I mean everything) you could possibly need to know about the Detroit Lions as they head into training camp.
From the complete 90-man roster to the best depth chart battles to a rundown of the newcomers (rookie and otherwise) to a preseason preview and 53-man roster prediction, it's all right here. Read on and enjoy.
And if you do enjoy, feel free to shower me with comments, likes, sympathy for the sleep lost putting this together, and follows on Twitter, if you're the type to do Twittering.
Knock yourselves out, ladies and gentlemen.
Begin Slideshow

»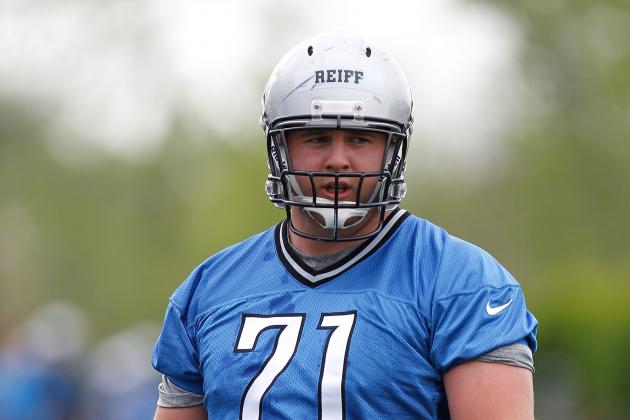 Gregory Shamus/Getty Images

Training camp is a place to answer questions about players, potentials, rosters, you name it. These are six of the biggest questions the Lions need to answer by the end of camp this year.
1. Where does Riley Reiff fit?
Reiff can play tackle or guard, but the Lions want him at tackle. But tackle is the Lions' strongest offensive line position.
If Reiff is going to be a day one starter, he'll have to soundly and consistently outperform either Jeff Backus or Gosder Cherilus throughout camp.
And if he does that, what happens to them? Cherilus can't really play another line position. Backus is a good fit at guard, but is Reiff really ready as a rookie to take the left tackle spot away from the man who has secured it for the last 11 years?
It seems like no matter what happens here, a very good football player is going to end up on the bench. The question is who, and for how long?
It's worth noting also that Reiff still isn't under contract, so perhaps question one is whether he'll be at camp at all.
2. What does the secondary look like?
Okay, let's go down the cornerback depth chart.
It's Chris Houston, and then... um...
Okay, let's try safety.
Louis Delmas...and next is...
Yeah, I've got nothing, guys. Both secondary positions have one guy at the top of the depth chart, and then a whole bunch of players battling for every position after that.
I won't go into this too much here (the position battle slide comes a bit later), but suffice to say this is one of the biggest questions for the Lions going into this season.
3. Will there be any healthy running backs by the end of the preseason?
When opening day for the 2011 season rolled around, only one of the Lions' current top three running backs was ready for it.
That was Jahvid Best, who had already suffered his first concussion of the season. Mikel Leshoure was lost for the season within the first week of training camp, and Kevin Smith has long since been released.
Each of them is young, but have been riddled with injury problems since entering the league. If healthy, they could provide a dangerous three-headed monster in the backfield. But that's a big "if." The only one of them that was fully healthy when the season opened last year was Smith, and he wasn't with the team.
4. Is Kellen Moore worth a roster spot?
This is a big one. In the early going, Moore looks like exactly the player everybody expected to see at the NFL level.
The one that went undrafted, I mean.
Moore's college credentials are certainly impressive, but so are Tim Tebow's. College success does not mean they will be a good NFL quarterback. In fact, sometimes the opposite is true.
But the Lions have a decision to make here, because Moore's long-term potential is not the only thing on the line. Matthew Stafford finally had a 16-game season, but does that mean the Lions can just shrug off the fact that he missed so much time to injury in his first two?
Keeping Moore on the roster means having the security of that third quarterback, just in case the worst-case, 2010 scenario happens again. Moore might not be NFL-quality (especially not yet), but sending him into a game is a safer bet than scouring the sidelines for a guy who played quarterback in high school.
That's what makes this an interesting decision. By leaving Moore off the roster, they can keep another (likely more valuable) player at another position, but with only two quarterbacks on the roster, they put themselves on shaky ground in case of injury, and also turn their backs on Moore's long-term potential.
So do the Lions put their money into insurance (Moore) or investment (anyone else)?
5. How ready is Ryan Broyles?
By far the Lions' most controversial 2012 draft pick is former Oklahoma Sooner Ryan Broyles, who holds the NCAA record for career receptions.
It's not that anybody doubts Broyles as a player, but the Lions took a receiver with an ACL tear in the second round, when the passing game was already elite-level in 2011. That raised some eyebrows.
Broyles has participated in more of the Lions' offseason program than expected, though, which raises the possibility he might be ready to start the season.
So will Broyles be a full participant in camp? Partial? Will he play in every preseason game? Will he hold himself out of some camp activities with the goal of being ready for the season? Or is he going to need a few weeks?
Considering the strength of the Lions' current receiving corps, the Lions have absolutely no reason to rush Broyles back before he's ready, so when he does come back, he should unquestionably be 100 percent.
6. Who plays for Cliff Avril?
With Avril and the Lions failing to come to a contract agreement before the franchise tag deadline, Avril has been very vocal about missing all or part of training camp.
It makes sense. Avril makes the same amount on his franchise tender as long as he reports before the regular season begins, so showing for training camp basically amounts to working for free.
But Avril should be cautious. The Lions employ some very talented young players behind Avril on the defensive end depth chart, and Avril has just given them a golden opportunity to get extra reps and catch up to him.
So the question, then, is who replaces Avril on the first team. Will it be Lawrence Jackson? Willie Young? Newcomers Everette Brown or Ronnell Lewis, even?
It's hard to say now, and the Lions might choose to spread the reps around if nobody truly stands out. If I had to pick, it seems Young's game is the closest to Avril's, and he seems poised for a big step forward. If he gets the bulk of Avril's first-team reps, it could mean the Lions think the same of him.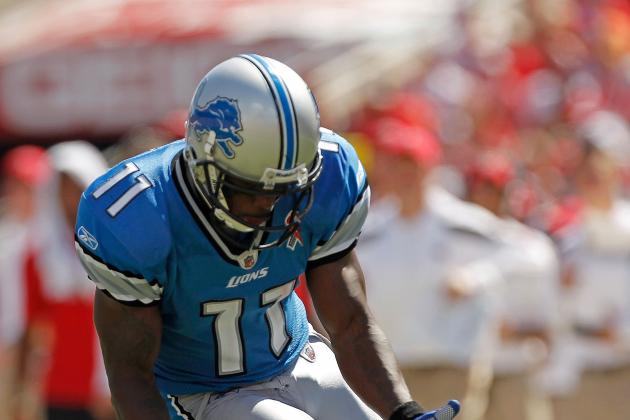 Mike Ehrmann/Getty Images

Training camp is arguably the most stressful time of the year for many NFL players. Think about if you had to re-interview for your job every year against about 30 new applicants.
That's training camp for most players, every single year. The incumbent players at the greatest risk of being replaced, as well as the new guys with the best chance of making the team, make up the roster bubble.
These are those guys.
Stefan Logan, KR/RB
Logan looked like one of the best return men in the game in 2010.
In 2011, he showed an utter lack of explosion. His longest kick return was only 42 yards (compared to 105 yards in 2010), and his longest punt return was for 28 yards (71 in 2010).
Averages were down, fumbles were up, and it started looking increasingly silly for the Lions to spend a roster spot on such pedestrian production.
There is no heir apparent to Logan's return position right now, but if the Lions find a position player that does Logan's job as well as he does, Logan could be gone.
Maurice Stovall, WR/ST
Stovall is another special teams guy who might lose out to a younger player with upside in another phase of the game.
Stovall wasn't nearly as visible as Logan, as a kick/punt coverage team specialist, but he was still quite good.
Problem is, Stovall takes up a wide receiver slot, and there's one less of those available with Ryan Broyles on the roster.
The Lions certainly need special teamers, but they also need talented guys in other phases. As a result, they might opt for project players who can play special teams, rather than veteran guys who only play special teams.
Jonte Green, CB
The last of three draft picks the Lions spent at cornerback this year, Green certainly has the upside to stick around, but he doesn't have the relative polish that Bill Bentley has, or the size and raw athleticism Chris Greenwood has.
This will come down to a camp battle, but Green seems like an easy choice for the practice squad unless he makes an impact in camp. The Lions don't seem like a team excited to carry three rookie cornerbacks on the roster.
Travis Lewis, LB
Like Green, Lewis is a low draft pick (seventh round) with fellow rookies at the same position drafted before him.
Lewis, however, has only a single rookie to battle with, and a lot less competition for depth. The Lions' linebacker situation is almost the polar opposite of their cornerback situation: there is tons of depth at cornerback, but no clear starters, compared with three definite starters at linebacker and no certain depth.
Lewis appears to have an open roster spot ready for him, as long as he can beat out the next guy on this list.
Ashlee Palmer, LB/ST
Palmer represents seemingly the stiffest competition for Lewis at the sixth linebacker spot.
But Palmer is a quality special teamer, and not especially valuable on the defense. Lewis is a project player who may bring value to the defense relatively soon.
The question here might be, again, whether the rookie project can match the veteran special teamer at his own game. Although, in this case, it's also possible the Lions enter the season with seven linebackers. It's hardly unheard of.
Kellen Moore, QB
I spotlighted this already, but it bears repeating. Moore seems like a shoo-in as third quarterback. What doesn't seem like a shoo-in is a roster spot allotted to a third quarterback.
This should be all on Moore. If he shows potential, the Lions will make room for him. If not, the decision might get a little tougher.
Patrick Edwards, WR/KR
By far the most impressive UDFA on the roster right now is Patrick Edwards.
The quick-footed receiver out of Houston has gotten plenty of attention in OTAs and minicamps so far, playing effective the exact slot position envisioned for Ryan Broyles.
Broyles, of course, is still recovering from his ACL injury, and in his absense, Edwards did pretty much everything the Lions were expecting out of Broyles.
But what makes Edwards most dangerous is his ability to return punts. That makes him a far greater threat to Stefan Logan than Broyles.
Andre Fluellen, DT/DE
I say every year that it's Fluellen's last year, and every year he comes back on another one-year deal.
I could understand last year, as Nick Fairley was injured and nobody knew when he would play (as it turned out, very little all season).
This year, Fluellen might make the roster on account of Fairley's likely upcoming suspension, but I have to wonder what happens to his roster spot when Fairley returns. Maybe this year will finally be the year.
Jason Fox, OT
Jason Fox needs to have a healthy training camp and a healthy 2012 season. If he can do that, he's big piece in the Lions' offensive line, and a possible future starter at right tackle.
But Fox has been healthy and available for about four games out of 33 since he was drafted. If his health doesn't hold up this year, his roster spot won't, either.
Corey Hilliard, OT/G
Don't let me say anything bad about Corey Hilliard, who has pretty well been the Lions' primary depth player at just about every offensive line position.
But with Riley Reiff on the roster, Fox (maybe) coming back from injury, and Johnny Culbreath getting his first real opportunity to show his stuff after what amounted to a redshirt rookie season, Hilliard might have trouble earning his way in.
Which reminds me...
Johnny Culbreath, OT/G
The offensive line equivalent of Sammie Hill, Culbreath is a big, strong guy from a tiny university (South Carolina State, which is a smaller school than it sounds like).
He has raw physicality, and now a year of NFL experience (albeit experience spent on IR), and with those two things, we really have very little idea what to expect from Culbreath.
With the apparent logjam of players at tackle now, Culbreath's best shot at the roster may be as a converted guard.
Joique Bell, RB
Bell is a speedster out of Wayne State who perhaps has the most to gain from a potential injury in the running back corps.
Barring that, as an undrafted player in his second year, Bell is looking at probably having to beat out Keiland Williams to earn a spot on the team.
Bell's game is a lot closer to Jahvid Best than it is Williams, so perhaps it will be in the Lions' interest to keep him on board as insurance for the oft-injured Best.
Keiland Williams, RB
As the other side of the running back equation, Williams was, at times, the Lions' top running back in 2011.
He performed admirably at times, but there is little doubt the Lions would have expected more from their injured backs.
With that injured talent returning to the roster, Williams is back down to the bottom of the depth chart to battle it out with Bell. But unlike Bell, Williams will likely have to prove his worth in his ability to handle short-yardage situations.
Erik Coleman, S
The guy who was supposed to be the veteran safety to push Amari Spievey and the backup plan in case of injury, Coleman actually succumbed to injury himself after four games.
The Lions are giving him another shot, as they still need a true veteran presence (even on the bench) at safety. But he's likely fighting for his spot with...
Sean Jones, S
Another solid veteran player, Jones has been a starter throughout his career, and at age 30, he could give the Lions a boost at safety, however slight.
I doubt the Lions are ready to give up on the young Spievey just yet, so my guess is that Jones and Coleman battle it out for the job Coleman was supposed to do last year.
Everette Brown, DE
If the Lions are able to get something valuable out of Brown, it will be like Lawrence Jackson all over again.
Jackson was a first-round pick essentially labelled a bust (by the new Pete Carroll regime) and shipped out of Seattle for a Lions sixth-round pick. He has since become a valuable rotational defensive end, though perhaps not the flashiest or most imposing player on the team.
Brown, similarly, was a second-round pick for the Carolina Panthers in 2009. He was released after two seasons with the Panthers, played a year for the San Diego Chargers, and was released again.
That makes Brown a fourth-year player on his third different team, relatively atypical for a second-round pick. But like with Jackson, it could be that Brown just needs a place to shine and will contribute to the rotation.
It may also be that he fizzles out and his dream of an NFL career ends in Detroit.
Ben Graham, P
Graham did such a fantastic job as the Lions' emergency mid-season punter last year, the Lions brought him back on a one-year deal.
And while I fully expect the Lions to move forward with young second-year punter Ryan Donahue, who was perfectly respectable before getting injured, Graham has a shot of making the team that is small, but not impossibly so.
If Graham doesn't make the team, expect the Lions to release him early, giving him time to find a new team (like they did with Dave Rayner last year).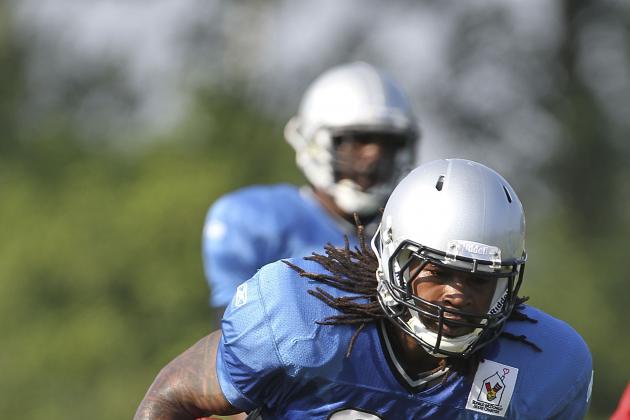 Leon Halip/Getty Images

Aside from the guys on the roster bubble, there will be some good stories to keep track of in training camp. Which guys carry the most intrigue, and what makes them so interesting?
Mikel Leshoure, RB
The most insightful thing we could say about Leshoure in training camp last year was something like "he looks pretty good, but camp just started. Let's give him some time to settle in."
That settling in never happened. Leshoure was injured and out for the season before the first preseason game, and we barely even got a taste of what he was capable of.
That's all the more reason to watch the youngster tasked with bringing the Lions' running game back above ground. Most rookies don't have to wait until their second season to take their first NFL snap in a preseason game, but Leshoure did, and anticipation has been building this entire time.
Titus Young, WR
Young is another second-round pick from 2011, and the only rookie to play consistently for the Lions last year (aside from Doug Hogue on special teams).
Young has had some troubles this offseason, though his scuffle with Louis Delmas pales in comparison to some of the disciplinary issues elsewhere on the squad.
More importantly, the coaches have been extremely impressed with Young during offseason activities. It will be exciting to see how far he's come in just one season, and how much he can take advantage of the coverage drawn by Calvin Johnson.
Dwight "Bill" Bentley, CB
Keeping with the theme of unproven young players, Bentley is a draft pick that seems to have an above-average chance of starting, or at least playing a large role in the defense.
But because he's a rookie, his assessment is going to be based almost solely on what he does in training camp and the preseason. From that, the Lions will decide whether he gets thrown into an important defensive role, or buried as a seldom-used dime package corner.
Willie Young, DE
I'm going to go out on a limb here and say that Young is probably going to see a lot of extra time while Cliff Avril takes his time getting to camp (or not going at all).
Avril isn't in any immediate danger from Young in 2012, but if Young improves at the meteoric rate he has over his first two seasons, Avril and his contract demands may start looking highly expendable.
Look for Young to be one of the hardest workers in camp this year. He should be smelling blood in the water.
Nick Fairley
Back to the 2011 draft class. Fairley was out for a good portion of last year's camp with a foot injury, and wasn't really 100 percent all year.
In addition, he has some trouble following him in from the offseason, as he was arrested for marijuana possession and a DUI, both after traffic stops that involved him speeding.
But recall also that one of the reasons that Fairley slipped to the 13th overall pick in 2011 was due to concerns about his character and work ethic. Some of that has proven true thus far. Training camp is when he can start proving the rest of it wrong—or not.
Doug Hogue
Hogue slipped into the fifth round in the 2011 draft because he was a little undersized and inexperienced at linebacker—he switched to linebacker from running back for his last two years at Syracuse.
Now he has a year of experience practicing at linebacker in the NFL, and it seems even his size concerns have been eliminated.
That's as encouraging as it is unusual, and it will be interesting to see if Hogue transitions his physical and mental growth into an improvement on the field.
Tahir Whitehead
Perhaps the most impressive rookie to this point in the season has been Tahir Whitehead.
At the very least, he's the most surprising given his draft status. It seems at this point that he may be a primary choice for backup linebacker, if initial impressions on the guy are any indication.
But like with any rookie, he has a lot to prove in a short period of time, so he'll have to be truly impressive in the month before the season starts to work his way into the rotation.
Riley Reiff
I'm sure I don't need to tell you to watch the Lions' first-round pick. That's maybe a given.
But the particular thing to look for is whether he takes reps at left or right tackle.
He'll likely be thrown in at both positions, but it's highly likely that the more reps he takes at right tackle, the earlier the Lions are thinking he'll play. Reiff will replace Gosder Cherilus a lot sooner than he unseats Jeff Backus.
Ricardo Silva
Silva is an interesting case. He was among the most visible defensive players in training camp last year, but the Lions didn't trust his wandering, undisciplined style of play, and he was cut to the practice squad.
Silva came back to play the last four games of the 2011 season, and he'll be back in camp with the Lions this year. With veterans Erik Coleman and Sean Jones seemingly fighting one another for the third safety position, Silva would appear to be in an even less advantageous position than last year.
But if he has grown as a player, nailing down his fundamentals while retaining his playmaking ability, he just might surprise everyone and make the cut. If not, he'll almost certainly be an entertaining player to watch in the preseason regardless.
Jason Fox
Again, Fox has to prove that he can work hard and stay healthy. If he does that, he is by all accounts very talented.
But Lions fans have not had an opportunity to see very much of Fox in action, and he has now taken a backseat to Reiff in the "promising young lineman" category.
He is effectively playing for his NFL career this summer, and he might even salvage said career if he can keep his body in one piece by the time the regular season rolls around.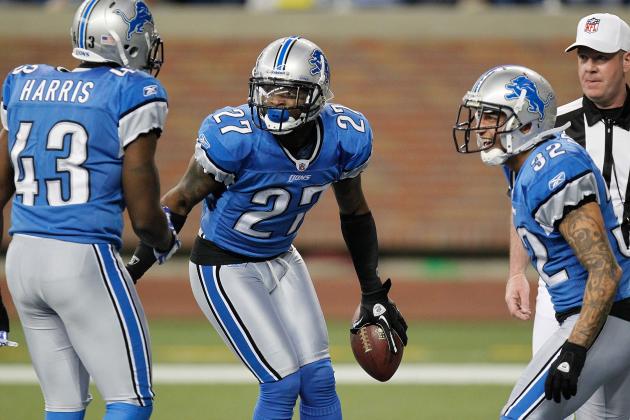 Gregory Shamus/Getty Images

For the first time in a long time, there are precious few starting positions available with the Detroit Lions. The days of high turnover are over.
This year, nearly all of the roster battles involve a depth position or simply making the 53-man roster. Those battles are at the same approximate talent level as what used to be good enough for a starting job on the Lions, but that's just indicative of how far the team has come.
CB2: Aaron Berry vs. Bill Bentley vs. Jacob Lacey
Really, this battle goes on down the list. Effectively every corner position is up for grabs after Chris Houston's.
Berry, Bentley and Lacey seem like the most likely options at starting cornerback across from Houston, but after that's decided, nickel corner will be up in the air, and will likely include Alphonso Smith and Chris Greenwood. Then dime corner, then the reserves/special teams slots will be filled.
Not a single one of these positions is certain at the moment. I would give Berry the inside track at CB2 based on his experience with the team, but a true camp battle means that the best player will win the job.
Berry will need to transition this experience into high-level performance if he wants his shot to start, because there are plenty of people who could outplay him.
Reserve LB: Doug Hogue vs. Tahir Whitehead
This will be a particularly interesting battle, as both players are mostly unknown quantities.
Whitehead is a promising rookie, while Hogue is an athletic-but-raw player in his second year. Whitehead looks likely to jump straight into the defense, while Hogue spent last year as a special teamer.
But Bobby Carpenter, the Lions' primary backup linebacker in 2011, is now out of the picture, and the Lions will certainly be looking for one of these guys to fill his shoes.
You'll also notice there's no indication of whether the linebacker position in question is in the middle or outside. It will be worth noting where each player takes most of their reps, but it's likely that the Lions are looking to make Hogue and Whitehead both quality reserves in either position.
P: Ryan Donahue vs. Ben Graham
As Rich Eisen would say, "punters are people too!"
Is this going to be the most exciting, hard-hitting battle in training camp? Of course not. But a battle is a battle, and this one, for a punting battle, carries some intrigue.
Donahue looked perfectly passable when healthy, but after his injury, Graham took over and performed equally well. Graham's punts may not have been as high or as long, but his end-over-end kicking style caused a fair share of bobbles, fumbles and favorable bounces.
More than likely, this is Donahue's job to lose, but the Lions are likely not committed to him if he doesn't perform to expectations. Graham has a shot here, however slight.
WR/ST: Stefan Logan and Maurice Stovall vs. Patrick Edwards
This is a little awkward, but it made sense to group these guys like this, because Edwards is most likely fighting both Logan and Stovall on different fronts.
Edwards, the Lions' most impressive UDFA to this point, is really just fighting to keep himself on the roster. To do that, he'll play receiver, return kicks, and play on coverage teams.
Edwards is likely already a more dangerous offensive weapon than either Logan or Stovall, but the Lions are also fielding four receivers that are better than him. He won't make the roster solely by being a talented fifth wide receiver.
Instead, he will have to prove that he's at least close to as effective as Logan as a kick returner, or as solid as Stovall on coverage teams. If Edwards beats either of them as a special teamer, his offensive upside is more than worth keeping around.
RB4: Keiland Williams vs. Joique Bell
This may be a battle to decide which of these guys gets to stay on the roster, but it's also, in a way, about who the Lions are most worried about losing among their top running backs.
Bell and Williams are basically polar opposites as running backs. Williams is the short-yardage grinder while Bell is the speedy scat-back. In other words, they're lower-quality versions of Mikel Leshoure and Jahvid Best.
This battle may be Bell's to lose. Not only is Best a greater long-term injury risk than Leshoure (and thus Bell a more valuable replacement), but if Bell commits himself to learning the playbook and improving, his speed is far more valuable than Williams' size.
Grind-it-out running backs are a dime-a-dozen, but Bell's speed makes him potentially special, if he can harness it properly.
S3: Sean Jones vs. Erik Coleman
I maintain that Amari Spievey needs more time before we can fully evaluate him at safety.
He was just switched there two years ago, and has only played about a season and a half at the position. He's inconsistent because he's still learning his position, and adjusting to NFL-level play.
So the two veterans are likely battling it out for the chance to back Spievey up, but don't take that to mean the Lions are locked in with Spievey. Jones and Coleman are effectively fighting to be the first guy to take over if Spievey starts to stumble.
Both Jones and Coleman are 30 years old, and have started throughout most of their careers. Either will end up by far the oldest member of the secondary. Coleman might have the slight edge on account of spending 2011 with the Lions, but he played in only four games before getting injured.
This might be one of the most difficult decisions the Lions have to make out of training camp, especially if the Lions decide to only keep one of the two on the roster, which, based on last year's roster configuration, is very possible.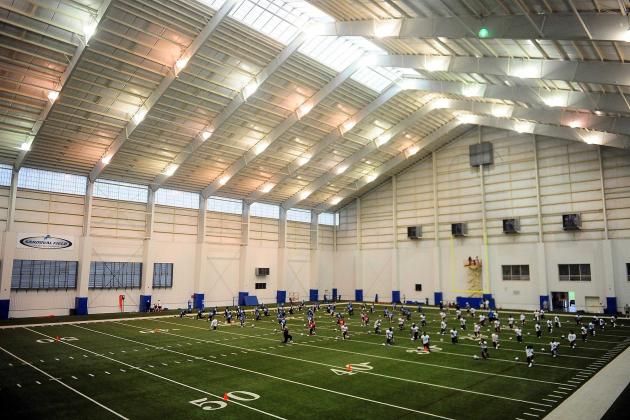 Andrew Weber-US PRESSWIRE

While the Lions have yet to release a day-by-day schedule of their practices (including which ones will be open to the public), here are some key dates that are available.
I know it's a little bare-bones for now, but this slide will be updated as more information comes available.
UPDATE: The Lions have posted their training camp schedule as of Tuesday, July 24. It is available here on the Lions' website.
Training Camp Dates:
July 23: Report date (rookies and injured players)
July 26: Report date (everyone else—except Cliff Avril)
July 27: First practice
Preseason Schedule:
Friday, August 10: vs. Cleveland (7:30 PM ET)
Friday, August 17: at Baltimore (8:00 PM ET)
Saturday, August 25: at Oakland (7:00 PM EST)
Thursday, August 30: vs. Buffalo (7:00 PM EST)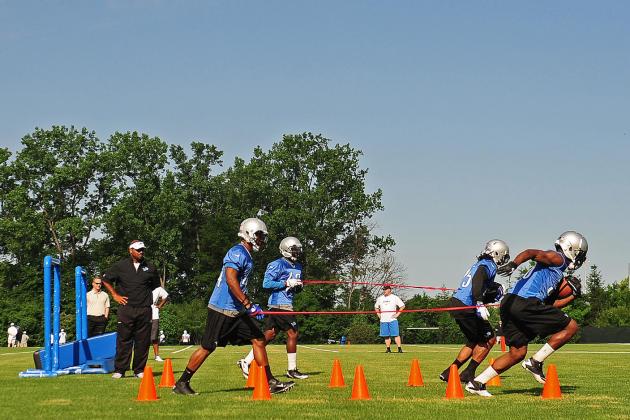 Andrew Weber-US PRESSWIRE

Location: Detroit Lions Training Facility, Allen Park, Mich.
Duration: All players expected to report by July 26. Ending date not yet official, likely in late August.
Under Jim Schwartz, the Lions have not opted to go outside their comfort zone for training camp. This will be the fourth training camp at their facility in four years.
Frankly, when you have a practice facility as nice as the Lions' facility in Allen Park, there's very little reason to go elsewhere. Allen Park is still a ways outside downtown Detroit and Ford Field, so it's not like the Lions are holding camp just down the road like the Bengals and Patriots, both of whom are holding training camp at their home stadiums.
Still, they're also not the Dallas Cowboys, who are taking the team out to Oxnard, California.
Ultimately, it seems the Lions are comfortable with staying right at home at their Allen Park facility, or at the very least, that Jim Schwartz doesn't see the benefit in taking the team on a field trip.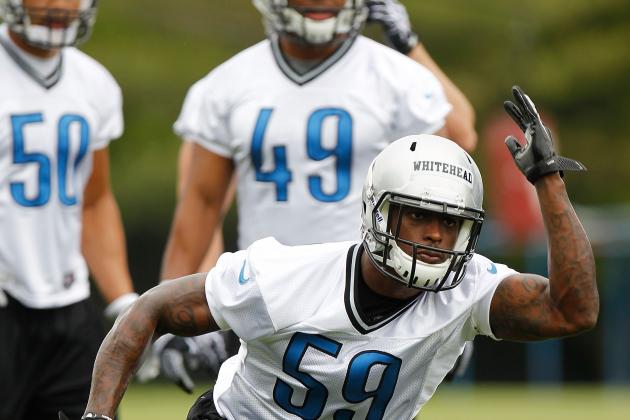 Gregory Shamus/Getty Images

Nothing fancy here, just a complete breakdown of the players headed to training camp with the Lions, alphabetized (by last name) and arranged by positions.
QB
R.J. Archer
Shaun Hill
Kellen Moore
Matthew Stafford
RB
Joique Bell
Jahvid Best
James Bryant (FB)

Stephfon Green

Mikel Leshoure
Stefan Logan

Kevin Smith

Keiland Williams
WR
Ryan Broyles
Nate Burleson
Jarett Dillard
Patrick Edwards

Marcus Harris
Nate Hughes

Calvin Johnson
Lance Long
Wallace Miles

Maurice Stovall
Terrence Toliver

Titus Young
TE
Alex Gottlieb
Will Heller
Nathan Overbay
Brandon Pettigrew
Tony Scheffler
Austin Wells
OT
Jeff Backus
Gosder Cherilus
Johnny Culbreath
Jason Fox

Corey Hilliard

Riley Reiff
OG
Rodney Austin
Jacques McClendon
J.C. Oram

Stephen Peterman

Rob Sims
C
Dylan Gandy
Dan Gerberry

Dominic Raiola
DE
Cliff Avril (may not participate - franchise tag)
Everette Brown
Ugo Chinasa
Lawrence Jackson
Ronnell Lewis
Edmon McClam
Kyle Vanden Bosch
Willie Young
DT
Michael Cosgrove
Nick Fairley
Andre Fluellen
Sammie Hill

Ndamukong Suh
Corey Williams
LB
Justin Durant
Doug Hogue

DeAndre Levy
Travis Lewis
Carmen Messina
Slade Norris
Ashlee Palmer
Ronnie Sneed
Stephen Tulloch
Tahir Whitehead
CB
Bill Bentley
Aaron Berry
Jonte Green
Chris Greenwood
Chris Houston
Dontrell Johnson

Jacob Lacey
Alphonso Smith
Ross Weaver
S
Don Carey
Erik Coleman
Louis Delmas
Sean Jones
Ricardo Silva

Amari Spievey
John Wendling
K
Derek Dimke

Jason Hanson
P
Ryan Donahue
Ben Graham
LS
Matt Camilli
Don Muhlbach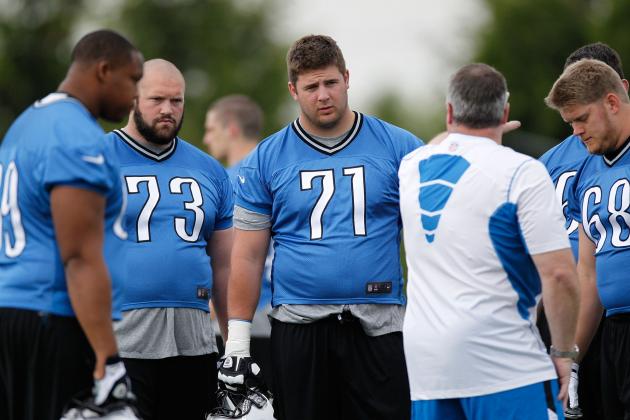 Gregory Shamus/Getty Images

Shortly after the 2012 NFL Draft, I published my draft grades and a projection of how each player fits with the team.
About three months, a handful of OTAs and some cooling down later, it's time to revisit those projections, albeit in a more condensed form:
Round 1 (23rd Overall): Riley Reiff, OT, Iowa
Not much has changed since Reiff was drafted. He still looks like an exceptionally talented player who can play either left or right tackle, and it still looks iffy that he cracks the starting lineup out of training camp.
Of course, there's still a whole lot of practice and preseason to go. It's possible that Reiff blows up every defensive lineman who comes his way, making it so that the Lions can't not start him somewhere.
The problem with Reiff starting is that he's a lot more likely to start at right tackle than left tackle in 2012. But incumbent right tackle Gosder Cherilus is, while talented, effectively useless at any other line position. So it seems that the Lions are going to leave a player in no-man's land no matter what they do.
Round 2 (54th Overall): Ryan Broyles, WR, Oklahoma
The big thing to watch for with Broyles is whether he'll be healthy in camp.
He's in no danger of missing the cut (the Lions knew what they were getting; they drafted him injured), but it remains to be seen how much he's able to participate in camp.
Either way, Broyles isn't likely to be a major playmaker in Detroit in 2012. Not only is he recovering from injury, but he's a rookie WR with three guys ahead of him on the depth chart.
It seems like the Lions have—and will take advantage of—the luxury of easing the NCAA leader in career receptions into his eventual role in the slot.
Round 3 (85th Overall): Dwight "Bill" Bentley, CB, Louisiana-Lafayette
Bentley is like the guy with the widest range of landing spots. He'll make the final roster, of course, but depending on his performance, he could end up as high as second on the depth chart, or buried at the bottom.
With a solid camp, his most likely landing spot is at nickel corner, with a chance to take over for Aaron Berry if he stumbles or gets injured.
Round 4 (125th Overall from 49ers): Ronnell Lewis, DE, Oklahoma
There is one thing everyone knows to expect from Ronnell Lewis: He's going to play special teams, and opposing returners are going to hate it.
If you've forgotten why, check the video clip here.
The man who became known as "The Hammer" at Oklahoma seems a perfect fit for the kind of hard-hitting power team the Lions are trying to become on defense, especially since Lewis seems to understand how to draw the line between big hit and illegal hit.
Lewis came out of college as a DE/OLB tweener, but the Lions seem set on putting his hand in the dirt and making him a full-fledged DE. That transition may take some time, so don't expect much more than exciting special teams play from Lewis in 2012.
Round 5 (138th Overall from Vikings): Tahir Whitehead, OLB, Temple
I may have missed on my initial analysis of Whitehead, if early reactions from Gunther Cunningham are any indication.
I was initially skeptical of the pick, but Whitehead seems to be both athletic and intelligent in the early going. With the Lions' total lack of depth at linebacker, there was little doubt he would make the 53-man roster, but it's starting to look like he could challenge for a primary depth position, possibly even shooting past Doug Hogue.
What we don't know about Whitehead is whether he'll play primarily on the outside or in the middle. The Lions will want him to get time at all three positions, but he'll eventually gravitate one way or the other.
Round 5 (148th Overall from Raiders): Chris Greenwood, CB, Albion
Give him about three or four years, and Greenwood could be one of the most talented, physically imposing cornerbacks in football.
Right now, he's just a big, strong, fast guy who played corner at Albion. He will need a lot of polish before he's ready for NFL play, and cornerback is an especially difficult position to transition to in the NFL.
But that's one of the things that makes Greenwood so interesting. How fast will he be able to figure out the NFL game and polish his technique? Because once he does, he will be a monstrous matchup for any receiver.
Round 6 (196th Overall from NO Via MIA, SF): Jonte Green, CB, New Mexico St.
Green is the only player on this list I expect to have real difficulty making the roster.
That's not to say that he's out, of course. Just that with two rookies presumably entering training camp ahead of him (based on draft status), Green has the most work to do.
Green also lacks the sheer standout talent of Bentley or the incredible measurables of Greenwood. In other words, he could be pretty solid, but he needs to figure out a way to stand out to make the roster.
It may come down to Green and Alphonso Smith for the last CB position, unless the Lions decide to rearrange the roster to keep both of them. That might depend also on whether Green proves valuable on special teams.
Round 7 (223rd Overall from PHI Via NE, MIN): Travis Lewis, OLB, Oklahoma
I had a difficult time believing that Travis Lewis slipped to the seventh round of the draft, and quite frankly, so did he.
He may turn out to be the steal of the draft, but first he has to prove he belongs in the first place.
Like any good seventh-round pick, Lewis will do whatever he needs to in order to stay on the roster. He'll try to earn a job as a linebacker, but he'll also contribute on special teams.
But unlike most seventh-round picks, I wouldn't put it past Lewis to actually challenge Whitehead and Hogue for a significant role in the defense as a rookie. And Lewis has already proven his ability to play play linebacker position, which makes him especially valuable as the Lions have no heir apparent in the middle after Stephen Tulloch.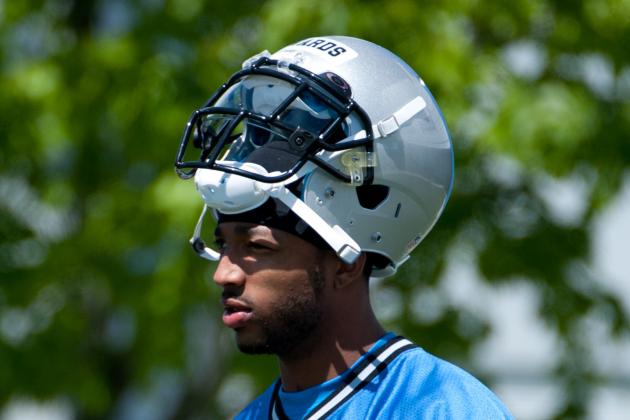 Tim Fuller-US PRESSWIRE

From the Detroit Lions' roster page comes a complete list of the Lions' 2012 UDFAs. And from me, comes a brief description of same.
Alphabetically, now...
R.J. Archer, QB, William & Mary (and the AFL)
Unless Archer unleashes his inner Kurt Warner, it's likely he's just a camp body to keep Kellen Moore from getting complacent.
Still, Archer appeared to go toe-to-toe with Moore in rookie minicamps, so maybe, just maybe, there's something there. But regardless, he's among the most likely to be cut. His best-case scenario is likely the practice squad.
Rodney Austin, G, Elon
Far be it from me to turn my nose up at the Lions inviting a guard to camp.
Austin is a big guy from a small school, and the Lions have had success with those in the past. They desperately need more talent and depth on the interior line, but there's nothing thus far to suggest that Austin will be that guy.
Still, there's plenty of camp for him to prove himself. He may just have to build his reputation from scratch.
Matt Camilli, LS, UTEP
Matt Camilli might be a great long snapper. But to make the team, he'll either have to outperform Don Muhlbach in camp or beat him with a stick.
Frankly, the "beating him with a stick" option is far more likely.
Michael Cosgrove, DT, Idaho
Cosgrove has a shot if he proves to be better than Ndamukong Suh, Nick Fairley, Corey Williams, or Sammie Hill.
No? Okay.
Cosgrove might be able to challenge Andre Fluellen, but at this point, not even Fluellen's spot is particularly secure.
Derek Dimke, K, Illinois
Jason Hanson is under contract, is healthy, and still wants to play.
Enough said.
Patrick Edwards, WR, Houston
As I've discussed already, Edwards is among the favorites to make the roster of all the Lions' UDFAs.
He's already proven to have some talent as a receiver, and he can save the Lions a roster spot if he also serves as an effective return man.
Keep a very close eye on Edwards throughout camp. At 5'9", 175 lbs and with great quickness, he's a great fit as a slot receiver (especially if Ryan Broyles' ACL gives him trouble) and as a return man.
Alex Gottlieb, TE, William & Mary
Tight end is perhaps the most difficult to crack spot on the roster. Brandon Pettigrew and Tony Scheffler are not going anywhere.
While Will Heller may be a bit more mobile, he's also difficult to supplant because of his polished blocking ability and versatility as an H-back.
Gottlieb is an average athlete and while he's a decent blocker and short-range target, it doesn't appear he brings much to the TE position that isn't already there. Consider a likely cut.
Stephfon Green, RB, Penn State
Green is a small, speedy back like Jahvid Best and Joique Bell. He may give Bell a run for his money, but he has a couple of red flags with his character.
Green isn't really a "carry the ball"-type player, but he has good straight line speed and can catch the ball out of the backfield. He's best in space when he can make guys miss.
If he can do that in camp, maybe he gives Bell a run for his money as a third-down back. But he's still a long shot.
Dontrell Johnson, CB, Murray State
The Lions are going to have a hard enough time convincing themselves to take the three rookie cornerbacks they drafted on the final roster.
Johnson will have to be the second coming of Rod Woodson to get a second look.
Spoiler: he's not.
Jared Karstetter, WR, Washington State
Fortunately for Karstetter, the Lions appear to have some available space on the roster at wide receiver.
Unfortunately, he's in camp with the impressive Patrick Edwards...and 11 other wide receivers. The odds are seemingly stacked against the perennial All-Pac-12 honorable mention player.
Edmon McClam, DE, Old Dominion
McClam has rare size for a DE. At 6'6", 280 pounds, he actually seems more like a defensive tackle than an end.
That said, the Lions are lacking DEs with size who can close off running lanes. Of course, the problem for McClam is that this is on purpose. The Lions place for greater value on smaller, quick DEs who get to the quarterback.
I don't see McClam dipping his shoulder to get around any tackles or tight ends with his frame. Of course, if I'm wrong, sign him to a 10-year contract immediately, because that is ridiculous.
Carmen Messina, LB, New Mexico
If I had to pick a single defensive UDFA to make the roster, it might be Messina.
The Lions are exceptionally thin at LB, even after their draft picks, and Messina is a solid tackler who likes making solid contact.
In other words, Messina is a fit at a position with need. He's not terribly impressive physically, but he has the kind of grit and work ethic that just might make him a dark horse to make his way onto the roster, if only for special teams.
Kellen Moore, QB, Boise State
Most likely, Moore's performance in camp will determine whether the Lions decide they need a third quarterback or not.
There is almost no chance the Lions let Moore play this season, so immediate impact is irrelevant. All Moore has to do is show that he has enough long-term potential to justify keeping him on the roster for now.
Most teams with a solid starting quarterback have a developmental project as either a future backup or trade bait (example of successful ones: Matt Flynn, Matt Cassel, Matt Schaub—I don't know why they're all named Matt).
If nothing else, Moore has the mind for the game. As a coach's son, Moore knows how to analyze tape better than an average quarterback his age. That alone makes him valuable as a quarterback, but he'll have to show the physical ability to succeed on the field, not just his off-field knowledge and intangibles.
J.C. Oram, G, Weber State
I have a suspicion Oram is another camp body, but as I said about Rodney Austin, I don't rule out anyone the Lions have actively chosen to improve the abysmal interior line depth.
The Lions seem to be making a trend of signing their big bodies from small schools, presumably on the notion that technique can be taught, size can't.
But again, Oram is going to have to come up huge in camp to turn some heads. The Lions seem pretty complacent with the interior line they have, for some reason.
Ronnie Sneed, LB, Kentucky
Sneed has a shot at the roster just like Carmen Messina, primarily because the Lions are so thin and shaken up at linebacker, and the two are almost identical in size.
But unlike Messina, there aren't a lot of positives on Sneed's scouting report. Unless he comes to camp and proves a whole bunch of people wrong, he'll be lucky to get a practice squad invite.
Austin Wells, TE, Northern Iowa
Given the Lions' love of using tight ends in the offense, the fact that they invited two UDFA tight ends to camp should come as no surprise.
But again, Wells is looking at an uphill battle through a rockslide to make the roster. The Lions look awfully set at TE to let a UDFA crash the party.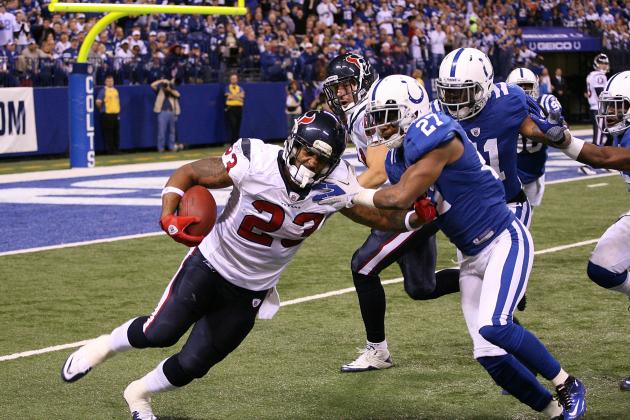 Brian Spurlock-US PRESSWIRE

The Lions are preciously thin on free agent additions from last year. They spent most of their offseason just keeping their own guys from leaving.
Regardless, there are a few new veteran faces on the team, and although they're less "impact players," and more "trying to find a diamond in the rough," they're still worth mentioning.
Everette Brown, DE (from San Diego)
Brown is a guy who may well be more talented than his defensive situations have let him show. This is the function behind the whole "square peg" theory.
Brown should also get extra reps in training camp from Cliff Avril's absence, but that just means he'll have more time to show whether he'll flourish in the Lions' "attack first" system, or if he's simply a second-round bust.
He seems to have all the makings of a quality defensive end who just hasn't put it all together yet, and the Lions' defensive end rotation is going to be exceptionally difficult to crack. If he wants to put together a respectable NFL career, the time is now.
James Bryant, FB, BC Lions (CFL)
The interesting thing is that while Bryant is listed as a fullback, he played defensive end in the CFL.
Bryant also tried his hand at heavyweight boxing for a time (he finished with a 4-1 record), so it appears he just wants to hit people, somewhere, somehow.
The Lions can appreciate that, certainly, but they just moved away from carrying a full-time fullback on the roster when they canned Jerome Felton in 2011.
Bryant, with his 4-1 heavyweight boxing record, and having played football for two different colleges, the AFL, the CFL, and now the Lions, might be the most interesting man in the NFL.
But in the NFL, he's just a blocking fullback, a dying breed. But hey, if the Lions don't work out for him, maybe he can try Aussie Rules football. It's about the only league he hasn't played for yet.
Jacob Lacey, CB, Indianapolis Colts
Even before the Lions drafted three cornerbacks, I wasn't sure Lacey would end up any higher than third on the depth chart.
It's not that he isn't talented. Quite the opposite, he seems to have effective physical skills, and was perhaps just hung out to dry once too often during the Colts' mess of a 2011 season.
Lacey, frankly, is an unknown quantity. I'm almost less sure of where Lacey ends up than I am the rookies. The only thing I will say is that he'll look like a better player in Detroit than he did in Indianapolis, simply because the scheme is built to put more pressure on the pass rush than the pass coverage.
Sean Jones, S, Tampa Bay
For a while, I've been talking about getting some depth at safety to cover for the still-inconsistent Amari Spievey.
Jones fits that role perfectly. Of course, so does Erik Coleman, who re-signed with the team for 2012. But Coleman was supposed to be a primary backup in case of injury or regression from Spievey, and Coleman himself was hurt for the last 13 games of the season.
I'm not saying that's reason enough to dump Coleman off on the curb, but there's no reason to make him feel complacent in his position. Jones is a quality player and a career starter, and if he doesn't outperform Coleman in camp, he should at least give him a run at effectively the same position Coleman is planning to occupy.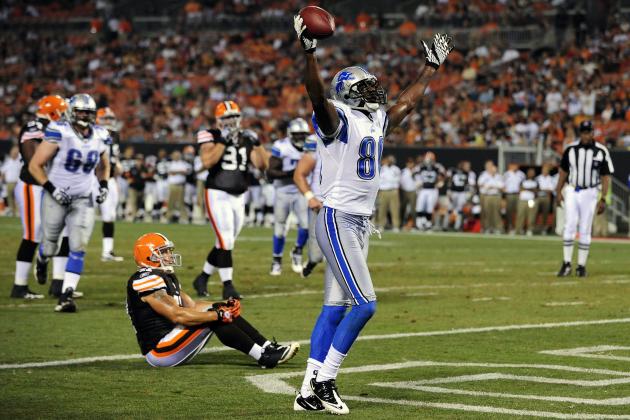 Jason Miller/Getty Images

The preseason doesn't matter. We all know it, we all watch anyway, and we still feel a twinge of excitement or disappointment at wins and losses.
But the reason we say the preseason doesn't matter is the games themselves are unimportant. Individual performances are important. In fact, individual performances are a major part of the reason FOR the preseason. It's all about player evaluation.
But that doesn't mean I'll ignore game analysis. It may not be valuable or relevant in the long run, but the preseason is our first taste of football in six months. Let's at least try to enjoy it, meaningless or not.
Week 1: vs. Cleveland Browns
Between the regular season and the preseason, the Browns have started a different quarterback in each of these teams' last three meetings.
Brady Quinn started the game best known for Matthew Stafford's miraculous one-armed comeback win in 2009.
In 2010, Ndamukong Suh introduced himself to Jake Delhomme with a firm hand headshake.
In 2011, Colt McCoy started against the Lions and impressed nobody, which is why the 2012 contest between these teams will give Browns fans their first taste of Brandon Weeden-related disappointment.
But that won't be the biggest story for Lions fans. The story is going to be that Mikel Leshoure should be scheduled to receive his first NFL handoff in game action, and I'd be surprised if the Lions don't start the game off that way.
Leshoure has been waiting almost a year-and-a-half to take his first in-game handoff, and I expect the coach to let him get it out of his system immediately.
Leshoure may even play a bit in the first quarter, and while the Lions will be happy to see him out on the field, he's still rehabbing from a serious injury. I expect Leshoure's carries to be limited throughout the preseason. The last thing they need is another freak accident.
Ultimately, given the relative stability of the starting lineup and the Lions' frequent struggles with injuries, I would expect all the starters to get a low ratio of snaps throughout the preseason, even by preseason standards.
Of particular interest here will be the Lions' cornerbacks. Not only how they perform, but how the Lions use them, in what positions and what order. Will we see Chris Greenwood in the first half or the second? Will Bill Bentley start at nickel, or will he play on the outside for the second string?
This will be our first chance to see what the Lions are thinking in terms of their depth chart, particularly at some of the more complicated positions
Meaningless Result: 27-7 Lions
Meaningless Random Statistic: Weeden throws two INTs in the first quarter.
Week 2: at Baltimore Ravens
Preseason or no, Baltimore is not a team to be played around with.
Given the reputation of their (admittedly aging) defense, this is the only preseason game in which I actually carry a slight fear of injury.
Of course, the Ravens are a tough team, not a stupid team. They, like the Lions, are likely to leave their starters in for as little time as possible. Both of these teams have bigger ambitions than to become 2012 Preseason Champion.
However, the Ravens' defense will be an excellent litmus test for the Lions' revamped (or rather, newly healthy) running game. If the Lions can run it effectively against a defense like the Ravens, even in a preseason game, that's a good sign.
This is also a golden opportunity to try out Riley Reiff at left tackle. Although Terrell Suggs is out indefinitely, the Ravens maintain enough talent and depth to rush the passer at all times.
If the Lions can give Reiff (and perhaps Shaun Hill, just in case) on the field with the Ravens' first-team defense, it could be a great early test for him and make for some excellent experience.
Meaningless Result: 20-17 Ravens
Meaningless Random Statistic: Joique Bell busts a touchdown of 40+ yards sometime in the second half
Week 3: At Oakland Raiders
The third preseason game is traditionally the least meaningless of the bunch.
The starters play longer, everyone plays a little faster, it's almost like they're pretending it's a real game.
The outcome of the game is generally still meaningless, but the individual performances, particularly of the starters, become benchmarks for how "ready" they are for regular season action.
Because of that, expect this game to become the Matthew Stafford Passing Skills Exhibition.
Stafford should have absolutely no fear whatsoever about his job security, so he might try some things out here. You may see him take a couple more deep shots to Titus Young than underneath dumpoffs of Brandon Pettigrew.
"Why," you ask? Simple. Stafford already knows he has those underneath routes and dump-offs. He's comfortable with that.
He won't abandon them entirely, of course, but it's far more valuable for him to try to get his timing down with guys like Young and Ryan Broyles (if available) at game speed, when failure has no real consequences.
I'm not saying the Raiders' pass defense is easy to pick on or anything, but part of the Lions' prospective improvement in 2012 is in their ability to spread the ball around to multiple playmakers.
Stafford developing chemistry with his younger receivers is a big part of that, and the Raiders should provide a difficult, but not insurmountable defensive obstacle.
Even still, I would not expect any of the Lions' first team to play later than about halfway into the second quarter. The starters are fine, it's lower on the depth chart where most of the questions lie.
Meaningless Result: 33-20 Lions
Meaningless Statistic: The Raiders' first team plays roughly a full quarter longer than the Lions' first team.
Week 4: vs. Buffalo Bills
The final preseason game is generally the one in which the starters play the least, and bubble-dwelling depth players try one last time to make an impact.
That makes this a very interesting game for the guys back on slide three, many of whom might find themselves unemployed within hours after this game.
It's a little too bad the Lions get the Bills in their fourth preseason game, as Mario Williams would have been a fantastic test for Reiff. But it's unlikely Williams even plays in this game, and if he does, it will likely be only for a single series, before Reiff gets in.
But there will still be questions to answer by the time this game starts. The cornerback situation will start to have cleared up, with maybe a switch or two on the depth chart and a spot or two left up for grabs on the roster.
Bubble players will start asking to get in on every kickoff, just for a shot at that one "impact" play.
And Kellen Moore will get a whole lot of playing time. This will, in fact, likely be Moore's last chance to prove himself (if he hasn't already by this point). And sure, Moore will be playing against third-stringers and future cuts, but he at least needs to prove that he's better than those guys, right?
Expect Moore to play most of the second half in this game (unless R.J. Archer hasn't yet been cut, in which case give him about two series in the fourth quarter), backed by weapons like Stephon Green, Alex Gottlieb, James Bryant and Marcus Harris.
Because if Moore can succeed with those guys, even against other practice squad-quality players, he assuredly deserves a roster spot.
Meaningless Result: 28-27 Bills
Meaningless Random Statistic: Ricardo Silva records five tackles, a sack and an interception in roughly a quarter of play. Two days later he is cut.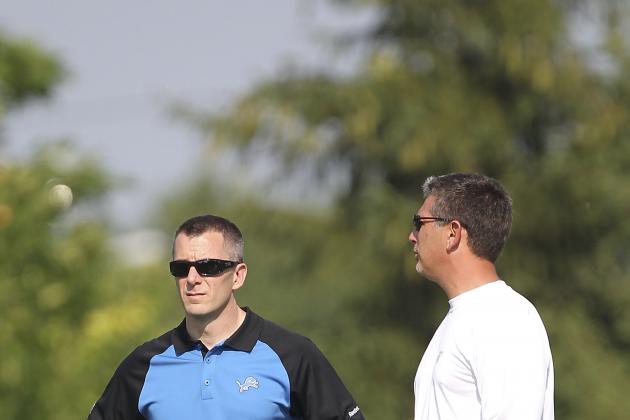 Leon Halip/Getty Images

It's still too early to have any real faith in this, but here's my pre-camp prediction of the final 53-man roster.
As before, this is listed alphabetically by position, not as some sort of depth chart prediction.
QB
Shaun Hill
Kellen Moore
Matthew Stafford
RB
Joique Bell
Jahvid Best
Mikel Leshoure
Kevin Smith

Keiland Williams
WR
Ryan Broyles
Nate Burleson
Patrick Edwards
Calvin Johnson
Titus Young
TE
Will Heller
Brandon Pettigrew
Tony Scheffler
OT
Jeff Backus
Gosder Cherilus
Johnny Culbreath
Riley Reiff
OG
Jacques McClendon
Stephen Peterman
Rob Sims
C
Dylan Gandy
Dominic Raiola
DE
Cliff Avril
Lawrence Jackson
Ronnell Lewis
Kyle Vanden Bosch
Willie Young
DT
Nick Fairley
Sammie Hill
Ndamukong Suh
Corey Williams
LB
Justin Durant
Doug Hogue
DeAndre Levy
Travis Lewis
Stephen Tulloch
Tahir Whitehead
CB
Bill Bentley
Aaron Berry
Chris Greenwood
Chris Houston
Jacob Lacey
Alphonso Smith
S
Louis Delmas
Sean Jones
Amari Spievey
John Wendling
K
Jason Hanson
P
Ryan Donahue (also the holder on PKs)
LS
Don Muhlbach