Rookie Predictions for NFL Training Camps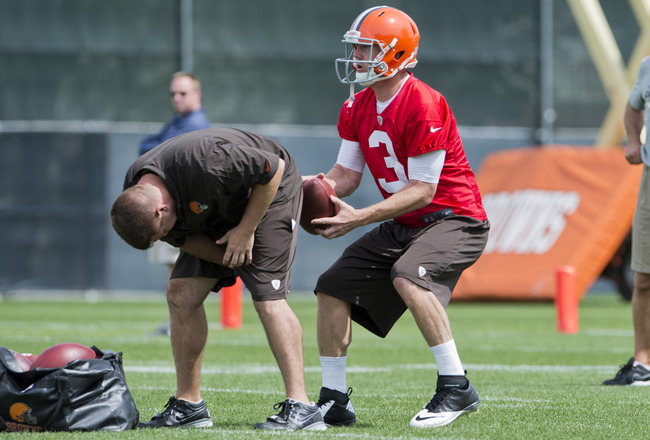 Browns rookie QB Brandon Weeden
Jason Miller/Getty Images
Rookies from many NFL teams will report to their first ever training camp this week. Rookies are allowed into camp early, though, and many teams take advantage, including the Buffalo Bills, who began rookie camp on July 9 (according to NFL.com). Also, the Carolina Panthers and Washington Redskins will have their rookies report to camp on Monday, July 16.

Some rookies remain unsigned, but as teams and players must adhere to the salary scale set by the league's new collective bargaining agreement with the NFL Players Association, there is little to no excuse for any rookies to miss significant camp time due to a contract holdout. Therefore, it's time to shift the focus to what what they can do on the field.

Ahead, I'll make predictions about 20 NFL rookies and what they could do for their teams this summer.
Matt Kalil Will Stand out Immediately in Minnesota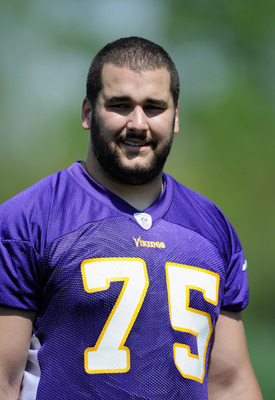 Hannah Foslien/Getty Images
Andrew Luck and Robert Griffin III are expected to become the stars of the 2012 NFL draft class, but as quarterbacks, they are likely to face early struggles, as they play the most difficult position on the field.
Minnesota Vikings left tackle Matt Kalil, however, is the other elite prospect from the 2012 draft class. He could easily become an immediate Pro Bowler and All-Pro contender.

Kalil was a dominant two-year starting left tackle at USC, and he is ready to come in and start at left tackle right away for the Vikings. He will be immediately tested in training camp as he battles one of the NFL's best defensive ends, Jared Allen, but I expect Kalil to give Allen much more trouble than he has ever had in a Vikings practice.

Kalil is ready to emerge as one of the NFL's top left tackles from his rookie season onward. He will give quarterback Christian Ponder much more effective pass protection, while also opening up lanes for running backs Adrian Peterson and Toby Gerhart.

When Kalil keeps Allen in check during training camp, he will start making a name for himself in Minnesota.
Brandon Weeden Will Send Colt McCoy out of Cleveland
Jason Miller/Getty Images
In two seasons as a Cleveland Browns quarterback, Colt McCoy has been an overall disappointment, with a 6-15 record over two seasons as a starting quarterback and a completion percentage below 60 percent. The Browns made it quite clear they are ready to move on from this subpar production by drafting Oklahoma State's Brandon Weeden with the No. 22 overall selection in the draft.

Weeden is a polished signal-caller and already 28 years old, so the Browns are not going to waste any time getting him under center. Browns general manager Tom Heckert told reporters (via the Cleveland Plain Dealer) in May that the best quarterback in training camp will be the starter, but that he expects Weeden "to be the guy."

If Weeden is "that guy," chances are good that McCoy will be on the move before the season begins. He still has potential to end up as a starting-caliber quarterback and could be well worth a fourth- or fifth-round draft pick if another team's starting quarterback gets injured or a veteran backup is needed.

One potential trade target could be the Green Bay Packers, who could look to find a better backup quarterback than Graham Harrell or B.J. Coleman to replace Matt Flynn. An injury to another team's quarterback in training camp, however, could open the door for a McCoy trade to any other team.

In addition to Weeden, three other quarterbacks were selected in Round 1 of the draft.

Andrew Luck and Robert Griffin III will both become immediate starters with the Indianapolis Colts and Washington Redskins, but while both are tremendously talented quarterbacks who are NFL-ready, expect some growing pains from both as rookies.
Meanwhile, Ryan Tannehill of the Miami Dolphins is unlikely to start at all as a rookie, with veterans David Garrard and Matt Moore also on the roster.
Luke Kuechly Will Become Immediate Leader of Carolina Defense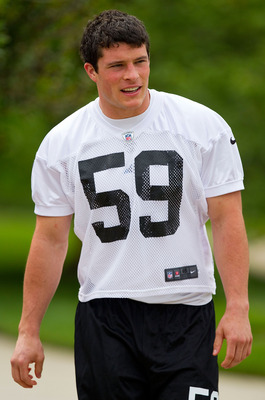 Brian A. Westerholt/Getty Images
From the time Kuechly was a true freshman at Boston College, he became a star. After ranking second nationally in total tackles that season, he led the NCAA in each of the past two seasons. Even as an early NFL draft entrant, he enters the league with productivity that has rarely been paralleled.

As a result, Kuechly is ready to step in right away and become a leader of the Carolina Panthers defense. He may never be an NFL star, but he is a well-rounded linebacker who can play any of the three positions in the 4-3 scheme and should find an immediate fit as one of the team's leading tacklers and playmakers.

On a defense that lacks stars, with the exception of defensive end Charles Johnson, Kuechly has an opportunity to emerge as one of Carolina's best players right away. As an NFL-ready player and a highly talented and versatile linebacker, I expect him to do exactly that and end up being a top contender for Defensive Rookie of the Year.
Brandon Boykin Will Seize Nickel Cornerback Job in Philadelphia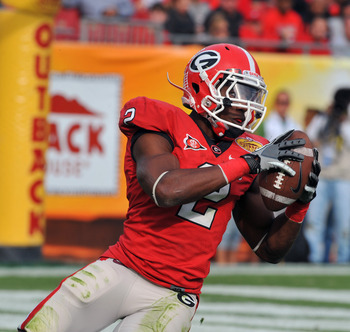 Al Messerschmidt/Getty Images
Brandon Boykin was only the 123rd player selected in the draft, but it is extremely unlikely that there will be 122 better players to come out of this draft class. Boykin is a tremendous athlete and versatile player who is a perfect fit to immediately contribute as a rookie. He should be able to win the Philadelphia Eagles' nickel cornerback job away from veteran Joselio Hanson.

Hanson has been solid in that role, but Boykin is a playmaker with great athletic ability and ball skills. As a smaller cornerback who excels in slot coverage, he is a perfect fit to play nickel cornerback for many years in the NFL.

Boykin is also an excellent punt returner, although the Eagles are unlikely to take that duty away from DeSean Jackson. His return skills will likely be utilized on kickoffs.

Boykin could prove to be a big steal as a late fourth-round pick by the Eagles.
Marvin Jones Will Earn Cincinnati's No. 2 Wide Receiver Job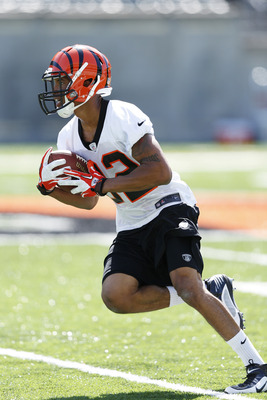 Joe Robbins/Getty Images
Following the departures of Jerome Simpson and Andre Caldwell via free agency, the Cincinnati Bengals have a wide-open starting spot at wide receiver opposite from last year's star rookie, A.J. Green. There are five potential candidates to end up with that starting job, but my prediction is that recent draftee Marvin Jones will emerge as the victor.

Jones will face competition from another rookie, Mohamed Sanu, along with three returning players in Brandon Tate, Armon Binns and Andrew Hawkins. Sanu was drafted in the third round while Jones was a fifth-round pick, and Hawkins is the only one of these five players to catch an NFL pass last season, but Jones has the most ability as an outside receiver of any of these five players. Sanu is better suited to be an inside possession receiver.

Any of these wide receivers could win the job, and with none of them having the experience to back up being a starter at the position, this truly should be a wide-open battle when training camp begins. If Jones shows a quick understanding of the offense and impresses early, I like his chances to emerge ahead of the pack.
Melvin Ingram Will Stand out Immediately in San Diego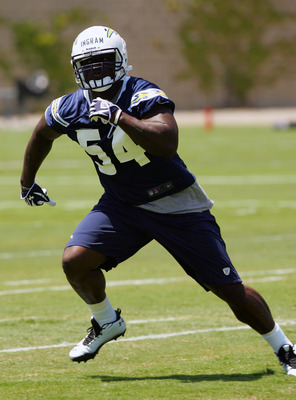 Kent Horner/Getty Images
When the San Diego Chargers drafted Northern Illinois' Larry English with the No. 16 overall selection in the 2009 draft, they thought he would be the impact pass-rusher they were looking for as an outside linebacker in the team's 3-4 defense.

Three years later, English has only started four games and managed seven sacks, and he is no safe bet to even make the final 53-man roster this season. The Chargers took another chance on a first-round outside linebacker this year by making South Carolina's Melvin Ingram the No. 18 overall selection.

In his rookie year alone, Ingram could easily make a bigger impact than English. He is an explosive pass-rusher off the edge with great athleticism, and he is also a solid defender against the run. With his combination of speed and lateral athleticism, Ingram is a perfect fit to drop back to linebacker, and he is ready to immediately emerge as the team's best outside linebacker.

The Chargers signed one starting outside linebacker in Jarret Johnson this offseason, but like he was overshadowed by Terrell Suggs with the Baltimore Ravens, he could easily become overshadowed right away in San Diego by Ingram.
Morris Claiborne Will Frustrate Cowboys Wide Receivers
Layne Murdoch/Getty Images
The Dallas Cowboys have two very talented starting wideouts in Miles Austin and Dez Bryant, but with the additions of two new starting cornerbacks, they are likely to have a much more challenging job of getting open in training camp this year.

Veteran cornerback Brandon Carr, who was signed as a free agent, should be an immediate upgrade over last year's starters. However, the star of the Cowboys secondary should be rookie Morris Claiborne.

Claiborne was the NCAA's best cornerback at LSU last season, and he is an elite man-to-man cover corner with tremendous ball skills. He is going to be able to cover the likes of Austin and Bryant right away. Even against the two talented veterans, he will likely win more battles than he will lose in training camp.
Cordy Glenn Will Struggle, but End Up as Buffalo's Starting Left Tackle
Rick Stewart/Getty Images
Cordy Glenn had a tremendous career at Georgia, but he only spent one season at left tackle. One season later, he is projected to assume this position with the Buffalo Bills.

Glenn is a very good offensive lineman who is a very strong and powerful run-blocker, and he has surprisingly nimble feet for his size and very long arms. Many projected him to kick inside to guard, however, and making an immediate adjustment to the NFL while playing left tackle could be a real struggle.

Much of Glenn's early work as a left tackle in training camp will be going up against one of the NFL's elite defensive ends, Mario Williams, which is going to force the rookie to learn the ropes fast. That said, he took all first-team reps during minicamp and OTAs (according to BuffaloBills.com), which he means he should be in line to win the left tackle battle over Chris Hairston, who is better suited to play right tackle.

Glenn may have his share of struggles in training camp and leading into his rookie season, but he is still the best man for the left tackle job in Buffalo.
Bobby Massie Will Become Arizona's Starting Right Tackle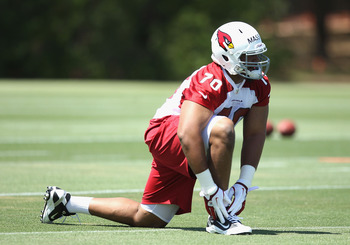 Christian Petersen/Getty Images
The Arizona Cardinals desperately needed to add an offensive tackle in the 2012 draft, and while many (myself included) thought they should draft one in the first round, they waited until Round 4. At that point, they were able to select Mississippi's Bobby Massie, who was projected by most draft prognosticators to be a second-round pick.

That fourth-round pick could pay immediate dividends for the Cardinals, as Massie could win the starting right tackle job outright in training camp. While the Cardinals' best move would have been to upgrade at left tackle and shift Levi Brown to the right side, the team now has Massie in competition with Jeremy Bridges, who grades out as being subpar at best as a starting right tackle, giving the rookie a great chance to contribute immediately.

Massie's game may take a couple years to develop, but he is a talented blocker whose best position is right tackle. He should be an immediate upgrade over Bridges.
Peter Konz Will Immediately Become Starting Right Guard in Atlanta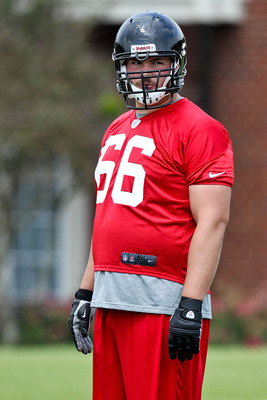 Daniel Shirey/Getty Images
Peter Konz came into the draft as the best center in the class, but with the Atlanta Falcons, he will likely be starting to the right side of center Joe Hawley.

While the Falcons are not looking to make an immediate change in the middle of their offensive line, Konz has the versatility to shift to guard, where the team failed to find a capable replacement for Harvey Dahl, who departed via free agency for the St. Louis Rams last season. Konz could face competition from Mike Johnson, but the latter has been a disappointment in two NFL seasons, leaving the door wide open for the rookie to become an immediate starter.

While Konz will not play center in his first season with the Falcons, he should have a long NFL future as a starting offensive lineman. Whether it be at center or guard, that future should start right away.
Kelechi Osemele Will Earn Baltimore's Starting Left Guard Job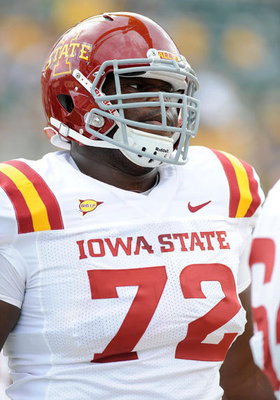 Photo Credit: Jerome Miron / US PRESSWIRE
The Baltimore Ravens lost a few free agents this past offseason, with the most significant departure being that of left guard Ben Grubbs, who joined the New Orleans Saints. Grubbs was a high-quality starter, but the Ravens now have two strong candidates to replace him in second-year offensive lineman Jah Reid and rookie Kelechi Osemele.

Reid, a 2011 third-round draft choice, is a talented lineman who could be one of the Ravens' best five up front. However, while Reid has the size, strength and versatility to kick inside to guard, he is better suited to remain outside at tackle.

The Ravens used their 2012 second-round pick on Osemele for a reason, and I believe they will use the rookie as a starter while grooming Reid as the successor to Bryant McKinnie at left tackle. Like Reid, Osemele is making the transition from left tackle inside to guard, but he is a bigger lineman who is better suited to play guard than Reid.

Osemele has the skill set to be a starting guard, and I believe that with a strong training camp, the Ravens will put that role into his hands right away.
Brandon Brooks Will Become Houston's Starting Right Guard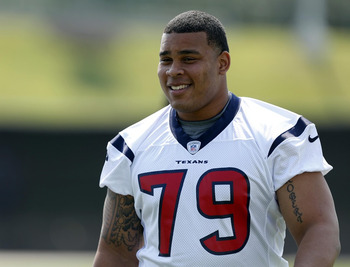 Photo Credit: Thomas Campbell / US PRESSWIRE
With the departure of right guard Mike Brisiel to the Oakland Raiders via free agency, a new starter at the position is needed. Veteran guard Antoine Caldwell could get the first crack at the position, but he has been a disappointment in three NFL seasons, leaving the door open for rookie third-round pick Brandon Brooks to win the job right away.

Brooks is a powerful, athletic guard who can be an immediate asset as a run-blocker, while he is an improving pass protector. He has big shoes to fill, but as a strong, athletic 353-pounder, he is more than capable of filling them.
Tony Bergstrom Will Earn Raiders' Starting Left Guard Job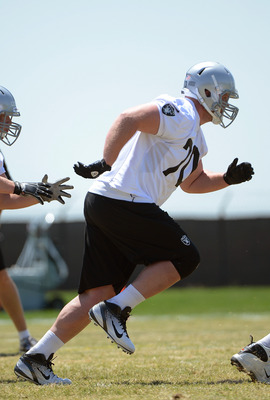 Thearon W. Henderson/Getty Images
Mike Brisiel should have a safe starting job with his new team at right guard, but the Oakland Raiders still have an uncertain situation at left guard, where rookie Tony Bergstrom will battle veteran Cooper Carlisle to be the starter.

In five seasons with the Raiders, Carlisle has only missed one start, but at age 34, his play is declining. Bergstrom is a talented rookie who is suited well to kick inside from offensive tackle to left guard. If he picks up the system quickly and has a strong training camp, he will be an immediate upgrade over the aging Carlisle, who could ultimately lose his spot on the 53-man roster if this scenario plays out.
Isaiah Frey Will Be Surprise Among Bears Cornerbacks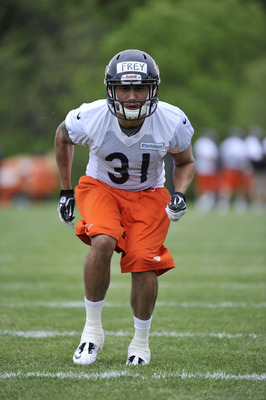 Brian Kersey/Getty Images
The Chicago Bears have strength in numbers at the cornerback position, but not necessarily in talent outside of Charles Tillman. Tim Jennings and Kelvin Hayden are the likely candidates to hold down the second and third cornerback spots, but rookie sixth-round pick Isaiah Frey could be a surprise to emerge from the group.

Frey never received much publicity leading up to the draft, but he is an intriguing sleeper. He was a productive cornerback at Nevada, and he plays with physicality and has good ball skills while possessing an NFL-level combination of size and athletic ability.
Frey has the talent to work his way into the top four cornerbacks on the Bears' depth chart ahead of Jonathan Wilhite, D.J. Moore or potentially even Jennings or Hayden.
Chase Minnifield Will Push for Immediate Playing Time in Washington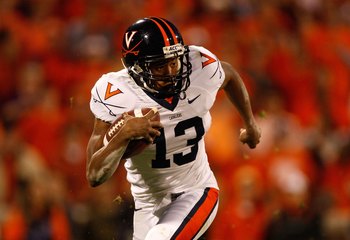 Streeter Lecka/Getty Images
Isaiah Frey could be a surprising contributor among cornerbacks drafted in the late rounds, but among cornerbacks not drafted at all, Chase Minnifield could see significant playing time for the Washington Redskins. Minnifield went undrafted due to concerns following microfracture knee surgery, but all indications in minicamp were that he was healthy and playing well.

John Klein of the Washington Examiner said Minnifield looked healthy and was not limited in Redskins' minicamp workouts. If Minnifield continues to perform well throughout training camp, being with the Redskins could be a great opportunity for him to play right away.

Behind starters DeAngelo Hall and Josh Wilson, the Redskins are thin at cornerback. A healthy Minnifield could easily become the team's best option to play nickel cornerback. He has the potential to eventually push for a starting spot.
LaMichael James Will Quickly Silence His Doubters in San Francisco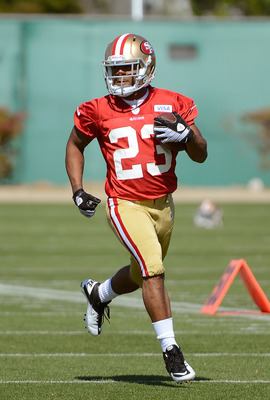 Thearon W. Henderson/Getty Images
Given that the San Francisco 49ers already have a compact, quick running back on their roster in Kendall Hunter, I questioned their decision to draft a similar player in the second round with Oregon's LaMichael James.
I have never, however, questioned James' ability to be a difference-maker in the National Football League.

At only 5'8'' and 195 pounds, James' lack of size is a concern, but he makes up for it with his tremendous skill set. He has tremendous speed, cuts with tremendous quickness and was very productive for three seasons at Oregon. James may not be a between-the-tackles runner at the next level, but he is going to be a very dangerous playmaker in space, both as a runner and as a receiver out of the backfield.

While the 49ers may not have needed James, he is more explosive than Hunter and is likely an upgrade. He has consistently had detractors in scouting circles due to his lack of size, but Darren Sproles proved last season that a small running back can defy the odds and become a star.
James has the talent to follow in Sproles' footsteps and become a huge asset for the San Francisco offense.
Lamar Miller Will Make Immediate Impression in Miami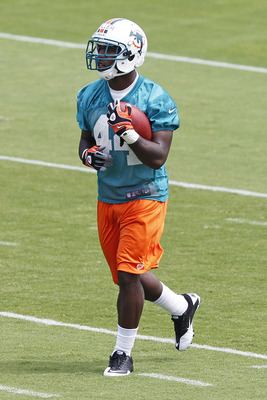 Joel Auerbach/Getty Images
There was only one running back faster than LaMichael James at the 2012 NFL combine, and that was Miami's Lamar Miller. Miller, who played for his hometown university after growing up in the city of Miami, now plays for the city's home NFL franchise, and he should continue to be a star.

Miller graded out among my top 32 prospects for the draft, but fell all the way to Round 4 before the Dolphins traded up to select him. Like the 49ers, the Dolphins already have a similar back with tremendous speed in Reggie Bush, but Miller could end up being an upgrade.

Miller has incredible speed and explosive acceleration, but he also has the size and strength to run between the tackles. Miller may be best suited to be a situational, change-of-pace back, but has the potential to be a feature back. Compared to Bush and power back Daniel Thomas, Miller could emerge as the team's most complete and talented runner.

Miller is unlikely to become a starter as a rookie, but expect him to earn immediate playing time in training camp. He has the skill set to be an immediate contributor and big-play threat. If he proves that in training camp, the Dolphins should give him that opportunity on the field.
Pittsburgh Will Be Unable to Keep Chris Rainey off the Field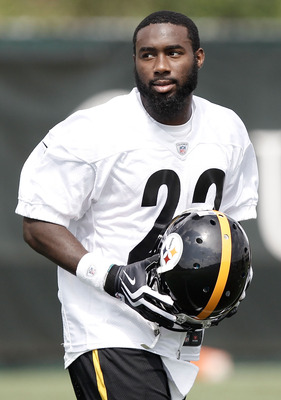 Jared Wickerham/Getty Images
Chris Rainey was only a fifth-round draft pick, but he could end up being a steal who makes a big impact. Like James, Rainey is a small running back, but he is a tremendous athlete who can also play wide receiver and has the potential to be a real X-factor for the Steelers offense.

With Rashard Mendenhall recovering from a torn ACL, the Steelers will be looking for additional running backs to step up. Isaac Redman will likely take on the role of feature back if Mendenhall misses any games, but it could also create an opening for Rainey to earn immediate playing time.

Rainey is still very raw as a football player, but while he needs to improve as a route-runner and become a better overall runner, his speed and agility makes him a dangerous playmaker in space. Rainey could also earn immediate playing time as a kick and punt returner.

While it is unclear what role or even what primary position Rainey will play, expect him to earn significant reps in training camp and be on the field early in his rookie season.
Nate Ebner Will Steal Someone's Job in New England
Jamie Sabau/Getty Images
One of the most stunning selections of the entire 2012 draft came in Round 6, when the New England Patriots used the No. 197 overall selection to draft Nate Ebner, a "safety" who was used almost exclusively on special teams.

If there is one team that can utilize a player like Ebner and lead him to a very successful career, it would be the Patriots. They made a similar move in the 2008 draft, when they selected Matt Slater, a special teams standout at UCLA. Last season, Slater was selected as an All-Pro special teams player.

Ebner will almost certainly never play a snap on defense for the Patriots, but the team always keeps multiple players as kickoff and punt team specialists, and Ebner is likely to be one of them. He will not take a spot away from Slater, but could steal a roster spot from a player such as Tracy White for his special teams prowess.
Jamie Blatnick Will Make Broncos as Undrafted Free Agent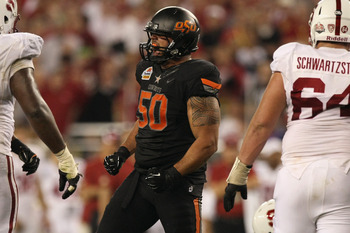 Donald Miralle/Getty Images
Jamie Blatnick did not receive much attention leading into the draft, so it was no significant surprise that he went undrafted. That said, he is a dynamic edge-rusher who had 13.5 tackles for loss for Oklahoma State last season, and he could be in line for a roster spot with the Denver Broncos.

Blatnick does not have great size for an NFL defensive end, but he is a giant compared to the Broncos' star defensive end, Elvis Dumervil, who is 5'11'' and 260 pounds. However, Dumervil was arrested Saturday on a felony charge of aggravated assault with a firearm, which could put his future with the Broncos in jeopardy, thereby opening a door for Blatnick.

Behind Dumervil, the Broncos are not laden with talent at defensive end. Robert Ayers, Jeremy Beal and rookie fifth-round pick Malik Jackson should all have roster spots, but none of them are spectacular. This leaves potential for Blatnick, a disruptive defensive end, to not only make the roster but also earn playing time, especially as a situational pass-rusher.
Thanks for reading!

Follow me on Twitter @Dan_Hope.
Keep Reading