WWE: John Cena vs. CM Punk Is the Correct Move, If It Is Done Right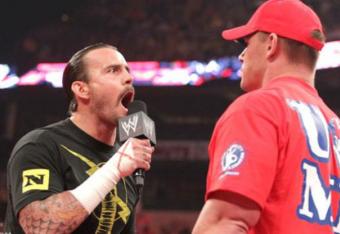 wwe.com

If the Money in the Bank PPV had been a political campaign (in some ways, it could be argued wrestling is tougher than politics), then all the pundits would have immediately spun a yarn of how the WWE got it right when it declared John Cena and Dolph Ziggler as winners in the contract matches.
Isn't it ironic that the writing was on the wall long before these matches took place and writers like myself and readers like yourselves saw this coming a mile away? For whatever reason, the WWE has had trouble in the past getting it right in formulating a program or angle that not only makes sense, but keeps us and the IWC happy (something that happens rarely at the same time).
What I like about the idea of a potential CM Punk/John Cena rematch and feud is the very thing that annoys me at the same time.
A lot of it has to do with the possibility that Daniel Bryan will be pushed aside from his current run with CM Punk, much like Ricky Steamboat was cast aside in 1989 when he and Ric Flair were battling for the WCW World Title and Terry Funk, of all people, jumped into the scenario.
In this case, it looks like John Cena has become Terry Funk.
Ironically, Punk and Cena's feud was red hot about this time last year, only to fizzle out after SummerSlam, which looks like it may be a time when the two big shots in the WWE get a chance to showcase their talents again. And isn't it ironic that Cena winning the WWE Title MITB match guarantees that Punk will be in the main event of a PPV event?
Yes, Cena's win was botched and yes the WWE title ladder match wasn't as good as the world title match. And yes, Ziggler looked much better winning his contract than Cena did. But when money talks, well, you know the rest. The WWE has a golden opportunity here to right a wrong when it pits (if it does) Cena and Punk against each other.
I suspect that, in the end, Punk turns heel and Cena fights the good fight for the company (are you listening, Sting?) in an effort to prove he will always be WWE's golden boy. But, by doing so, the WWE will take away a pretty damn good rivalry in Punk/Bryan, and who is to say the magic created by Punk/Cena in 2011 can be reached again?
There is no conspiracy this time and no Johnny Ace to fight the fight for all that is evil. What there is happens to be opportunity, which cannot be a bad thing this time around. I just hope the WWE brass get it right and find a suitable rivalry for Bryan (Christian) so his talents are not wasted. If there is not a suitable solution, then again, the WWE will have dropped the ball.
This would be the same scenario of Cena being pushed aside last year to work on another angle (the conspiracy and Kevin Nash) that fell short. And in the end, we really don't want to remember John Cena as a Terry Funk, still trying to get over in a very awkward situation.
In that case, no one really wins.
This article is
What is the duplicate article?
Why is this article offensive?
Where is this article plagiarized from?
Why is this article poorly edited?