College Football's Top 10 Tight Ends for the 2012 Season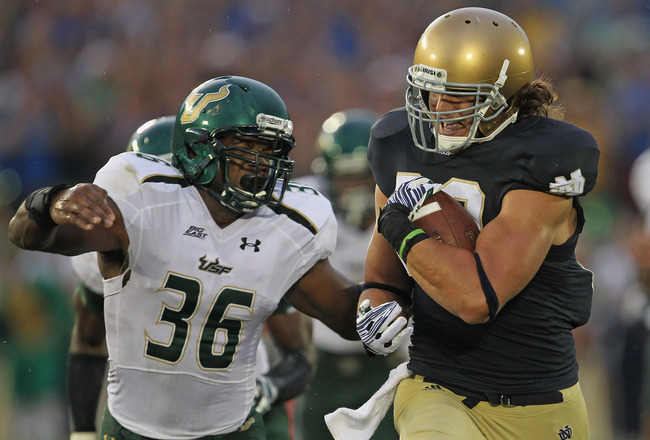 No other tight end in college football can compare to Notre Dame's Tyler Eifert
Jonathan Daniel/Getty Images
College football lost plenty of talented tight ends this offseason, including well-known names such as Coby Fleener, Michael Egnew, Orson Charles, Dwayne Allen and Ladarius Green.
Still, the good news is that there are plenty of young and hungry budding stars at the position who are ready to step out onto the national stage in 2012.
The top tight end in the country is Notre Dame's Tyler Eifert, but he's definitely not the only must-watch player to keep an eye on this season.
Eifert is the face of a deep tight end group that will feature plenty of players with NFL potential.
Here's a look at college football's top 10 tight ends for the 2012 season.
1. Tyler Eifert, Notre Dame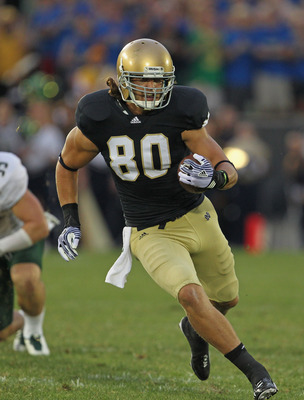 Tyler Eifert
Jonathan Daniel/Getty Images
Notre Dame's offense has featured some notable tight ends in recent years such as Kyle Rudolph, John Carlson and Anthony Fasano, and now the latest in that line is Tyler Eifert.
After arriving in South Bend as a skinny 220-pound freshman back in 2009, Eifert has managed to grow into the most feared tight end in college football over the last two years.
The 6'6'', 249-pound junior was a vital weapon in the passing game for the Irish in 2011, as he caught 63 passes for 803 yards and five touchdowns last season.
Eifert is a perfect fit for Brian Kelly's spread offense, and now that star receiver Michael Floyd is gone, he'll be the team's top receiving target in 2012.
If he has the type of season that he's capable of, look for the big, athletic pass-catcher to be the first tight end taken in the 2013 NFL draft, if he does indeed declare as expected.
2. Levine Toilolo, Stanford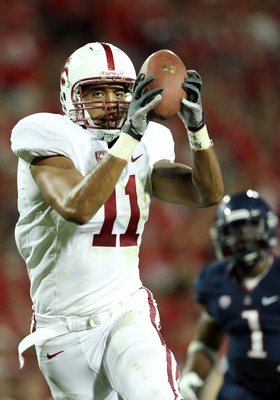 Levine Toilolo
Christian Petersen/Getty Images
Stanford's offense may have lost TE Coby Fleener, who was a second-round pick in this year's NFL draft, but the Cardinal are still in great shape at the position as they welcome back two of the most talented tight ends in the country—Levine Toilolo and Zach Ertz—for the 2012 season.
Both Toilolo and Ertz will be playing on Sundays some day soon, but it's the former who could have pro scouts really buzzing this season.
The former highly touted 4-star recruit out of California's Helix High School was a true red zone weapon in 2011, catching 25 passes for 343 yards and six touchdowns.
The 6'8'', 263-pound junior is built like a power forward, and he moves incredibly well for his size.
Although Toilolo will surely miss star quarterback Andrew Luck, he should have no trouble building a great relationship with new starter Brett Nottingham in 2012.
3. Austin Seferian-Jenkins, Washington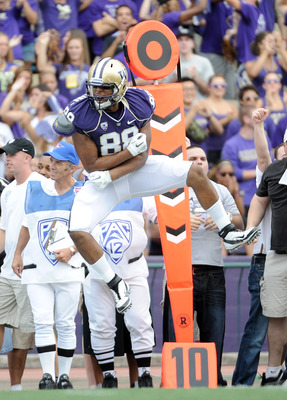 Austin Seferian-Jenkins
Harry How/Getty Images
Austin Seferian-Jenkins had some high expectations to live up to when he initially arrived at Washington as a highly touted 5-star recruit last year.
It didn't take long, though, for the in-state product to make Huskies fans proud.
Even though he was just a true freshman last season, Seferian-Jenkins was still a big factor for Washington's offense, as he hauled in 41 passes for 538 yards and six touchdowns.
The skilled 6'6'', 258-pound sophomore is one of the most athletic tight ends in the country, and he's got the size, speed and route-running instincts to create a matchup nightmare for opposing secondaries.
With Seferian-Jenkins, wide receiver Kasen Williams and quarterback Keith Price all returning for the 2012 season, the Huskies should feature one of the most dangerous passing attacks in the Pac-12 this year.
4. Chris Gragg, Arkansas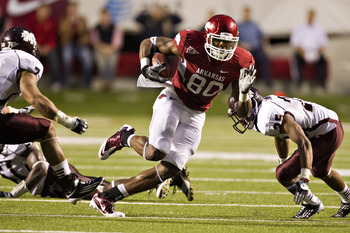 Chris Gragg
Wesley Hitt/Getty Images
The two main players on the Arkansas offense that everyone has been talking about this offseason have been QB Tyler Wilson and RB Knile Davis.
That's totally understandable, given the fact that they're two of the best players in college football. However, it's a shame that TE Chris Gragg has been getting overshadowed by his talented teammates.
There's no doubt that Gragg is worthy of some serious preseason praise and publicity as well.
Last year, the 6'3'', 236-pound rising senior was a key part of Arkansas' passing attack, as he caught 41 passes for 518 yards and two touchdowns.
Now that the Razorbacks have lost three of their top receivers from 2011—Joe Adams, Greg Childs and Jarius Wright—they're going to need for Gragg to step up and play an even bigger role for the offense this season.
The reliable receiving target should get plenty of looks from QB Tyler Wilson in 2012, which should enable him to pile up some mighty impressive stats during his final season in Fayetteville.
5. Joseph Fauria, UCLA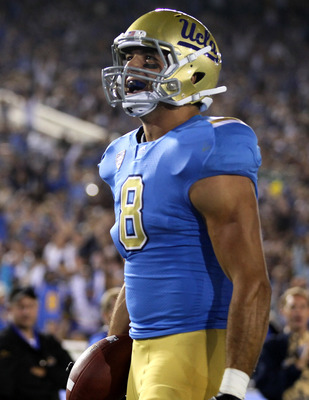 Joseph Fauria
Stephen Dunn/Getty Images
It will be interesting to see how the UCLA offense will perform under new coordinator Noel Mazzone this season, especially since the Bruins had so much trouble on that side of the ball in 2011, averaging just 23 points and 376 yards per game.
One thing you would have to expect is for Mazzone to design a lot of plays for tight end Joseph Fauria, who is arguably the offense's most gifted playmaker.
Last year, the former Notre Dame transfer hauled in 39 passes for 439 yards and six touchdowns, even though he had to endure some wildly inconsistent play at the quarterback position.
The nephew of former NFL tight end Christian Fauria looks like he should be one of the top tight ends available for the 2013 NFL draft, and it will be interesting to see what he can do to impress scouts this season.
6. Philip Lutzenkirchen, Auburn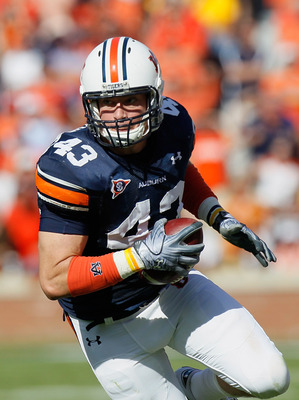 Philip Lutzenkirchen
Kevin C. Cox/Getty Images
The Auburn offense took a considerable step back after losing Heisman-winning quarterback Cam Newton last year, as the Tigers went from averaging 41 points and 499 yards per game in 2010 to averaging just 25 points and 337 yards this past season.
There were some notable bright spots on the unit, though, and one of them was tight end Philip Lutzenkirchen.
Last year, Lutzenkirchen led the team with seven receiving touchdowns and he proved to be a dependable red zone option when his number was called.
Not only does the 6'4'', 264-pound senior have one of the best names in college football, he also happens to be one of the most talented tight ends in the country.
If he can get some more consistent play at the quarterback position in 2012, look for Lutzenkirchen to really do some serious damage to opposing defenses this season.
7. Dion Sims, Michigan State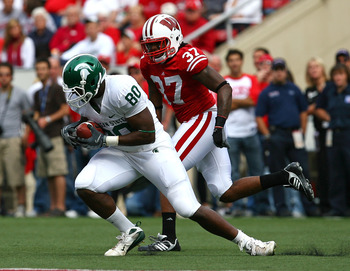 Dion Sims
Jonathan Daniel/Getty Images
After sitting out the entire 2010 season for disciplinary reasons, Dion Sims returned to the offensive huddle last year and slowly weened himself back into the mix.
Sims may have only caught 12 total passes and three touchdowns, but he did show plenty of flashes of his intriguing potential throughout the year.
The 6'5'', 280-pound junior possesses remarkable speed and athleticism for his size, as he has the potential to grow into an explosive receiving weapon for the Spartans offense in 2012.
Since Michigan State's four most productive pass-catchers from 2011 are gone, including last year's starting tight end Brian Linthicum, Sims will surely be called on to step up and become a go-to target in the passing game for new starting quarterback Andrew Maxwell this season.
It should be very interesting to see how he handles his new, more prominent role.
8. Michael Williams, Alabama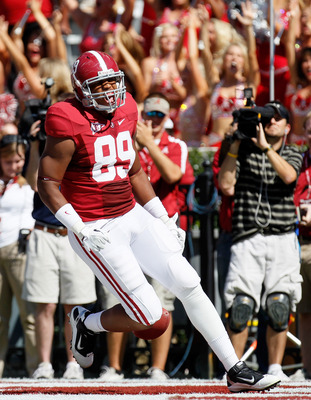 Michael Williams
Kevin C. Cox/Getty Images
The Alabama offense lost its four most productive pass-catchers from last season, including tight end Brad Smelley, who caught 34 passes in 2011.
That means that Michael Williams will now be called upon to step up and become a much bigger part of the Tide's passing attack this season.
Last year, Williams had a respectable showing, catching 16 passes for 191 yards and two touchdowns, but he's going to have to be much more productive in 2012.
The 6'6'', 269-pound senior will have the luxury of having a distinct size advantage over any defender that tries to cover him.
He also packs a surprising amount of quickness and athleticism into his large, intimidating frame.
Right now, Williams may be best known as the player who couldn't hold onto the goal line catch in the "Game of the Century" against LSU, but soon enough, he'll be known around the country as one of the scariest tight ends in all of college football.
9. Jacob Pedersen, Wisconsin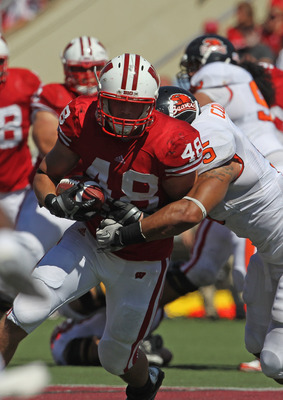 Jacob Pedersen
Jonathan Daniel/Getty Images
Highly productive RB Montee Ball may be the face of Wisconsin's offense, but he definitely isn't the only offensive playmaker who will be making a big impact for the Badgers this season.
Look out for TE Jacob Pedersen, who finished with 30 catches for 356 yards and eight touchdowns in 2011, to make a splash as well.
Pedersen is truly a quarterback's best friend, as he has no trouble routinely getting open underneath as well as in the middle of the field.
The 6'4'', 242-pound junior really matured and developed this past season, and he now looks ready to prove that he's one of the premier tight ends in college football in 2012.
10. Randall Telfer, USC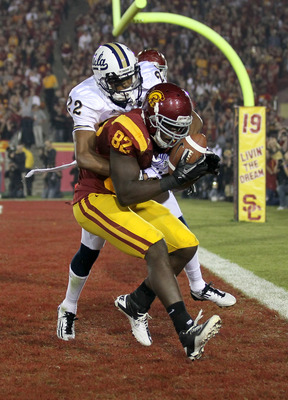 Randall Telfer
Stephen Dunn/Getty Images
As expected, quarterback Matt Barkley and wide receivers Robert Woods and Marqise Lee have garnered pretty much all of the attention surrounding the USC offense this offseason, but make no mistake about it, there are plenty of other Trojans who will be essential to the offenses's success in 2012.
One of them is tight end Randall Telfer.
Telfer put together a strong introductory season in 2011, as he stepped into the lineup and caught 26 passes for 273 yards and five touchdowns as a redshirt freshman.
The 6'4'', 255-pound California native will once again team with Xavier Grimble to give USC one of the most dynamic tight end duos in the country for the 2012 season.
Honorable Mention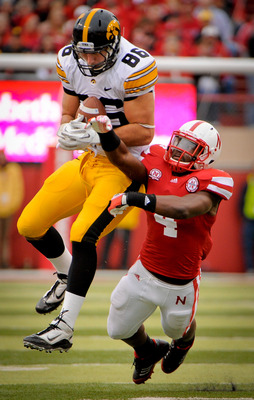 C.J. Fiedorowicz
Eric Francis/Getty Images
C.J. Fiedorowicz, Iowa
Crockett Gilmore, Colorado State
Gavin Escobar, San Diego State
Jack Doyle, Western Kentucky
Jake Stoneburner, Ohio State
Kyler Reed, New Mexico
Luke Wilson, Rice
Nick O'Leary, Florida State
Ryan Griffin, Connecticut
Ryan Otten, San Jose State
Zach Ertz, Stanford
Keep Reading