There may finally be some possible movement for the Chicago Bulls this offseason. While dealing with the removal of the beloved "Bench Mob," the Bulls have seen less comings and more goings.
Gone are Ronnie Brewer, C.J. Watson, Kyle Korver (pending a trade) and Mike James. Joining them could be Omer Asik, John Lucas III and Brian Scalabrine. Also, according to a CSN Chicago report, the Bulls have placed Richard Hamilton on the trade block. Talk about turnover.
The expectations are that the team will have a definitely different look to it for better or for worse.
Some encouraging news came out during the weekend about the Bulls having interest in free-agent guard O.J. Mayo. It is reported the Bulls are one of four teams in the running for his services.
Can we take a short breath of fresh air?
Mayo would effectively fill a void the Bulls have had in their lineup since Ben Gordon left Chicago for Detroit. He is not as athletically gifted as Gerald Green, the Pacers' new acquisition, but he has a high basketball I.Q.
What Mayo possesses is a certain fearlessness needed in a player who wants to be the de-facto closer. Mayo is a scorer and a good defender with an edge to him. I wonder if playing for the Grizzlies hurt his case in free agency.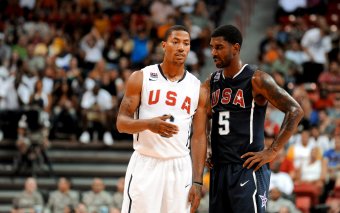 Ethan Miller/Getty Images
He would be a perfect alpha-dog for the Bulls until Derrick Rose returns to the team. After Rose's return, Mayo can slip into the second-best player slot with ease.
In a domino effect, Luol Deng becomes more valuable as the temporary second go-to-guy before shifting down to a third-option role that bests suits him. Carlos Boozer and the rest of team would follow in moving down to where they best help the team.
In my opinion, the only reason the Bulls are in the hunt for Mayo is their possible return in the trade of Korver to the Hawks. The Bulls are reported to receive the Hawks' trade exception for Joe Johnson, which is just short of $5 million and a second-round pick.
Add that with the $500,000 saved in trading Korver and the Bulls should have closed to $5.5 million in cap room. This does not include the Bulls matching the Rockets' three-year offer sheet for Asik.
A trade of Hamilton for a future draft pick helps the Bulls also. His contract is worth around $5 million. That trade would make the Bulls a major player for Mayo.
If the Bulls are able to pull of this coup all is forgiven, and I will not get on the team for being afraid to change up the culture.
Mayo would be a clear upgrade in talent for this Bulls team. If it happens, all signs should point to the Kyle Korver trade for setting things in motion.