Atlanta Braves: 5 Signs Freddie Freeman Will Have a Monster 2nd Half
Kevin C. Cox/Getty Images
Freddie Freeman may have a big second half.
In order for the Atlanta Braves to reach their full potential in 2012, they will need their key hitters to be more consistent in the second half of the year. Many of the Braves' key hitters were up and down in the first half, and that is just one part of the reason that they underachieved.
Freddie Freeman is one of those key hitters that the Braves need to play with more consistency in the second half of the season. The young first baseman is more than capable of doing so despite his youth; in fact, Freeman could be in for a huge second half.
This article will look at five reasons why Freeman will have a big second half for the Braves in 2012.
Begin Slideshow

»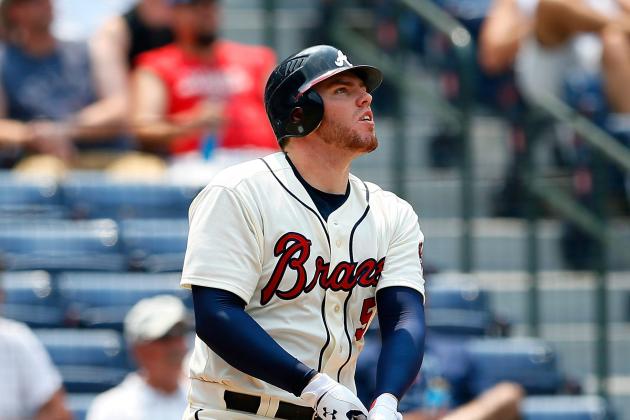 Kevin C. Cox/Getty Images
Freddie Freeman had a strong second half as a rookie.
One sign that Freddie Freeman could have a monster second half for the Braves is his performance last season. The young first baseman actually had a very solid second half of his rookie year, a sign that he is going to excel down the stretch.
Last year, Freeman hit .274 with 13 homers and 43 RBI in the first 88 games for the Braves. He came back in the second half, hitting .292 with eight homers and 33 RBI in 69 games. In fact, if he didn't hit the rookie wall in September (when he hit just .226 over his last 26 games), those numbers would be far more impressive.
Freeman isn't going to hit the rookie wall again, especially now that he has experienced the grind of a full 162-game big league season. Freeman's rookie season provides hope that he will heat up down the stretch.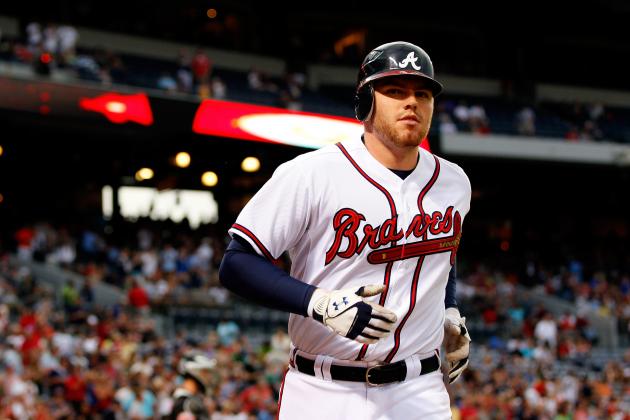 Kevin C. Cox/Getty Images
An eye injury disrupted Freddie Freeman's first half.
One look at Freddie Freeman's numbers don't tell the entire story. Freeman is hitting .275/.331/.465 with 11 homers and 51 RBI in 74 games. Those are solid numbers, but they aren't a significant improvement over what he did last year.
What the numbers fail to show is that Freeman was hitting .302/.322/.519 with five homers and 21 RBI in 26 games on May 5th. That had him on a pace to hit .302 with 30 homers and 126 RBI if he played in 156 games.
However that's when Freeman started to struggle. Dirt from the infield blew into his eye in Colorado during that early-May series, and it scratched his cornea. Obviously it's tough to hit big league pitching, and when your vision isn't right it becomes that much harder.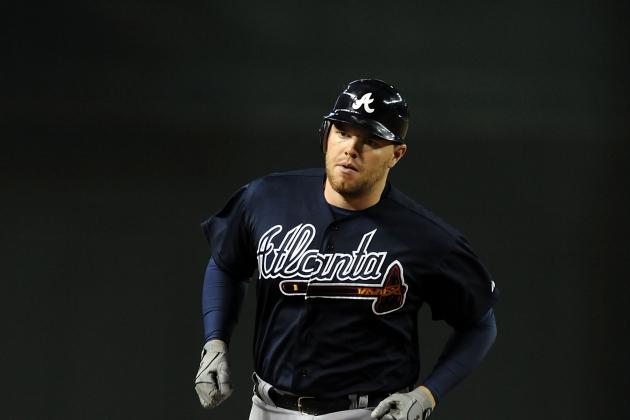 Norm Hall/Getty Images
Freddie Freeman has been on a hot streak for the last four weeks.
Finally, it appears that Freddie Freeman is over the eye injury that had his triple-slash line down to an ugly .247/.295/.428 following a June 19th game against the Yankees. In the four weeks since that day, Freeman has done nothing but hit for the Braves.
From June 20th on, Freeman is hitting .356/.434/.603 with four homers and 17 RBI. This is the Freeman that Braves fans saw in the first month of the season prior to his eye injury: a middle-of-the-order run producer that Atlanta will need down the stretch.
Freeman isn't likely able to hit at this rate for the rest of the season, but it's obvious that he is healthy again and producing. It just makes you wonder how well his season could be going if he didn't get hurt.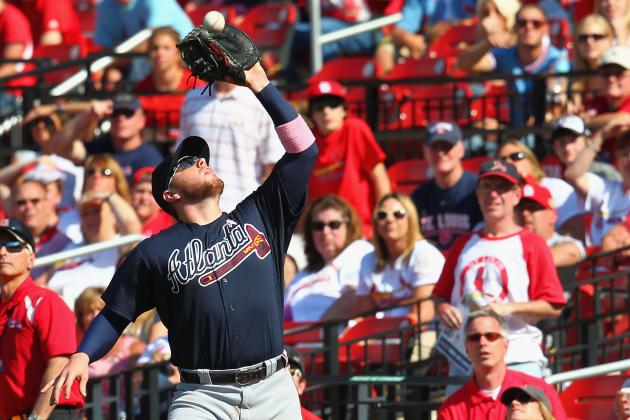 Dilip Vishwanat/Getty Images
Freddie Freeman should get plenty of chances to collect RBI.
The 2012 Braves' lineup has been one of the best in recent memory. The top of the order has been very strong all season, as Michael Bourn and Martin Prado are both having great seasons. Jason Heyward is starting to look like the guy people expected him to become, and even 40-year-old Chipper Jones has been producing at a high rate when he's in the lineup.
The Braves rank third in the National League in runs score with 412, which may surprise some fans because of Atlanta's streaky hitting. But if Brian McCann can continue his recent hot streak and Dan Uggla hits like he did in Miami, the Braves could have a scary lineup.
What this means for Freddie Freeman is that he should have plenty of chances with runners on base. The way he has performed with runners on base this year could help spell out a high number of second-half RBI.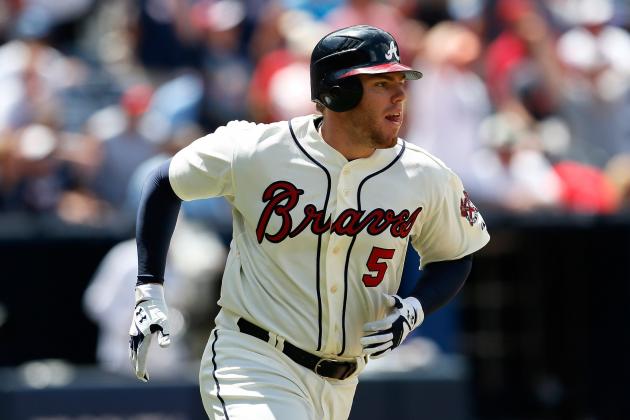 Kevin C. Cox/Getty Images
Freddie Freeman has crushed the NL East this year.
One thing that stands out about Freddie Freeman is the fact that the young first baseman has done well against NL East competition. Against the Mets, Freeman is batting .444 with a 1.170 OPS in seven games. Against the Phillies, he's hitting .348 with a .751 OPS in six games. Against Miami, he's hitting .286 with an OPS of .875 in four games.
The only team Freeman hasn't hit very well against is the Nationals (.182 BA and a .604 OPS), but then again, who is?
The Braves will have to go through their NL East competition if they want to win the division title and avoid the wild card play-in game. Atlanta has 12 games against the Phillies, 13 against the Marlins, nine against the Mets and 10 against the Nationals.